Meanwhile over in Team-Up, a very different kind of story, also drawn by Byrne and inked by the sure hand of his X-Men inker Terry Austin. And it features the creepy old man's dream come true, Red Sonja. Chris Claremont still providing the script. It's weird to me that this run doesn't get as much love. Granted, by its nature, Marvel Team-Up is a lesser book than X-Men, but as one of Marvel's most beloved creative teams of all time, you'd think everything they did would be hallowed.

Anyway, this is an extra weird one, as Spidey teams up with a character from the ancient past through the magic of comics! The issue begins with Peter attending the Daily Bugle Christmas party, but before we can go any further, we have to pause on one line of dialogue, because it is the beginning of what's become a recent fascination for me.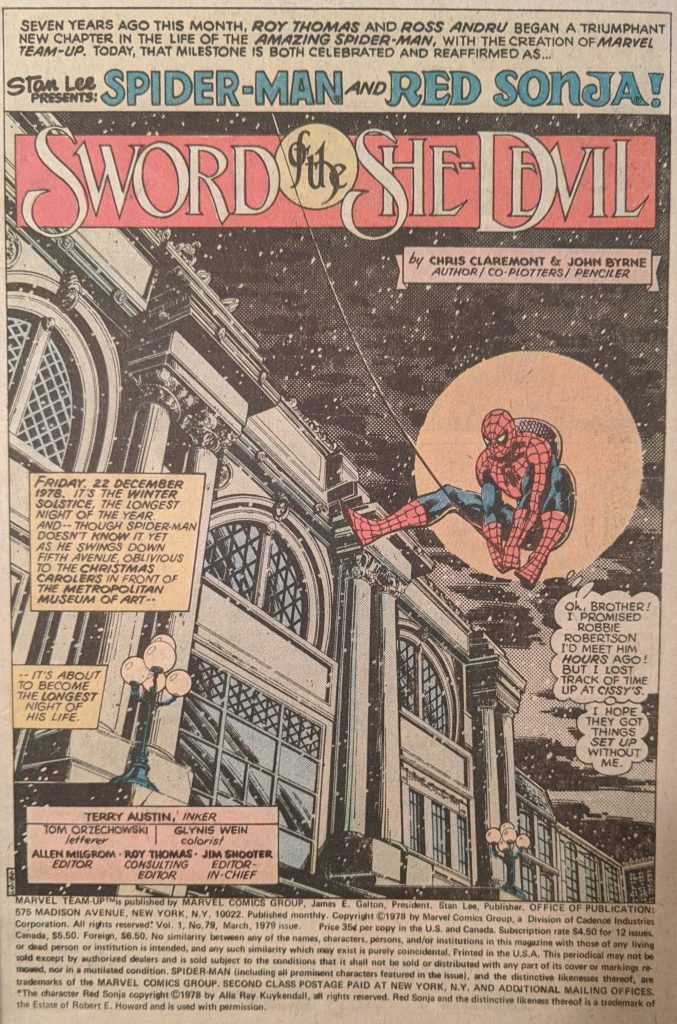 Who's Cissy? We don't know yet. This, as far as I know, as near as I can tell, is Chris Claremont randomly dropping a new love interest in Peter Parker's life OFF PANEL. I don't believe she's been mentioned before this, but we'll be seeing her very soon. As strange as it may sound, it's never going to make more sense than it does right now. So, anyway. Daily Bugle Christmas party. MJ also shows up at the Christmas party. Why? I dunno. They seem surprised to see each other, which makes makes sense given their lack of contact in ASM. Also:
What'd I tell you about people going "mmmmmmmm"? Anyway, there's a new display of ancient arifacts about to debut at the museum, and through one of those ancient artifacts, the soul of the evil wizard Kulan Gath possesses a helpless security guard, so when our heroes arrive on the scene, the museum starts to look like the end of Ghostbusters. No one's being allowed into the museum, so it's time for Pete to slip away and do some investigating. The museum is filled with an atmosphere of creepy dread, and Byrne really is in rare form.
She doesn't know, but she could almost know. Always fun to track. As Spider-Man fights a bunch of monsters, feeling his will and energy failing as he does but not knowing why, a glowing sword can catch Mary Jane's eye and turn her into the she-devil with a sword.
Now, look, friends. I first saw this story in a collection of team-ups I had as a very young man. I can't sit here and tell you Red Sonja didn't have an effect on lil 12-or-something-year-old me. Especially with lecherous ol John Byrne doing everything he could within the Comics Code Authority to show off all of Sonja's assets. But I like to think that, even aside from that, this is a pretty memorable issue, just because of how well the art team expresses the growing dread and almost Lovecraftian horror of the situation. Anyhow, this is a tough team-up, since our heroes don't speak the same language, but Gath uses his magic to make sure they both understand him.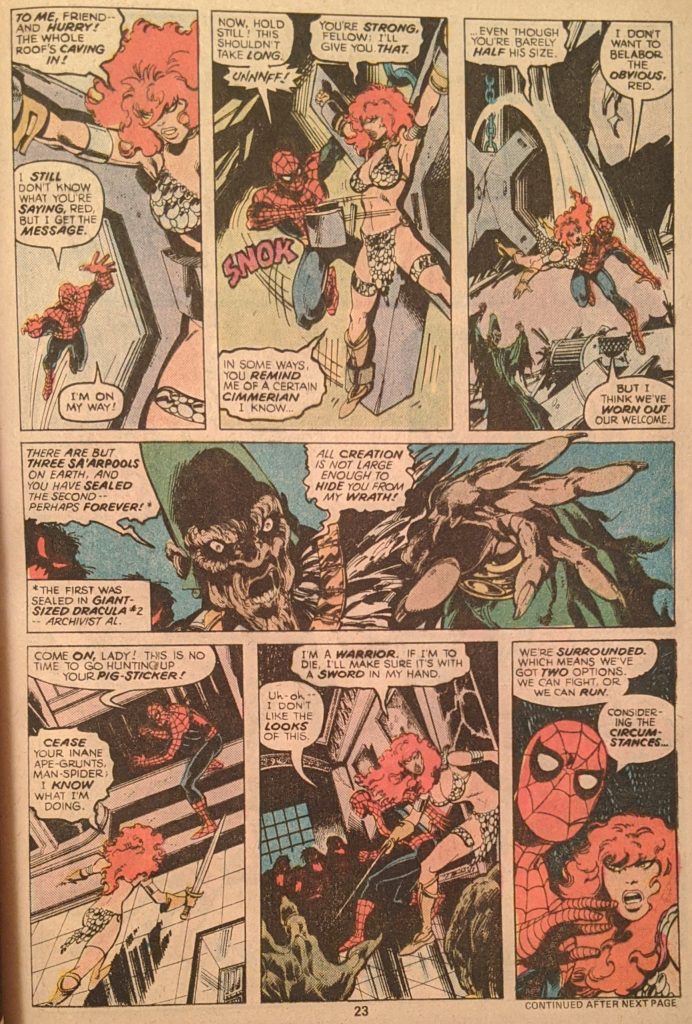 Big X-shaped restraints! It is a Claremont comic! And then Spidey breaks loose at the last second in a dramatic show of strength! It IS a Claremont comic! Spidey swings him & Red Sonja out of harm's way, and then start dodging around as Gath attempts to zap him with his magic whatever, before accidentally finding the perfect way to stop him by tackling him outside.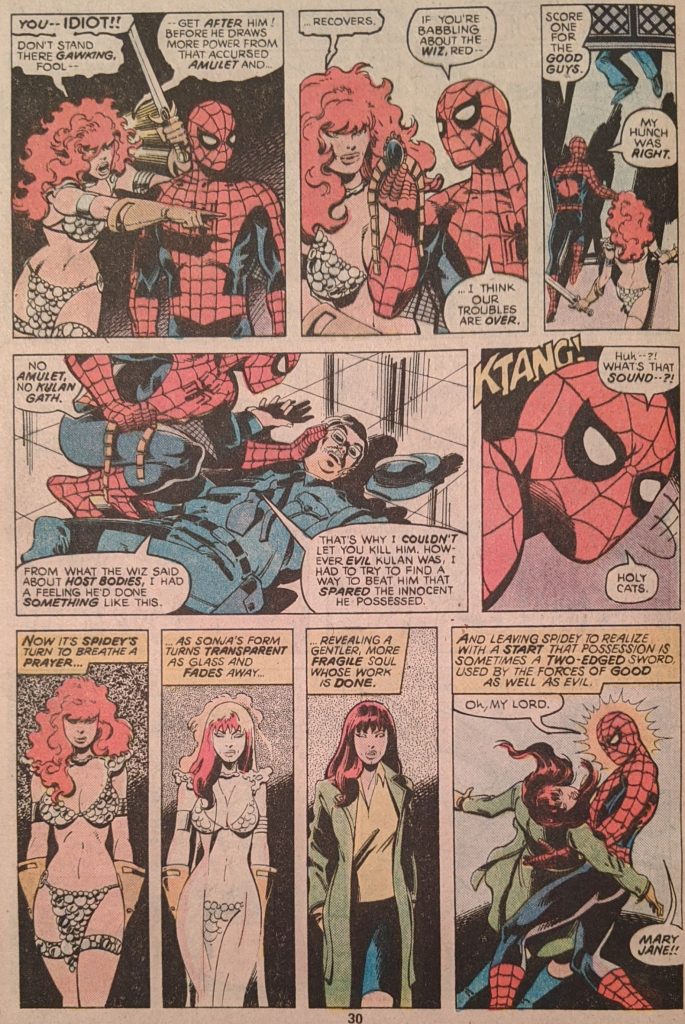 I gotta say, Sonja didn't get to do much in this. Mostly she got carried around by Spider-Man or captured. She deserved better. Wouldja believe that, in the 2000s, Marvel would do a crossover with Dynamite, the current owner of the rights to Red Sonja comics, doing a 5-issue sequel to this story, now including Venom? It honestly wasn't too great, but having seen this story at a formative age, I was way excited for it. But! What if I further told you these events will actually be coming back to haunt Spidey much sooner than that? Seems weird? Well, it is, but that's for later.
As seen on the splash page, this one specifically says it takes place on December 22, 1978. I was 3 months old.