Time to wrap this up. Frenz only did breakdowns last issue, and this issue, he's down to layouts, with Brett Breeding credited with pencils & inks. Hard times for most of the Spidey pencilers lately. Christopher Priest says in his writing about being the editor in this period that he never shipped late, but that it was often close. It's interesting to me, tho, how much the person doing layouts still shines through a lot of the time, and this issue is a prime example. Comics used to be such a strange business. These days, line art is more and more the work of a single person, but the weird, weird alchemy of 2 people working together on it was fascinating. At any rate, Nel Yomtov also taps in on colors as The Sinister Syndicate have Spidey and Silver at their mercy. Everyone works together to recap the situation for 2 pages, and then Beetle is attacked from behind before he can deliver the killing zap.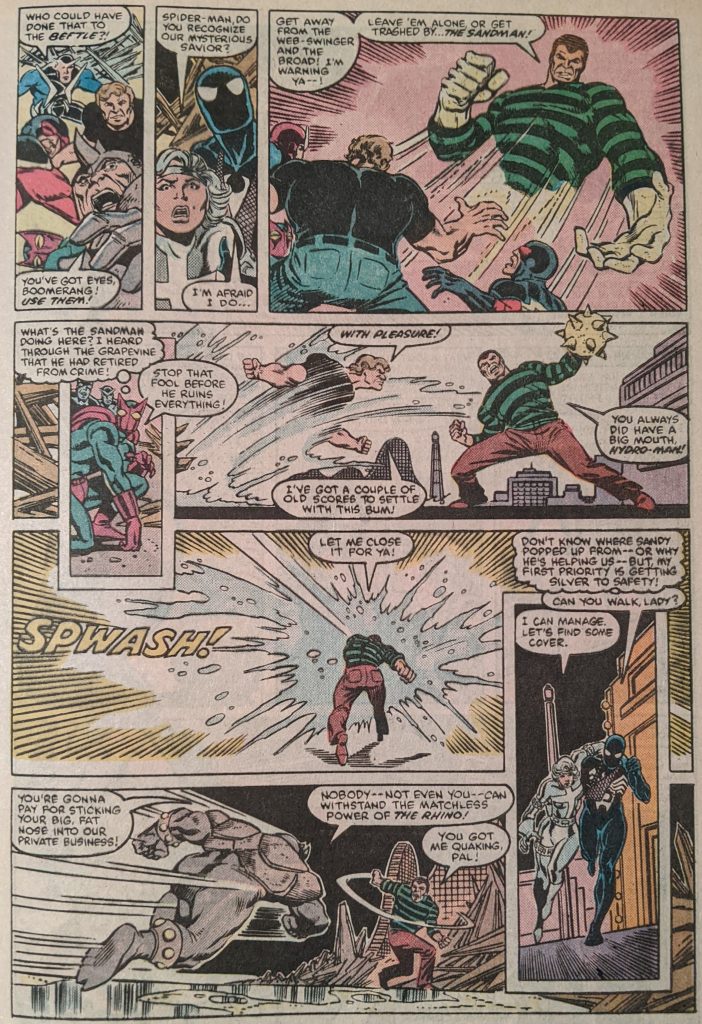 It's always nice when someone randomly walks by your superfight and decides to help. As he makes fools of Rhino and Hydro-Man at once, Sandy thinks to himself that he doesn't care about Spider-Man, he just hates Hydro-Man so much he had to mess things up for him. Spite is a great motivator! Silver wants Spidey to just abandon their savior, but the point is moot as Boomerang and Beetle come after them. However, we cut away to…
I would like to see Jack O'Lantern faithfully adapted into live action. Just to see that ridiculous pogo platform in motion. Think about how weird it would look to see him bouncing around. Meanwhile, at The Bugle, JJJ is upset that Robbie's still running stories about Hobgoblin, believing as usual that it's an open and shut case, Flash is Hobgoblin, time to move on. But Robbie is poring over some photos from Flash's arrest, sure something's not right, when he notices a detail that he says proves Flash is innocent! But before we can see what that it, we cut back to the fight.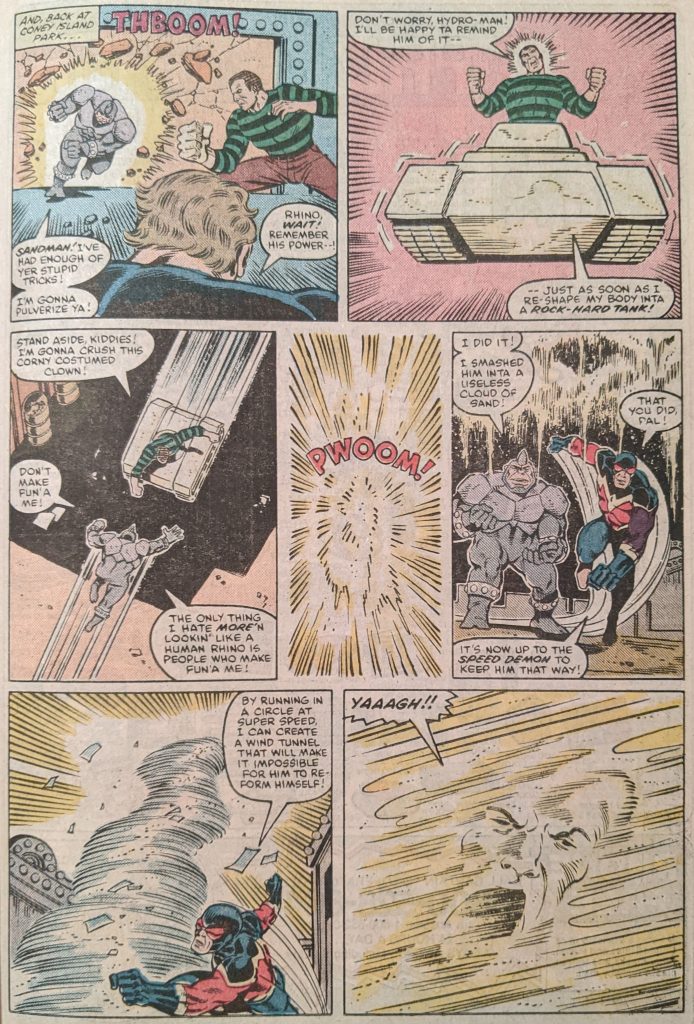 Spider-Man can't let Sandy suffer anymore, and leaves Sable hiding in a car from the rollercoaster that was knocked down last issue, somehow now standing again (?) to go help him. Silver says she can't let Spider-Man die, or she'll be held responsible and "his heirs would certainly sue." How could anyone possibly prove she was at fault?? Geez, these comics sometimes. Meanwhile, Flash Thomspon is feeling sorry for himself at his lawyer when Jack O'Lantern bursts into the prison.
Uh-oh.
Uh-oh! Hey, I'm no pro comics writer, but when the Spider-Man plot is the least interesting stuff happening in your Spider-Man comic, I think you're messing up! Every time we cut back to the Spidey fight, it feels like filler compared to the other plots. At said fight, DeFalco keeps putting high falutin' dialogue in the mouths of mooks like Hydro-Man ("Maybe it's time we finally found out who's stronger, the ocean, or the sand it pounds upon?!") as Sandman beats him unconscious. They talk about their long rivalry, but have they even seen each other since their initial meeting merged them into a mud man in ASM 218? Also, why isn't that happening as they fight now? The answer is who cares. Rudimentary investigation indicates Sandy and Hydro-Man separated in Marvel Two-In-One 86, and haven't seen each other again until this issue. And that issue was written by one Tom DeFalco, so I feel like he should know this isn't some legendary rivalry. Whatever, can't ask him to get good now. Back in the more interesting plot, Jack O'Lantern is very surprised to see Hobgoblin come crashing through the window of the place he's holed up with an unconscious Flash, ranting about how Jack ruined his plans and trying to kill him. Back at Coney Island, Spidey tells Silver to disrupt Beetle's systems by shooting his "antennae," but he comically takes the time to explain his super strength is routed to a different system than his blasters, so he's not out of the fight yet.
Elsewhere, Jack's down, but throws one of his assuredly-not-pumpkin bombs and catches Hobby offguard. Both of them limp away injured, vowing to win next time they meet. Back at the interminable fight, Spider-Man hilariously swings the webbed up Boomerang around on a web and throws him at Hydro-Man, but has to let Rhino charge into him to do it. The distraction lets Silver get loose, and she begins shooting Hydro with a fire extinguisher. The foam mixing with his watery body seems to mess him up.
How is Spider-Man supposed to seem outgunned by anyone now that he's beaten Starlord unconscious? Of course he can beat up Rhino. He should be able to beat up anyone short of Galactus. Man, that story was stupid.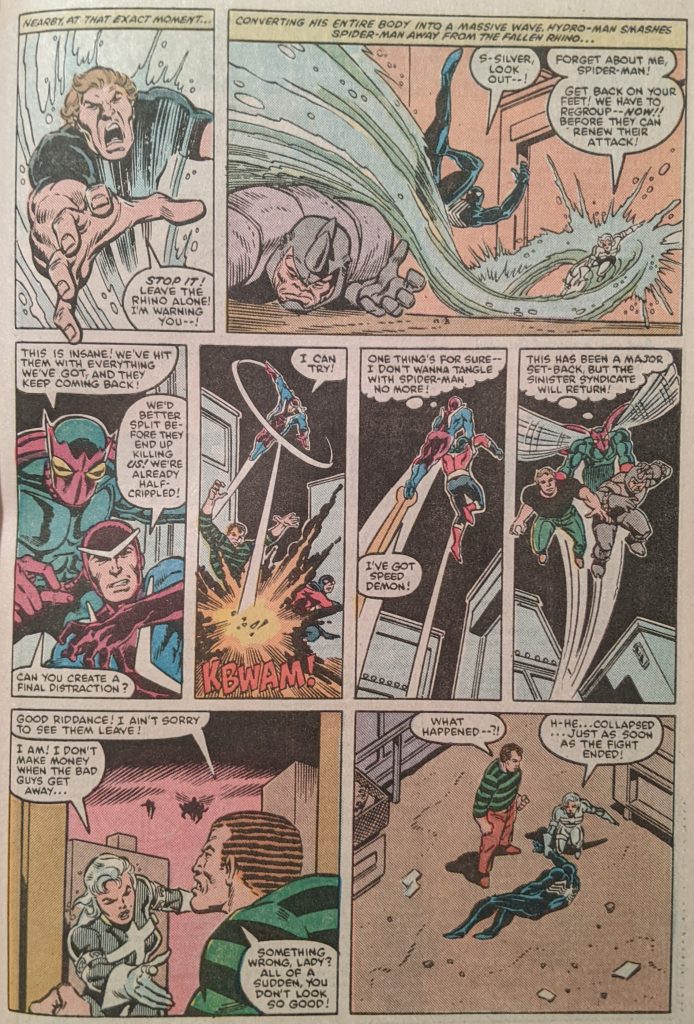 And so, Silver's long partnership with Sandman is established, and Spidey loses as usual. But also:
Flash is in a rough spot, that's for sure. How's X-Factor gonna get tangled up in this title? It's dumber than you could guess. But we have to table that for awhile as we run with TAC for a bit.