Turns out, 204 was the last issue of Marv Wolfman's run. He bounced mid-story, apparently some kinda dispute with Marvel. He headed back over to DC to create the New Teen Titans, and… I guess he left in a hurry, since 205 brings in future full-time ASM writer David Michelinie to finish last issue's story. Black Cat was Marv's baby, carried around since before he even wrote Spider-Man, to bail in the middle of her 2nd story, seems like something bad had to go down. Strange. Random. I've never been able to find out what happened. Keith Pollard is still on board for the moment, at least, ink by Jim Mooney this month as we drop in on Spidey staking out the Hendricks Museum of Musical History at 6am. Spidey has figured out this is where she will strike next based on the items she copped last issue… except Michelinie has renamed them, The Golden Lovers becoming The Two Lovers and the Raja Ruby becoming "The Eye of Eros Diamond." Whoops. With the Music History museum unveiling a rare wax cylinder recording "of Caruso singing a love aria," there's a theme emerging. Turns out he's been here all night waiting for The Cat to strike, and she didn't. In a goofy turn of events, he drops down out of his hiding place "to stretch his muscles" right in front of 2 guards, not a peep from his Spider Sense, and suddenly finds himself being shot at.
My notes from 3 years ago say that duo of guards was based on Abbott & Costello. I must've been suspicious of that totally bizarre line of dialogue and looked it up. Good job, past me! Anyway, Ms. Starr is pretty aggressive.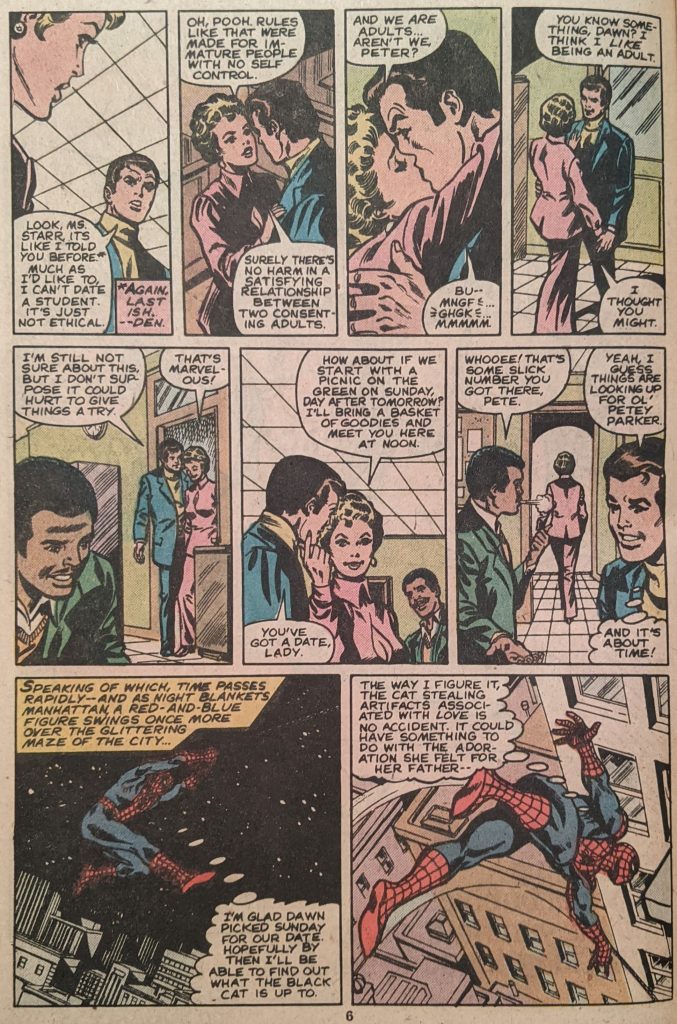 Stay classy, Pete! Soon enough, Spider-Man is swinging back over to the museum, where BC's robbery is already in progress. Abbott & Costello are all tied up (They call each other "Bud" and "Lou," maybe that tipped me off) and The Cat has just liberated the wax cylinder as Spidey bursts in. Black Cat wastes no time mentioning you shouldn't let a black cat cross your path…
…(WE GET IT). Egads, Pollard swipes again! One from Sturdy Steve Ditko himself in panel 1 there. I don't have the exact source in my mind, but it's from an early pin-up or like a "how Spider-Man's webshooters work" type page or something. He just changed it so Spidey isn't looking directly at us. And a case could be made for the Spidey in panel 5 being modified from the cover of ASM 127! For shame, Keith! Anyway, Cat makes a giant steam organ fall on the guards, and Spider-Man has to go catch it and let her escape. Then he has to quickly Lift A Heavy Thing, but he manages it. The next day, Pete drops by the Daily Globe just in time to interrupt a meeting between Barney and Society Editor Pamela Dean.
The largest collection of romantic and erotic artifacts in the world!" Oo la la! Pretty funny bit with the taxi there. If Peter knows Black Cat is going to try to steal something there, it seems like making sure he has to be there in his civilian identity is just making things more complicated, but what do I know? Pete figures he'll swing by ESU and grade some papers while he waits for his last chance to stop BC, but finds his door unlocked. He switches to Spider-Man to confront one Dawn Starr, caught in the act of stealing the exams for his class, and sends her packing. Also, Pollard swipes a Spidey from the cover of ASM Annual 2. It's just gonna be a thing, I guess. Would you believe thus endeth the tale of Dawn Starr? She never appears in another comic book. We move to the mansion of Lazlo Bellflower, the dude with all the sexy art. He's just been offered a trade by Felicia Hardy, the 3 things she's stolen as Black Cat for "The Helen Epistle," which according to Felicia is "the only known love-letter written to Paris by Helen of Troy!" Aaaaaaalright. Bellflower takes her up on her offer, then she tells him she's taking all 4 pieces, anyway. Arriving on the scene, Peter is told Bellflower had to cancel their appointment, senses trouble and leaps in as Spider-Man.
Inside, Cat is packing her stuff when Spidey arrives. As they fight some more, she begs him to leave her alone, saying he'll understand everything soon.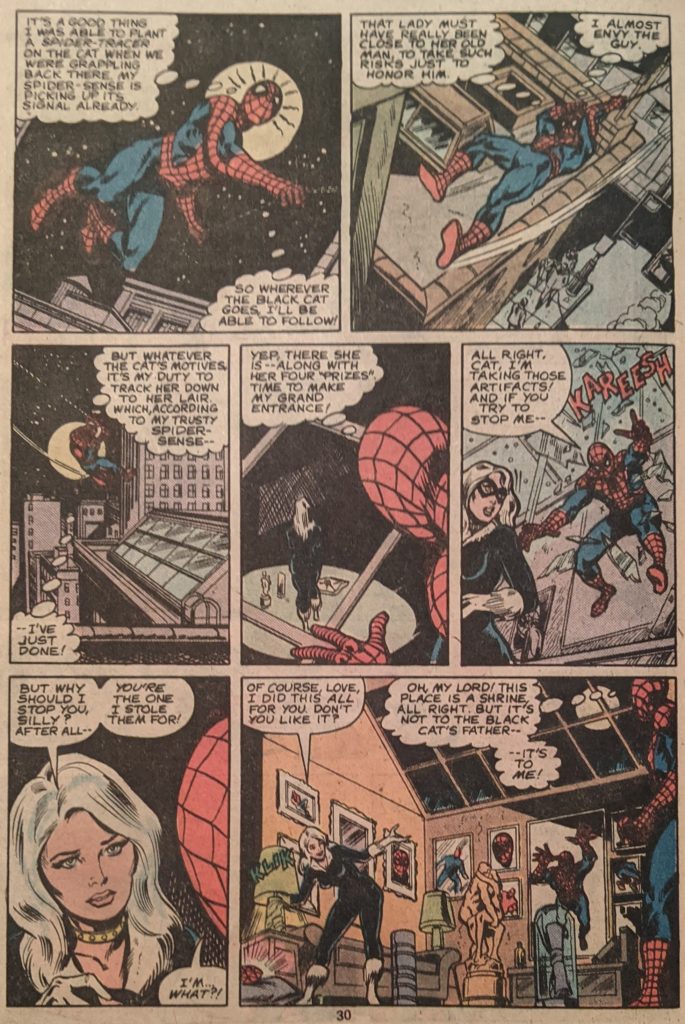 (Certain panel 2 is a Ditko swipe)
Soooooooo, that's awkward. Good grief. One wonders how much of this came from Marv. It seems like this could have been the original pay off of last issue, or could've been invented by David. Maybe Keith knew what Marv was going to do. I wonder why he quit. Well, he did, and that's that for that. One more ASM to go in this period, but obviously, it'll need a new writer. Who will it be?