Just noticed the insides of the letters being black on the cover was actually done by someone with a pen, so you know this is gonna be a good one. The culprit? Ronald. He wrote his name on the inside cover. I gotcho old comic, Ronald! This issue completes the team that will be doing ASM until issue 150, Gerry Conway, Ross Andru, and inkers Frank Giacoia & Dave Hunt. And things are pretty crazy right out of the gate: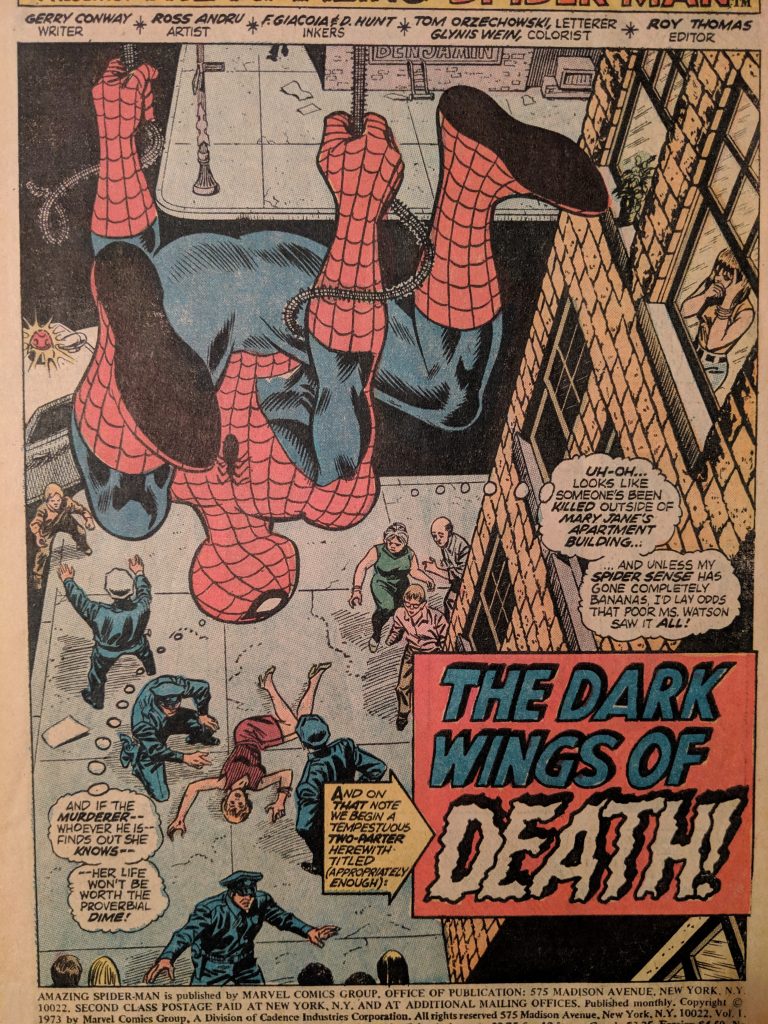 Spidey decides to change clothes and go see MJ, to make sure she goes to the police. He thinks it will keep her safe. He also thinks about how she's been trying to take care of him since Gwen died, and now he can try to return the favor, which is nice. She lets him in even though it's after midnight (He doesn't even try to explain why he's there), and he makes her coffee and asks her what happened.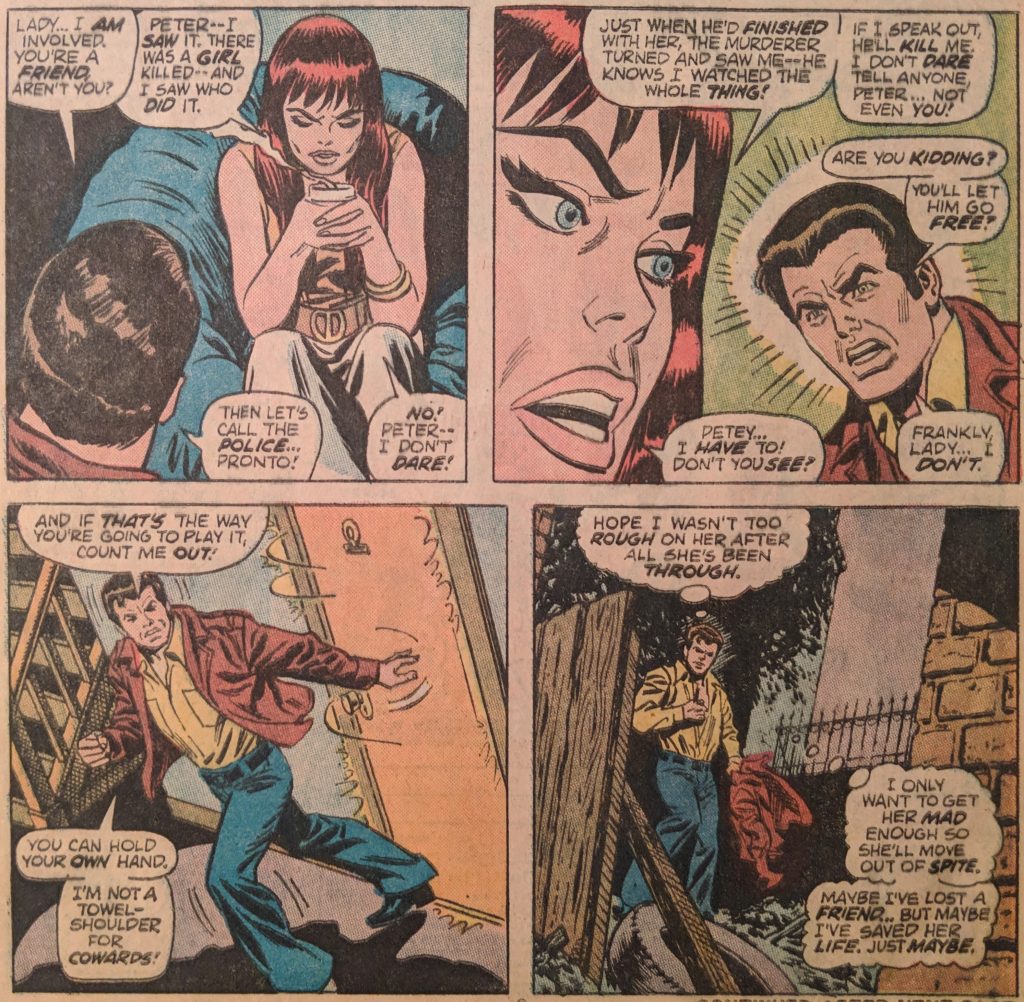 Wh… what? WHAT? THAT'S his idea of "taking care of her?" Good God! Peter changes back to Spidey and says he's going to investigate the crime scene, but as soon as he gets airborne, just in case you didn't notice on the cover, the perpetrator of the crime is revealed.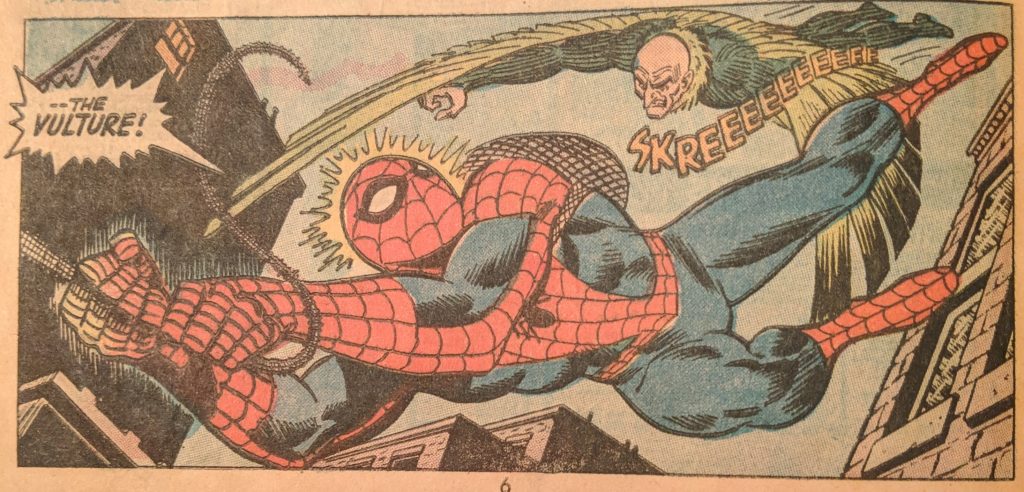 Well, sort of. They fight for a page and a half before…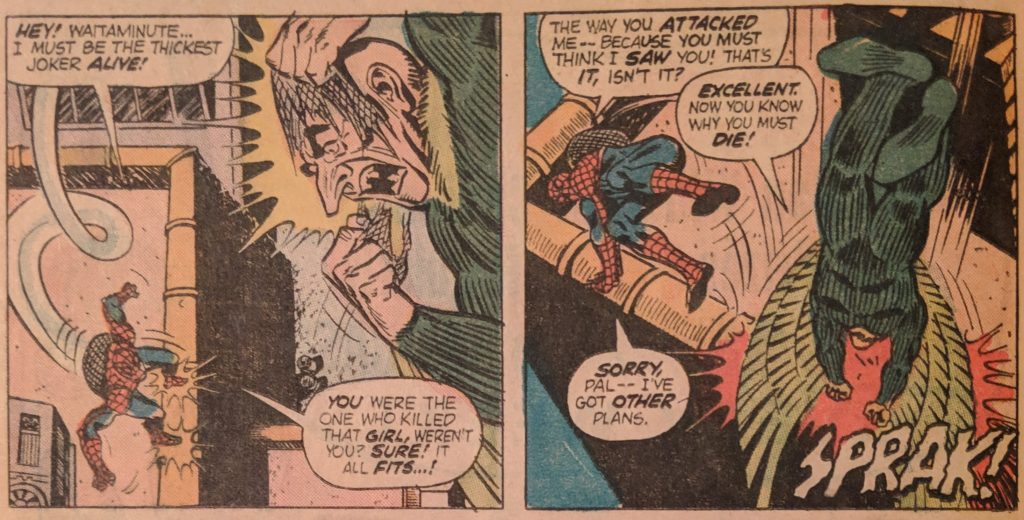 Nothing gets past Spider-Man! Except The Vulture, who just sort of hops backwards during the fight, causing Spider-Man to lunge right past him and fall nearly to his death. He manages to make a web net just like a foot off the ground so he hits pretty hard. Hard enough that The Vulture assumes he's dead and leaves. Real professional, Spidey. Then he also just leaves, and the very next panel has him at the window of Johnny Storm with no "Later…" or anything. Andru's panel-to-panel continuity seems like it's often very confusing and abrupt, and Conway is scrambling to make it work. Spidey's come to check on his Spider-Mobile. Yeah, that's really happening.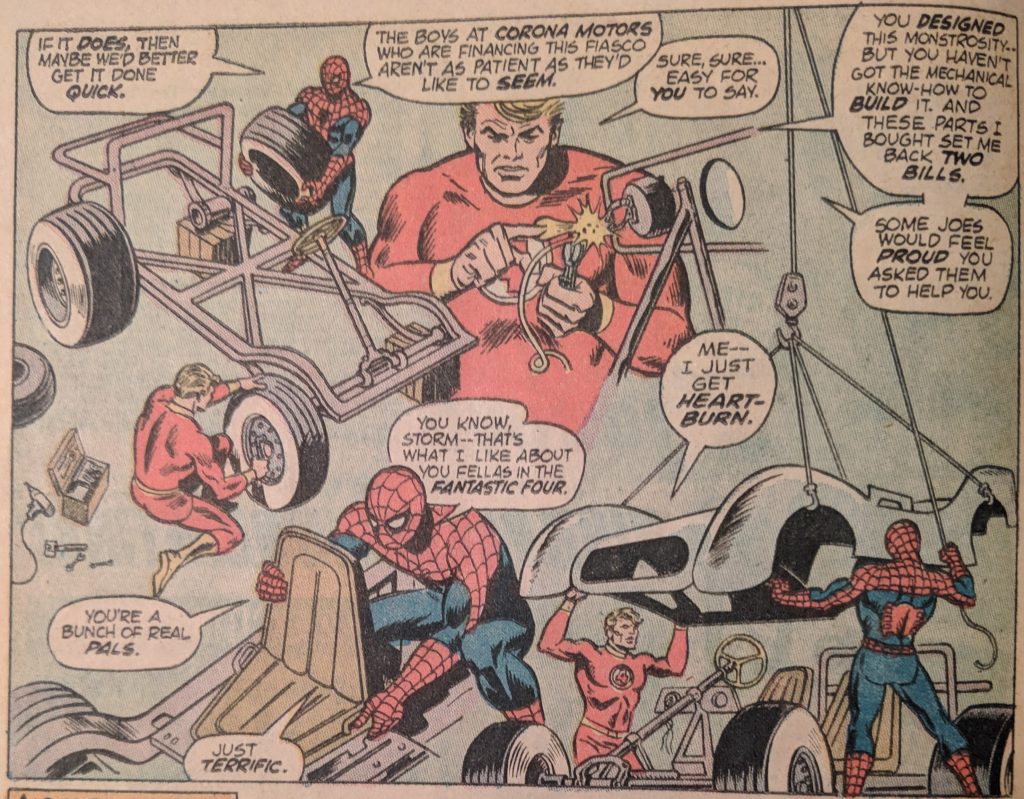 They stay up working on the car until dawn, presumably being dicks to each other the entire time, and then Spidey swings home. He's having some breakfast when poor, crazed Harry Osborn shows up.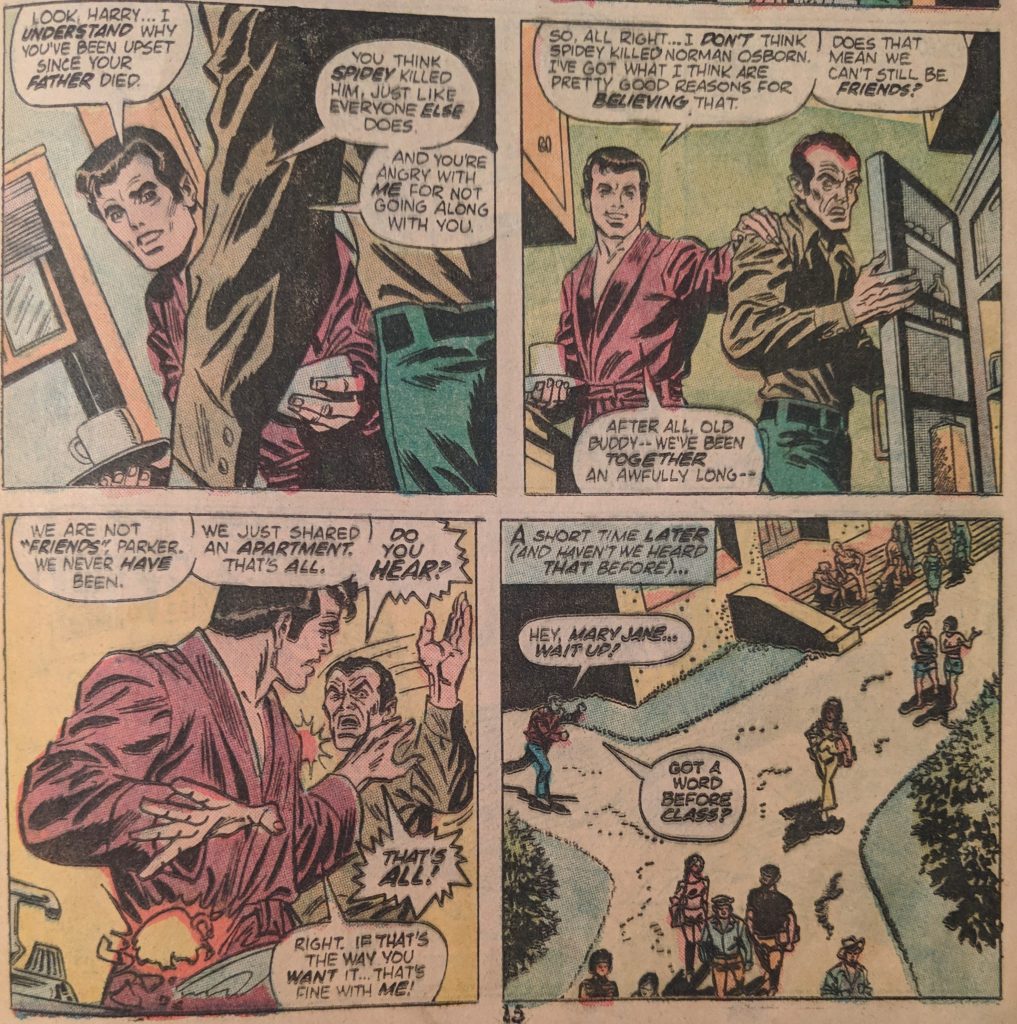 MJ tries to tell Peter she was just joking about seeing a murder, but neither of them is buying it. Just then, Flash Thompson pulls up in a car he borrowed from his cousin and offers to drive them around. They get in, but Flash can tell things are weird. Before they can get any weirder, though, The Vulture reappears.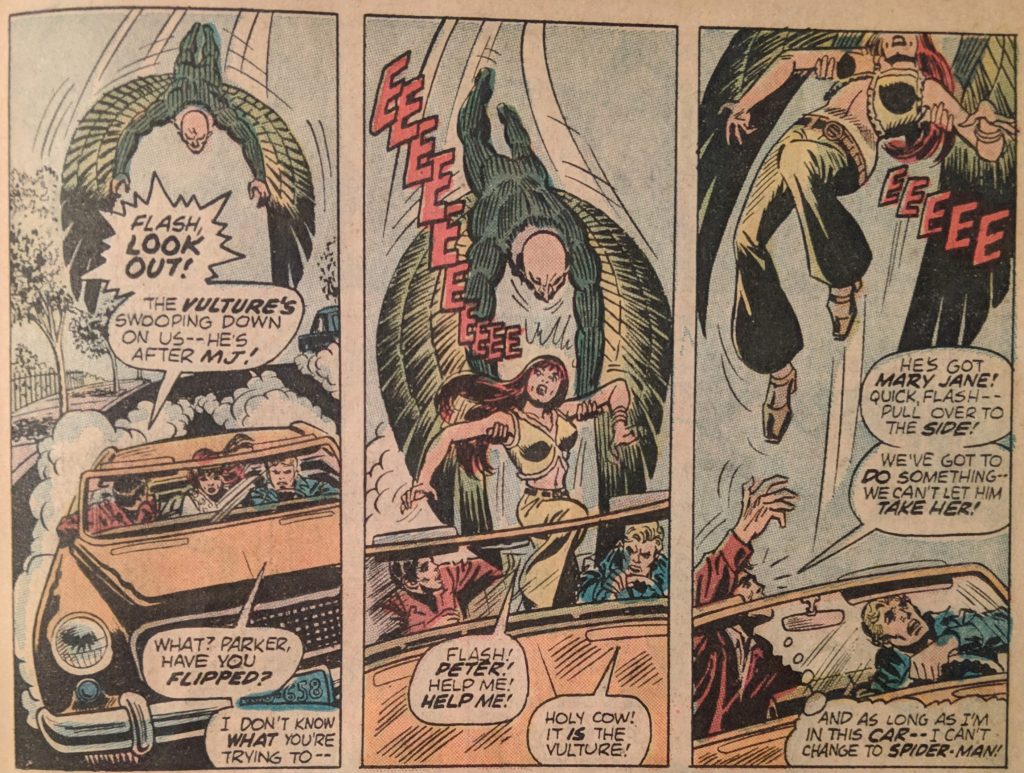 Yikes! Flash is understandably distracted and barely avoids running into an oncoming van, instead crashing into a telephone pole. He's unharmed, but out cold, allowing Peter to rush off to save MJ. Well, nearly.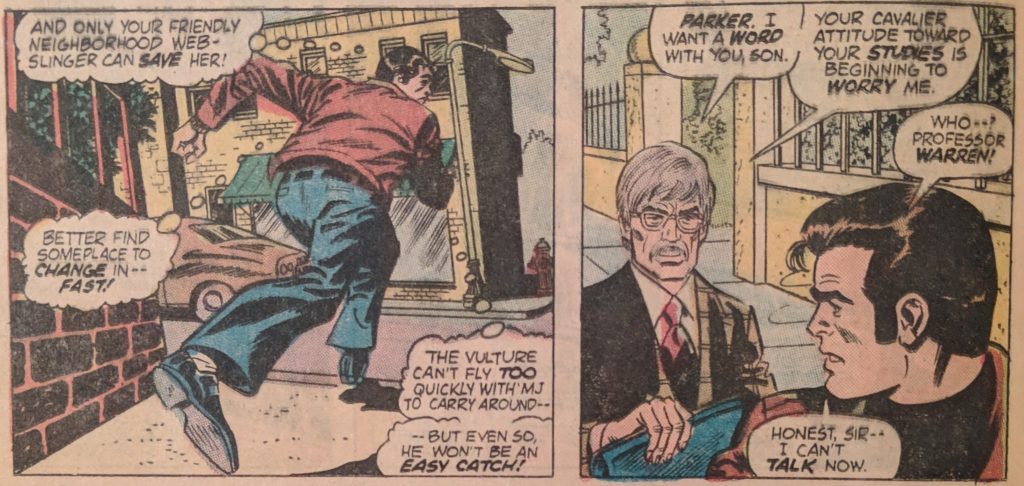 Warren won't take no for an answer, and starts telling Peter how he's annoyed that he's not attending class anymore, and tries to give him an ultimatum, but Peter just runs off. He worries this means he's probably going to be failing two of his classes this semester, but MJ's life is more important, of course, so he's gotta be a hero. He catches up to The Vulture, who says he has a surprise for Spider-Man…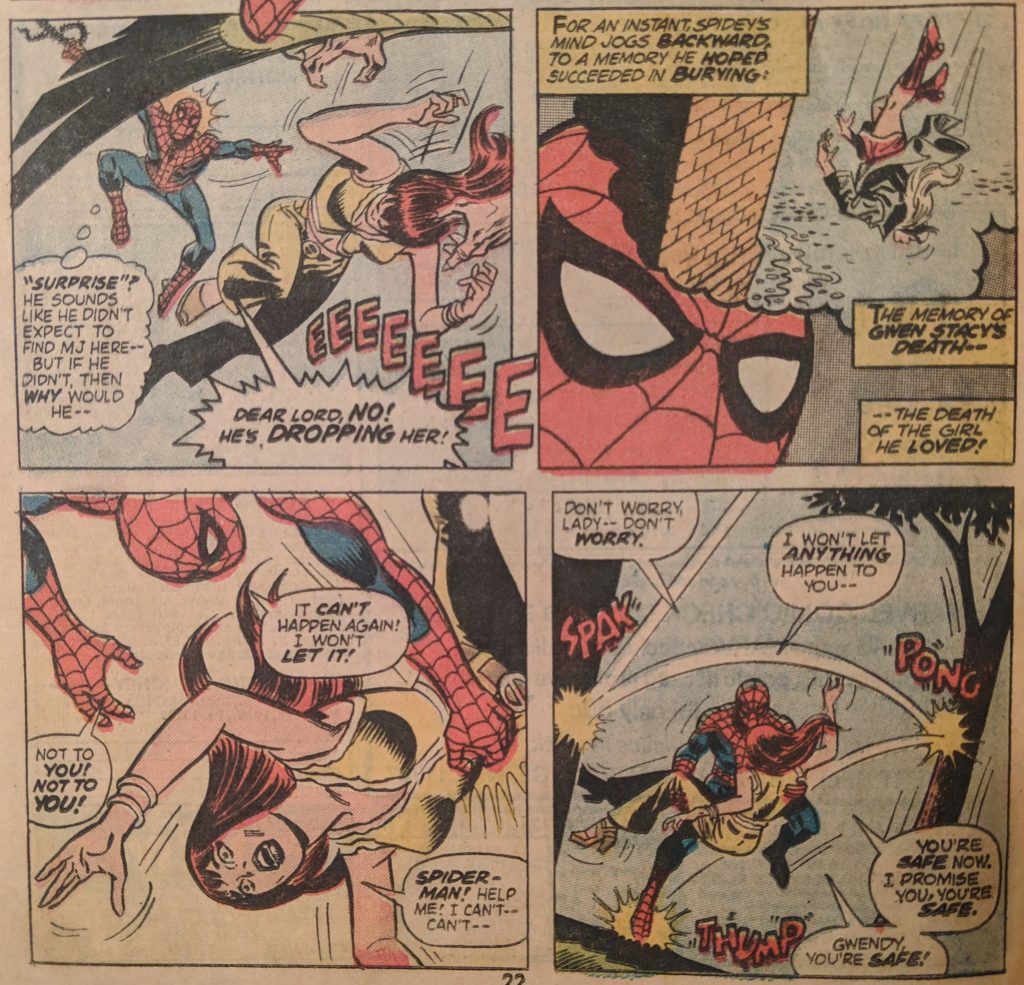 Conway sure loves to repeat things for emphasis. Peter's seemed less obsessed with Gwen this issue, but clearly, still not there. MJ doesn't say a word as he gently lowers her to the ground, bellows that he won't let The Vulture hurt anyone ever again, and swings off. As we've seen already, more than ten years after this issue was published, Tom Defalco made the major revelation that MJ has known Peter was Spider-Man a long time. It's fun to read MJ's interactions with Spider-Man with that in mind and see how they hold up. Here, she doesn't seem too surprised to see him, which would make sense if she knew who he was when she got carried off. Anyway, Spidey swings away, wondering what The Vulture was doing here since he seemed surprised to find MJ, and also wondering (Rather late) why he killed that girl last night in the first place. Then he hears a scream and swings in a window to find Vulch menacing a lab assistant.

We're told we'll find out more about that lady next issue as the fight spills out onto the street, where a bunch of cops and Flash & MJ are standing around. The cops literally just throw a net over Spidey & The Vulture like they're animals.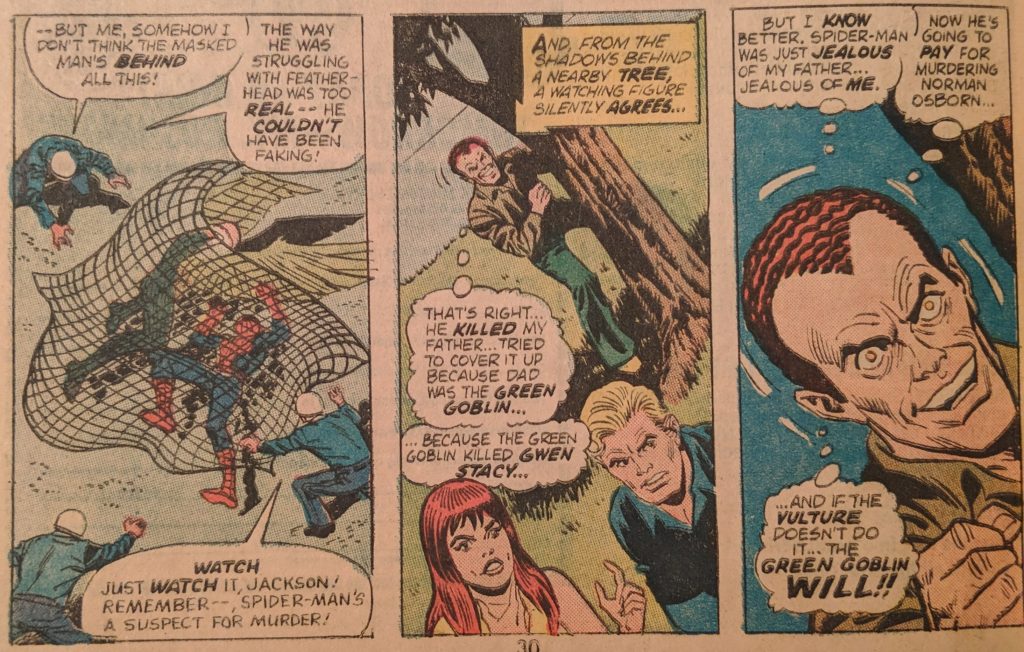 Man, Harry is not in a good place. Vulture breaks out of the net and, still blinded by Spider-Man's webbing, grabs someone by the shirt and flies away. He thinks he grabbed the girl from before, but he's got Spidey. Why would it be her, she wasn't even around. They fly off into the distance as Flash and MJ discuss whether Spidey will be ok and Harry keeps making crazy faces. Then The Vulture finally gets the web off his face, sees who he has ("You're not Christine!"), and just drops him.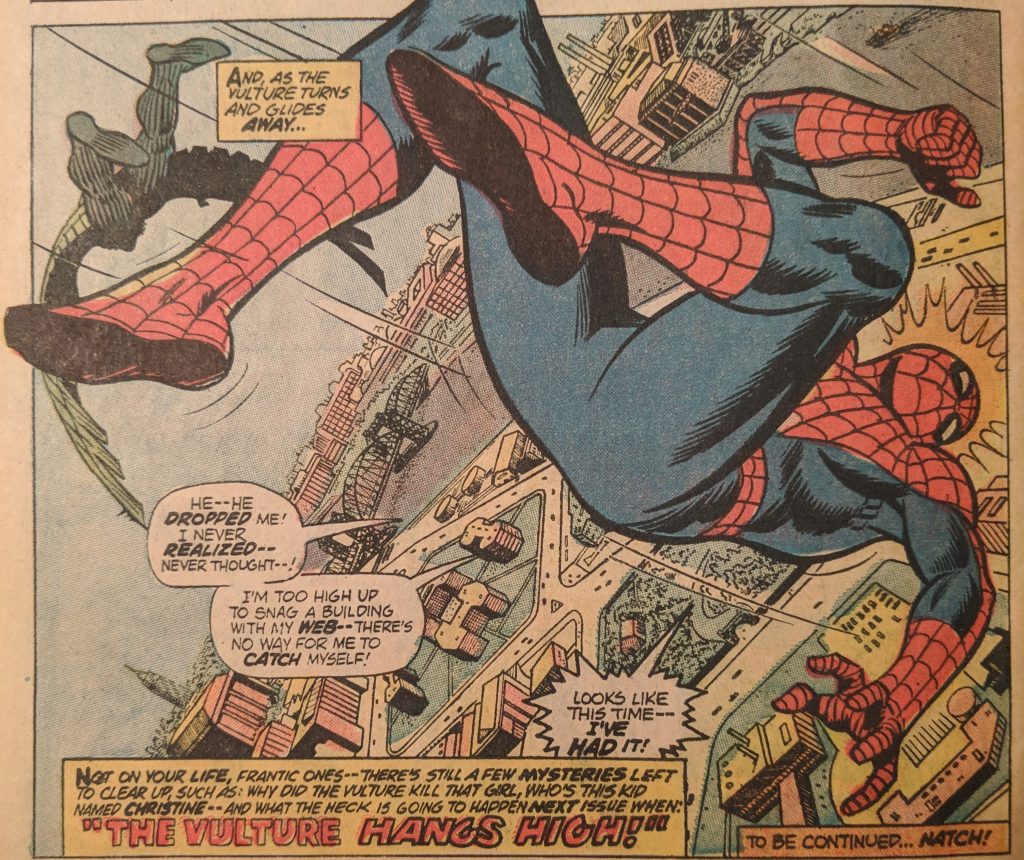 Uh-oh! Falling to his death as usual?? How's Spidey gonna get out of this one? Back in the letter page, are we still going insane over Gwen's death?

Yes, we are.