No idea on this hologram. Romita, Sr. maybe? Could be Mike Zeck. No idea. Last issue promised this one would reunite the DeFalco/Frenz team with Erik Larsen inking. I don't know why Erik would have done that at this point, but he is not in this book. And Frenz only draws 7 pages before Mark Bagley has to swing in and save the day, alongside a host of inkers comprised of Klaus Janson, Al Milgrom, Keith Williams, Mark Texeira, Tom Plamer and Joe Rubenstein. A real who's who of classic inkers, plus current stalwart Keith Williams. Tex is a real odd man out here. Colors courtesy of Renee Witterstaetter. Is this famously late Tom DeFalco's fault? Did Ron catch a cold? What happened with Erik? I'll never know. What I do know is, the promise of a poster with Spider-Man, Silver Surfer and Captain America on it sounds very random until you see who drew it…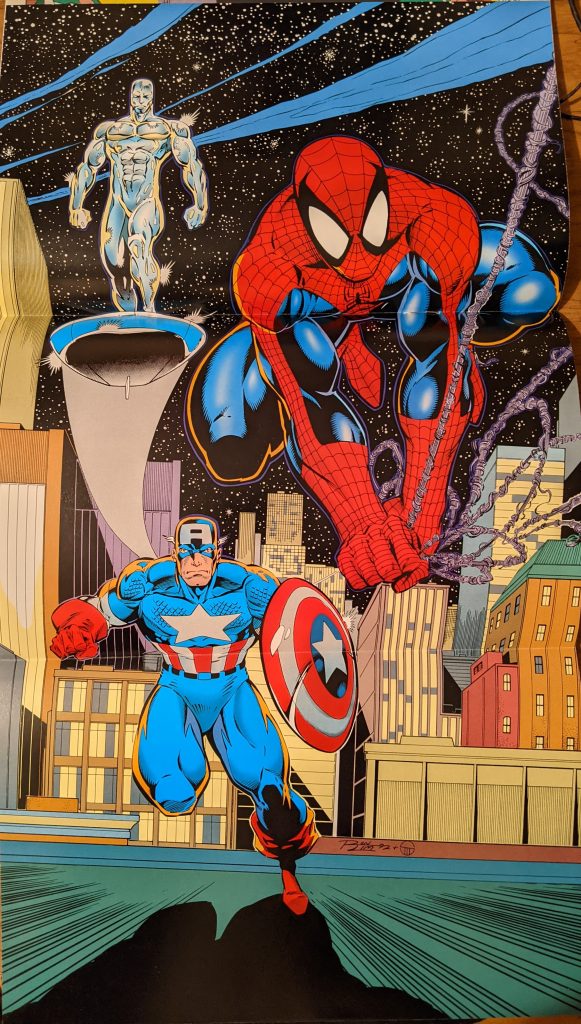 Ron Lim, artist of Captain America, Silver Surfer, and soon, Spider-Man Unlimited. Anyway, our tale begins with a guy running frantically down the street with a giant NES controller strapped to his chest that appears to be encasing him in a forcefield, yelling for help and bumping people around.
Not so much as a "gotta go" for MJ? Rude. And yes, the guy who looks like the burglar from Spidey's origin is exactly what you think, and yes, it's dumb. Anyway, might as well get a Frenz Spider-Man in here since he's soon to disappear.
Frenz is really helped by a great inker. Spider-Man winds up some web antics to try to save the guy and the bike at the same time with some kind of slingshot move, but at the same time, Burglar Jr. steals a purse and comes running right at him as he lands on the sidewalk for a split second, distracting him.
Spidey drops the guy on a roof and focuses on the bike, keeping it from falling on anyone. MJ sees all this and is happy. And that's it for Frenz. A few blocks away, the one brother steals a car and Stew piles into it after figuring out how to turn off the thingie, and they escape the goons chasing them. Had I to guess, I would say Klaus inked all Ron's pages, and Milgrom takes over for the first of Bags'.
Sunset Bain, a weirdly named foe of Iron Man and Machine Man, if you can believe it. Elsewhere, Peter & Mj are home, Peter is upset that he couldn't stop a burglar who looks exactly like the one from his first appearance, it could not be more on the nose, and it inspires him to tell her his origin like she wouldn't know it by heart, at this point. It is the by now very familiar act of a modern artist recreating panels shot-for-shot from the origin while a modern writer retypes Stan's dialogue. They add Peter's commentary over it, but it doesn't add much. Then he talks about how he's always wondered what would've happened if he'd acted, and great power & responsibility and blah blah, MJ would know all this backward and forward. I think Keith Williams tags in during the flashback.
Cut to the brothers turning the machine on and off again, cut to the bad guys tracking it every time it's turned on, cut back to Peter suiting up to go clear his head for awhile. And then Tex very visibility takes over inks.
Very obvious. Stew blasts Spidey out of the store by rapidly expanding his field, and that's when the goon squad shows up and starts machine gunning indiscriminately. Spidey turns his attention to the gunners, laying into them all at once.
The almost-as-heavy hand of Tom Palmer takes over on the next page, as Spider-Man takes off after the brothers and quickly finds them. Stew tries to hit him with the force field, but can't catch him. Then he realizes Spidey's too fast for him, but also can't get to him through the field, so he decides to try to wait our hero out. Spidey begins encasing Stew in webbing, but it doesn't stop him at all.
A police van arrives almost instantly to pick up the brothers, far too quickly. One cop tells Spidey to take off before "the brass" finds out he's involved, and of course, Sunset Bain's main goon is in the van. But before he can kill the boys, Joe Rubenstein takes over inking and Spider-Man reappears, having been suspicious of the cops. He webs everyone nice and neat and leaps away to wrap this ridiculous story up.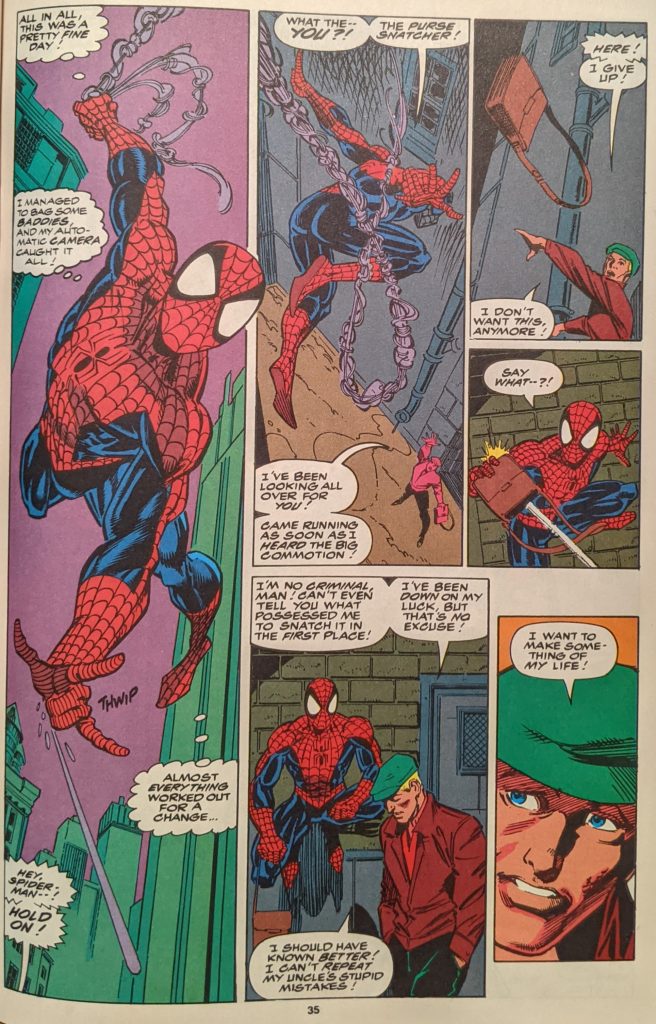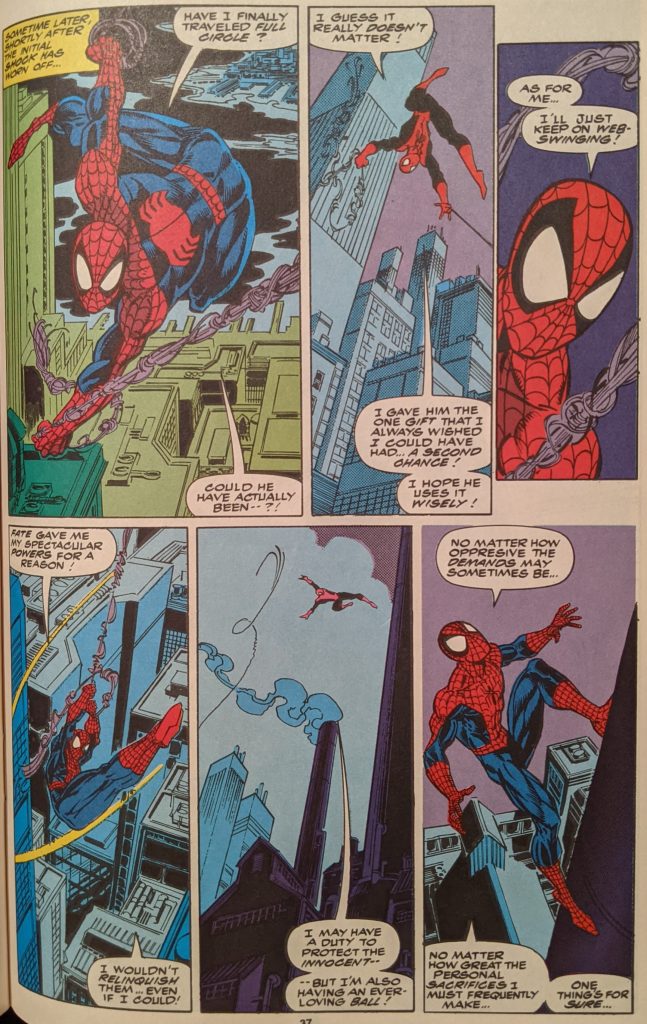 Pretty standard ending to an anniversary issue, by this point. The cover promised a great new villain. Am I supposed to think Stew is A) Great. B) Ever coming back? I don't. Why include Sunset Bain and not do anything with her? What a mess. Tom DeFalco makes a lot of messes. But wait, there's more. DeFalco and Bags hang in there as Sam De La Rosa and Marie Jarvins round out the team so we can have Peter explain his powers to MJ. First, she sneaks up on him with a pillow, and he leaps over her head to dodge.
Except for that time Aunt May snuck up on him in ASM 114. And we can't even get into that time MJ being in his apartment waiting for him somehow registered as danger in ASM 149. Both courtesy of Gerry Conway. Anyway, he goes on to talk about how sometimes it senses danger he can't see and it guides him through both a crowded room and a fight on instinct, mentions his super speed and agility and reflexes, mentions he can "achieve perfect equilibrium from practically any position," which is sure something.
"Any part of Spider-Man can stick to things" is so ridiculous, but it's long-established canon. The wall crawling was already pretty dubious, but "I can grab onto a wall with my scalp, just like a spider!" is nuts.
And that's it. I guess features like this are kinda fun. They're also just kinda silly. I think it was better in the old days, when either Peter talked to the reader or it was just explained with captions. MJ seems like she should know already. The letter page invites you to look out for the chance to order The Trial of Venom for UNICEF in November '92 cover dated comics, which means no one would've read it for awhile after that, which once again proves the suggested reading order I found online when I began this project is often incorrect. It didn't feel like it should go where I put it, and that's because it shouldn't. Oh, well. Too late. More anniversary stuff next post, as things get really weird.