It's action from page one this month as Hammerhead's goons open fire on Spider-Man over Doc Ock's unconscious body. Spidey swings around and handily dispatches the goons, and then has a go at Hammerhead…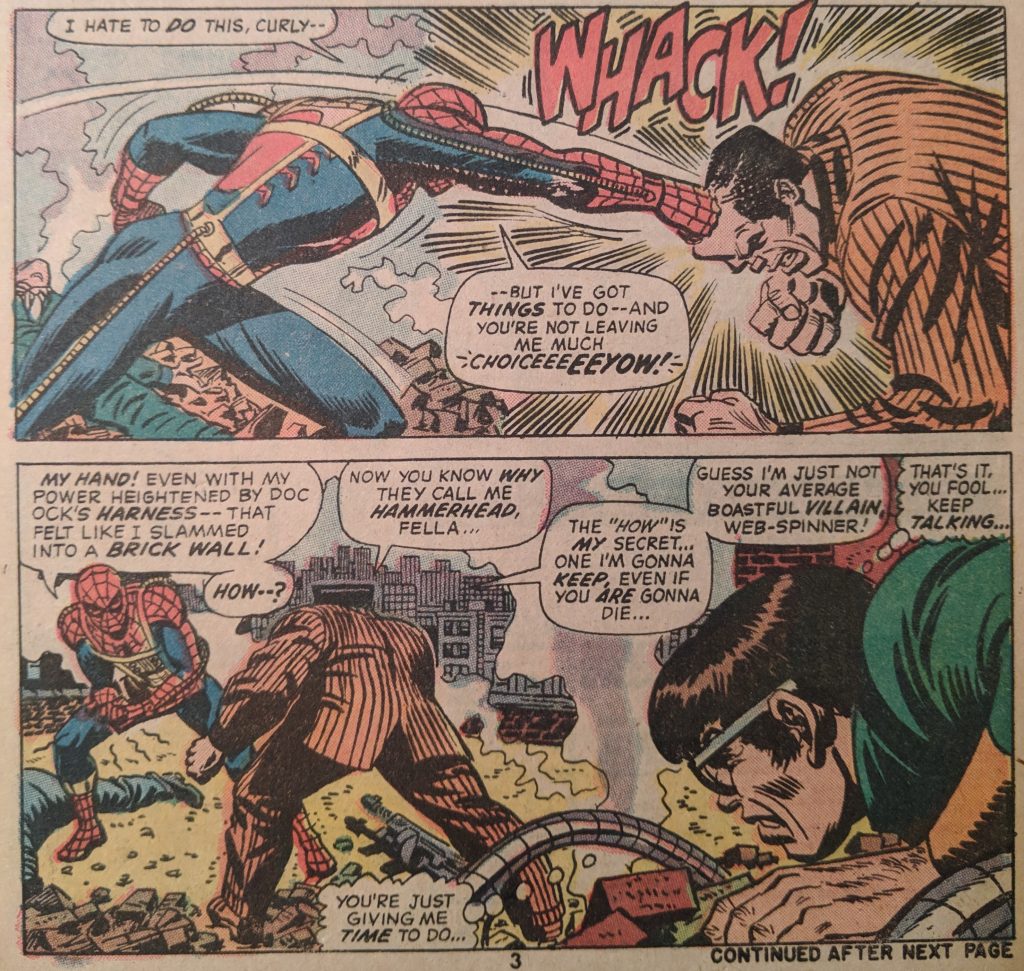 Yowch! Say, remember how the power went out on the harness last issue? Hammerhead refuses to explain why his head is so hard, but he still does a lot of talking, giving Doc Ock a chance to come around and getting back in the fight. A fight that takes a turn very quickly…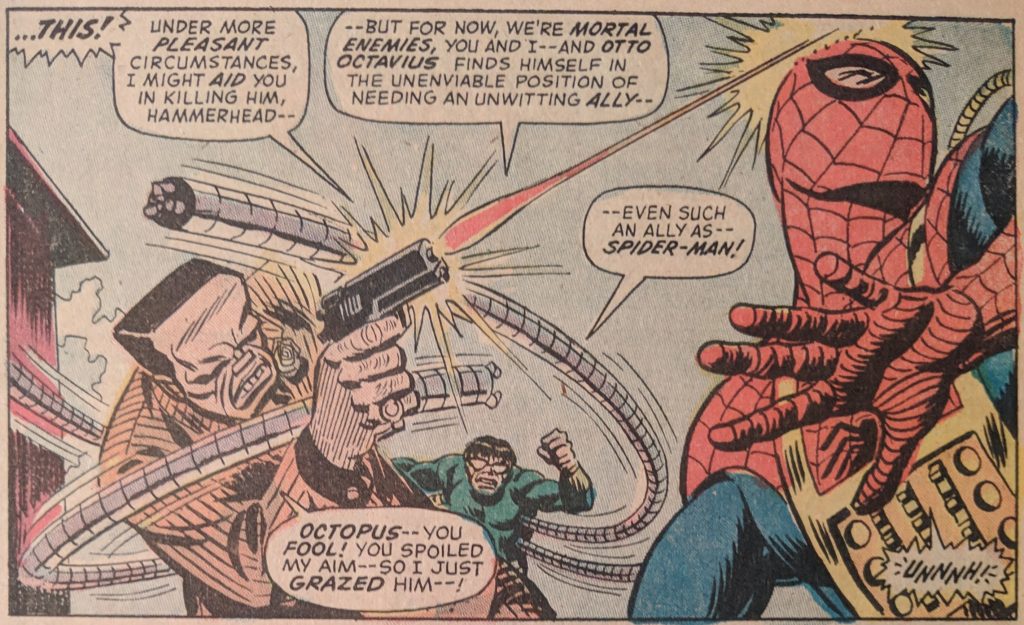 Man, Spidey really can't catch a break these days. Now he's got a bullet wound in his head! Octopus makes a break for it, smashing a car full of HH's goons on the way out. Hammerhead and his boys, meanwhile, make off with the unconscious Spider-Man, who's having a nightmare about the events of the last few issues to catch us up. When he regains consciousness, he is surprisingly not in a death trap or anything. He's just in an office.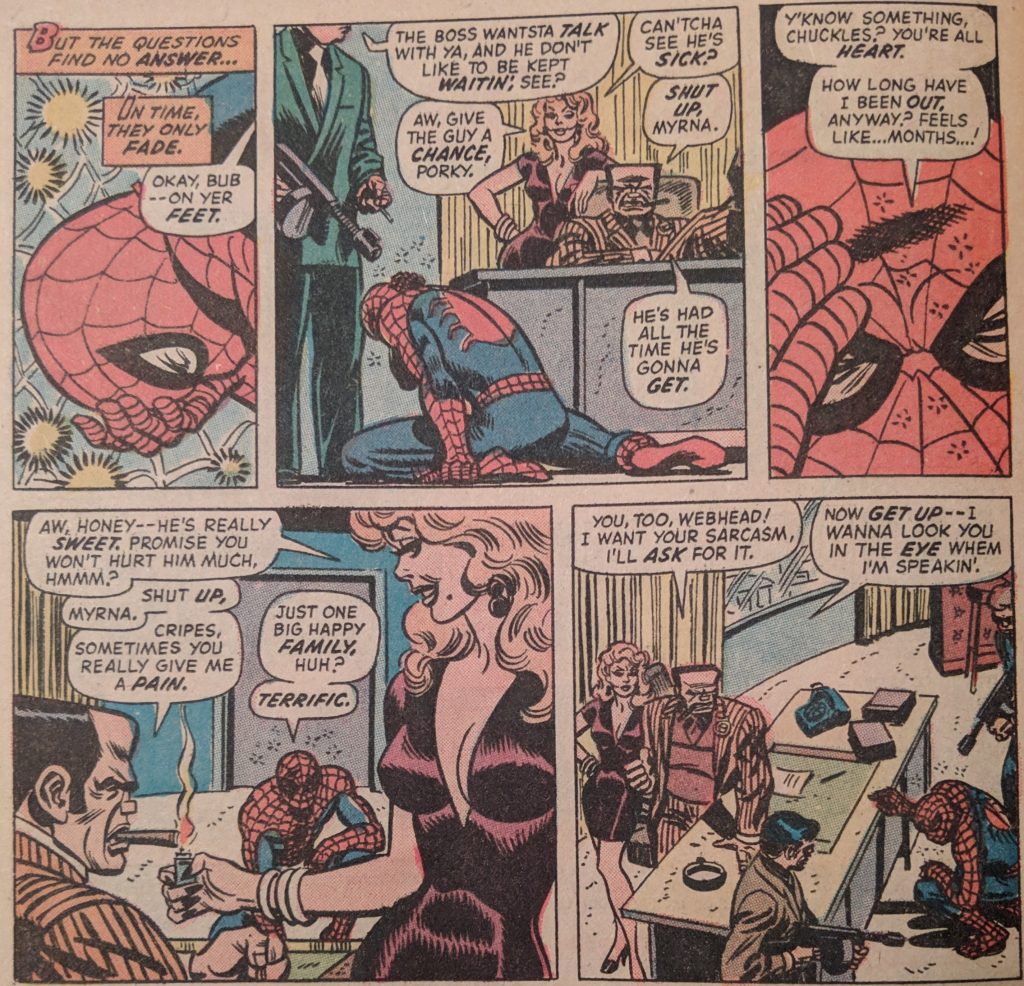 Hammerhead tells him he's either going to join the gang or die, and proves he's tough by having one of his goons ("Porky!") hit him in the head with a rifle. I mean, he took it better than I would, sure, but that doesn't seem like the most practical gimmick. "I'm gonna take over New York's mobs by gettin' hit in the head with stuff!" Then we flashback to Hammerhead's origin. Curiously, he is expressly not telling Spider-Man his backstory, we're just looking at it for ourselves. A story of how a barely alive mobster was found in an alley by Dr. Jonas Harrow, Mad Surgeon, who decided to try to save the guy to redeem his reputation after some questionable experiments. Improbably, this is the first appearance of sometimes Spider-foe Jonas Harrow, as a hastily explained background character in the origin story of Hammerhead. Wow. At any rate, Harrow replaced his skull with steel alloy and saved his life. But the man no longer knew who he was, and so he became Hammerhead. And that's it! Now he's a mobster cartoon. Flashback over, HH now wants his answer from Spider-Man. Meanwhile, Doc Ock arrives at a mansion in Westchester, not knowing he's being followed by Hammerhead's boys. They call it in, giving Spidey a couple more minutes to stall…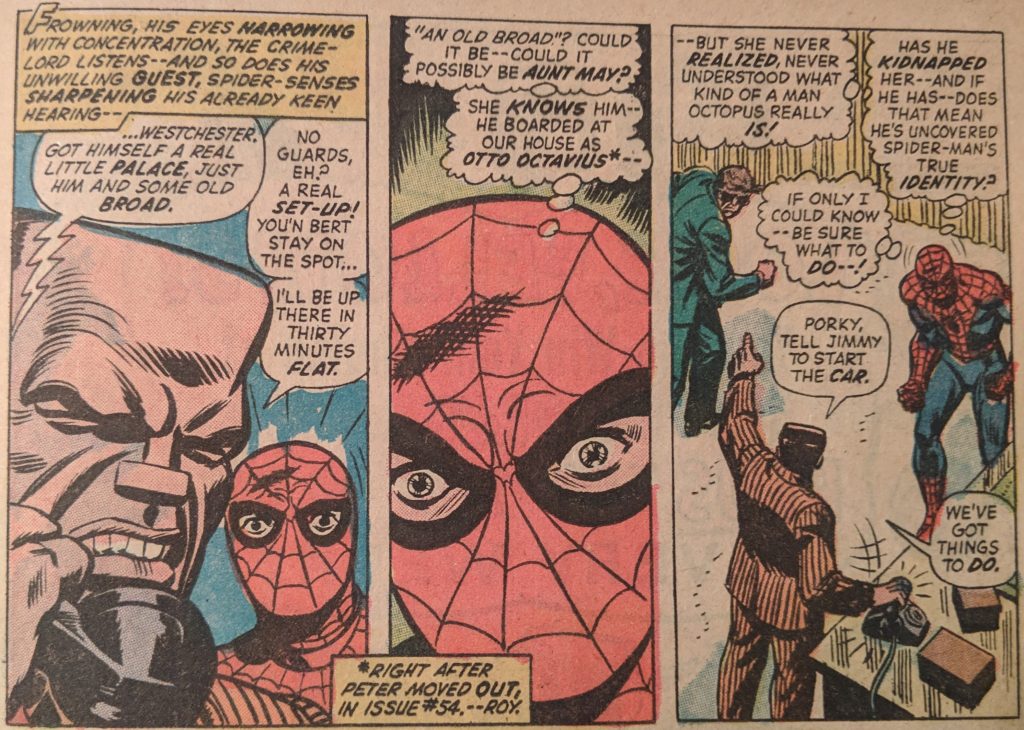 Gasp! Could it be? Has Aunt May really gone to live with Dr. Octopus? Spider-Man pretends to accept Hammerhead's offer while pinning a tracer on him, but HH decides to leave him in the office for later as he goes off to kill Doc Ock. Hey, it's been awhile since we saw Gwen, what's she up to?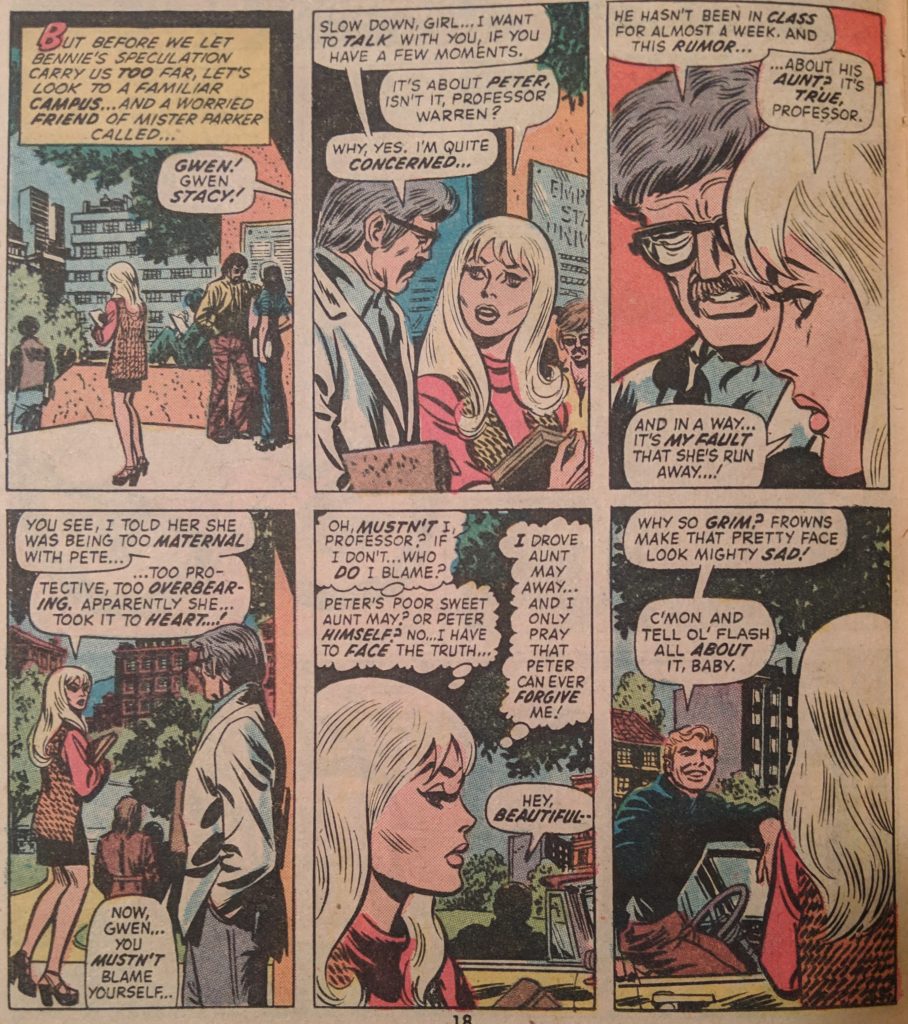 "Slow down, girl!" is the best way to get someone's attention. Also, "frowns make that pretty face look mighty sad" may be the dumbest thing Flash has ever said, and that's saying a lot. He makes the mistake of making fun of Peter's ulcer, and Gwen tells him 1 Peter is worth 12 of him and storms off. Flash actually says "Oh, beans!" Legit hilarious. While all this is going down, Hammerhead's goons are commenting on how you can see Spidey's eyes through his (costume shop knock off) mask, which gives him an opening to start talking, distract them, and take them out.  He escapes Hammerhead's compound and uses bad traffic to catch up to his car…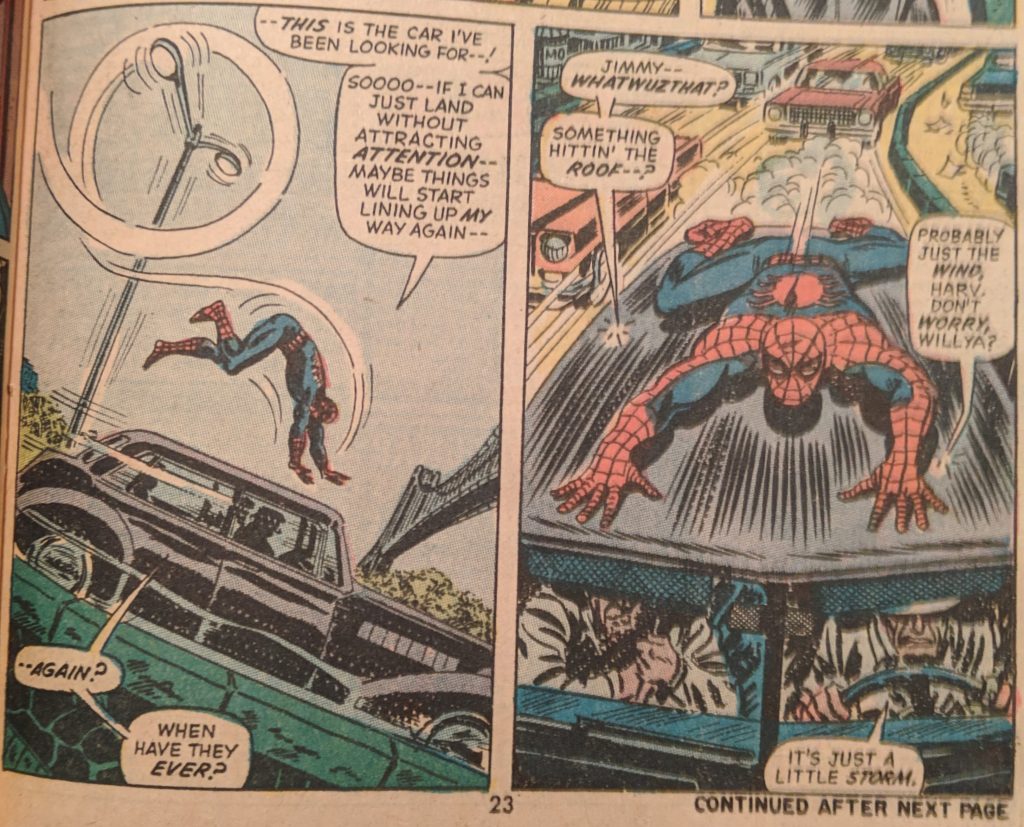 …for a convenient ride out to Westchester. Once they arrive, Spidey takes out some of Hammerhead's goons and then sneaks into the house. But someone whacks him on the head with a vase!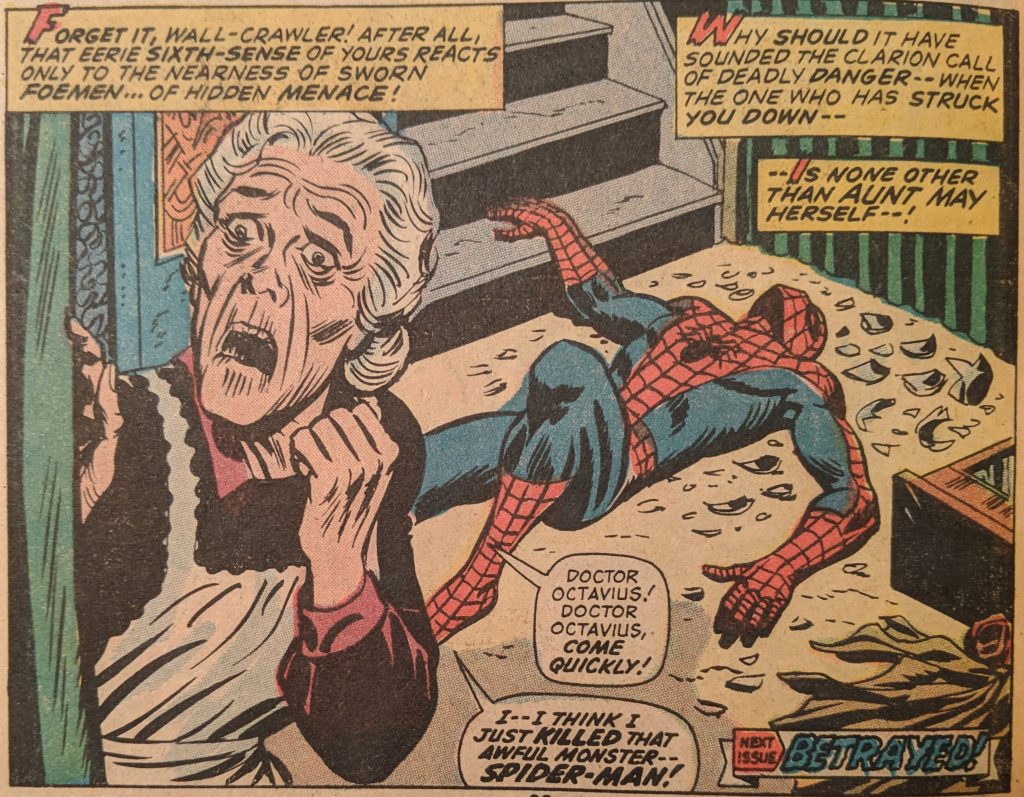 Next month: Spider-Man vs. his most dangerous enemy: Aunt May!