I'm gonna say that's too many Hobgoblins. And also, shades of things to come. No Romita, but this cover does get Al Milgrom. A good fit for Hobby. We'll recall Al drew the original Hobgoblin's only appearance outside ASM during the Stern/Romita, Jr. run in TAC 85. Man, that was 101 months ago at this point. I think he was the 2nd person ever to draw the character officially. We begin on those Fisk boys at a meeting.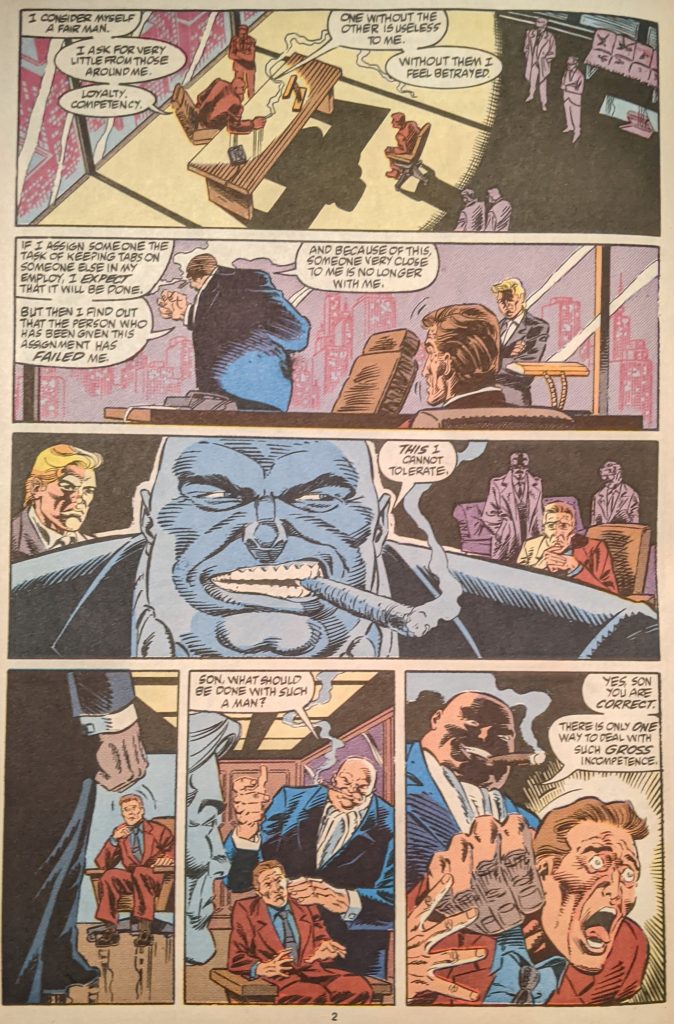 Elsewhere, Spider-Man is recapping the story while thinking this city also has him teetering on the edge when he hears some guys beating up a homeless man. He restrains himself from hurting anyone. He just webs them up, sees to the victims, and takes off, saying he has a Rose to clip. Meanwhile, in The Tombs, Hobgoblin's doing his painful transformation thing when some familiar goons appear shooting their way into the prison.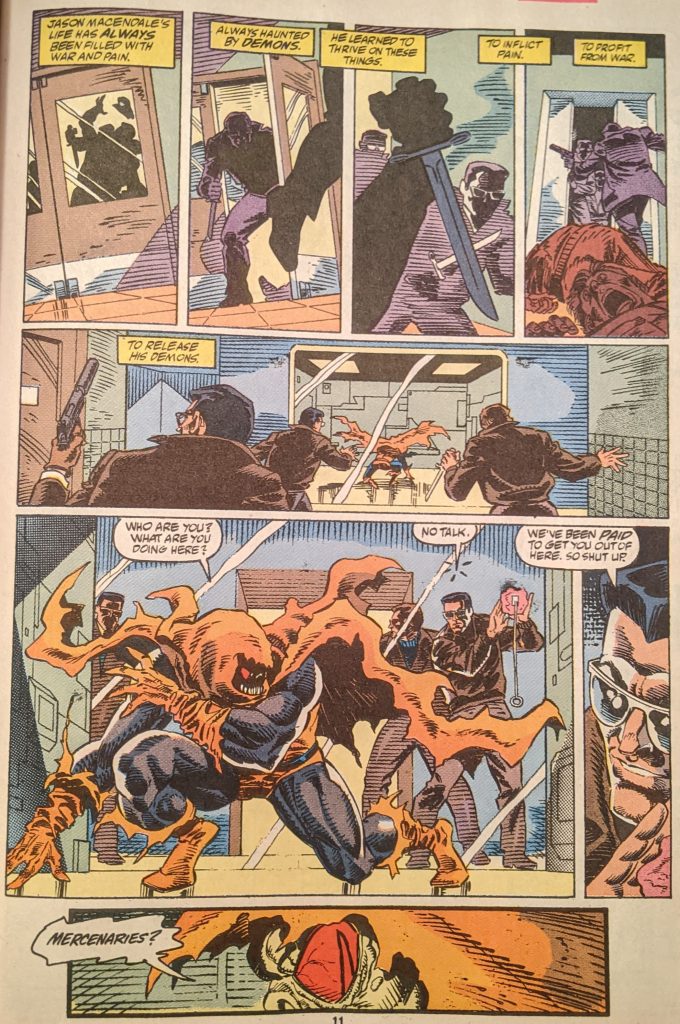 Funny to think this weird, dark, tortured character started out wearing a pumpkin on his head and bouncing around on a pogo platform. We go see Richard Fisk, hanging out in The Rose's hideout, flashing back to when he was The Rose, possibly tipping us off to who's under the mask now. The new Rose appears to chat when they hear something above them.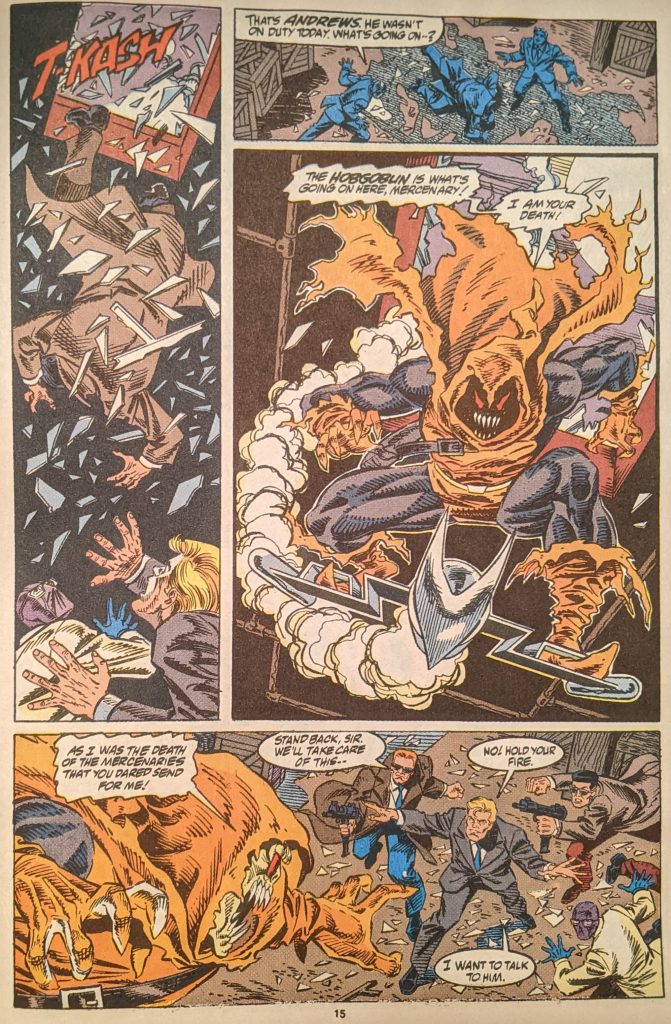 Very weird that Mackie has nudged Hobgoblin's holy crusade to being about hating mercenaries, but honestly, it could not get any stupider than what McFarlane set up, so it's whatever to me. The Rose is super not into this as Hobby flies off, telling Richard they have to talk. Meanwhile, at The Bugle, Robbie is telling a very angry Peter Parker that he doesn't even know how that picture got in the paper, let alone how it got attributed to him. Katzenberg walks by to make a crass remark about "taking care" of Peter's wife when he's dead. He's really not too bright, this guy. Peter is not amused.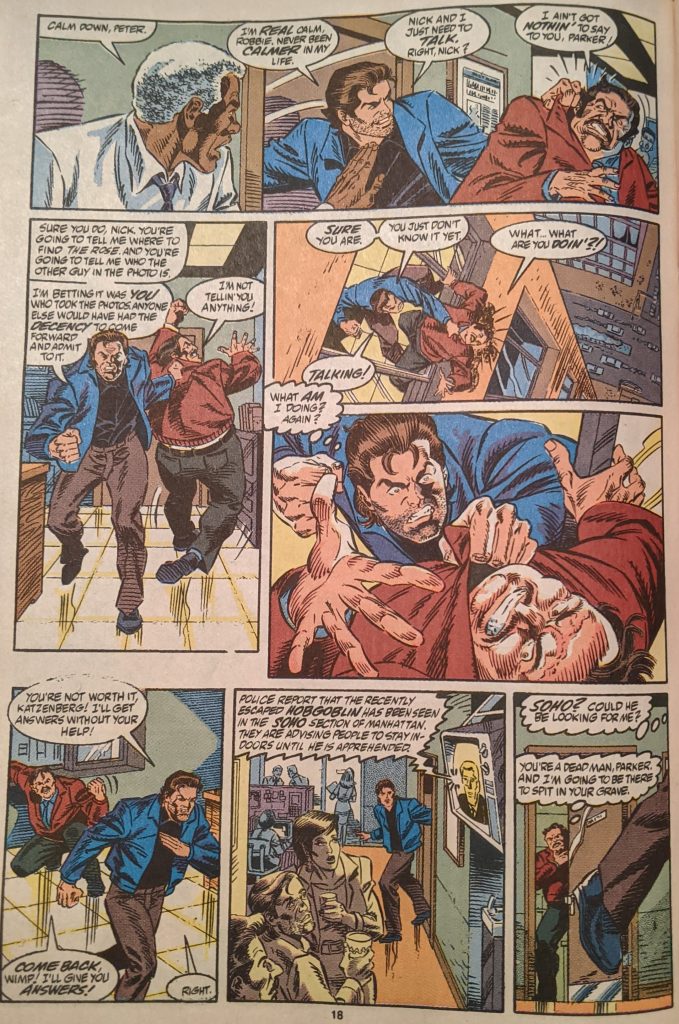 Due to reading these things out of order, every time I see him, I'm reminded of how Katzenberg's death of cancer is played as a sad moment later. Like, for whom, exactly? He has zero redeeming qualities. He's just about the creepiest creep who ever crept in these books. Many of the supervillains are more sympathetic characters. Who could possibly care that he died? Anyway, Hobgoblin's looking for Peter Parker, but he turns back into Macendale and falls off his glider due to the pain.
That looks uncomfortable indeed. Spidey makes mention of their last meeting, which was in Moon Knight 33. Man, not buying Moon Knight had me missing out on a lot of Spider-Man, for some reason. Then Hobby takes control of his body again, references his defeat in Ghost Rider 17, and says he's gonna kill Spider-Man and then go after Ghost Rider & Blaze for doing this to him. He also says he gonna kill Macendale, which Spider-Man points out is, you know, not possible. Spidey gets the drop on him and kicks him so hard he goes flying down to the street and into the side of a van. Then he begins to transform again, but this time…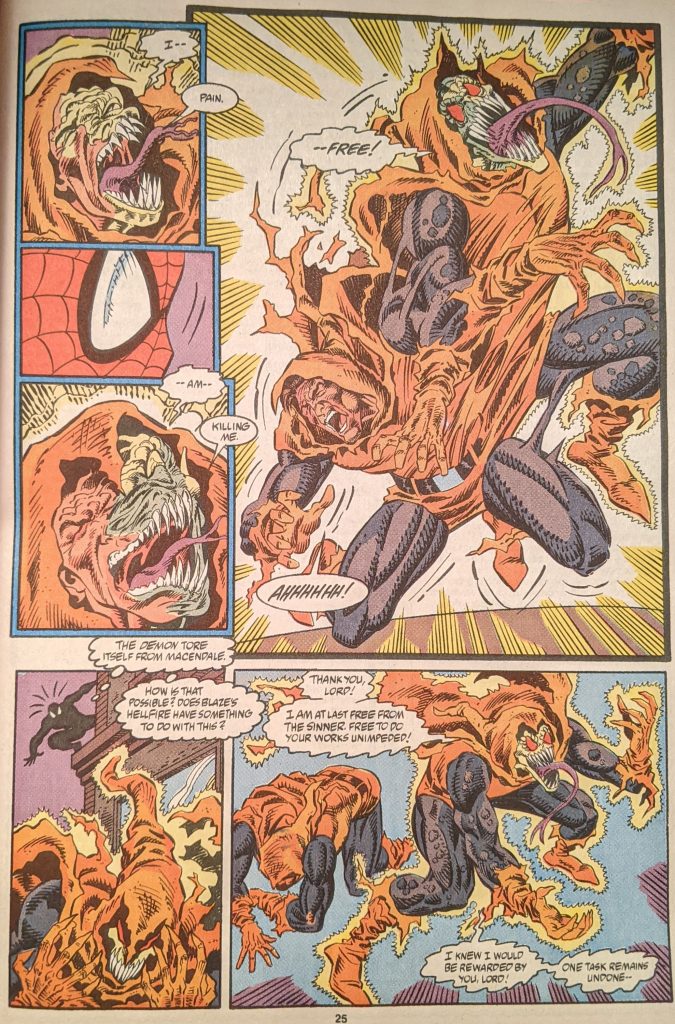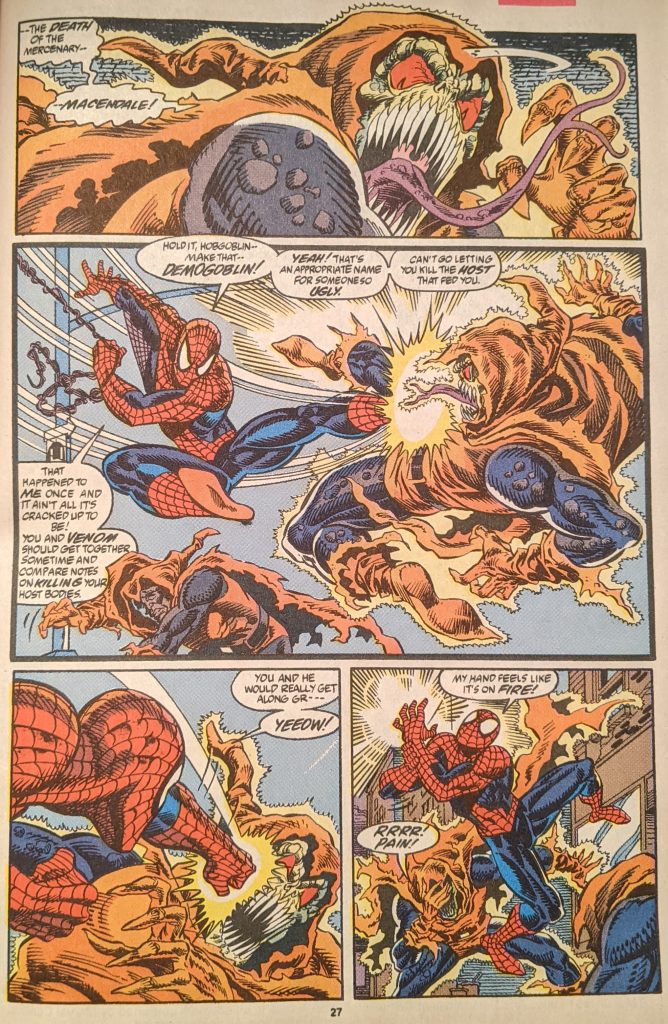 The origin of Demogoblin. Awkward name. We, of course, saw him come to his end, in his future new costume, way back in block 9 and the story that began/will begin in SM 46. Mackie really took charge of Hobgoblin and his demonic alter ego since no one else was. Demo says he's still weak and produces a pumpkin bomb from thin air to toss at our hero and cover his escape.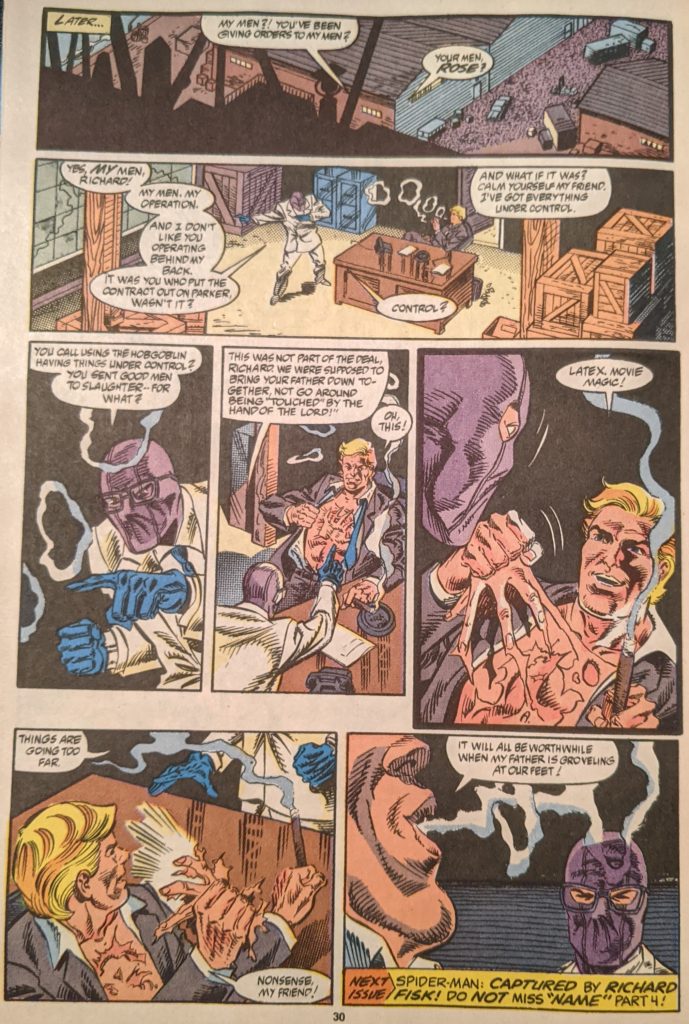 Things weren't quite that wacky. We've reached the halfway point of this one and it's still working. Unusually strong for this block of weird fill-ins and one-offs and future Image excess.