I've already forgotten the order the inkers appeared on the ASM covers, but here's Klaus Janson again. Huh, it was Larsen then Janson then, too. I wonder if Romita inks the next one. This was a spotty time for me buying comics, due to lack of funds and not yet frequenting a comic shop, so this is my first time reading this entire storyline. NOT EVER! Very tough. This was the right cover for Janson with all the shadows. This month, Kingpin is underwear fighting his own son.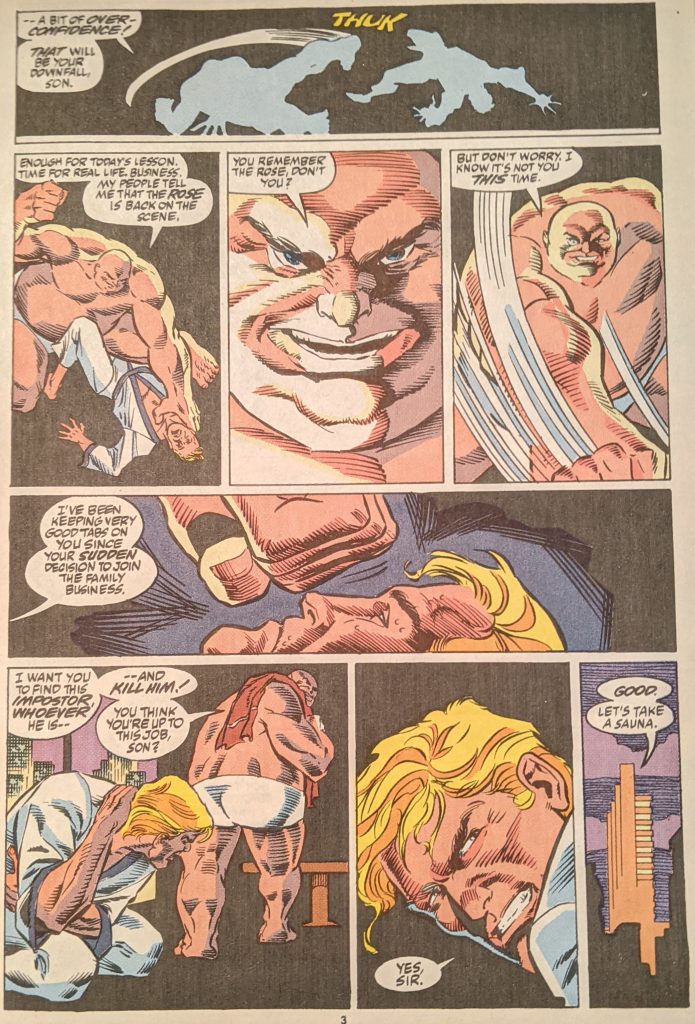 Wild, wacky history, these 2. From The Schemer to stealing Spider-Man's life force for a new lease on life to The Rose to this attempt at forced rehabilitation by his dad. Woof. Meanwhile:
Hours later, the cops are done checking out the apartment, but want Peter (And not MJ?) to come downtown to talk about how this might be related to the goons showing up at Aunt May's. Gee, ya think??? Then Katzenberg shows up to snap pictures of The Parkers amidst the ruins of their life, odious as usual, before the cops throw him out. MJ is worried about how much Peter lost his temper at the sight of Katzenberg as we cut to a warehouse in Brooklyn, where Richard Fisk gets the drop on The Rose with a silenced pistol, only to have The Rose's goons appear behind him with their own guns. Rose says the Fisk family loses its heir apparent tonight.
Kind of a Han Solo/Lando Calrissian thing. Except… both of them were in on it? Kind of doesn't make sense. Well, now we know who the guys in the paper were. Weird how you couldn't see them, and yet the photos are being treated like damnable evidence. Meanwhile, in The Tombs, Hobgoblin is telling himself/us his deal. Remember how he reverted to human for a sec after being shot zapped by Ghost Rider, Blaze and (sort of) Spider-Man in GR 17? Well, he's changing back and forth a lot now, and only a religious nut while in demon form. The process is very painful for him and also driving his regular human self nuts. Then a security guard brings him a gift box with a single rose in it. Macendale did very briefly take up his predecessor's job as The Rose's enforcer in the 80s. Elsewhere, Peter & MJ leave the police station (She went along after all), and Peter is still furious. MJ is all-but begging him to come home with her and get som rest instead of going out looking for answers as we see Katzenberg watching them from his car, thinking he hoped to be around to get pictures of when Peter is killed. What a guy! Then Peter's danger sense tips him that they're being follow, and he's way too angry to be discreet about it.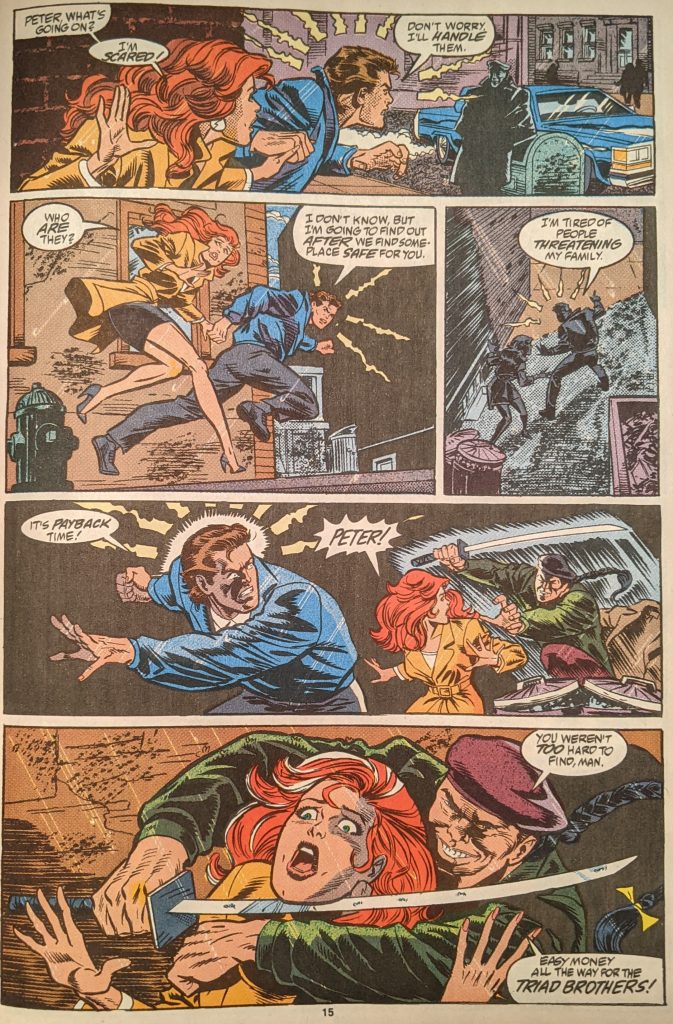 Even random gang members have samurai swords by 1991! Peter dodges what seems like an electrified sword slash and dives into a basement window, thinking MJ will be safe as long as they don't have him. Katzenberg pulls up in his car, still hoping to see Peter die, but instead…
Laser swords! 1991!
MJ has now knocked out Nick Katzenberg twice, let the record show, after she socked him in TAC 163. Spidey picks up MJ and they flee the scene. He takes her to Aunt May's, where they've agreed MJ & May will go to MJ's "friend's mountain house" until this blows over. Peter promises Aunt May he'll get the house fixed back up with the insurance company before she returns, but she shows him a shattered photo of Ben and says you can't fix a memory. Rough. Then we get a montage of Spidey on a Daredevil-equse rampage through the city looking for info on who's after Peter Parker. Fisk wants to know how Spider-Man got involved with their meddling in the life of a guy who recently had a book of his Spider-Man photos published (Supervillains: not so bright!), and The Rose says he'll take care of it. But Spider-Man's found out where those Triad guys hang out, and comes crashing through a restaurant window over their dinner.
I really appreciate how even a pushed-past-his-limit, totally serious, enraged Spider-Man can't come up with a threat that doesn't sound silly. Spidey threatens them with their own swords, but they say there's "a lot of money on the street" on Peter, so anyone could be after him. But one of them finally says "a flower guy– The Gardener" is behind it. Spider-Man gets freaked out by how furious he is and suddenly swings away.
Deathwatch was the new Ghost Rider's first villain, so I guess maybe those Triad guys are from Ghost Rider.
Things are pretty grim around here! And yet, not the kind of grimdark that usually tends to mean. This is more of a taunt crime thriller that happens to have Spider-Man in it than the usual depression-fest. In the letters, they're running responses to Web 77 & 78, that surprisingly good story with the collapsing banquet and the Morlocks and such. A lot of love for it, and also… this…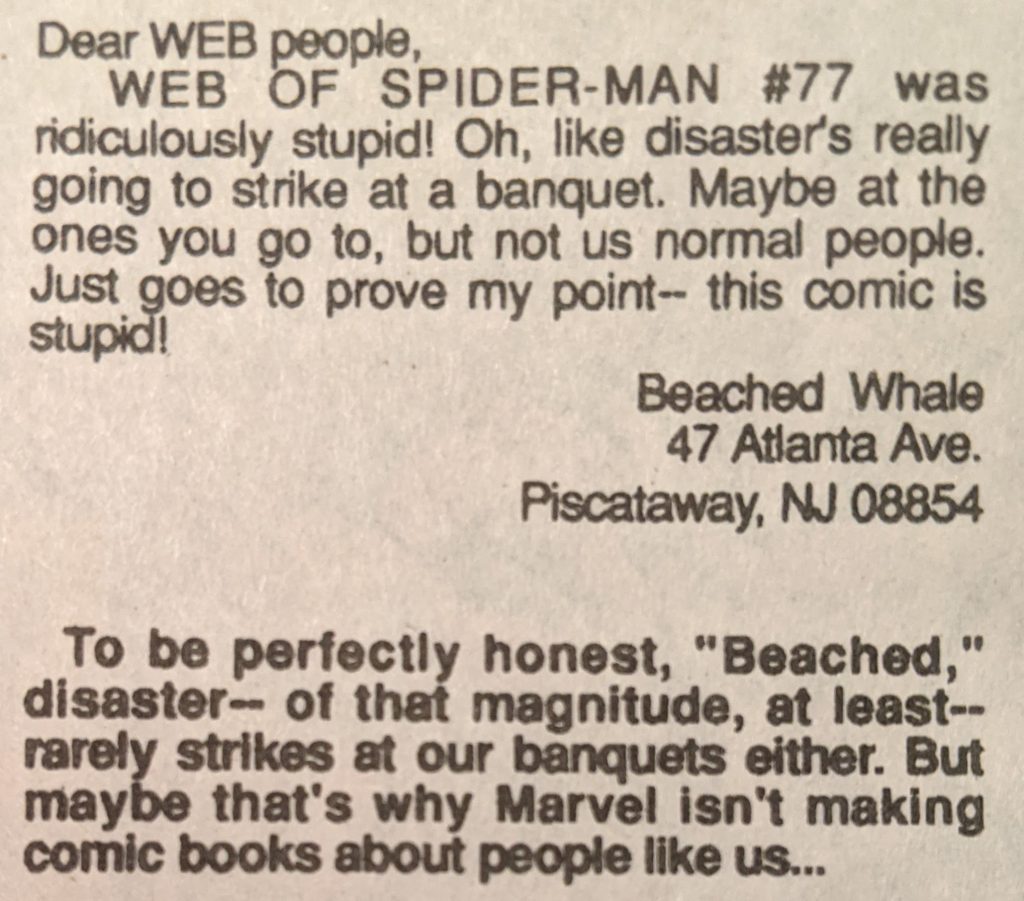 I have a lot of questions that will never be answered.