This time out, Bags is inked on the cover by the legend, Klaus Janson.And it is definitely visible. Klaus brings a certain grit to any artist without overpowering them. Inside, Bags is credited only with layouts and Randy Emberling with finishes. These twice-a-month books take their toll, even on someone as fast as Bagley. He's still drawing an issue of New Warriors every month during this, too. 72 pages and 3 covers a month! Really on John Romita, Jr.'s level. He did ASM and New Warriors at the same time for 10 months before switching to just ASM for awhile. Bags is notably inked on New Warriors by Larry Malstedt who will soon come over to ASM. I guess Bagley preferred working with him. Anyway, Spider-Man & Night Thrasher are hitching a ride with Moon Knight on his plane, piloted by Moon Knight's Alfred, Frenchie, as they chase Midnight through the city, still dragging Nova behind him.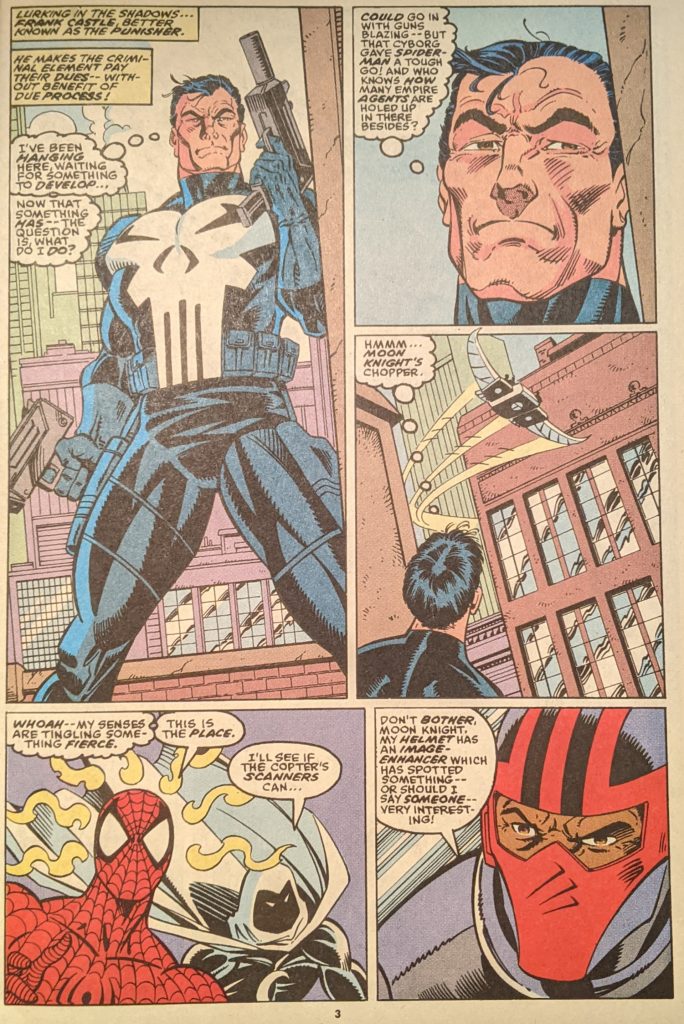 Interesting to me that Bags' Punisher looks a lot more like Jim Lee's than Erik Larsen's. The gang drops down on Punny, who is very annoyed, because they've alerted The Secret Empire to his presence, and now theirs. The rooftop is flooded with goons, Punisher and Night Thrasher talk disdainfully of Moon Knight & Spider-Man as "soft" as everyone gets to fightin'. Except, of course, for Punisher, who just lets loose.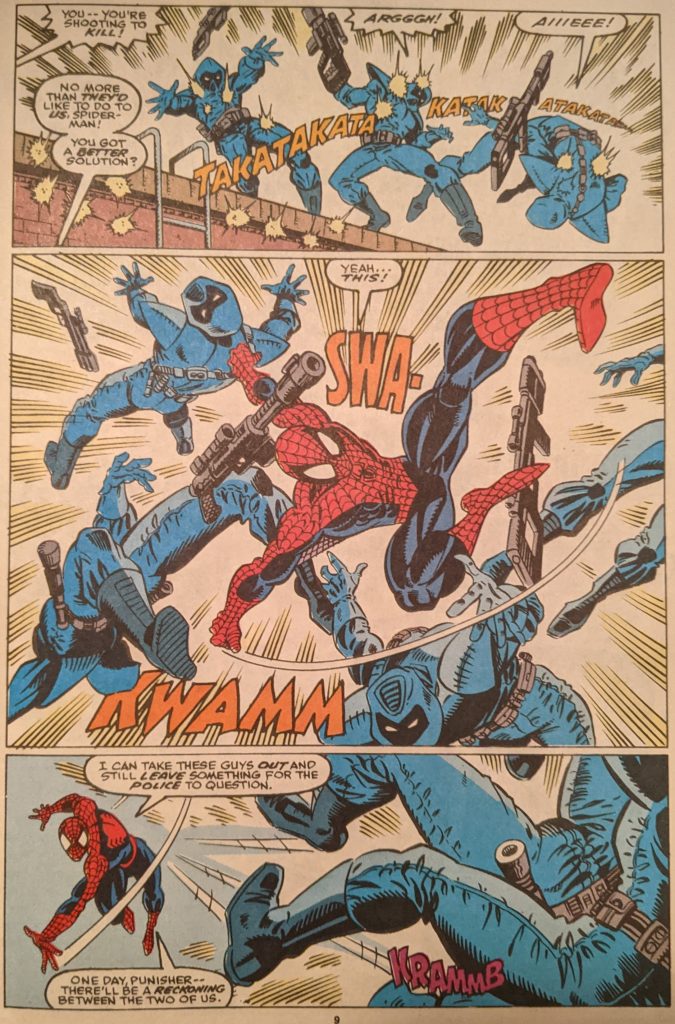 "I can't believe the guy I know who routinely kills people is killing people! We're gonna have to talk about this sometime!"
Despite this being a Spider-Man comic, this is the real plot of it. Really bizarre. Looks like the Moon Knight story this spins out of was almost a year prior, and ALSO featured Punisher, in addition to Spider-Man. Surprised that didn't come up. Night Thrasher bails out Moon Knight, demanding to know where Nova is, but then he's grabbed by a big flying metal hand, because The Seekers are here. 3 truly bargain basement villains named Sonic, Chain and Grasp. I mean, great names. They all have power suits and have been hired by The Empire to clean up the superheroes, but, I mean, come on. They're so lame.
What? Those chumps showed up for all of 2 pages and one panel! I was The Secret Empire, I would not pay them. The rocket zaps Moon Knight's silly plane on the way out, grounding it, and then everyone realizes Punisher still has that silly thing on his chest and it's killing him. Night Thrasher's gauntlets have swords in them, tho, so he cuts it off. As Frenchie replairs the plane, Midnight delivers Nova to his bosses, who once again aren't very appreciative. He tells them he thinks he's got a bug on him. Punisher is hallucinating his origin, his family killed by the mob, and talking about it, making the others all think about their own tragic origins, which is funny rather than profound, but then we cut to The Secret Empire, where Dr. Franklin is working up a new round of enhancements for Midnight, while warning that doing the same to Nova might actually make him less effective, since his power isn't technology-based. Midnight is outraged that it seems like they're trying to replace him, but he's kept in check by the threat of a "pain inducer" implanted in him.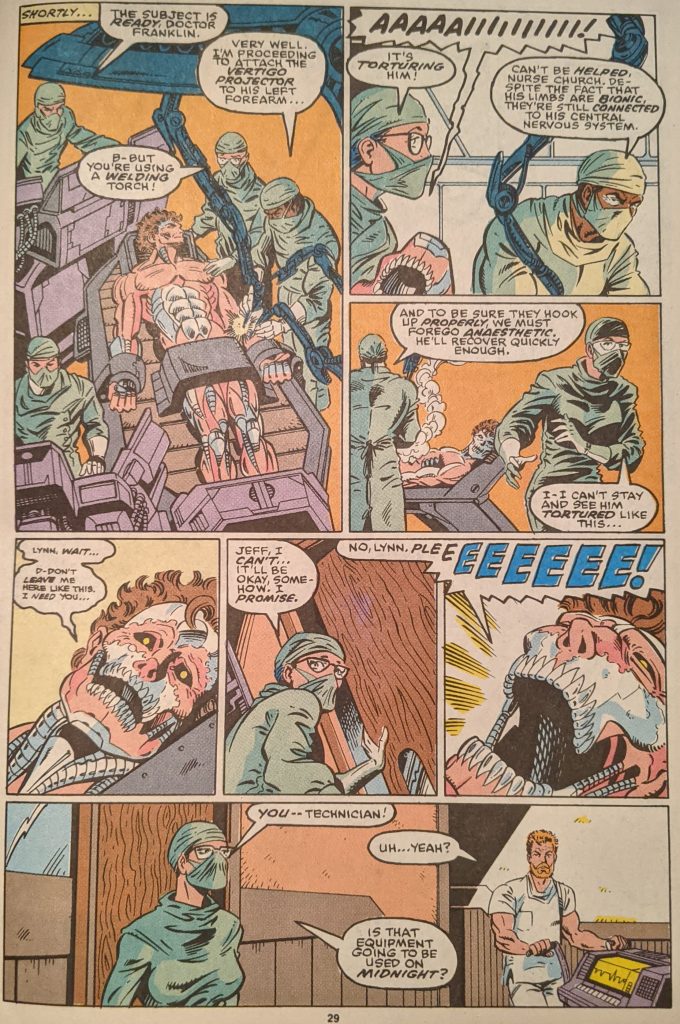 What's up with Nurse Church? No idea. This is all a blank to me. I wonder if I ever even read them now. Maybe I just got em to fill in the collection? That doesn't sound like me, but I'm totally in the dark here. I guess we'll see what happens next time. Maybe Spider-Man will somehow become the focus of his own title again…