Oh, hey, Kurt Busiek is still here! As is inker Don Hudson and colorist Bob Sharen, joined this month by penciler Ron Wilson. Hey, that's cool. Ron Wilson is a Marvel stalwart going back to the 70s, best known for Marvel Two-In-One. He may not have achieved the fame of some of his contemporaries, but he always did solid work. Man Mountain Marko. There's a guy who's a surprise literally every time. Not that he comes back all that, but every time he does, you kind of wonder… why? But I feel like I can trust Busiek to do something interesting with him. The Spidey on Chris Marrinan's cover there look's prrrretty directly referenced from ASM 316 to me. We open on the aforementioned Man Mountain, punching a bag while thinking about Spider-Man punching him, thinking he has to get bigger and stronger, before cutting to Spider-Man stuck in some rubble.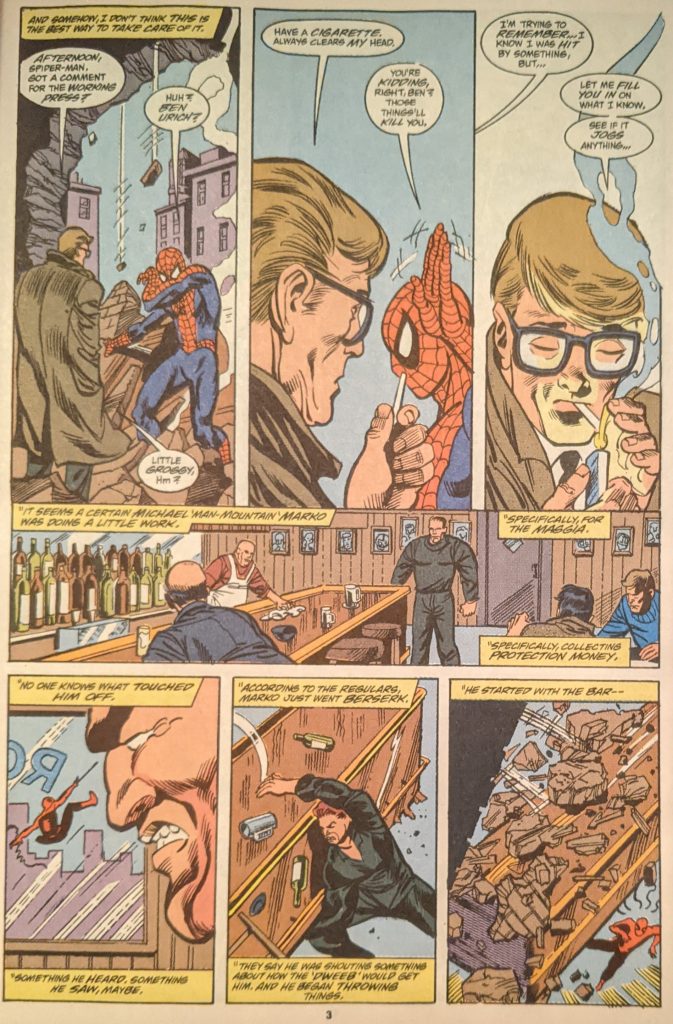 Ah, a twist. We cut to Marko lifting weights with the kid in question watching in awe, asking when Marko will train him, like he said. The narration of the kid, Tommy Gavin, begins to intercut with Spidey's narration. Tommy wanted to be an astronaut or some other grand thing until he saw Marko, and now wants to be trained to be trained by him. Maybe a little less kidnapped than advertised. But Spidey doesn't know that, and he's swinging to a gym Marko used to train at looking for leads.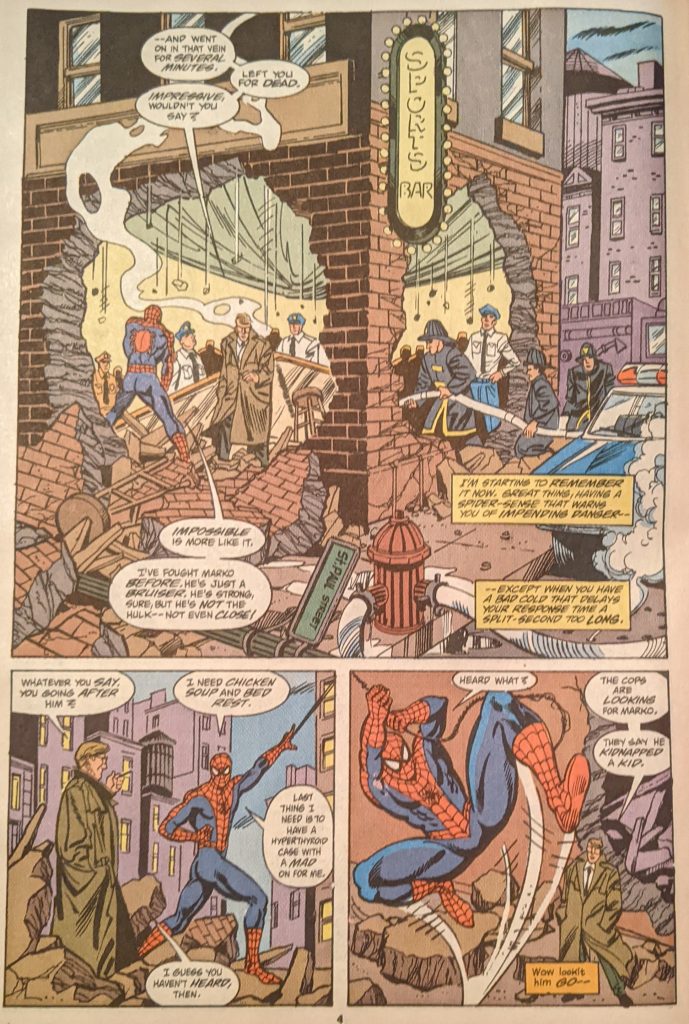 This book isn't Ron Wilson at his best, but a page like this is more than getting the job done. Cool hero shot, cool action panel. As the guys flee, Spider-Man locates Marko's locker, and is surprised to find it full of pictures of himself… and steroids. "Racehorse steroids," we're told, which seems extra crazy. Spidey confronts the trainer still in the building about it.
Gonna be a message issue. Marko learns from the news that he didn't kill Spider-Man, jams some hamburgers in his face and then goes to work out some more, single mindedly focused on finding and beating Spider-Man. This is kinda feeling like that Grizzly story in Web 6X, only with more steroids. Peter & MJ catch a meal at a diner, where his cold is getting worse and she implores him to just find Marko and let the cops handle it. Peter's narration tells us marrying her was the best thing that ever happened to him, which is funny to me. So many writers who believed getting married was the worst thing that ever happened to him were forced to write things like that in these days, and I believe Kurt is among them. But now that he's married, no way Peter would be anything but devoted. Gotta be true to the character. Meanwhile, Marko exercises for a starstruck Tommy, who wants to know what he was like as a kid. He says he had it "real tough" and "nobody ever gave him nothin'" and he built himself up from nothing. While that weird bit of hero worship is going on, Spider-Man sneaks into a Maggia headquarters.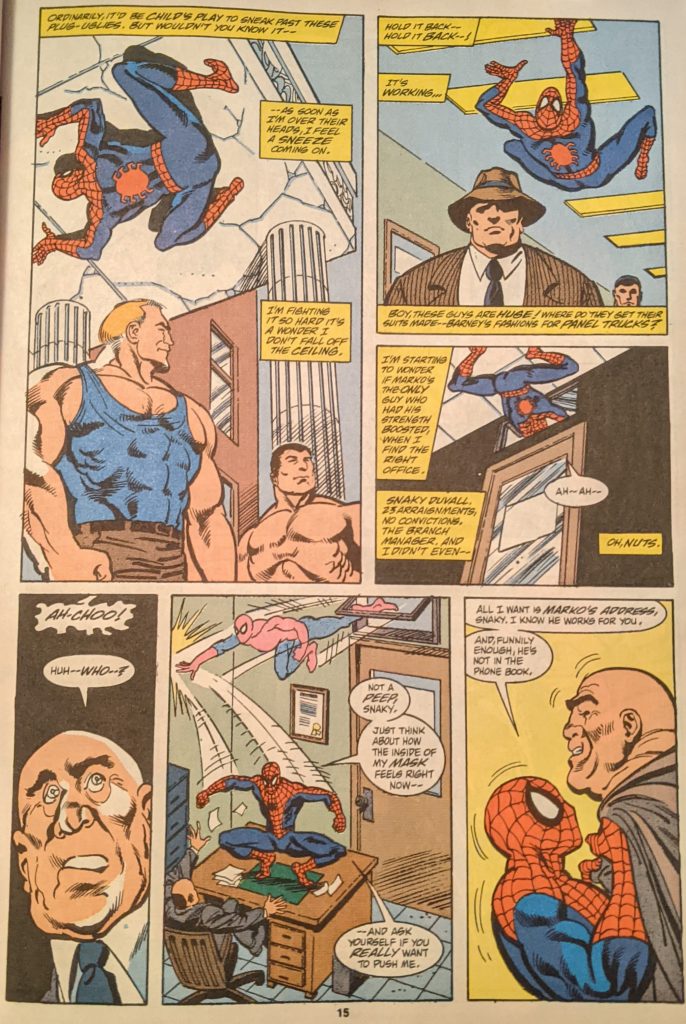 Snaky Duvall! There's a name. Snaky tells Spider-Man he'll never leave the building alive, and faced with his lack of fear, Spidey suddenly hits on the idea to just steal his rolodex and leave. And does! Right out the window, no fight scene required. That's pretty funny. His target is asleep, having a nightmare first about Spider-Man, and then about "the first dweeb," and we learn… believe it or not… he once threatened a kid walking down the street in glasses who told him he didn't have time and swatted him into a wall! Are you serious?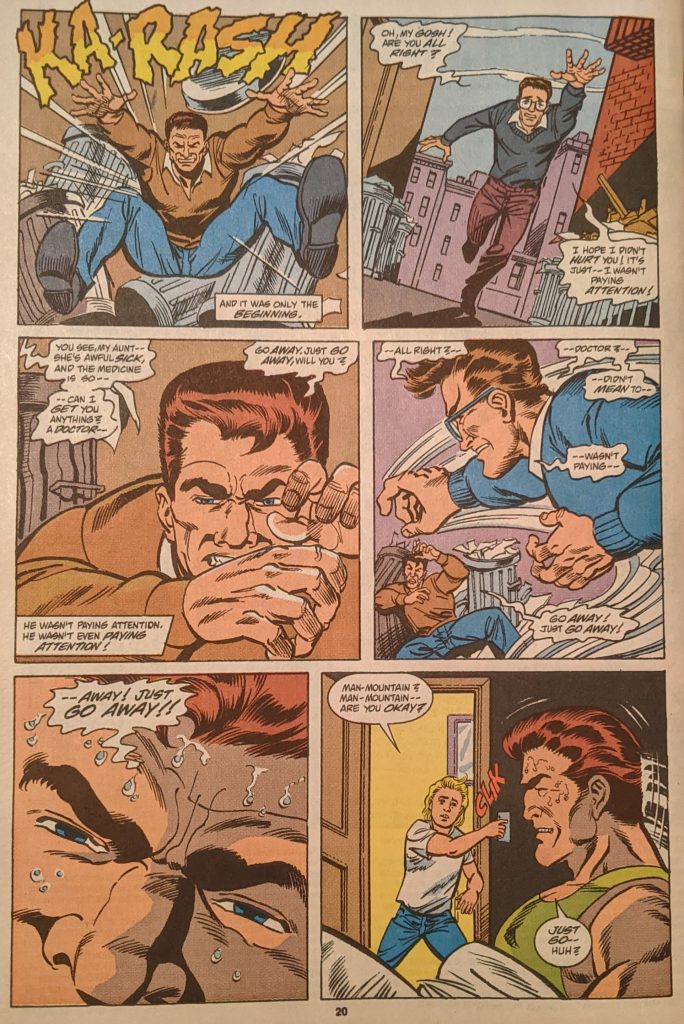 Marko's got beef with 15-year old Peter Parker??? That's so silly. Marko wake sup doubting himself, but the misguided Tommy builds his confidence back up just as Spider-Man is finding the house. He told MJ he wouldn't get involved, but he worries Marko would just tear the cops to bits. He decides to compromise, calling Ben Urich. He explains he's going to try to sneak the kid out, and tells him to wait 10 minutes and then call the police, and if he does, he'll get the exclusive story. The idea of Spider-Man sitting down to tell Ben what happen seems unlikely, but it's agreed, and so Spider-Man approaches the house.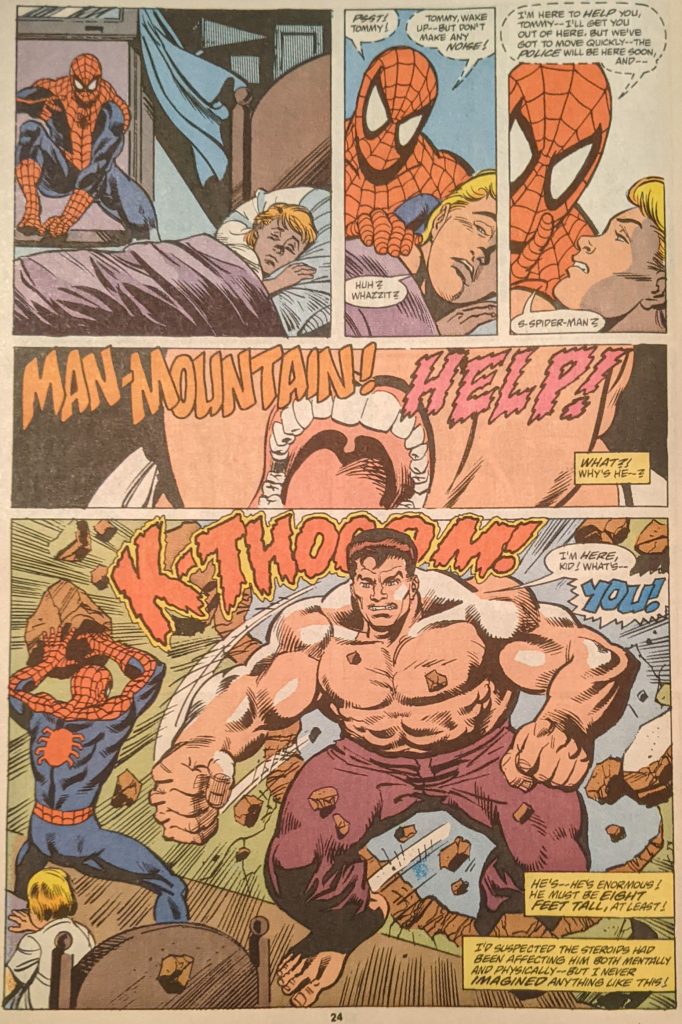 Spidey said Marko's not like The Hulk earlier, but is sure is now. He's even got purple pants. Marko tackles Spidey through another wall and out into the yard. He's become slow with his extra size, and Spider-Man easily evades him, but when he comes back in for a punch of his own, he hurts his hand on his roided up foe, and the surprises gives Marko an opening as Tommy cheers him on.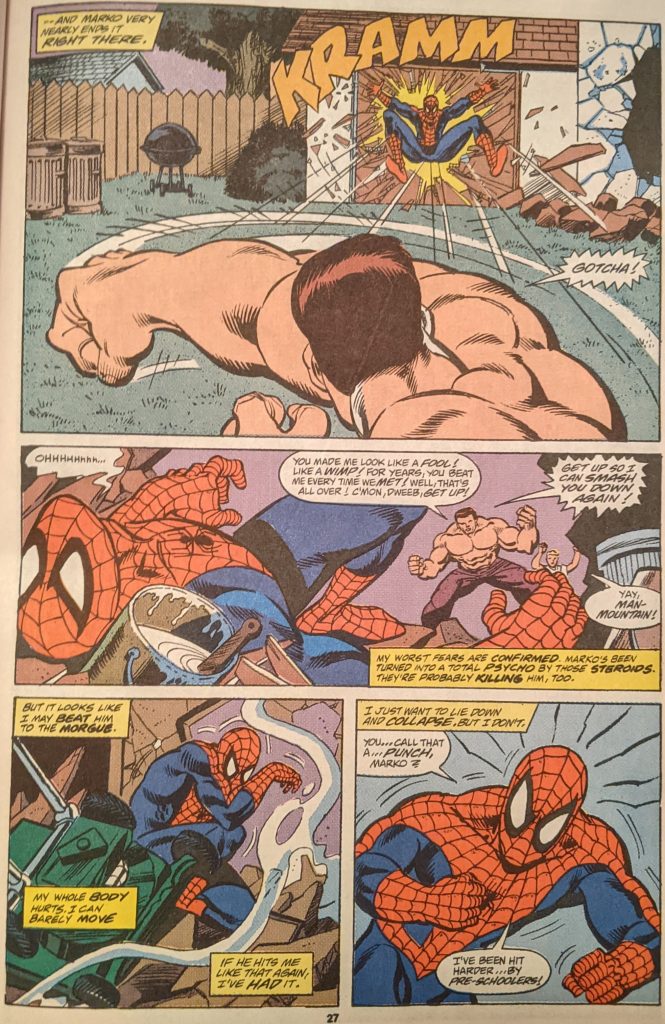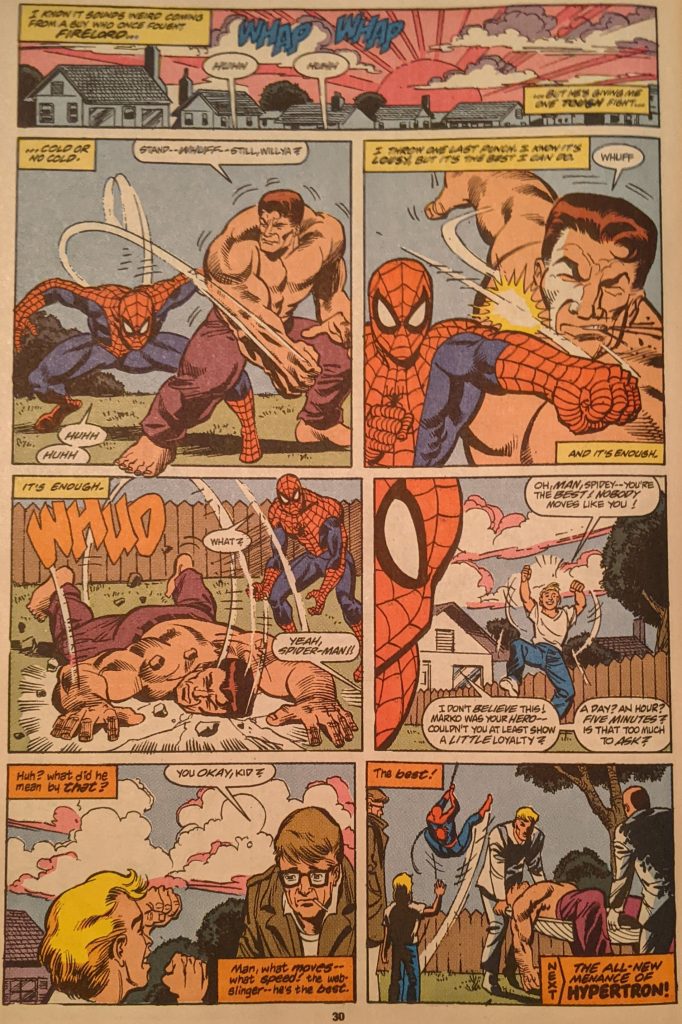 Well, that was a weird one. I guess this kid's a little too prone to hero worship. I'm surprised we didn't wind our way back to a more "don't do drugs" message, especially for Tommy. Odd ending. Will Kurt Busiek be writing next issue? For yet another artist? Signs point to yes!