Thanos! With Infinity Gauntlet raging, it was time for tie-ins everywhere you could get 'em, and so we have this. With an impeccable creative team, too! Ann Nocenti, Rick Leonardi, Al Williamson and Gregory Wright. You don't even have to read it to know this will be the best issue of this series so far by a wide margin, but this one really hit for me as a kid, and I'm excited to check it out again for the first time in decades.
Spidey has happened on some window washers' rig collapsing. As he swoops in to save the day, we note a mother and child watching from a nearby rooftop. This is routine hero stuff, and Spider-Man hopes he doesn't drop his barbecue sauce as he goes in.
This art team is unstoppable. And unfortunately, so is that platform, as it hits the air conditioners and causes a huge explosion. Time slows to a crawl as Spider-Man realizes he's not getting out of this one alive. In his last moments, he desperately tries to reach the mother & child even as the blast reaches them.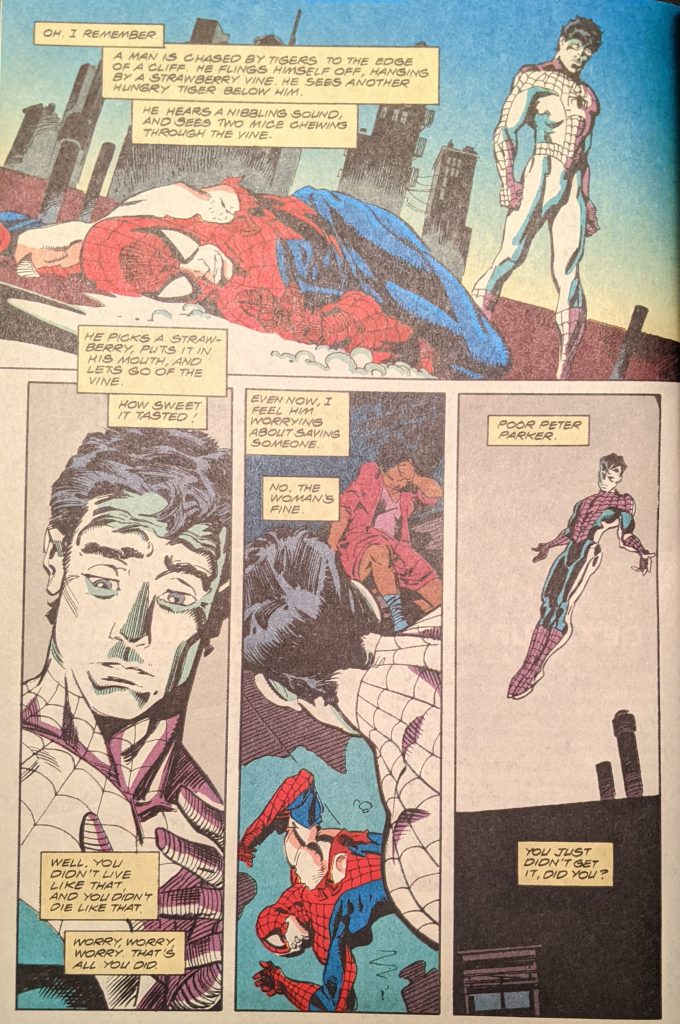 Ok, but imagine you're 13 and new to comics and you're reading this. Peter drifts up in to the night sky, feeling at peace and even joyful, thinking the dead body down there just never got it. He drifts further on, wondering if he'll see Gwen as he approaches the stereotypical white light and floats into it. But instead of entering some kind of paradise, he finds himself in a white void, surrounded by symbols from various world religions in ruins. He wonders if this is really it as a voice suddenly notes how humbling it is.
Spidey would know, since he was there in Marvel Two-In-One Annual 2. He wouldn't know that Thanos cheated death only recently, and has assembled The Infinity Gems. Nor would he know Thanos is in love with the literal embodiment of death, and is about to sacrifice half of all life in the universe to her (A plot somehow both more and less ridiculous than the version in the movies).
Peter is shown his own dead body. He thinks that he was a hero, but he worried too much. That he had it all, but didn't know how to be happy. But then he hears a voice, and soon realizes that while the mother survived the explosion, her little girl did not. The mother curses Spider-Man as she cradles her dead daughter. This was some heavy stuff for young me, lemme tell ya. A furious Peter demands the girl be spared, but Thanos says it's too late, that she's already "half gone," and her spirit appears next to them, looking down on her mother. Peter is only more furious then, and when Thanos continues to belittle his demands that the girl be spared, he attacks. For all the good that'll do.
Thanos blasts Spider-Man into a wall, but he gets back up, still fighting, webbing some nearby columns and bringing them down on Thanos. As he shrugs this off, Thanos tells him great heroes inspire great villainy, and that's why they let heroes live so long, to allow for great destruction. Barely dodging Thanos' counterattack, Spidey rejects this idea, saying he can feel that Thanos is a liar.
The transitions on this page… Chef's kiss.
Did any of that really happen? Who knows? Spider-Man will soon be drawn into battle with Thanos for real, alongside most Marvel heroes who don't get snapped, but he won't be able to stop Thanos. Don't worry, everything works out, sort of. Adam Warlock ends up with the gauntlet, restoring everyone Thanos killed, splitting the gems back up, and creating a team to keep them safe for awhile. It occurs to me this is the kind of thing JM DeMatteis is always trying to do, only without wallowing in misery, or droning on about that misery for 6 issues. If he could do it more like Ann Nocenti, maybe I'd like his stuff better. I loved this one as a kid, too. This was probably my first look at Ann's writing and Rick Leonardi's art, and I loved both. Funny story about this issue. I had the chance to meet Rick at Heroes Con in 2019, and as he signed this issue, he told me how Todd McFarlane called him up and asked him if he'd do a fill-in issue on this title. And he was shocked and delighted, knowing how McFarlane's star had risen and thinking how potentially good it could be for him to be a part of Todd's run. Then he eventually found out Todd was actually just quitting. Wah wah.