Ya asked me, the trickiest thing this series could do was new meetings with classic villains, as it's about to start doing here. Spider-Man's 2nd encounter with Sandman is set in stone, adding a 1.5 in there has a lot of potential for trouble. But during ASM 7, Sandman was appearing in Strange Tales 115, battling The Human Torch. The first page of this issue explains how he escaped the cops at the end of that story, but we don't need to see that, really. We go find Spider-Man flipping and jumping all over town because, we learn, shortly after ASM 7 ended, he asked Betty out on a real date, and she said yes. But his celebration is cut short by the sound of gun fire, which leads him to…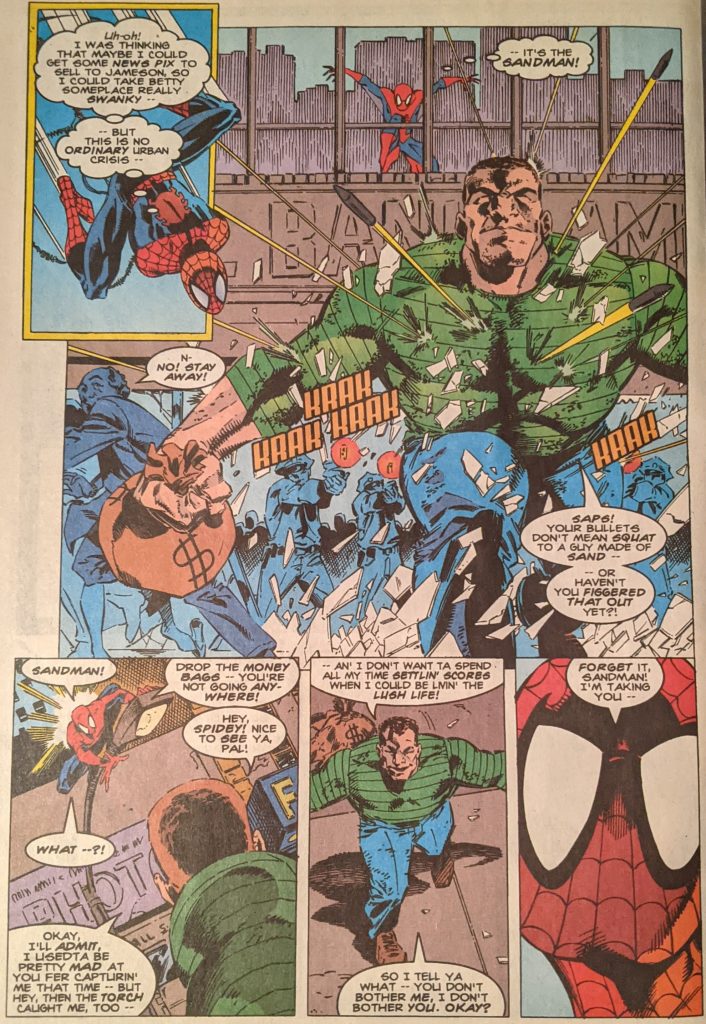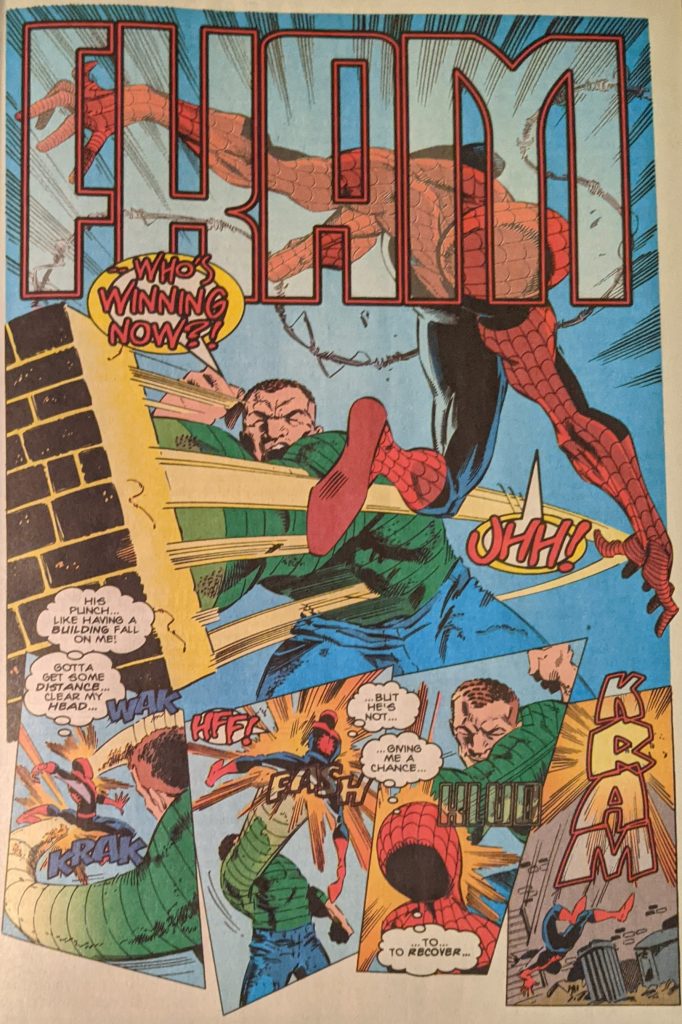 Well, that'll sure ruin a guy's good mood. Sandman just leaves, warning Spider-man he'll get worse if he messes with him again. As the cops arrive, Spider-Man dives into a manhole, achy and beaten. When he arrives home and switches to normal clothes, he finds his body covered in bruises. Aunt May sees him walking unsteadily and worries about him, and he accidentally recycles his volleyball excuse, making her more worried than before. When he gets to school, everyone's talking about his fight with Sandman.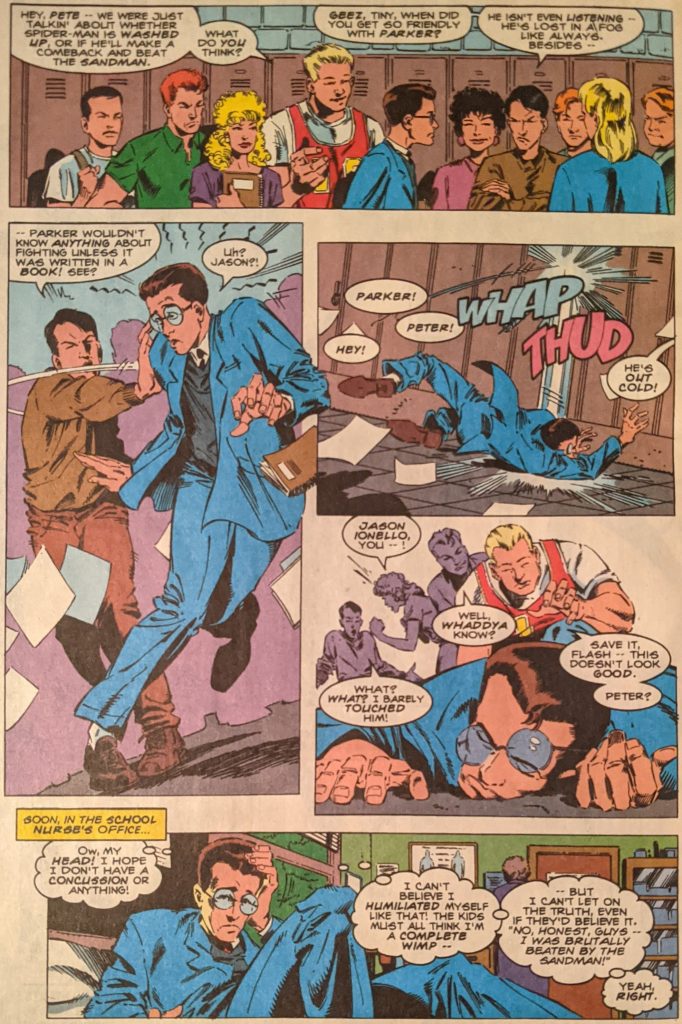 That Jason sure is a winner. The school nurse comes in, saying Peter is way too beat up for his injuries to have just come from the locker incident. She says she could write a note, and he panics, begging her not to and running for class. She thinks if she didn't know he lived with his elderly aunt, she'd suspect something, but concludes he just doesn't want the other kids to think he's "a roughneck." Later, Peter has the humiliating experience of selling JJJ pix of him getting trounced for the first time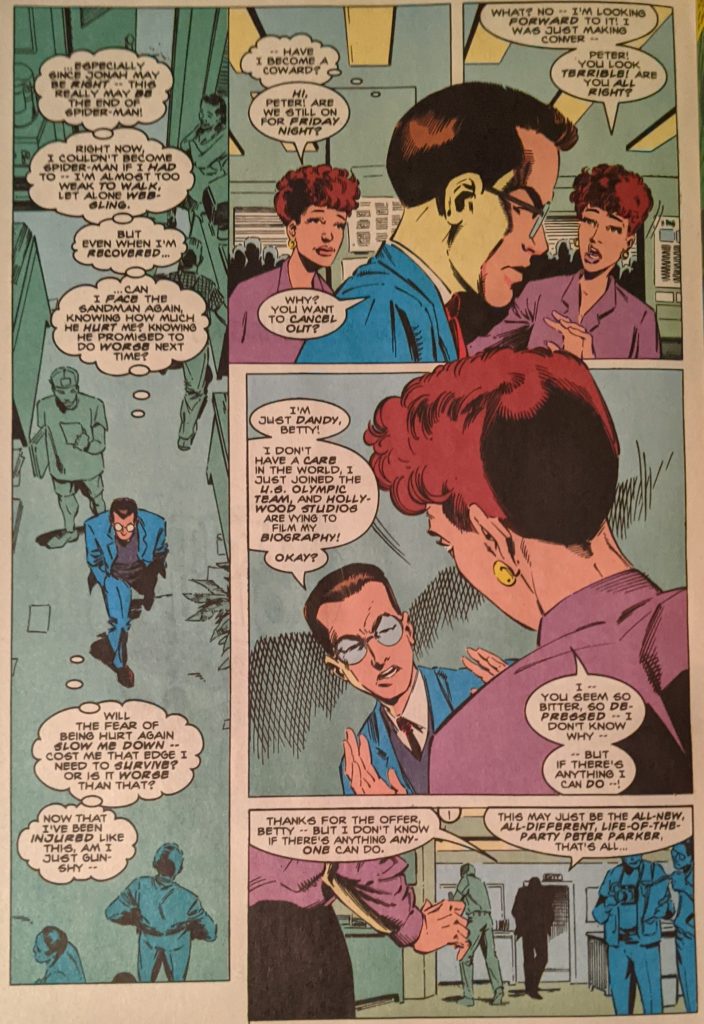 There's that Peter Parker charm! This whole "is this the end of Spider-Man because I lost a fight?" gag is a little too close to the first one in ASM 3, despite being published 30 years later. A montage shows us Sandman on a crime spree while the cops and even The Avengers can't catch him in the following days. At school, Peter is so distracted by his fear of Sandman he can't work. At home, he thinks he's well on his way to healing up, but this has scared him way more than the Doc Ock thing. But later that night, he's off to pick up Betty for their date. He's brought flowers and she's made a dress herself. He thinks she deserves someone better than a loser like him.
All class, that Peter Parker. Betty, as we'll soon see, has some secrets of her own. Swinging around as Spider-Man, Peter hopes she's not mad, but thinks if he's going to win back his self-respect, he's got to start right now. He finds Sandman pretty quick, actually, fleeing a crime, and realizes he's got to enrage his foe to make him stay and fight rather than just flowing away like he's done to everyone else. So it's the ol' Spider-Man motormouth, and it works. Sandy sends them both crashing back into the building he was just leaving, which is just what Spidey wanted, to get him into a more confined space.
Spider-Man suddenly remembering that bothering villains with his rambling is kind of his thing feels a bit odd.
What could John Jameson be talking about to get dad all riled up? We'll see soon. But first, it's back to ASM.