Writer Kurt Busiek already had some years in the game by now, but he rocketed to stardom with artist Alex Ross on a miniseries called Marvels. It was a trip through Marvel history from the 40s to the 70s through the eyes of an ordinary news photographer. The fully painted, photorealistic art of Alex Ross made it like nothing else on the stands, and the story was compelling, both very personal and grand in scope. It also kind of cemented Busiek as a sort of Marvel history expert, so a project taking place in the past was an obvious thing to give him. Not long after that led to him getting Untold Tales of Spider-Man, a comic I keep being forced to talk about before showing, they did this, the first of 3 new issues of "Amazing Fantasy" that would follow Peter Parker in the immediate aftermath of Uncle Ben's death. And, presumably because Marvels was such a big deal due to its painted art, they decided this should be painted, too. Ask me, I think it shoulda been done as retro as possible, to actually look like Amazing Fantasy 16, but no one asked me. Let Ron Frenz really indulge his Ditko impression or get Mike Allred to do his famously retro thing or something, flat color, etc. Instead, we get painted art by Paul Lee. The other kinda controversial thing about these newly inserted old stories is, the cover suggest, Spider-Man is rendered in the contemporary style. I just keep coming back to the idea that if this stuff is meant to squeeze between existing comics, it should look like it belongs. Like somebody had a cell phone in one of those Flashback issues, and I know, I know, but it just feels weird. But, no sense arguing with decisions made 25 years ago by people who don't know I exist, so let's get to it.
Alrighty.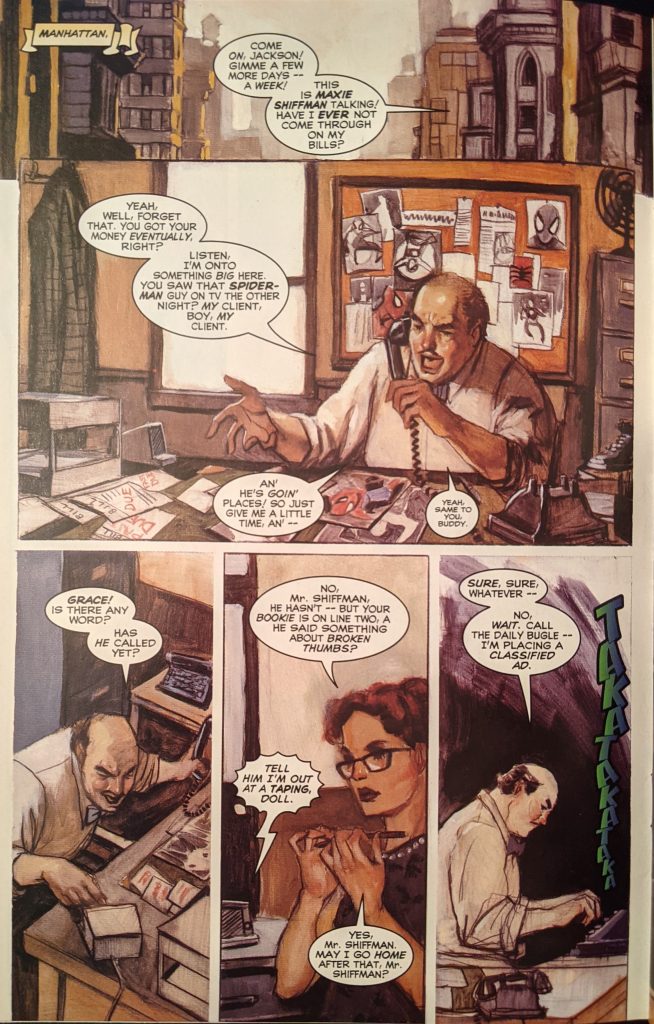 Spider-Man's briefly-employed agent gets a name. Meanwhile, in Queens, Peter & Aunt May are watching a news item about The Fantastic Four…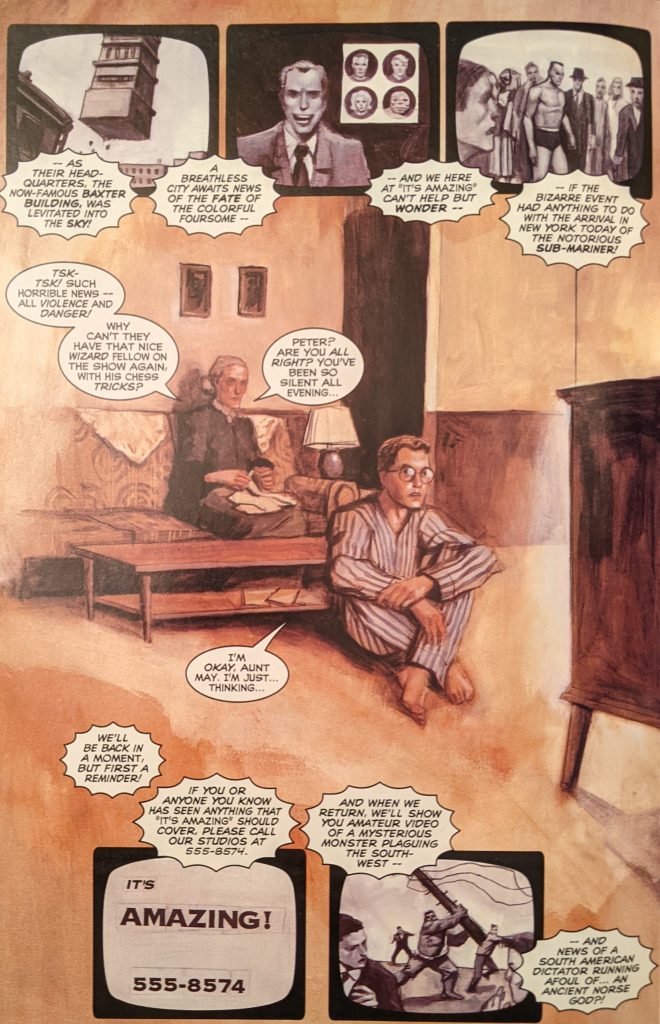 Peter takes a couple pages to recap his origin, thinking how strange it is that superpeople seem to be popping up everywhere and he's one of them.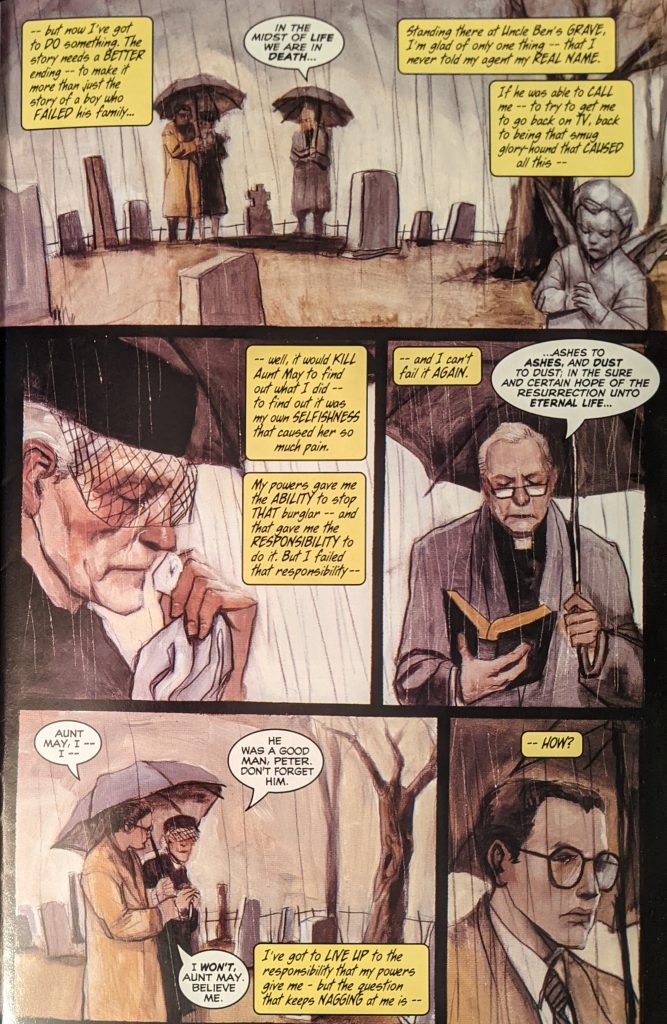 This almost certainly isn't the first time someone's depicted Ben's funeral, but it's probably the first time it was happening "now." A couple more pages to establish things…
So, Liz isn't as mean as the other kids and Flash sucks. We cut over to Maxie's office, where a swarm of people in superhero costumes show up claiming to be Spider-Man or that they could be better. Maxie says the first one to climb a wall gets the job, and they all scuttle off. He's desperate to find his golden goose. But his star is sullenly walking home from school, wondering if he should become a cop or government agent, when he finds a salesman with May. It turns out, Ben ordered a new set of furniture as a surprise gift for May, but he only paid a down payment, and they want their money. Seeing the situation, the salesman offers to just cancel the contract, but May insists they'll find the money somehow. After the salesman leaves, she confides that Ben's funeral cost a lot, and she even had to dip into Peter's surprisingly high savings from his old paper route. He notes that was his TV money, but she doesn't need to know that.
Peter's first time using Spider-Man to escape from his troubles for awhile. It's curious to me that even this didn't take the chance to show him learning to swing around. Playing with his web on TV and using it for transportation are pretty different things. But here he is, a natural already. His swinging takes him down to Flatbush Avenue, where he sees the same salesman giving the same speech to a widower, offering to tear up the contract for his wife's last gift to him, but of course, he won't have it. Smelling a rat, he follow'd the guy's car to an old warehouse…
An increasingly furious Spider-Man finds the leader of the operation, who goes by The Undertaker, as he takes a phone call to schedule an assassination, in addition to his various other schemes, and can't take anymore.
The Undertaker doesn't like that, and calls in his boys, who open fire on our young hero, and he flips out of the way, freaking out and feeling a buzz in his head for the first time.
Spidey takes down that guy, but 2 others see him. He manages to dodge their bullets and subdue them, too, feeling like his body just knows where to go to avoid getting hit, and wondering if his powers include "some kind of Spider Sense." But, realizing he's just taken out 2 guys shooting at him with ease, his confidence grows, and he leaps into a group of several of them.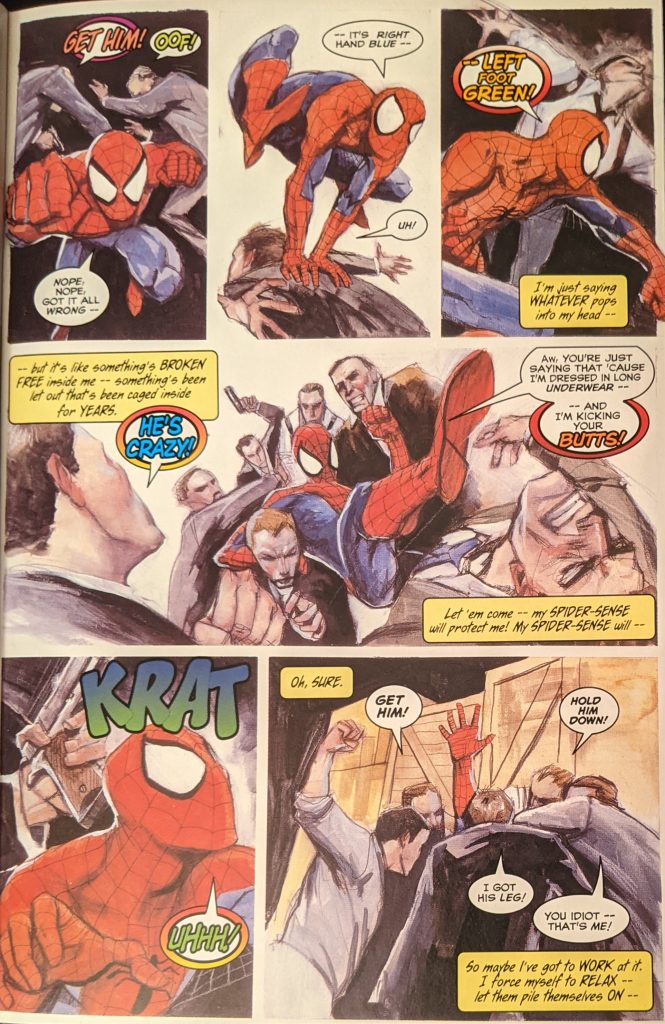 Spidey thinks with all the evidence around and the goons webbed up, it should be enough to get them arrested, and soon sees he's right. But, rather improbably, Maxie heard Spider-Man was here on the police band, and arrives just in time to see him swinging away. Swinging away feeling great for the first time in awhile, excited about how well he did back there. Then he spots and quickly stops his first mugging, leaving a young couple wondering if that was the guy from TV, and thinking maybe this is how he can honor Uncle Ben's memory.
And, we're off. Despite my various concerns about the anachronisms (Tho this is trying a lot harder to fit into the period than the Flashbacks were), the painted art, and the 1st person narration, which also feels out of place, this is all very well done. It doesn't truly feel like it just slips into place behind AF 15 due to all the above, but it's nonetheless nice to read. I wonder if this is even considered "canon" anymore. People always seem to want to jam stuff into Spider-Man's early days…