Yes, having completed his latest grimdark sadsack story, DeMatteis swings to his other extreme. I remember seeing this issue and wondering why anyone would buy it as a kid. Joke's on me now, I guess. The tape on the back of this bag was incredibly tight, shockingly difficult to open, and I take that as a sign that the bag itself was trying to save me from having to read this comic book. If memory serves, as I was realizing I'd acquired so many comics from the Vol. 1 era of ASM that I might as well complete the ancillary titles, this was one of the last ones I bought. Because, obviously. This cover, while not a comic I bought (I want to say I even passed on reading it for free from my local library) was also my first time seeing Frogman. and it's interesting how off-model he/they are compared to inside the book and the last page of last issue. Like they were trying to make the costume SLIGHTLY less goofy for the cover to try to sell the book better.
Sal having the mouth of the Frog mask mirror Eugene's mood is funnier than anything DeMatteis is going to write in this issue.
Oh, no. Oh, no. This is only getting worse.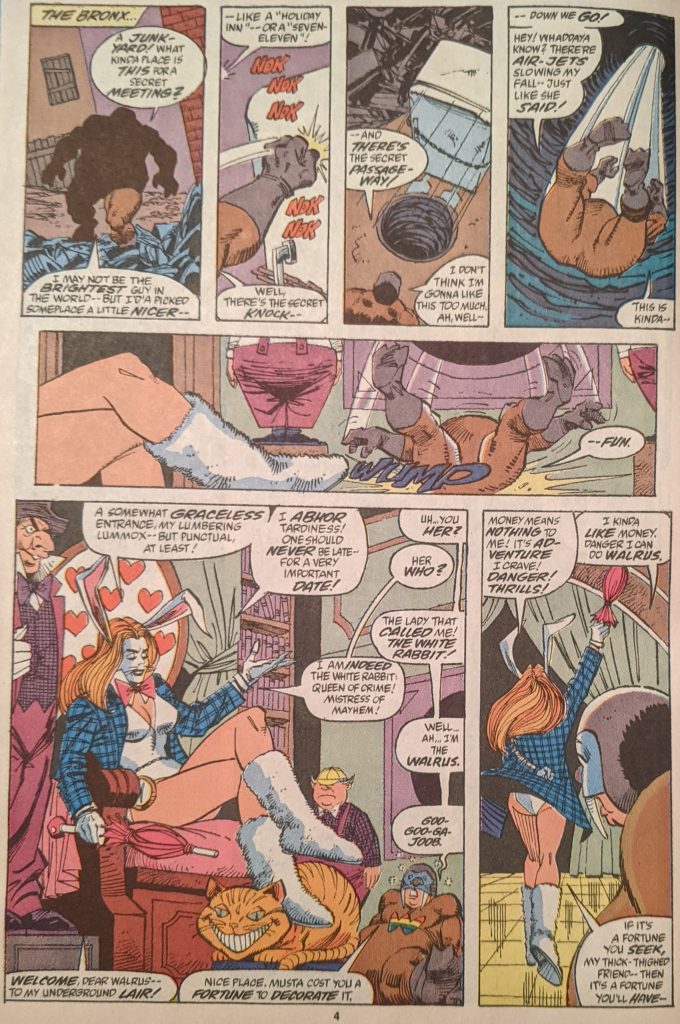 While it was sadly not his last appearance (I guess that was ASM 266 chronologically, tho I posted 247 more recently), last time DeMatteis got to write his beloved Frog-Man was MTU 131, where he introduced the ridiculous White Rabbit, so, naturally, she's back, too. And… And The Walrus is with her. Do I even want to know? Created in Defenders 131 by……… JM DeMatteis. I feel like Ii'm being punished. White Rabbit tests her various dumb-ass carrot-themed weaponry on him and is delighted none of it can pierce is "blubbery hide." She announces they will be a team of villains, The Terrible Two. At leas the name is accurate.
Woof. MJ convinces Peter to go. And so we set our scene in Brooklyn, where Eugen, his dad Vinnie, and apparently his extremely Italian Aunt Marie all live, where Eugene excitedly announces Spider-Man is coming to dinner. Vinnie is upset Eugene went back out in the suit (Understandably), but Marie is now laser-focused on being good hosts and preparing a good meal for Eugene's friend. Later, the villains of the piece tool around in a Rabbitmobile as Whitey says they want revenge on their arch-enemy, Frog-Man. Really? He took Frog-Man to Defenders, too? He did. He bumbled into the aforementioned Defenders 131, it appears. DeMatteis also teamed him with Captain America in a couple of issues of Marvel Fanfare, I have just learned, where he battled famous racist caricature and Shang-Chi's father, The Yellow Claw. Mercifully, this is his final appearance until 2002. Walrus says he remembers hearing Frog-Man fought both Speed Demon (In his first appearance in MTU 121) and Yellow Claw, and asks why they're not on the team, and Whitey has to admit they laughed at her and hung up. Boy, laughed at by Speed Demon, that's low.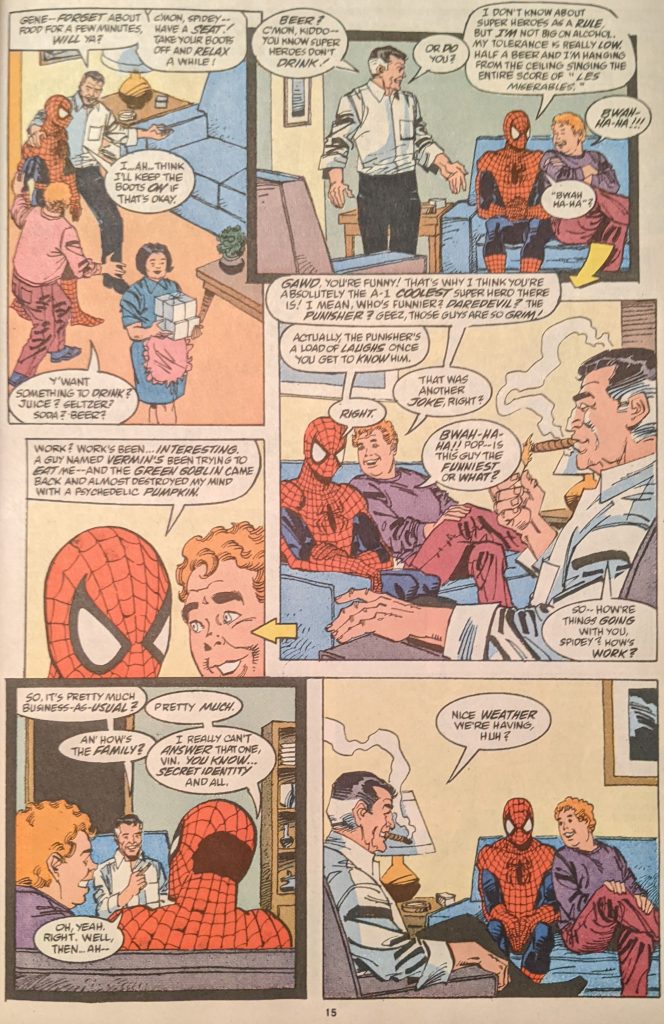 Fair's fair, Spider-Man in a random Brooklyn domestic setting is actually pretty amusing. Meanwhile, White Rabbit stops in a neighborhood Frog-Man is known to frequent and begins causing mayhem to attract his attention. Walrus asks why they're doing this and why they can't just rob a bank and go to acapulco (A Bob Dylan reference?). You picked the wrong partner for that one, buddy. She tells him to make with the mayhem and he starts breaking stuff.
As the news shows Whitey and Wally and the newslady is forced to say they won't stop their rampage until Frog-Man shows up, Eugene wants to go, but is stopped by his dad. Spider-Man, tho, is already on the way. He's actually looking forward to it, thinking White Rabbit is ridiculous and Beast told him Walrus is even worse, so this could be fun after all he's been through lately. Back at the chaos, one Ira Gross reports (Presumably for NPR), with White Rabbit stopping to give him some copy, until Spider-Man arrives. Whitey is disappointed, but has beef with Spider-Man, too, after all, so unleashes her stupid carrots. Spidey swipes her carrot-firing umbrella out of her hand and breaks it in half, all while quipping it up.
This page feels of a piece with DeMatties and Keith Giffen's widely lauded, more comedic run on Justice League in various forms at DC.
Some surprisingly competent heroics by Froggy. The assembled press and onlookers eat it up, to Spider-Man's dismay, but then White Rabbit reappears, with a new umbrella fetched from her "Bunnymobile," and is probably gonna stab Eugene to death.
So that's why Frog-Man was unusually competent earlier. Fine.
With a shout out to "Keith'n'Andy" and everything. Not sure who Andy is, actually, the artist most associated with their JL run is Kevin Maguire. Anyway, that's that. With that ordeal behind us, Spectacular is now 4 months ahead of the other titles in my reading, and 5 months ahead of ASM. But we'll chip away at that next post.