That's right! It's The Child Within: Aftermath! Harry sure stayed gone a good long time! This one's cover is barely attached and pretty badly rolled. I hope I didn't pay too much for it. Spider-Man lands on a rooftop at night, and a golden hand reaches out for him. It's the Molten Man, who is very upset as Spidey grabs his write and wrenches his arm away.
Throughout the history of comics, No chimney in New York is safe from a super-tantrum.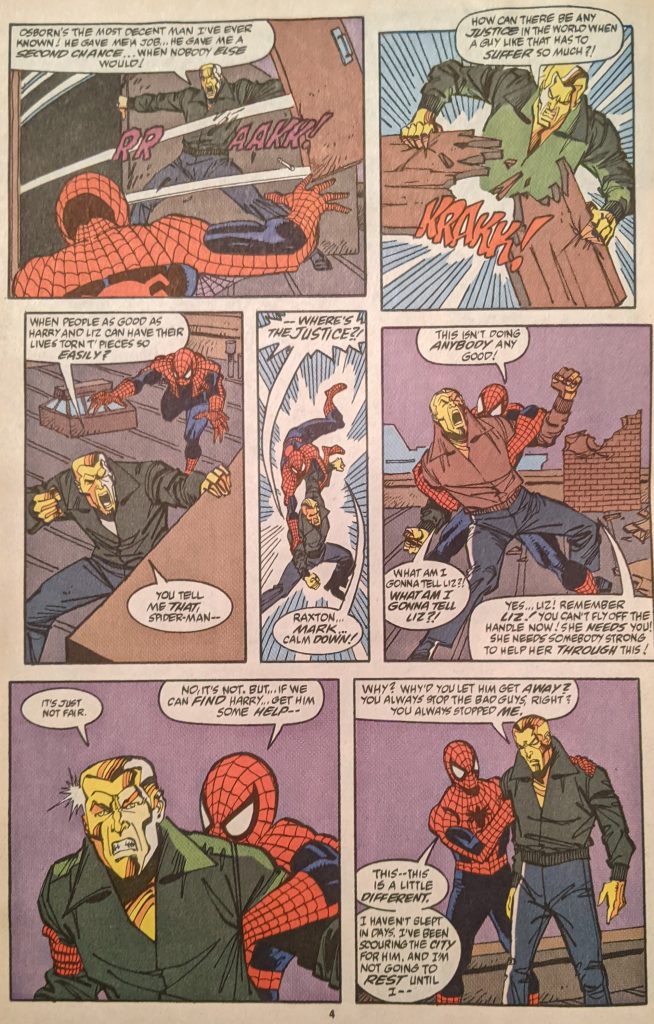 Take that, door! Spidey is stopped by his Spider Sense, but no source of danger appears, and he says he must've been imagining things. But we see The Green Goblin zooming away. He has dueling thoughts about how he should kill Peter, but Peter is his best friend, am I good, am I bad, yadda yadda. He once again thinks it hurts too much to be Harry. Even this is a concept DeMatteis will recycle with the whole "I am the spider" nonsense later. Not only are all his depressing hero comics unpleasant, they're the same thing over and over. And then…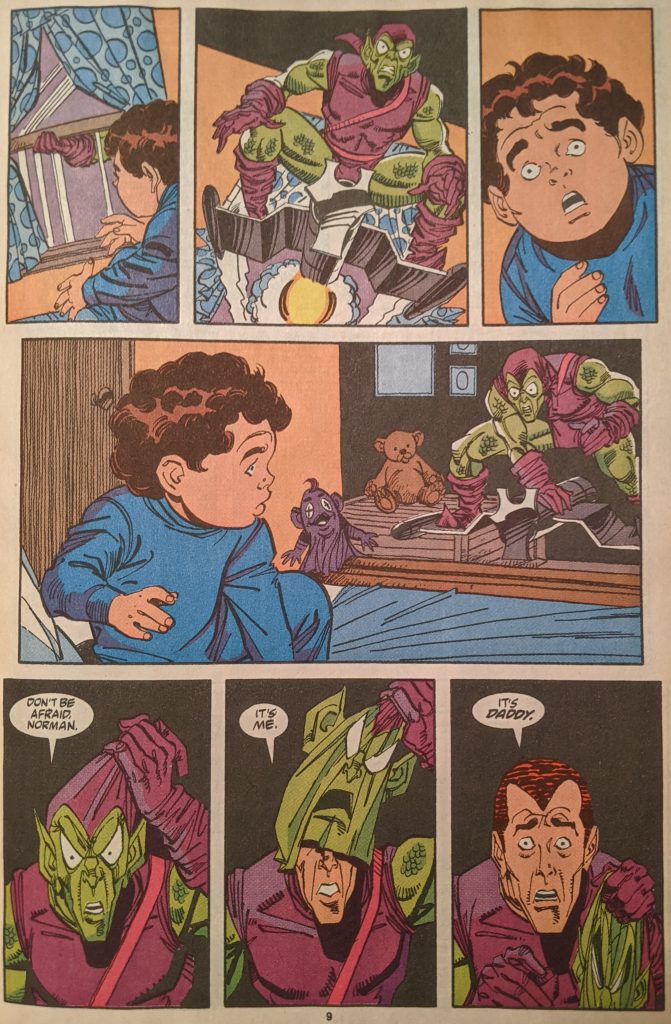 Liz's hair is a serious choice. Well, this is untenable. Poor Normie, poor Liz. Harry flies away, thinking that he loves his family so much, but they'd never understand the pain he's in. Blah blah blah. But, as he terrorizes some people on the street, he thinks The Goblin has power and doesn't have to be afraid. Then he begins to argue with himself again and say he has to get away to understand who he is, but he'll be back. Speaking of understanding who you are…
Well, someone's sure looking a whole lot less monster-y seemingly for no reason!
Dr. Kafka explains to Spider-Man, who is also present, that she's finally been able to loosen Vermin's hold on Edward, which allowed him to start to change back. Which means a time is coming when he won't need Vermin anymore, and the Vermin personality knows it, and is becoming desperate. Thus, the threats are good news, in a way. Spidey is pleased to hear it, and about to leave, when he stops to ask about the night he showed up in her office sans mask. She says it was dark and she was half asleep, and she put his mask back on as fast as she could. Says she didn't feel it was right to see his face if he didn't want her to. Fair enough. But she says as he swings away, from what little she could see, he has a good face.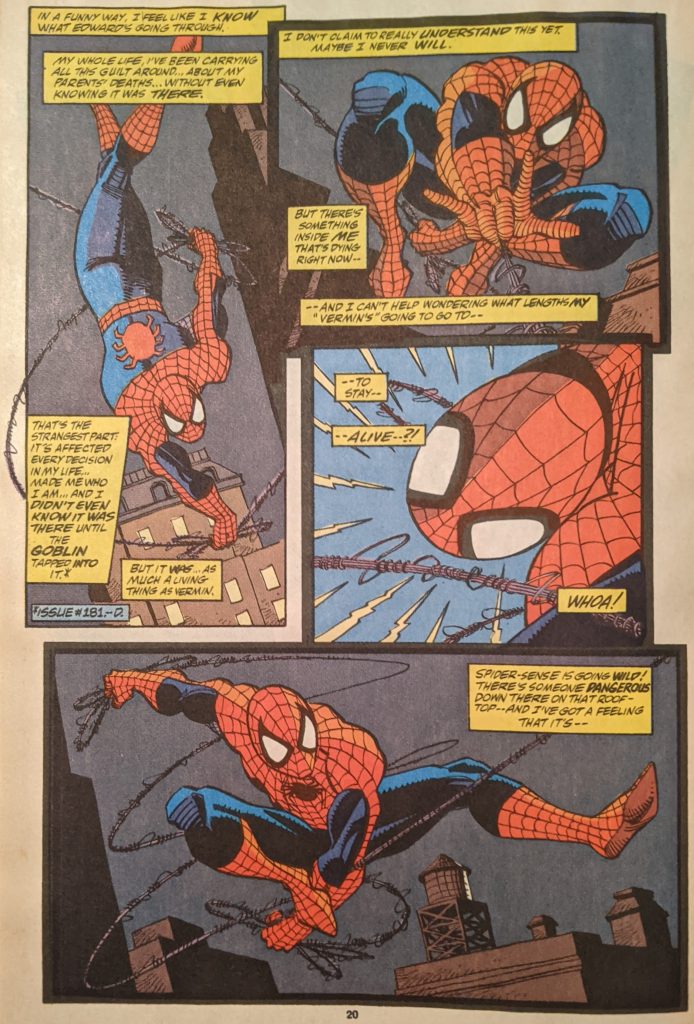 There's that stock Buscema Spider-Man Ron Frenz blatantly used in Thor 447. Our man recaps/reflects on the whole "repressed memories of blaming himself for his parents' deaths" thing until he gets another big Spider Sense jolt, and he's sure it's Harry, but when he lands on a nearby rooftop, nothing happens. No Goblin, no fight. Back at the building he recently lived in with Harry, Mark has told Liz what he knows, and she is obviously a wreck, but at least she has him to comfort her. You know who hasn't been in this title for ages?
MJ silences him with a kiss, saying not another word, and they settle in for the night. But next page, Peter's up in his Spidey clothes and kissing her goodbye. She's not as asleep as he thinks, and thinks to herself "Find him, but–"
Out of the grimdark faux-grown up frying pan, into the awful slapstick frying pan. I've said it before, DeMatteis has 2 speeds, and the switch between them is jarring, but this may be the most jarring ever. Also, 7 months of "to be continued" in a row? This book isn't exactly playing well with the others right now.