Looks like we're in for the most titanic battle between Spider-Man and gas yet. The customary video footage that starts each issue shows Vermin freaking out because Dr. Kafka wasn't around, having gone home for the evening, when he apparently launched his attack and subsequent escape. Subsequent pages follow Edward's mom looking at him in a photo album, confirming the little boy is him, and Dr. Kafka looking at a picture of Vermin, same layout. Edward's Mom and Dr. Kafka even wear their hair similarly. Meanwhile, a much less amped Harry Osborn stands over the semi-conscious form of Peter, saying he's sorry…
Things are not looking too good.
Sal's sure doing his best to make The Goblin suitably creepy. In the swirl of gas, through some red text that's nearly impossible to read and jumbled up, Harry asks Peter if he remembers his father's special psychedelic gas bombs. I mean, probably! And then we're into Spider-Man's hallucination, walking through a graveyard full of giant tombstones, including Kraven's. A voice I guess is Harry's urges him to go deeper into "the dark places where you never dare to look" as the confused hero begins to freak out. And then, of course…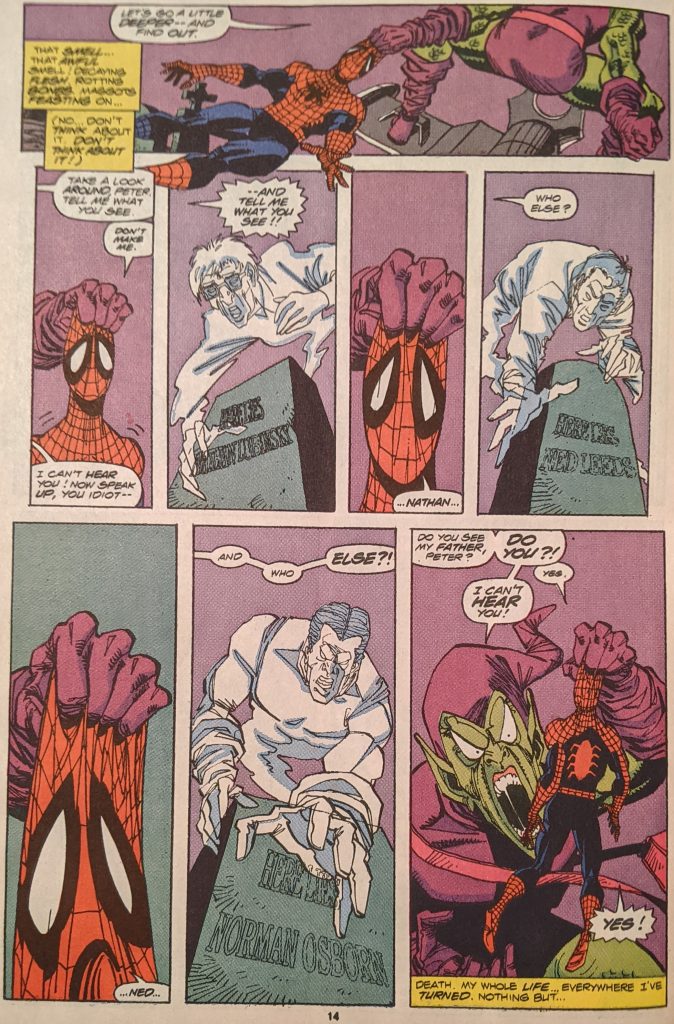 I would remind the court that the primary audience for comics in this era was still mid-teenagers. Like me! And I have a hard time imagining many of us getting really excited by this stuff. "Spider-Man's fighting Dr. Doom in this month's ASM!" "Yeah? Well, in this month's TAC, he's very sad about dead people! Also other people are sad about a rat-man!" Tough choice on where to spend your $1, ya know? Speaking of said rat-man, we get more video footage of Vermin's brutal escape from what I believe is the still-unnamed facility he was being kept in. Back in the hallucination, the new giant Green Goblin drops the wilting Spider-Man deeper into his "shame," so we get to the main event tombstones now, the Stacys (Spelled wrong????) and Uncle Ben. And abruptly and confusingly, Uncle Ben talking to a young Peter is added as a THIRD narrator on this page. Harry in blue, Peter in yellow, Ben in red. Good grief, man. Spider-Man, still shrinking, asks Uncle Ben if his guilt comes from letting him die, but Ben says it goes further back.
Nice of Harry to tuck Peter's mask into his belt so he won't lose it! A deranged Peter begins destroying whatever place they're in, narrating that he doesn't want his parents to be dead. I can't get over how much of the imagery and concepts in this awful dreck just repeat during The Clone Saga. A demoralized Peter running from reality? A deranged Peter destroying his surroundings? Even the river of souls thing came back. DeMatteis just loves wallowing in sadness THAT much, I guess.
Well, that makes no sense. This is exactly what Harry was trying to do.
I am really running out of patience for this pseudo-adult garbage. Vermin's dad is also looking at pictures of him as a child, but now Vermin and his rat army are in the house, and Vermin is dragging his mother by the hair and announcing he's going to kill his dad, just in case this issue wasn't depressing enough. Then a crash startles Dr. Kafka.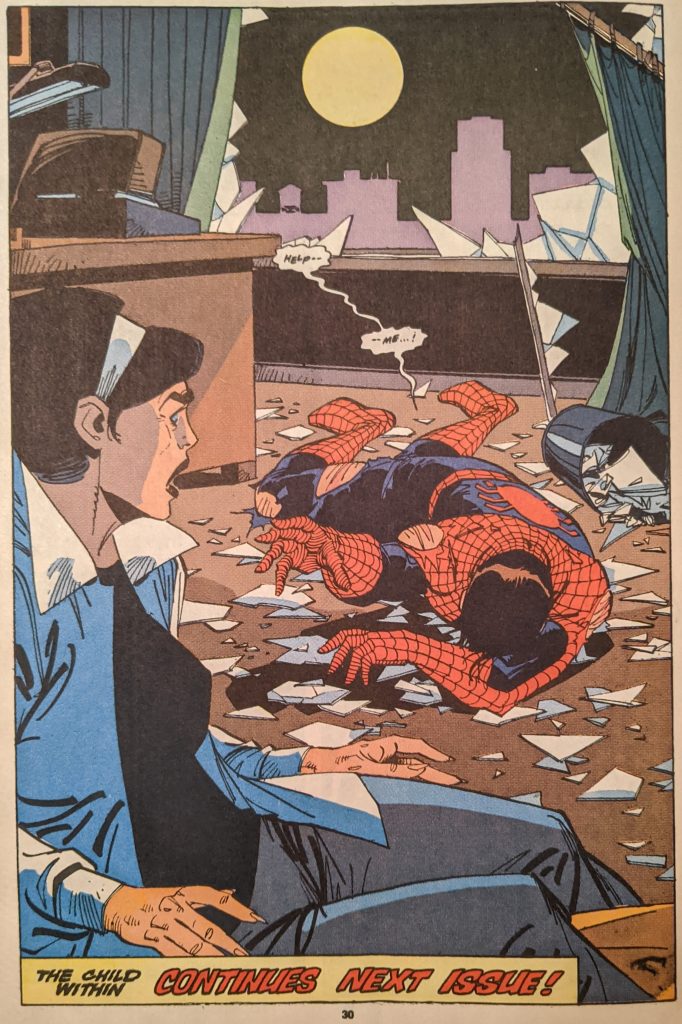 Sigh. I am running out of reactions. This issue includes an ad for the Spider-Man SEGA Genesis game. No idea who drew it. The copy is really weird.
That was more entertaining than anything else in this issue.