As the saying goes, you can't keep a bad goblin down. I think that's the saying. I could be thinking of something else. We open on video of Vermin initially once again responding to Dr. Kafka's treatment until she asks him about something he doesn't want to talk about (About why "the bad thing happens" when he goes to sleep). He grabs her by the throat, but she rather fearlessly talks him back down, and he winds up curled up on the floor.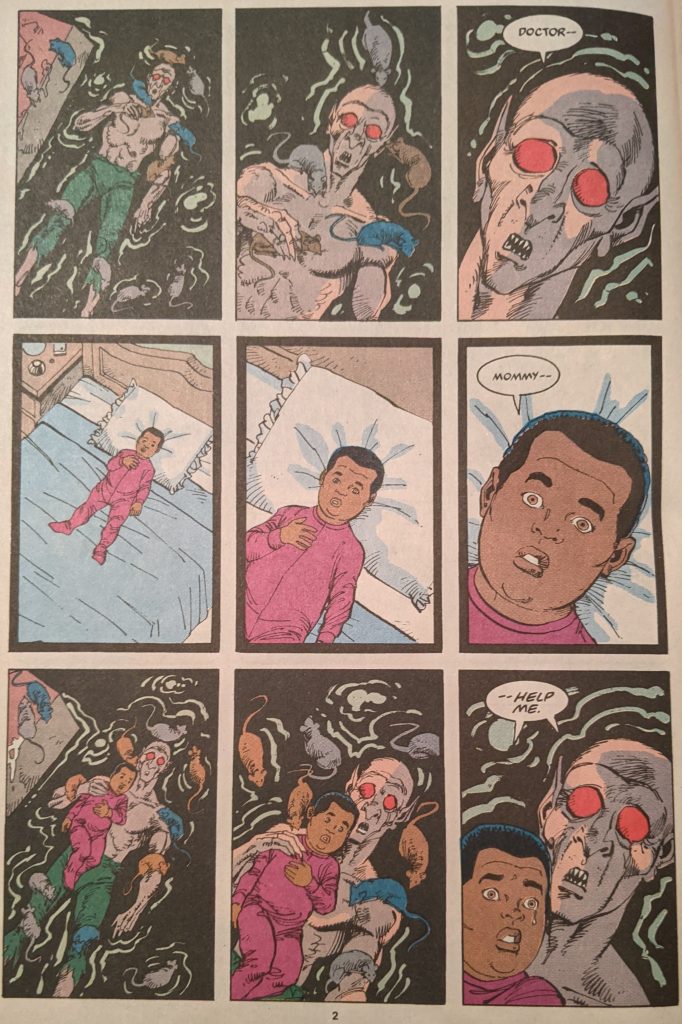 The little boy being young Edward seems pretty much confirmed there.
Perhaps the first-ever depiction of Harry's mother? Did they ever even say what happened to her? I bet Kurt Busiek hit it in his Legacy of Evil one-shot, if nothing else, but it's been a long time and I don't remember it too well.
This looks bad. Both tormented by ghosts and remembering who's under that Spider-Man mask after all these years. Kinda hard to believe this stayed dormant for close to 20 years. That some writer didn't already do this. Ghost Norman berates Harry for always running from him, and Ghost Peter tells him to stand up to his dad. Harry makes his usual choice and sides with his dad, punching the Ghost Peter across the room and saying he's always coming between Harry & Norman. Ghost Norman loves it, encouraging his son to "pound that no good scum through the floor."
Coming out of his delusion, Harry sees the photo album on the floor and destroys it in a rage. Which, I dunno, hallucinations aside, maybe a good idea. The past ain't too sweet for Mr. Osborn, especially compared to the present. Somehow, tho, I doubt this will be a healing moment. While he destroys some photos, we fins Spider-Man standing at the graves of his parents and uncle.
Sal Buscema's attempt to get onboard with McFarlane's dumb clouds of webbing around Spider-Man end up being worse, somehow. Like Todd… his approach is so abstract you can almost dismiss it. But Sal just wads up a bunch of web in each fist. How does Spider-Man even get that much extra web in his hand?
I wonder if writing this page is when DeMatteis thought, "I have to kill her." Elsewhere, Vermin reads a story to the little boy about kids being menaced by a witch. The witch is a "he," and when the boy says he thought all witches were ladies, Vermin says the good ones are, but when the bad thing happens… Then he starts screaming.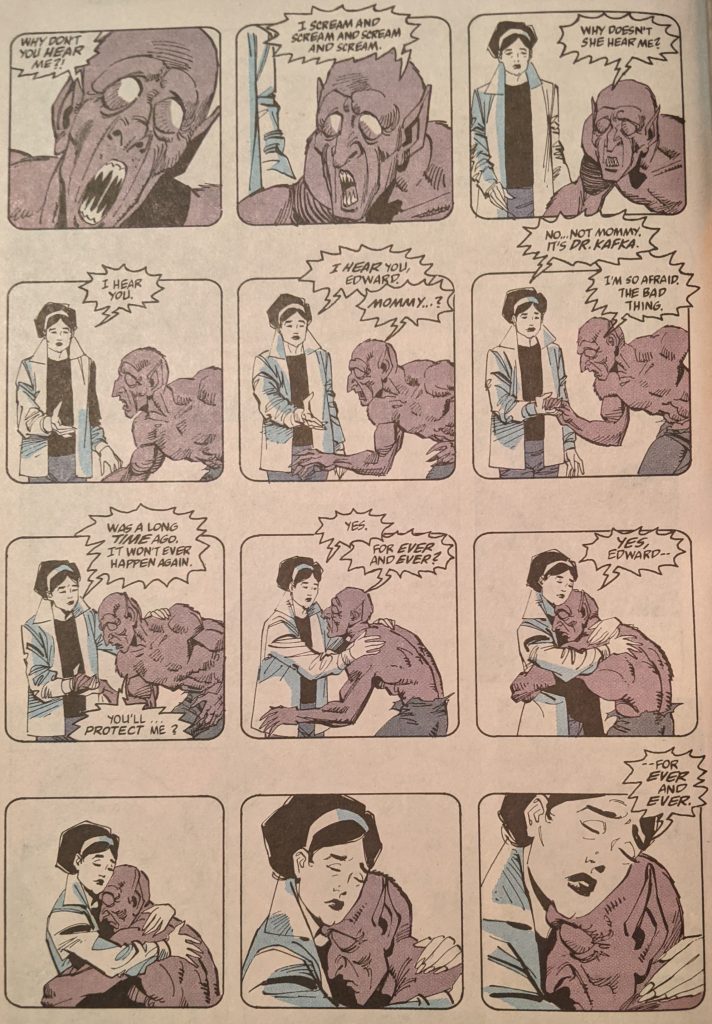 Spider-Man comics in 1991 are apparently just "There hasn't been nearly enough child abuse in these stories for the last 30 years, we gotta make up for lost time!" Dr. Kafka is watching this footage, still bandaged up from Vermin attacking her last issue, wondering if she pushed him too hard. Meanwhile, Harry Osborn looks in on his sleeping son, and then his sleeping wife, and then, as Spider-Man arrives home, feeling rejuvenated just from being in the old neighborhood, a familiar shape appears in the sky behind him.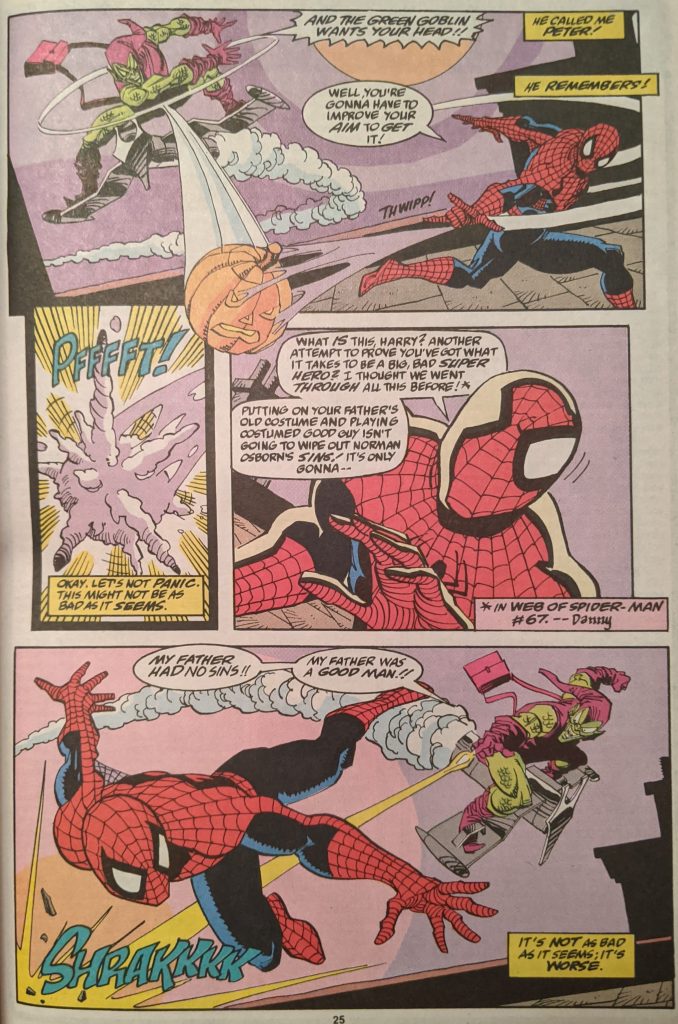 It almost feels like an anachronism in this age of Venoms and demonic Hobgoblins and cool-art-over-plot, this exchange. "He called me Peter! He remembers!" Straight out of the old Lee/Kane/Romita days. Goblin announces there's no reason to drag their families into their "little war," and says he's moving their battleground elsewhere. Spider-Man follows, desperately rationalizing that, since he beat Harry pretty bad last time he dressed up as the Goblin, maybe he thinks he has to beat Spider-Man to prove he's got what it takes. He rationalizes further that, if Harry had truly gone nuts, he wouldn't care about endangering their loved ones. Sounds nice in theory.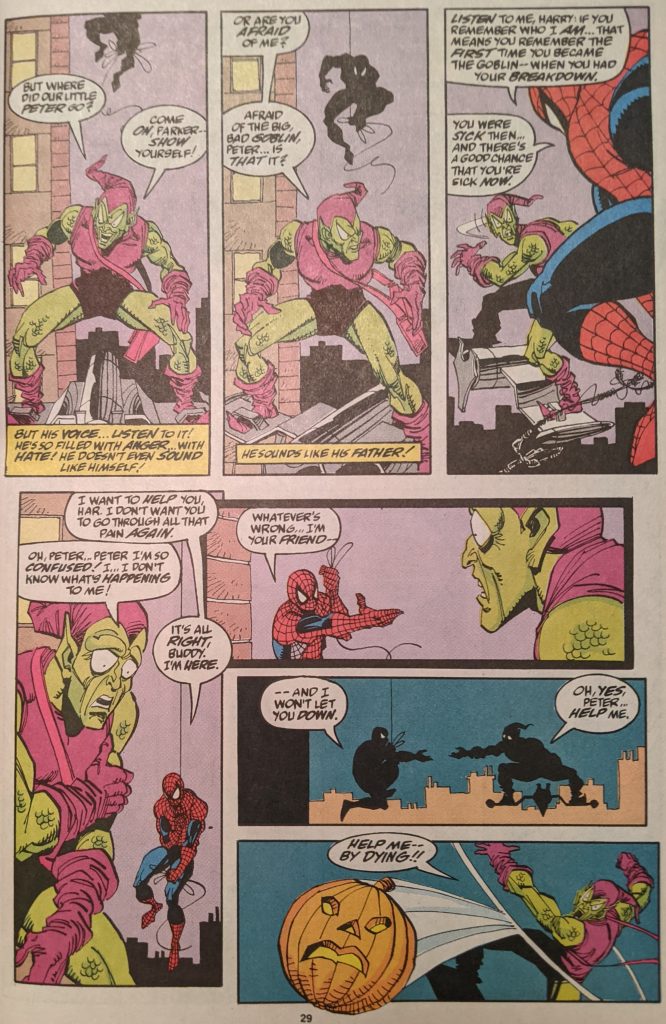 Been awhile since we saw it in action, but Spider-Man's true archenemy is and shall ever be gas.
Well, we're in it now. Getting a little crowded, villain-wise, considering Harry and Vermin have no real connection. I assume that will change.