Well, now you see why Todd's half of that one pin-up in ASM 350 was the black suit. They say he was the one who pushed to get Spidey back in the red & blues. And here's out 2nd homage to Spider-Man #1 on the blog, tho it was 1st chronologically. Only a 2-parter this time, but don't worry, Todd'll make sure to pack in all the misery you've come to expect from his superhero stories. This issue is significant in his evolution, in that it's the first appearance of a bit further abstraction of his style, especially where it comes to hair, but it's more than that. Also this month, Todd takes a shot at lettering his own comics. Greg Wright still handles the colors. Even the most self-contained comics auteurs usually let someone else letter. It's such a different kind of discipline. Todd's flirtation with lettering would not last, and I don't blame him. Todd credits Editor-In-Chief Tom DeFalco with "?" this issue. A dig? An honest question? Who knows? This one opens with a big guy crawling up out of the sewer to get "a bad one" for "leader."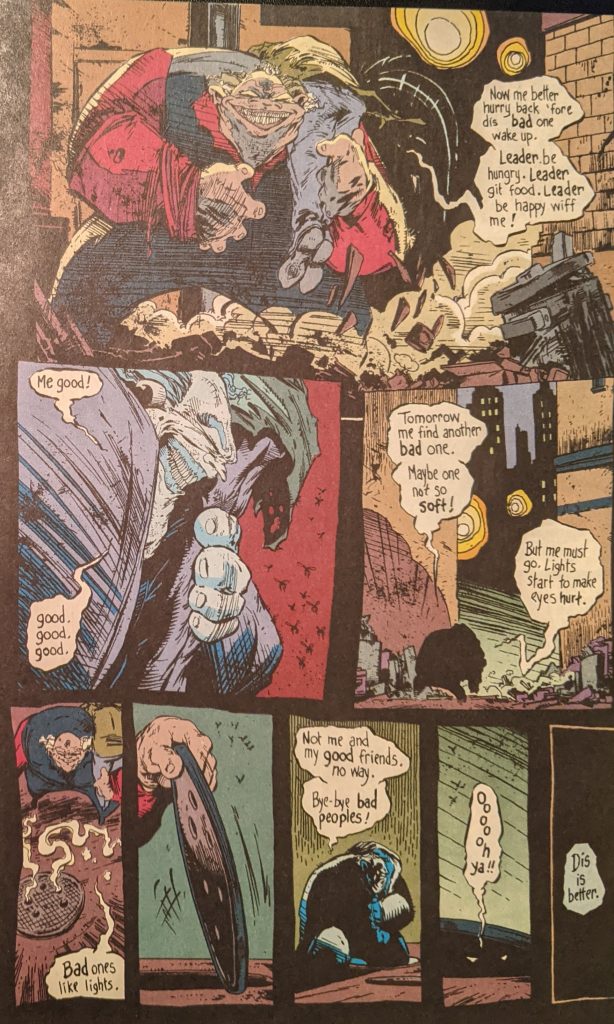 Yeah, nonstop fun and laughs here in Todd McFarlane's Spider-Man. While whatever that is is going on, Mary Jane tells Peter she's bored. She wants to maybe go out with Flash, Felicia, Harry & Liz, but instead, this happens:
Yeah. MJ's "kinky new hairdo" is just how Todd's decided to draw long hair now, seemingly on a whim. And that's not all. It's kind of an intangible, but despite his trademark layers of hatching and detail, things are simpler this issue, somehow. Look at this page, from the next day, as Peter Parker overhears JJJ refusing a story about some local homeless guys disappearing.
It's just looser. Leaner. And probably saving some time. I must say, tho, he's a surprisingly adept letterer. Between the lettering being so professional and also often not fitting in the word balloons, I almost wonder if what he turned in was unacceptable and Rick Parker did an uncredited paste up on this. I guess I'll never know. Anyway, we soon find Spider-Man, eating donuts and waiting for something to happen in the area of the disappearances. He banters to himself for a whole page and leaves people like me who were bemoaning the lack of levity in this series wondering if maybe we were better off with the endless sadness. But then a guy comes running down the alley, yelling for help. And when our hero drops down to offer said help, someone starts throwing trash at him.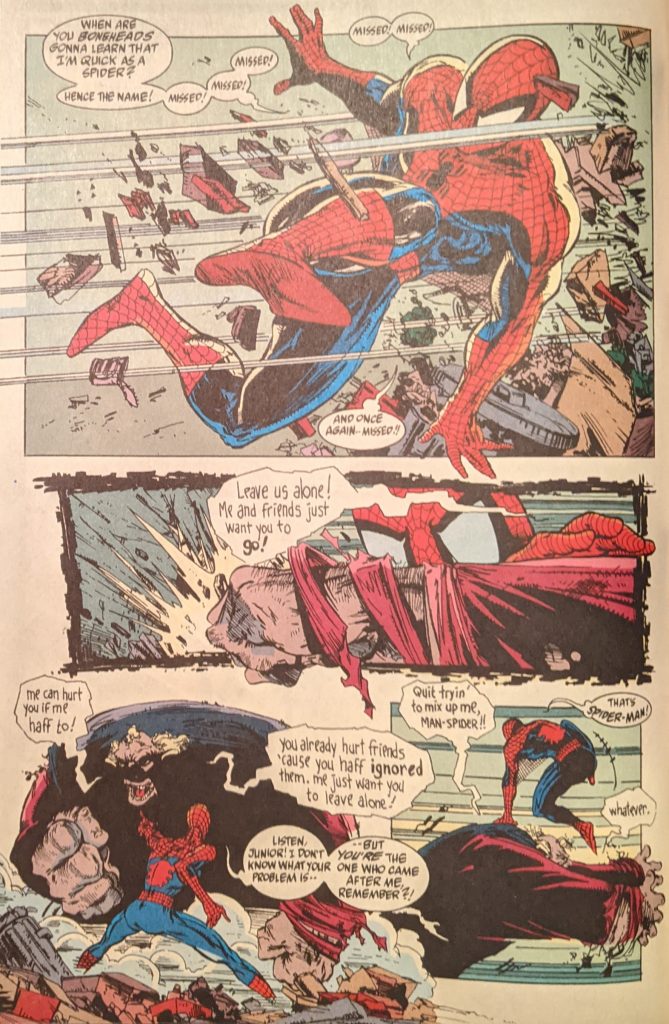 The big guy somehow disappears down a manhole between pages so fast Spider-Man doesn't know where he went, which is… hard to believe. Our hero dives in after, regretting that he didn't bring film that would shoot in the dark. But it turns out to be pitch black down there, and his Spider Sense warns him a whole mob of unseen figures is after him immediately, so he just leaps back out. Then, in a jarring cut with no transition, he's apparently made a strategic decision.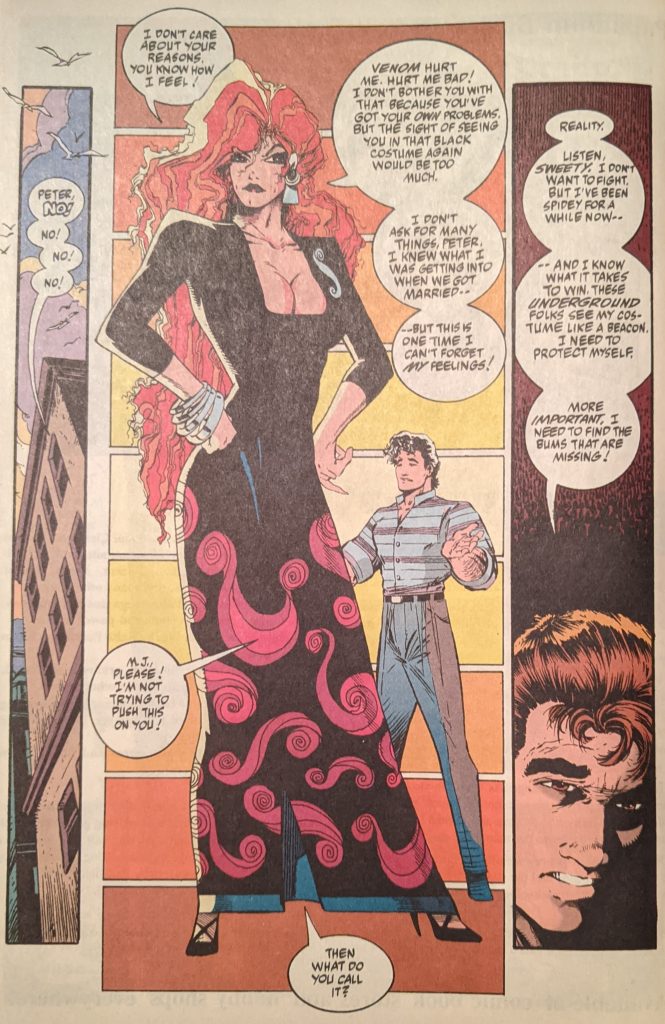 The further I get into this issue, the more convinced I am that McFarlane is only lettering the big bad guy's speech. His text is never misaligned or too small to fit a balloon, but all the traditional lettering is. I sure hope Rick got paid for this.
This whole "I have to wear black to not be seen by people who can see in the dark" rationale seems really flimsy. But then, a bit of dialogue I forgot over the years that's very important: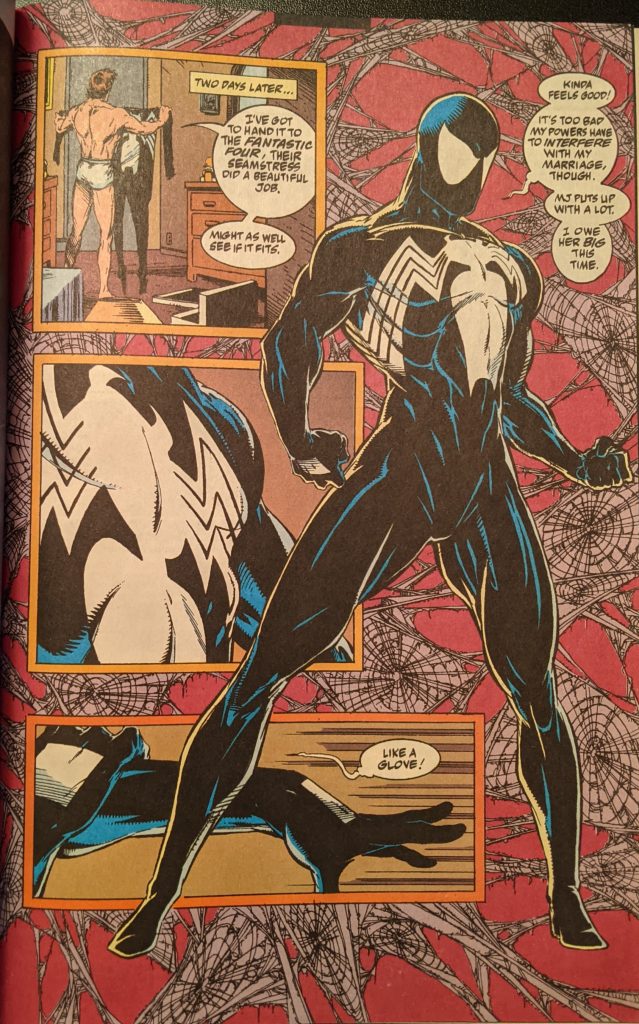 Now, I don't know how (Or why) he got the FF to make him a black suit, or why he didn't leave out the Venom logo if both him and MJ don't want to look at it, or the answer to any other obvious question this brings up. But I did forget he ordered this suit, and I have been making snide comments about how everyone forgot he burned this costume as it's come back over the years, and I have been in the wrong, as it turns out. My bad, various people who brought back the black costume. I feel like the change in style I'm having trouble describing is very obvious on this Spider-Man figure. Less hatching. It feels like "wet," which is the word I've always wound up at trying to describe Todd's inking style. It's just different. Anyway, that night, the big guy kidnaps yet another poor man and drags him down to "the leader," who is revealed to be…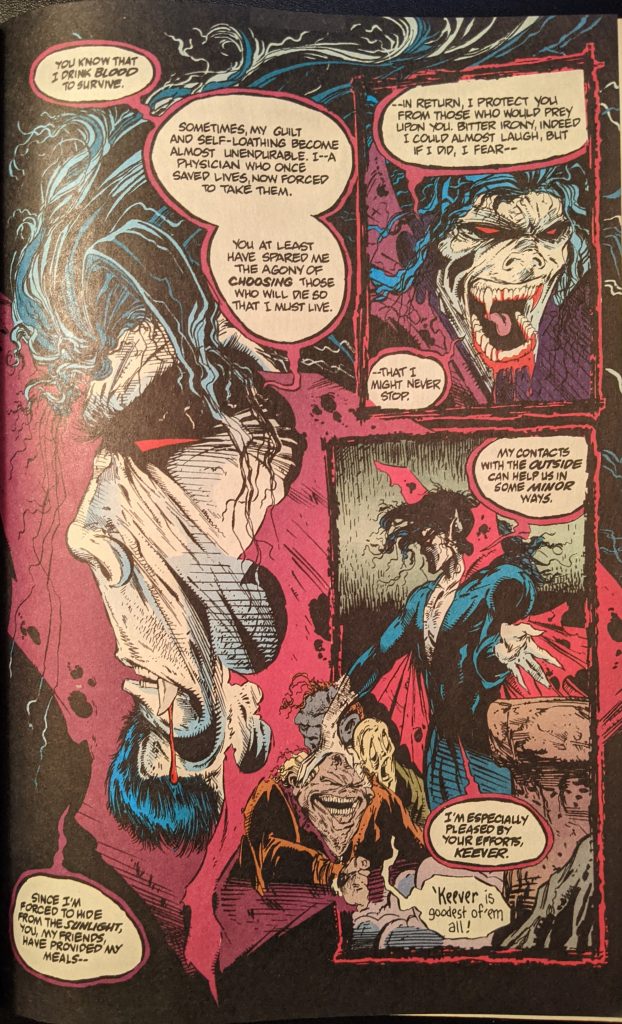 Why yes, it is another classic villain suddenly sporting some kind of messiah complex out of nowhere! AND it's yet another gang of deformed outcasts living in the sewers of New York! It's crowded down there! These aren't mutants, tho. Here's the completely bizarre explanation: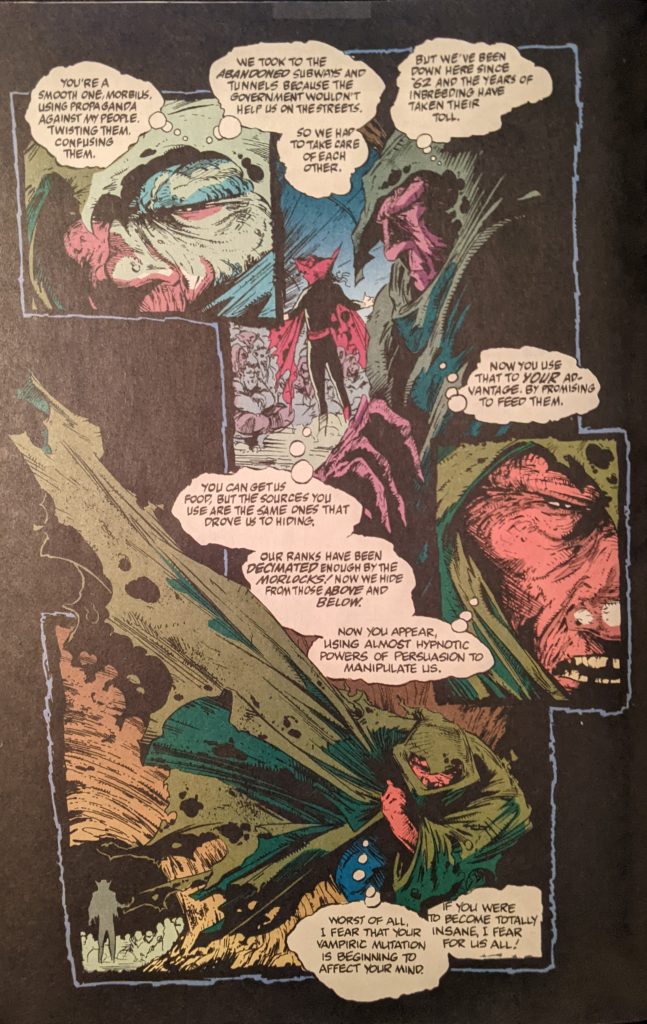 I mean, what to even say about that. Why have a group of homeless people been down here inbreeding since 1962? What??? I'm not even gonna engage with it. Eventually, Spider-Man appears, back down the manhole from before. After being down there half an hour, he encounters the various weirdoes. So he's completely overwhelmed. Boy, that black costume sure as worth waiting 2 days for. I wonder if Todd just wanted a break from the web pattern.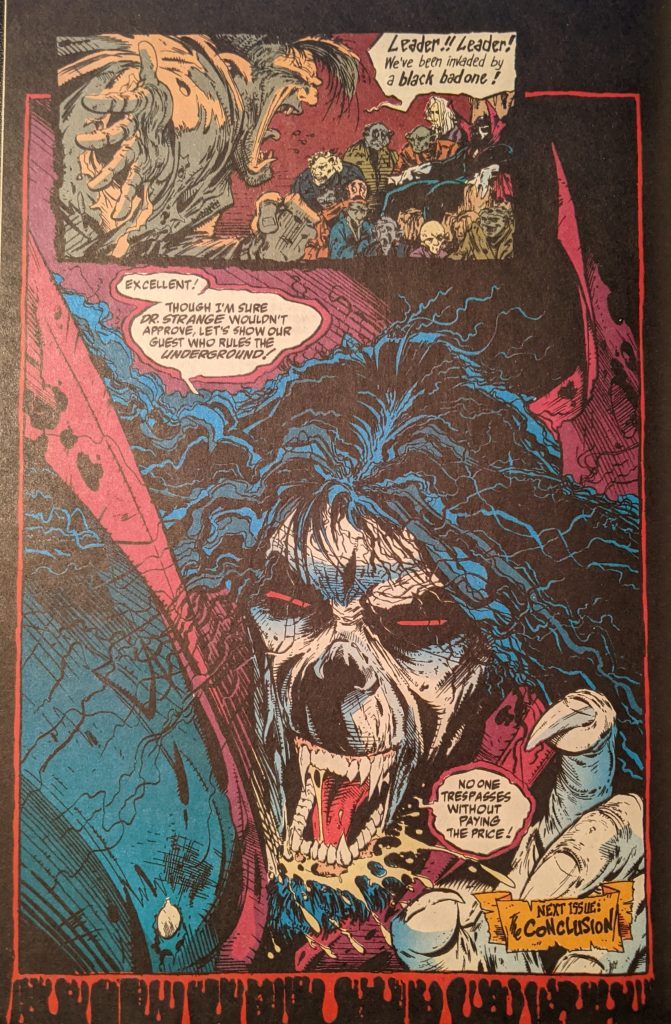 Just gonna let that casual racism roll on over ya, huh Mike? I mean, we know what "a black one" means, but he doesn't. Anyway. Next month: more of this crap. As I recall from my youth, a lot of whining and "woe is me" from Morbius. We'll see. The letter page only has 3 missives, but it is a four-alarm fire of nonsense. One guy takes issue with the subject matter of the previous storyline, which, you know, so did I, but does a tired old "think of the children!" bit, somehow manages to blame slasher movies, and even goes so far as to say today's comic creators are dark and twisted because they live in New York City (Todd McFarlane is Canadian). I mean… Yeesh. Then there's a guy who says Spider-Man constantly mentioning how much he loves Mary Jane "demasculates" him and that Spider-Man seemed "whipped." The mind reels. And finally, a guy writes to say how bad Todd is at anatomy (No argument there), but his letter quickly reveals he's just a wannabe comics artist mad that someone he doesn't like got the big break he wanted. Dude actually says "I will not rest until this book is canceled." I guess he didn't rest until 1998, when it was relaunched with Vol. 2! What a bunch of crazies. Even Salicrup notes how weird is it that he's disagreeing with all the complaints for once. This relationship seems terrible.