Yeah, we're doing this again. Kinda bold to nick the cover to Purple Rain twice, but what can ya do? The sequel no one asked for is here! He's dressed rather more like Michael Jackson this time, at least on the cover. This issue is weirdly lacking any credits, but one assumes it's Peter David writing, and there's no question Mark Beachum is penciling, at least. The splash is just Spidey socking Ace.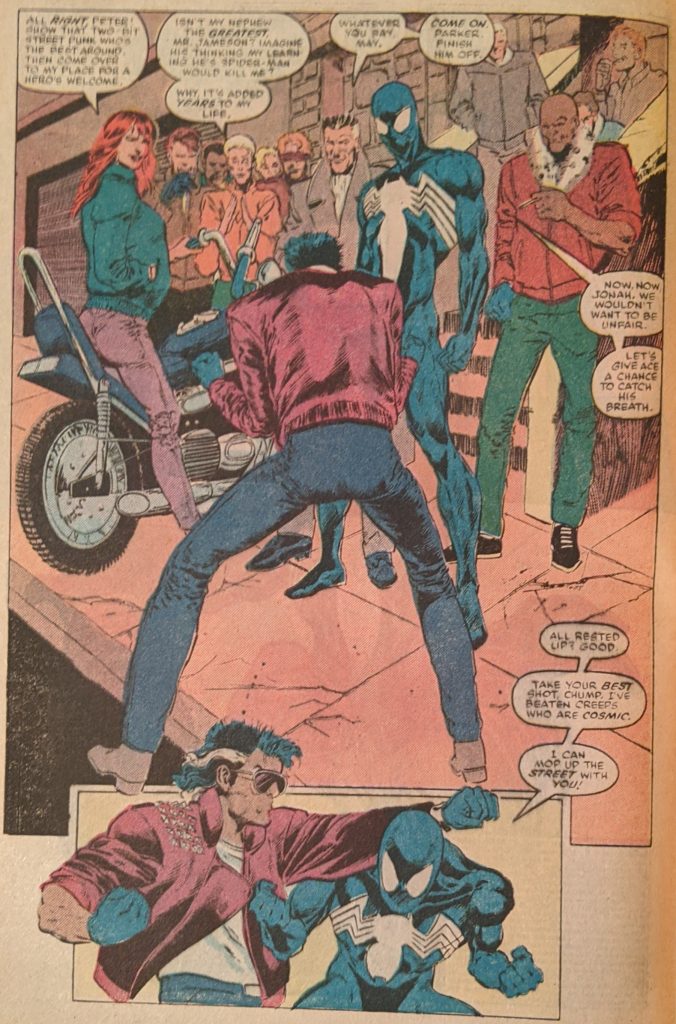 Yes, Peter is having a dream about beating the crap out of Ace while his people watch. As he continues the beating, he thinks about how the thing that bothers him most about Ace is people respect him, despite no one respecting Spider-Man. He's about to kill Ace when he wakes up. As he remembers his dream, he thinks he didn't like himself very much in it. He recaps TAC annual, saying the encounter left him feeling weird, and that he's jealous of Ace for the respect he gets. This is insane. Seriously? "I don't sweat the millions of adoring fans my pals like The Fantastic Four or Captain America have, but this one guy who dresses like Prince I met one time is beloved in his neighborhood, and that really burns me up." Ridiculous.
Different writers have a lot of different takes on how easy it is to damage Spider-Man. You know, sometimes, he can punch a brick chimney to bits without feeling it, and sometimes he can punch a wall and hurt himself. And both of those can be the same writer. I'm no expert in biology, but I feel like it's one or the other, guys. Meanwhile, in Harlem, Ace's sister, Rosie, and some friends are being harassed by members of The Reapers, one of the gangs Ace was able to keep under control by not actually doing much of anything in the previous annual. Only now, they hear he's going to testify against them, and they're trying to scare her into scaring him off. But then Ace shows up.
Really getting a lot of mileage out of that Purple Rain pose. The head Reaper, Tyrone, knows he's in trouble, but starts talking big about killing Ace and his whole family, hoping his fellow goons will jump into the fight he's expecting to cause.
Maybe they shouldn't have waited a year to do a follow-up story. We're like a 3rd of the way into this issue and it's still unpacking exposition about the previous annual. Then, in case it wasn't clear Mark Beachum is drawing this…
3rs Avenue is a special place, apparently. Peter's Ace hang-up is not getting any easier to buy. Aunt May gets a little emotional over a shawl Ben gave her before Peter was born, and then we cut to Ace seeing a robbery in progress and going to stop it. He tosses the goons through the storefront window and then rides off. The shopkeep fondly tells a customer how Ace keeps the neighborhood safe, remarkably unconcerned about losing his window. But the patron is a Bugle reporter who says Ace would make a great story. Meanwhile, Ace's brother, Lorenzo, meets with his lawyer, and says as far as he's concerned, he doesn't have a brother anymore, and wants his lawyer to find a way to keep Ace from testifying. Ace is soon approached on the street by a guy from the Child Welfare Bureau who wants to take Rose out of Ace's home. Ace speeds off on his bike.
Absolutely ridiculous. Then Ace goes home and his mom dies. Good grief. He and Rose begin to mourn as we turn elsewhere.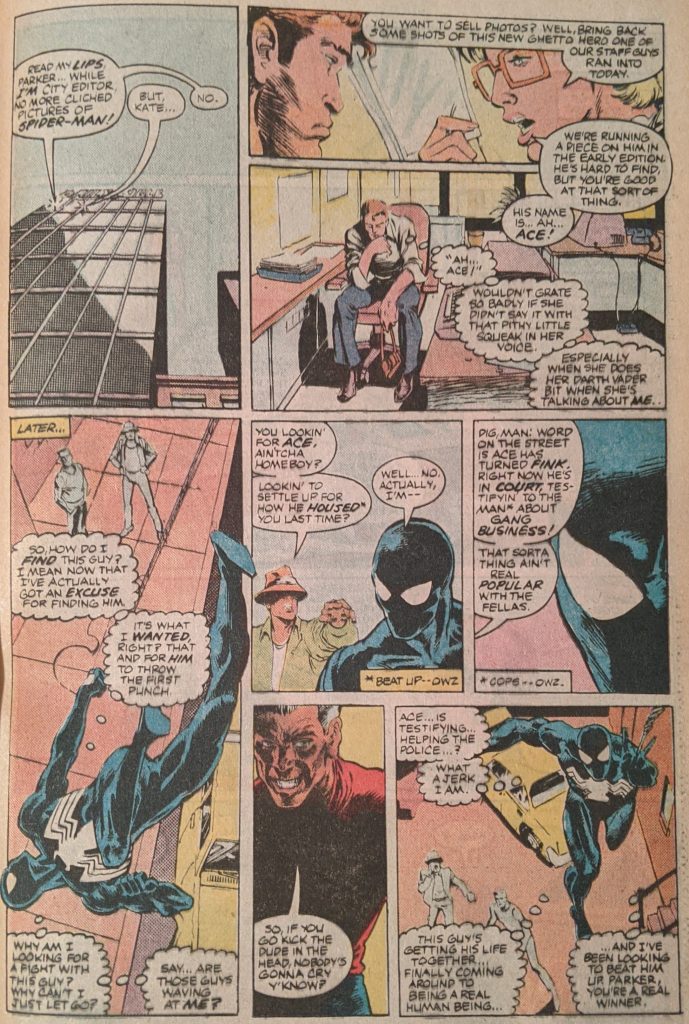 Christopher Priest, in his capacity as editor, has been translating the slang throughout this issue, and I have to wonder if it's kind of a dig. Pure conjecture. Does he really think the predominantly white audience is so white they won't know who "the man" is? Or is he commenting on his white writers writing this stuff? Based on what I know of him, I suppose I lean toward the former, but who knows? So, Peter somehow teleports into the courtroom instantly, and Ace isn't there yet. He's late, and the judge is about to throw out the case against Lorenzo when Ace finally shows up.
This comic is not great, and Beachum's weird panel-to-panel continuity isn't helping. Peter's head just floating into the frame as Ace was talking to his lawyer, with a similar haircut, even, is jarring. Outside, Ace ceremoniously throws away his suit jacket & tie and rides off, somehow not pursued by cops, because this comic is dumb. Inside, a mistrial is declared. The DiFeo family is in agony, but the Judge says there's nothing anyone can do. Peter Parker isn't so sure about that. So, Spider-Man swings over to Ace's place, having allegedly planted a tracer on him in that floating head panel. He's talking himself into believing Ace is a bad guy even before he finds the place empty just as the Child Welfare guy bursts in and tells Spidey Ace "kidnapped" his sister. Now Spider-Man's furious and really spoiling for that rematch. Spidey catches up to him and announces they're gonna fight. The Reapers in the area say Spider-Man's gonna do them a favor and kill their traitor.
Spidey is getting more and more desperate, and more and more desperate to believe he has good reason to beat up Ace, when Ace stops and asks him why he's so bent on fighting. Spider-Man lunges in while Ace isn't moving and proceeds to beat the crap out of him, all the while running through his flimsy justifications in his mind, like the welfare of Rose, until Rose herself jumps in.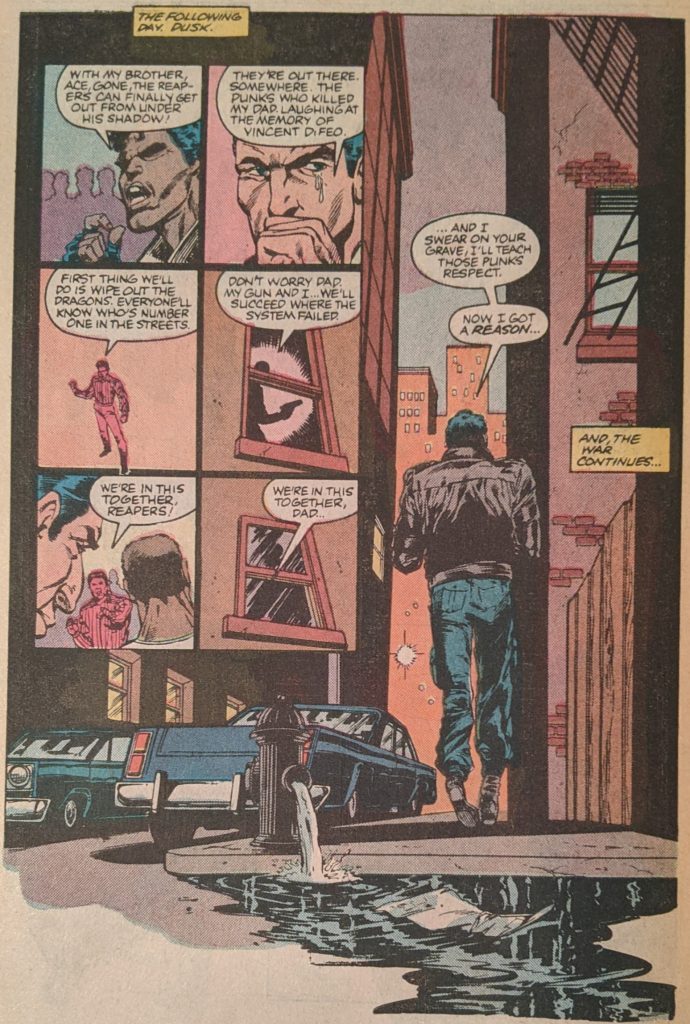 I don't think I truly realized how crappy a period for Spider-Man this is. This is no fun. Nothing is fun anymore. The grim'n'gritty 80s strike again. But this particular issue made zero sense from top to bottom, in addition to being all grim-dark. Blah. And with that, we take our leave of 1986 for awhile. Time to jump back into the overcrowded Spider-Line of 1991. Starting with yet another terrible Todd McFarlane storyline. Is it worse than this issue? I'm not sure.