Behind that beautiful Charles Vess cover lurks an extremely wild ride with Ann Nocenti, Art Adams, George Roussos, and Warlock, the strangest member of The New Mutants. Warlock is an alien, a mutant member of a techno-organic race that can transform into things, with a very unusual speech pattern. It's the middle of the night, and he's watching 9 TVs at once, giving Art a chance to draw things like The Three Stooges, David Letterman, his beloved Godzilla, the movie Psycho, Frankenstein, and other things.
Since last they appeared on this blog (MTU Annual 6), The New Mutants' roster has grown. They all grumble back off to bed, but before they do, Rahne makes the mistake of telling Warlock what dreams are, and of saying "the real world" would be someplace like New York City, where people go to find their dreams, so as soon as he's alone, Warlock decides to go there and learn to dream and try to be normal. He is going to accomplish this by turning into Speed Racer's car and driving there. Totally normal! Meanwhile, Spider-Man is out prowling the same city when he sees a stream of scared animals running down the street.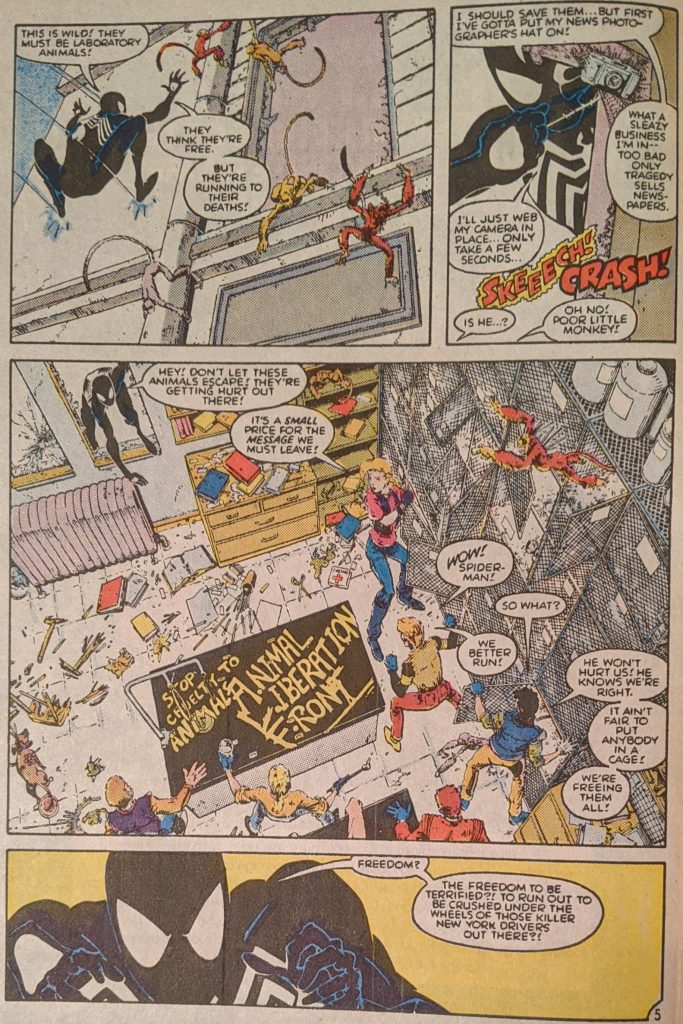 Spidey finds himself moved by the girl's words as he looks around at the state of the lab they wrecked, but his point about medicine also stands. It's a complicated issue, and he's not gonna solve it standing in this wrecked lab, so he swings off to try to catch some of the animals before they get hurt.
While Warlock freaks people out and helps a couple guys lift a heavy trunk, Spider-Man has been rounding up critters. Someone from the ASPCA is somehow in the lab now, and says he's going to get it shut down. Spidey is relieved, because the animals all have weird circuitry and things jammed into them. This is no normal lab. While he's doing that, a crowd has formed on the street, and Warlock wanders up. He recognizes Spider-Man as a friend of The New Mutants from their files.
Warlock is once again sad, feeling that he may have betrayed his friends, and wanders into a toy store to cheer himself up. This lets Art draw all sorts of things, like the Alien xenomorph, Transformers, The Creature from the Black Lagoon, even cult favorites Sam & Max as patrons of the store think he's some very sophisticated toy robot. As it happens, a couple of scientists are in the store, and quickly see opportunity in Warlock. They talk him into coming home with them.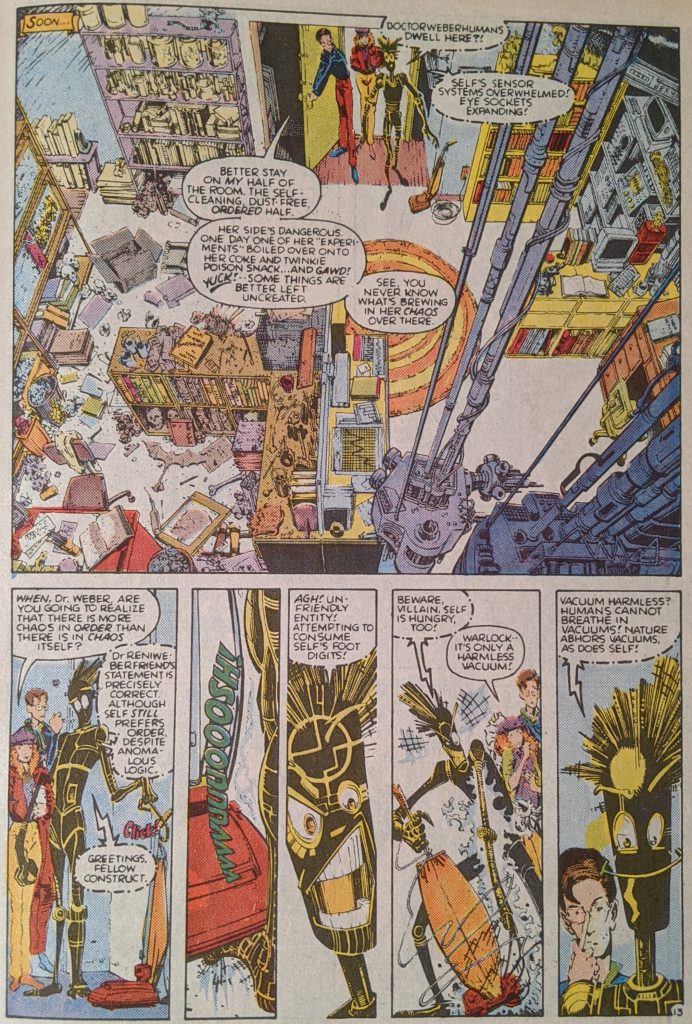 Wacky stuff. The Doctors Weber give Warlock some food, and Dr. Karl Weber, representing order, asks for a piece of Warlock's body, and Warlock gives him one of his crazy hairs to study. He briefly wants to try to patent Warlock. Dr. Reni Weber, representing chaos, objects, so they instead try to just run some experiments on him. But when they plug him into the "Karlotrometer-Mx-6," Warlock overloads, and begins to go a little crazy.
Oh, look, it's "Todd McFarlane's Spider-Man webbing," 2 years before he drew the character. How strange!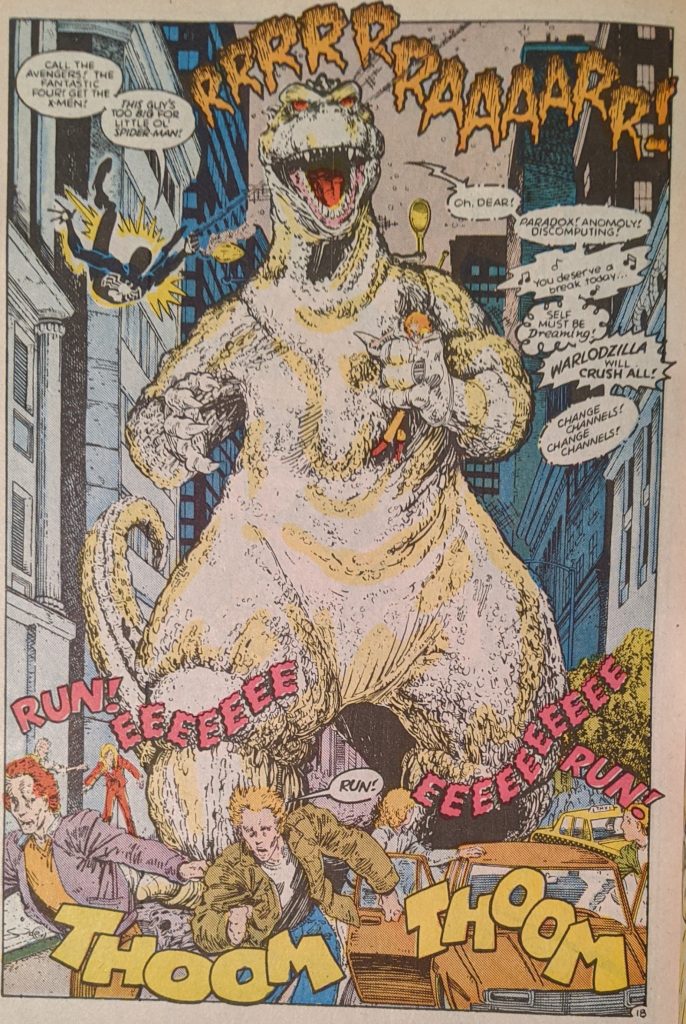 If this book seemed largely like an excuse to let Art draw some of his favorite things before, it's shifting into another gear now. But I'm not complaining! Warlodzilla is carrying Reni, with Karl running behind them. Reni says to give him his piece back and maybe he'll chill out, but Karl refuses. Spider-Man overhears this and is intrigued.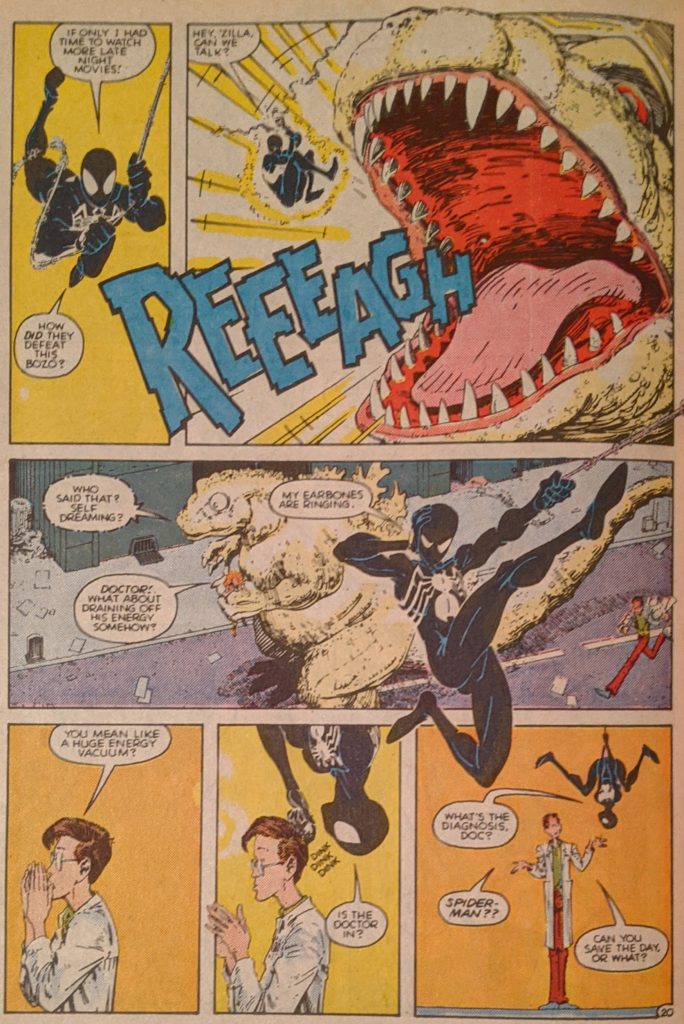 Art has drawn a lot of official Godzilla over the years, but this is pretty funny.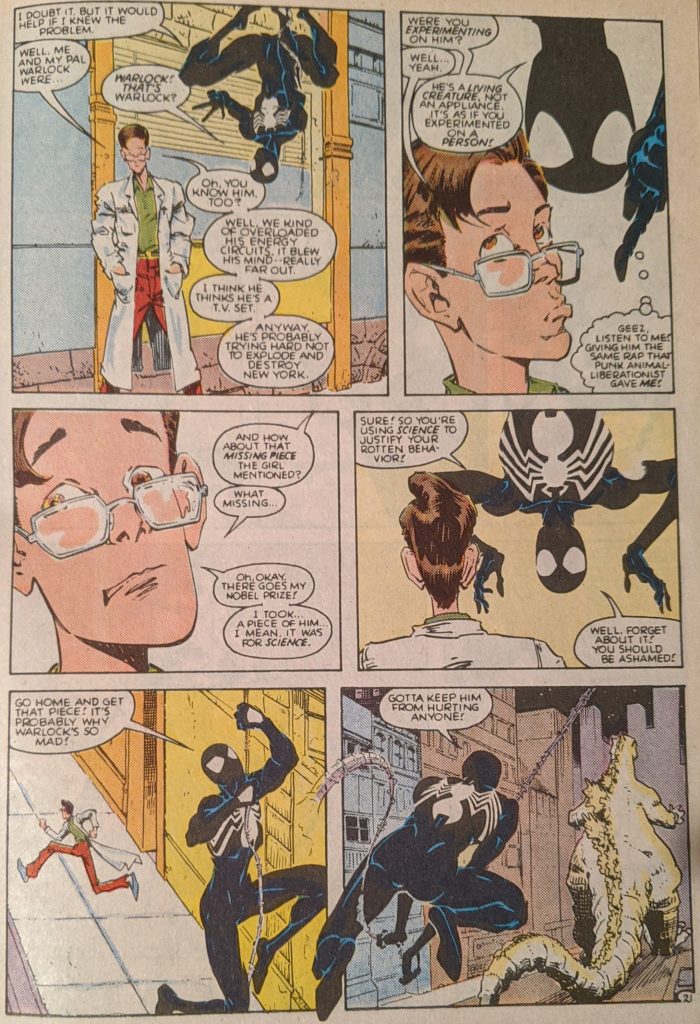 Ann Nocenti's stuff often tended to be overtly about something in these days, beyond the superhero-ness of it. She's use an individual issue of this comic or that comic to examine something in society. So obviously, the animal cruelty/limits of science debate wasn't going to go away just because the animals did. I imagine some people found this type of thing offputting, but I like how she used her work to explore issues in a unique way. Spidey engages Warlock, trying to keep him busy so he won't hurt anybody. But Warlock tells Spider-Man to stop talking, because he's using all his energy to keep from exploding, and talking is a distraction. While still singing various commercial jingles and occasionally yelling "change channels," Warlock turns into King Kong and begins scaling a building, Reni still in hand.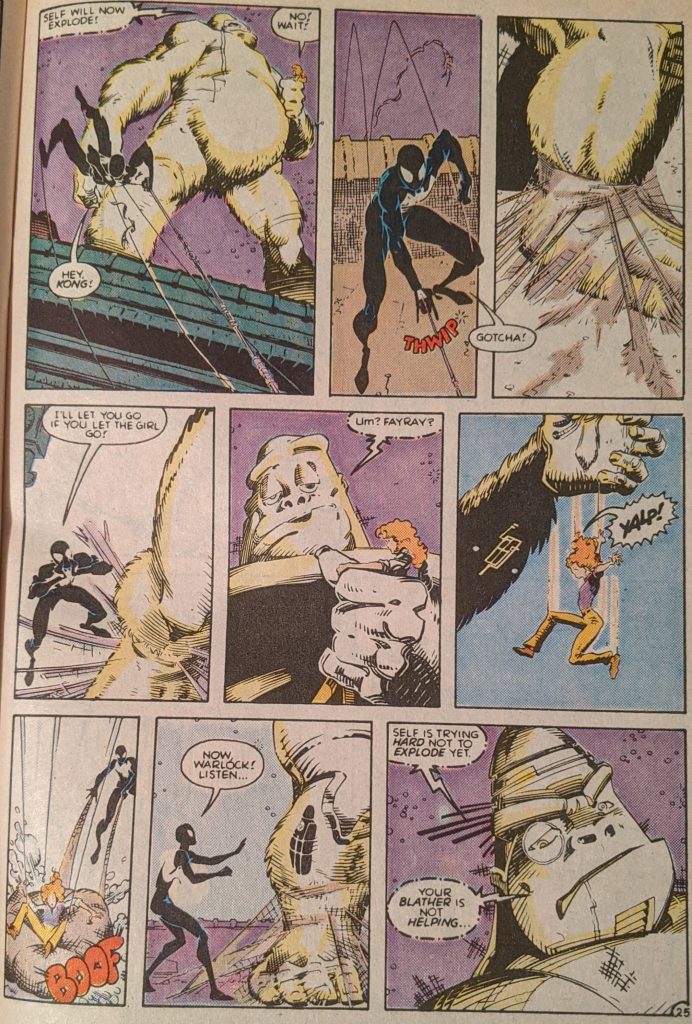 Karl runs up onto the roof with Warlock's missing piece, saying he thought about it and it was wrong to try to exploit Warlock. Spidey, who has been keeping his camera moving to get shots of all this, feels bad, thinking he's been exploiting Warlock, too. Warlock turns into first a robot gorilla and then a rocket, asking Spider-Man to unweb his foot, and then blasts off, exploding in the sky above them.
They see a bunch of squiggly things raining down from the sky, which slowly congeal on the roof to being their old pal, Warlock, a little burnt up, but not so dead, after all.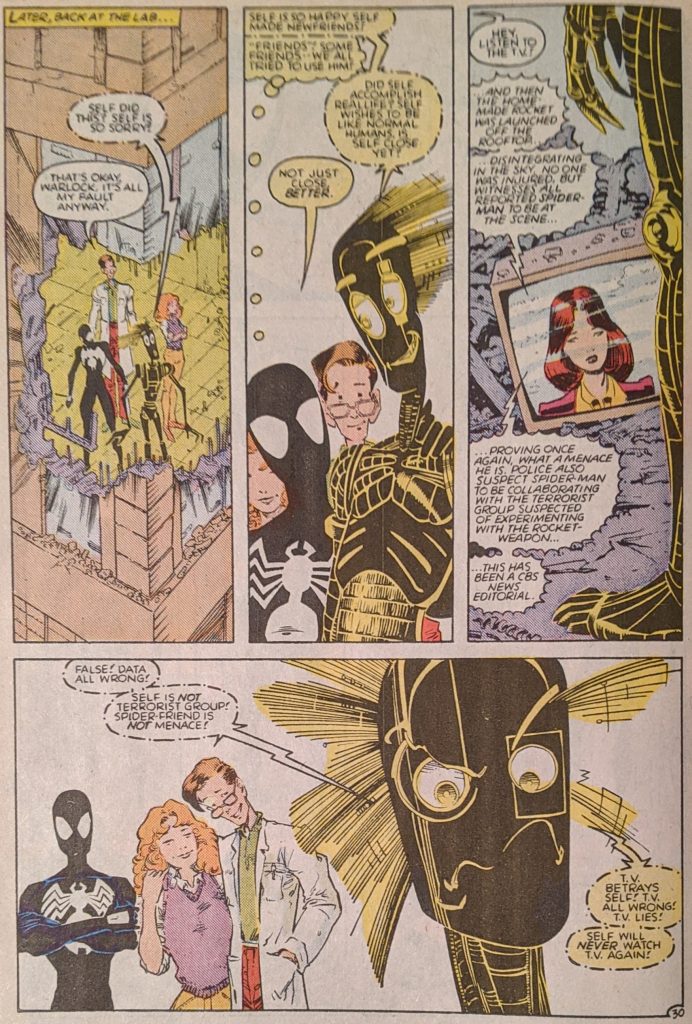 Love her or hate her, you can't deny Ann Nocenti is always gonna take you on a unique adventure. Art's first professional gig was collaborating with Anne on the debut miniseries for Longshot, who would become an X-Men staple, and it's fun to see them together again. That series guest-starred Spider-Man in its 4th issue, where Art was drawing "Todd McFarlane's Spider-Man webbing" in 1985, some 3 years before Todd worked on ASM. And Michael Golden, a big influence on Adams, drew it as far back as 1982, on a famous poster and in an art portfolio. The issue of credit for that webbing irks me, I don't know if you've picked up on that. But wait, there's more! Not satisfied to just work with one of comics' greatest pencilers in this issue, Ann doubles down with…
Mike Mignola! And Geof Isherwood and Bob Sharen! The future Hellboy creator, one of comics' "artist's artists," still working it all out at this stage in his career.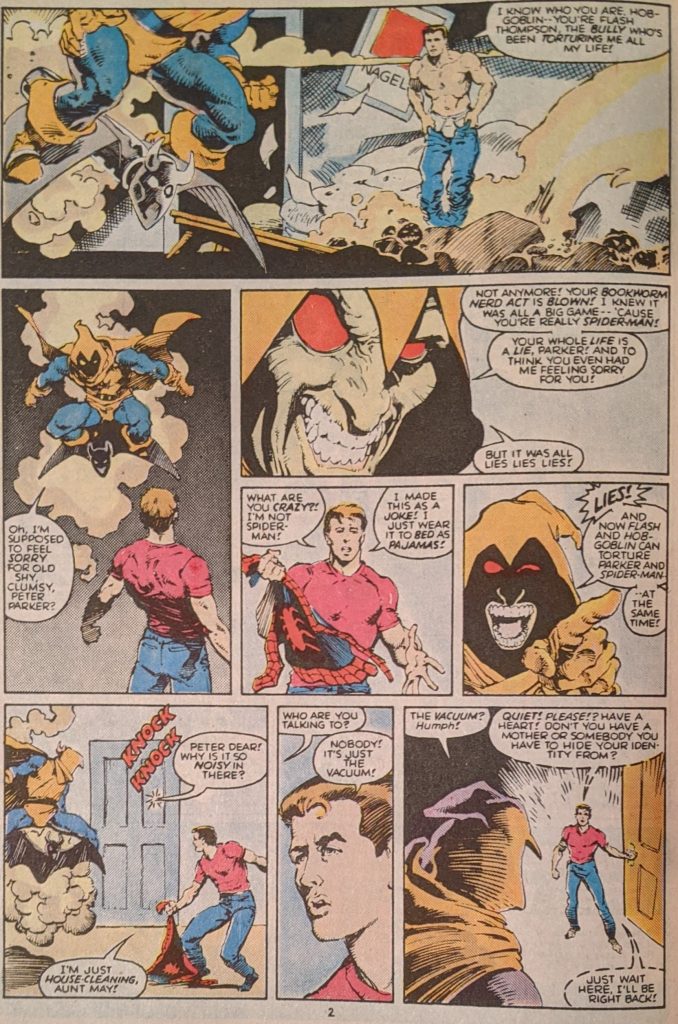 Only the slightest hint of the Mignola comics would come to revere in early material like this, which is fascinating. Our man is obviously dreaming. In the other room, Aunt May is being very nice, but wants to see the inside of Peter's room, and also wants to know why he has a shadow and she doesn't. He tries to come up with an excuse, but he has a shadow because it's his alien costume, trying to take over his body. He kicks it off just as the doorbell rings.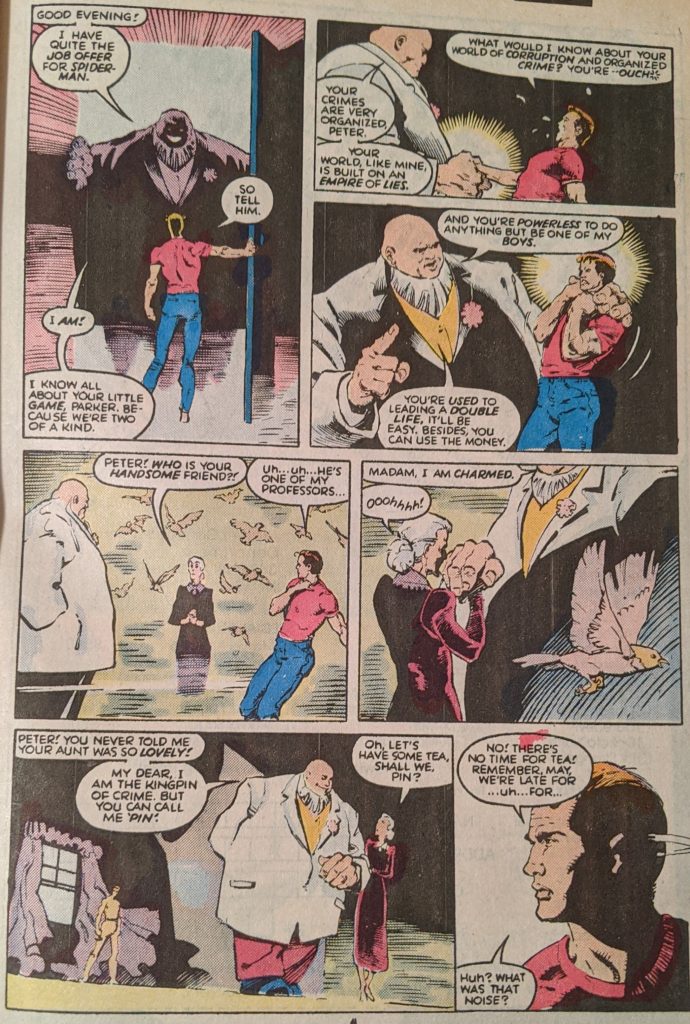 The noise outside is Black Fox, caught red handed with a bloody knife. He implies he and everyone like him is Peter's fault for not stopping "a crook like him" once, but then he disappears as Peter hears a scream. But he runs off , holding the bloody knife, to find May having dinner with Kingpin, and his shadow is back, too.
Another wild one. A lot of stuff crammed into just a few pages, too. This issue was a real bright spot in an ever-darkening period for the titles.