So, at some point in the 21st Century, having completed my quest for the Stern/Romita ASM run and feeling good about it, I saw Roger Stern's bibliography on Wikipedia, and found out about this issue. Hobgoblin had, up to this point, strictly appeared in ASM, being Stern's baby, so him appearing in another book meant they wanted Roger's input. This issue is Mantlo scripting, with Al Milgrom back on pencils, Jim Mooney on finishes and on colors, and a big thanks to Roger "for his gracious plot assist." And it would be really weird if he wasn't involved, because right on page one, the mysterious man behind The Hobgoblin lets us know he's about to try to recreate The Green Goblin's strength formula.
Hobby goes on to recap how, once he was satisfied, he killed Lefty, and now he's had time to refine the formula. He mixes up the final batch and it's go time. As he enters a big tube that douses him in chemicals, we focus on the open journal of Norman Osborn, which notes that prolonged exposure to the chemical could lead to madness (Which it did for him, of course).
It seems pretty bizarre to have this take place outside of ASM. Meanwhile, Peter Parker is headed to Tavern-On-The-Green because Harry & Liz have called all their friends to lunch there for a big announcement. Flash, Sha Shan, Betty & Ned are all already there, and once everyone's settled…
Weird to do this sort of thing so out of order, but there it is.
Well, that's not good. Oh, but wait, there's more regular people stuff:
Al Milgrom is drawing a lot of tiny hands in close-ups this month. A nice Pete & MJ moment. Our man becomes Spider-Man, thinking about how Spider-Man has been the problem in all his past relationships, but now it's Spider-Man who's in one with The Black Cat. Which, you know, is pretty weird, all things considered. He swings by her place and finds her mother is still there, doting on her in a very Aunt May fashion. He hangs outside the window until Felicia can talk her Mom into taking the night off. When she lets Spidey in, she reminds him that he almost showed her his real face when she was in the hospital (In TAC 78), and wonder if he'd unmask now, but he hesitates. The disappointed Felicia proceeds with dinner, anyway.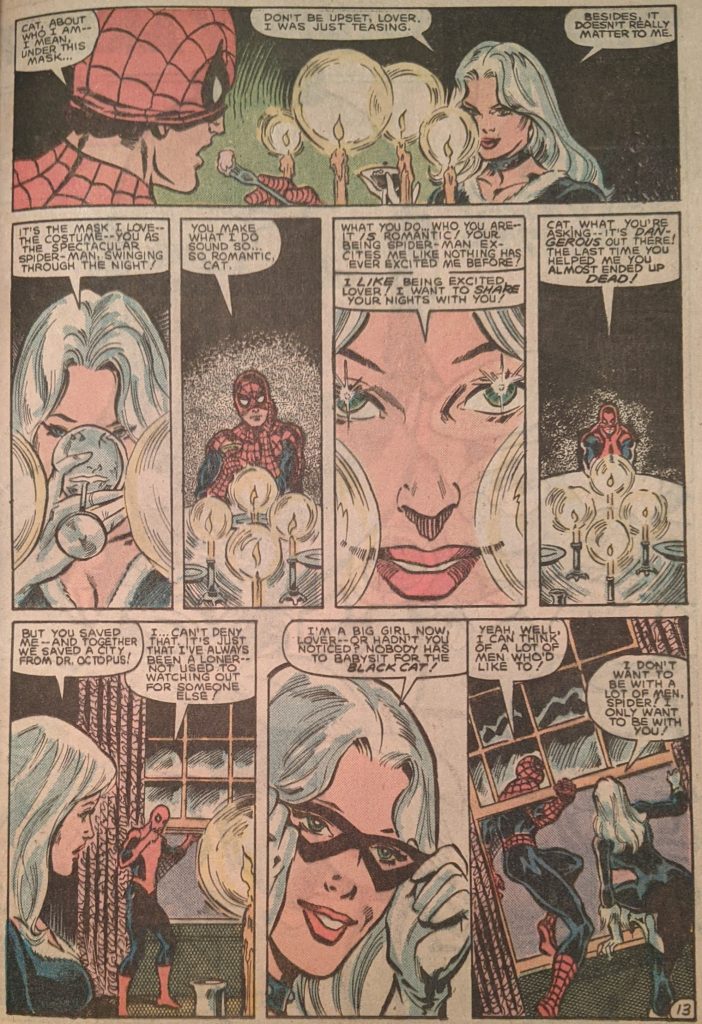 They swing off into the night, each thinking privately about how much they care for each other, and then something I've been wondering about is actually addressed.
The fact that Felicia clearly did have powers in her early appearances has been bugging me for a long time. The explanation is kind of terrible, but at least someone bothered to try. The danger is The Hobgoblin, of course, and that quickly becomes apparent as a rain of pumpkin bombs descends on our heroes. Spidey wants Felica to stay out of it, but she feels this is the perfect chance to prove she has what it takes.
It doesn't appear to be moving all that lazily. That really went well. Spidey catches the ghost in a web and flings it back in Hobby's face. Hobgoblin thinks his real aim here is to test his new strength, so he rips the corner off a nearby roof and chucks it at Spider-Man & Black Cat, to Spidey's great surprise.
Our man just standing there narrating as a big hunk of concrete comes flying at him is pretty funny. Cat's gambit works remarkably well, even forcing Hobgoblin to fly down toward her upside down so she can punch him in the nose. But that barely means anything anymore, and he grabs her, intent on crushing the life out of her, until Spider-Man frees himself and comes smashing back into the fight, almost knocking Hobby off his glider. Hobgoblin realizes that relying on his strength alone is pretty dumb when he's got a whole bag of tricks, and tries to blind Spidey with his sparkly fingers. Spidey's ok, but lands on the rood and pretends to be blinded to lure his foe in, not considering that Felicia will also think he's about to get killed and rush in to help.
The writing's on the wall, but as we've seen, it's gonna take another 15 issues for this duo to break up. And Spider-Man's still no closer to beating Hobgoblin. While having him power up in this issue was weird, the battle wasn't particularly important. More about Spider-Man and Black Cat than Spider-Man and Hobgoblin. I guess it's not so weird this was allowed to happen outside ASM. Tune in next time for MTU's Assistant Editor's Month gag.