Welcome back to 1983! One last time! The end of this block will also mean the end of Roger Stern & John Romita, Jr.'s time on ASM. A sad era to run out of. But here's the thing: While Rollickin' Rog was setting the ship right on ASM, he was also doing a much-beloved run on The Avengers. I know! This run would put some pretty unusual people on the team and include, among other things, the very famous "Under Siege" storyline. And also this story, where our pal Spider-Man guest stars. His co-conspirators on Avengers right now are Al Milgrom on breakdowns, Joe Sinnott on finishes and Carl Gafford on colors. As the cover suggests, right now The Avengers are team leader The Wasp, Captain America, the newly minted Captain Marvel, She-Hulk, Starfox, and Scarlet Witch. Vision is technically also on the team, but he's stuck in a comatose state in their basement after some superheroing. Hawkeye is also technically on the team, but currently on sick leave. As the story opens, the various Avengers are doing their thing around the mansion, including She-Hulk, who's taking a bath while looking for an apartment…
We'll recall this isn't Spidey's first time trying to join The Avengers (We saw that in ASM Annual 3). Won't be the last, either. She-Hulk in particular is very annoyed by the intrusion. Spidey mentions Thor said he should come join in Avengers 221, but Captain America says it's not that easy, and when Hawkeye gets back, they'll be at full strength. He suggests Spider-Man could become a trainee like Starfox, which Spidey balks out, but before they can start arguing, the priority alert goes off.
Nice of Spider-Man to give us the recap since it's been a long time since we saw comics from this era. As The Avengers take off in their Quinjet, Spidey makes the rash decision to jump on the bottom and hitch a ride to prove he can be helpful. Captain America, Starfox and She-Hulk are on their way to Project Pegasus, the high tech government research facility. Cap says their request for help was "low-grade," which is why only 3 of them went, but he's worried things may not be what they seem. And as they land at the project, ground crew inform them there's something stuck to their jet.
After a brief earthquake, Cap wants to know how Spidey knew what was going to happen, and he tells him about his Spider Sense. He also mentions he's helped The Project before (As seen in MTU Annual 5), so it's not that much of a security violation. Cap decides to take responsibility for him and let him come along. Spider-Man is informed Quasar is no longer their head of security, and everyone is told his successor went down to "thermal research" just before sending the alert to The Avengers, and that that's where the quakes are coming from. As the heroes and the security guard giving them the exposition head down there, they pass a lab where 2 guys say the quake "has done something to the vibratory pitch of the Croit Stabilizer… a lucky accident!" I bet! I bet that won't come back into the story later at all! When the heroes reach their destination, which they're told new bossman O'Brien sealed behind him, Spidey lets them know he's not getting a danger buzz, so She-Hulk and Stardfox rip the doors off.
Oh, no, it's the same dopey lava men from Treasury Edition 25! I'm still scarred from reading that! I think Spider-Man has it worse, tho, he seems to have blocked out the whole experience:
That's funny. Roger Stern is usually a stickler for continuity, too. Our old pal Monica Rambeau finishes getting her loan and then radios in to Wasp & Scarlet Witch, already en route to Pegasus. With her light powers, Monica is able to catch up to them instantly. When they arrive, they're told the staf hasn't been in contact with the other Avengers since they went down to level F. As Monica zips off to see if they're ok faster than the rest, the previously mentioned Croit Stabilizer opens up to let out a mysterious figure seemingly made of energy! Whoops! But what's happening down on Level F?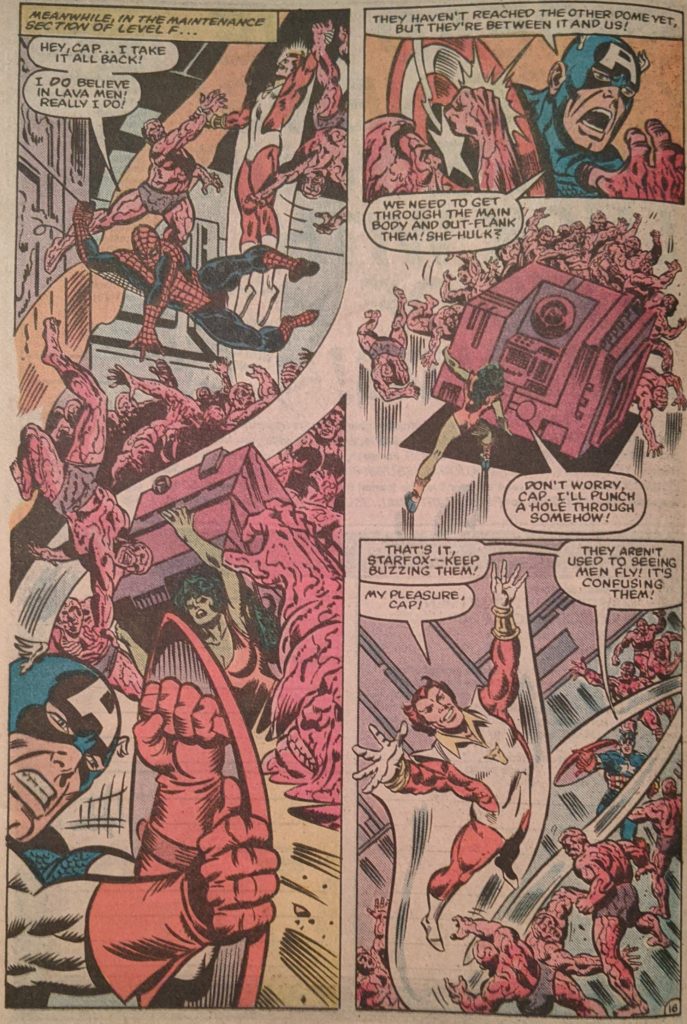 Cap tells Spider-Man to web up some barriers, but he chooses to web up the lava men instead. They burn right through the webbing, and Cap is mad both that Spidey didn't follow orders and that now the lava men know they don't have to worry about his webbing. As a crestfallen Spider-Man presses on with the battle, we learn the mystery figure now loose in the project is Blackout. I feel like we shoulda seen him somewhere, but if we did, I didn't tag the post correctly. Ah, well, he's a goofy looking guy who can, you guessed it, cause blackouts, last seen in Nova 19. Which makes his design looking like an off-brand Electro even more suspicious, since they were trying so hard to make Nova a new Spider-Man. But he soon learns he's not the only villain on the premises…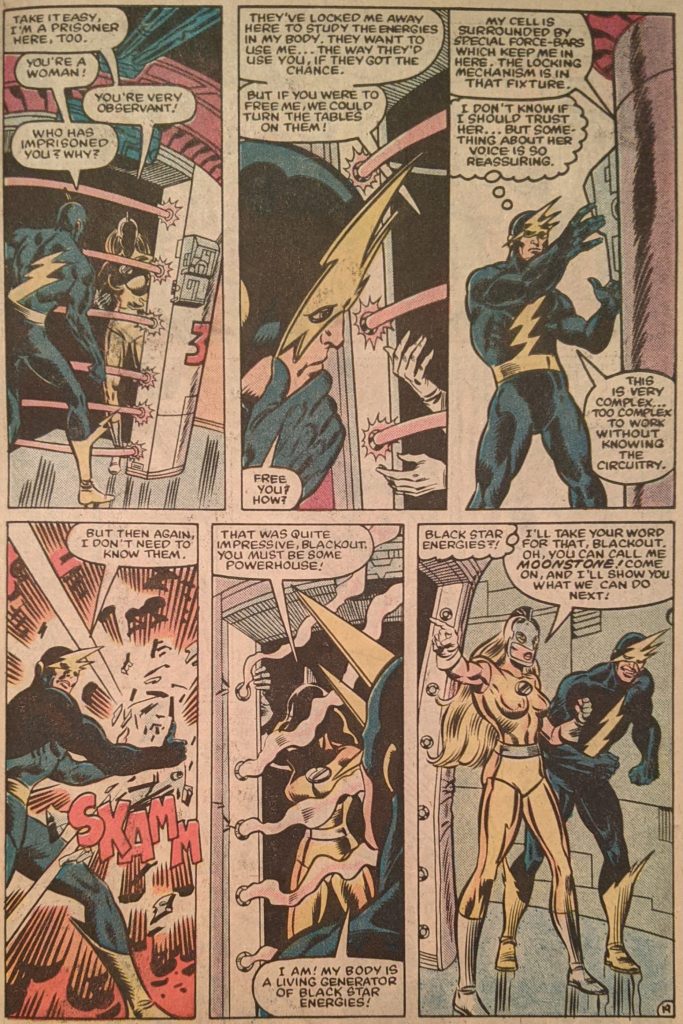 Moonstone! Last seen around here in TAC 61! I assume Spider-Man will actually remember her. Speaking of whom, he and The Avengers are having no luck stopping the lava men from advancing on the nuclear reactor, but as they burn through another doorway, they're faced with Captain Marvel, whose shining light form has a surprising effect:
Is there room enough in the next issue of Avengers for TWO lightning-faced guys?? I guess we'll find out as this tale reaches its conclusion.