This comic is very weird for a very specific reason wholly unique to my copy: The spine is missing, but it's somehow not falling apart.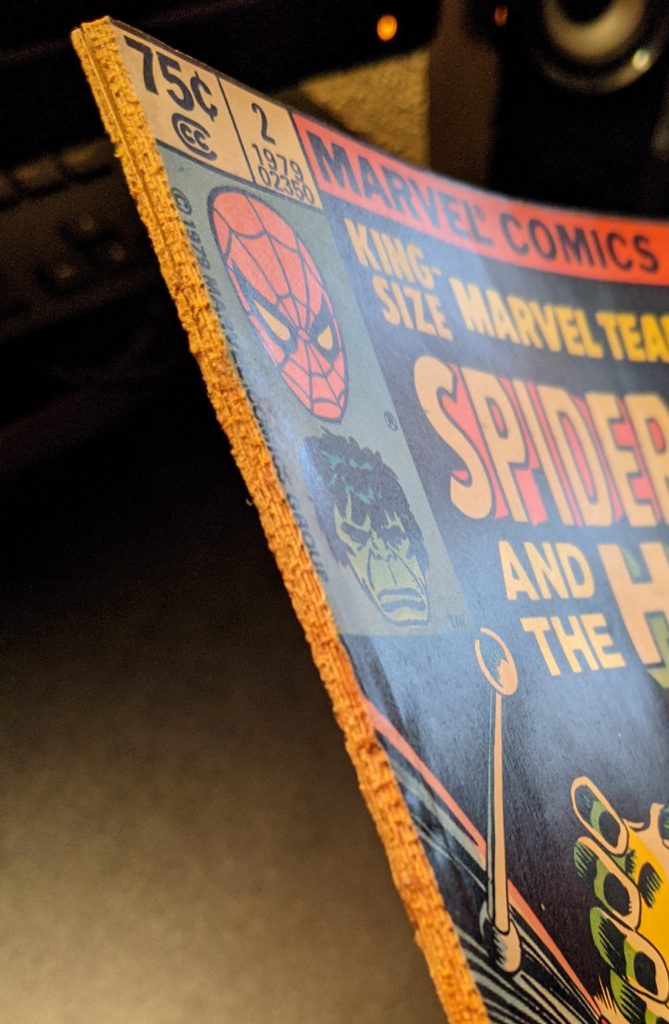 I really don't know what's going on here. But it makes me scared to even handle it. This is a Chris Claremont script with pencils by Sal Buscema for 9 pages and then Alan Kupperberg for the rest. Seems odd, especially for Sal not to finish a book. Jack Abel finishes both. Prrrrretty high stakes on the cover! But the interiors kick off with this:
Yeah, there she is again Cissy Ironwood. I mean, this looks pretty serious, right? And I read this one first! This page threw me for a loop, as you can imagine. Anyway, anyway, in this issue, we finally get, you know, some details about this woman. Well, about her dad, anyway. Cissy's dad is a famous scientist, and Peter met her through him. Things seem to be going well! Except Russian superbeings kidnap her and her dad shortly after this page, which will ruin anybody's day.
These guys are part of Soviet equivalent of The Avengers, though I only recognize Crimson Dynamo. Right before they beat up him, Peter got a tracer on Cissy, hoping to follow them. But he breaks into their house and reads her Dad's notes and sees much bigger trouble. He's stumbled on the method for creating an Anti-Matter Bomb the Russians want for their own. What leads you down the "Anti-Matter Bomb" path? You get in the lab and you're like "Lemme just see where this goes… whoops, doomsday weapon!" Anyway,  Spider-Man goes to Mr. Fantastic for help, but he's all messed up from something or other than happened to him in FF and passes out shortly after Spider-Man trips his security Sue rushes in and helps Reed to bed, wanting to know why Spider-Man is there, obviously. When Reed wakes up, he explains the situation to them, and Reed is worried enough to send Spider-Man to Russia. Meanwhile, a rogue Russian agent who doesn't want the bad guys here to destroy the world finds Bruce Banner roaming the highways of America and recruits his help. He explains the baddies are working for a renegade KGB guy called Kutzov, who's tricked the Russian supersoldiers into helping him with forged documents. So, Spider-Man parachutes into Russia, and Banner already there, riding a horse with his mysterious ally on the way to save the day. But the bad guys have cameras on them already, and after brutalizing Cissy's dad a bit, send Dynamo, Darkstar (Another member I recognize), and Vanguard from the beginning to attack them.
Dumb horse! Hulk's so mad he just breaks the whole chunk of mountain they're standing on loose and throws it, and begins fighting the Russian supersoldiers. While he does, the Russian agent who dragged him into this slips away to go do some rescuing. And that's when Spider-Man shows up.
The battle continues for awhile, but Hulk's rage eventually causes an avalanche, and heroes and villains alike scramble for safety. Spidey uses this time to convince Darkstar she's been lied to. In the chaos, Hulk gets buried alive and turns back into Bruce Banner. Spidey digs him free and then heads on to the obligatory underground lair. Vahzin, the double agent, is already there, trying to free the Ironwoods, and getting beat up by Kutzov, when you-know-who shows up.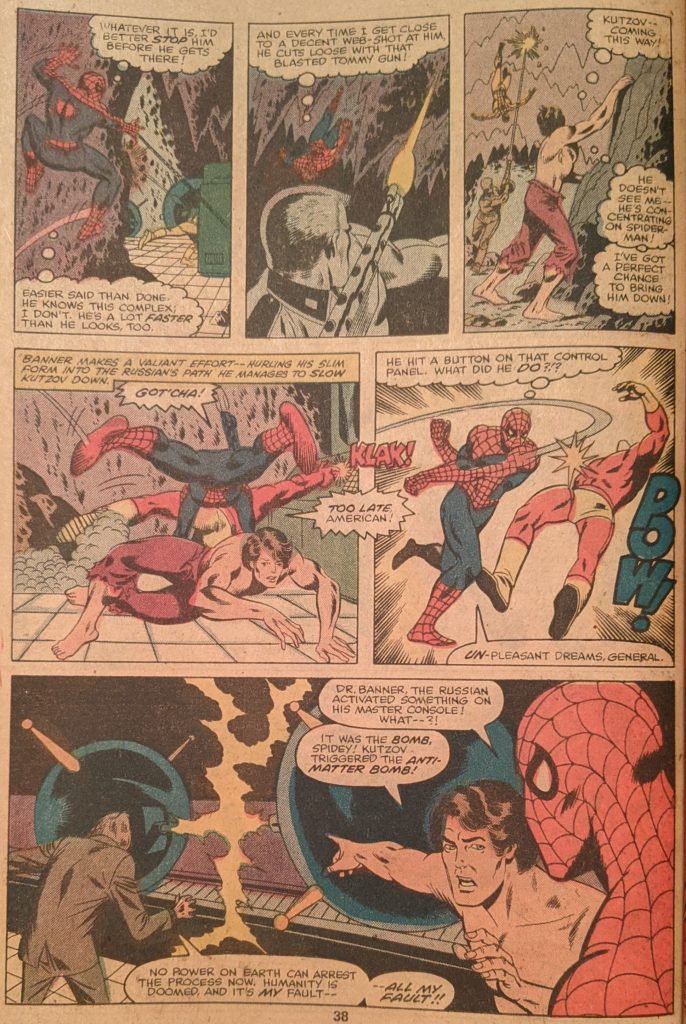 Man, Professor Ironwood sure got that Anti-Matter bomb built fast. When two giant metal balls touch, it's curtains for everybody. So Spidey has Banner Hulk back up, and then tricks The Hulk into getting between them. It's not the most reliable plan, but it's all they got.
Well, that worked out! Having saved the whole world, Hulk promptly turns back into Banner (They sure were lucky he could change two times they needed him to in short order), and all looks well… until Vahzin shoots Dr. Ironwood. Spidey is enraged, but…
Her dad dies to save humanity, and Cissy doesn't even get any dialogue. Unusual for a Claremont joint, but he was als out of panels And, remarkably, incredibly, that's it! The end of the whirlwind romance of Peter Parker & Cissy Ironwood. Where did she go? I don't even know where she came from. An off-hand mention in MTU 79, appearances in 80, 81, 90 & this, and she never appeared again. She is seriously one of the most bizarre footnotes in Spider-history to me, to just have this random romance come and go, mostly off-panel.