You heard it here first. Mayhem is the man called Morbius. Hard to imagine how this lightning gag is going to factor into the book, if at all. On art this month, we got Sal Buscema inked by the legendary Chic Stone! Chic Stone did a lot of stuff in comics, but among his achievements is inking a lot of crucial 60s Jack Kirby, and for my money, he's one of the very best Kirby partners. It'll be very interesting to see how he pairs with Sal. This issue is colored by B. Sharen. Is this his earliest credit on Spidey? Man, the amount of Spider-Man he colored must be insane. Anyway, 'tis the night before Halloween, and 3 teens are riding their bikes with no idea Morbius is flying above them.
Well. Freddy the nerd leaps to his friend's defense, but is batted away. When he tries again, Morbius really Buscema punches him, leaving him lying in a heap. But he says (To no one in particular) that he won't kill anyone, and leaves before Jenny is too drained. But we turn our attention to…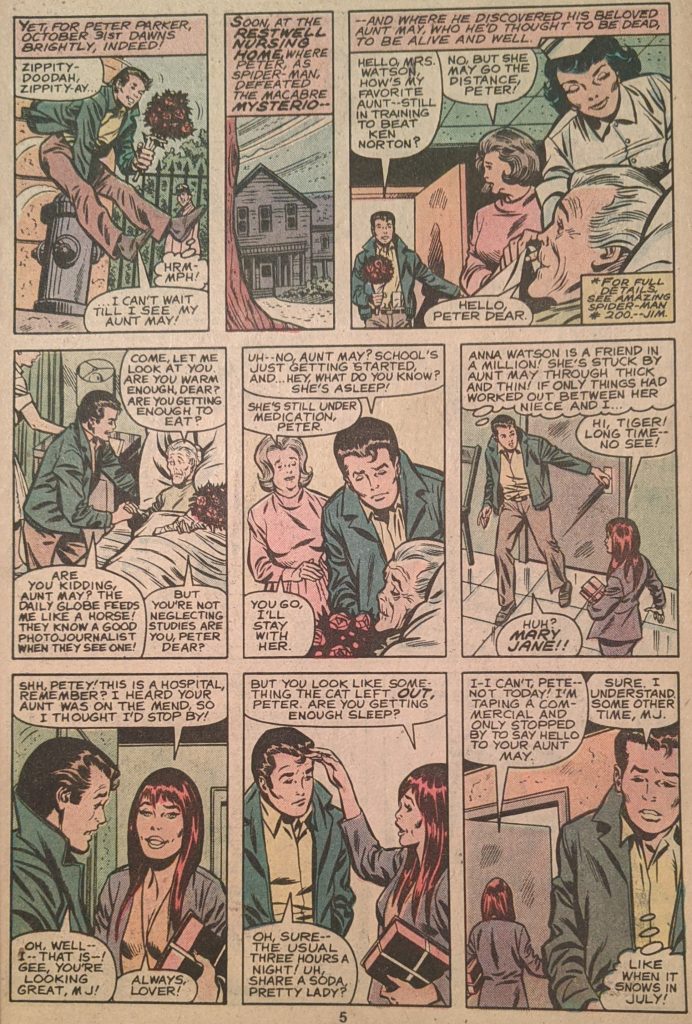 Mantlo just keeps bringing MJ back. She isn't even a thought in ASM, but in Spectacular, she just keeps turning back up. What's the deal with that? How did Marv feel about this? Peter changes to Spidey and swings off to clear his head, disturbing a passing dude in the traditional comics "incognito" outfit of a hat and trenchcoat. He's clearly Electro, and he thinks that he's going to get "some class-a help" for the next time he fights Spider-Man. Speaking of whom, Spidey makes it to Peter Parker's office at The Daily Globe just as it's being cleaned, landing on some cleaning equipment and having to hide from the cleaning lady. He changes to Peter and brings his boss, Barney Bushkin, photos of various recent Spider-Man encounters. Bushkin loves them.
I forgot about April Maye! Last seen in ASM 194, this is her 2nd appearance, and about as substantial as the first. And more mention of the mysterious KJ Clayton. I wonder what that was going to amount to, rather than what it actually amounted to under Denny O'Neil. Anyway, that weird guy from last issue, Chip Martin, randomly rolls up to Peter and starts talking like they're pals even tho he has to introduce himself before suggesting they, Steve & Phil should all go to Chip's Dad's Halloween party tonight. Well, ok, why not? From there, turns out this is actually Pete's first day in grad school classes, and he's working hard. Maybe too hard.
One assumes our man Chip has something to do with this, but I confess I have no idea where this is going. Man, everyone's in this issue. The fellas drive up to Chip's, which turns out to be a mansion. Phil mentions his dad is a state senator before he & Peter discover they've come to a costume party in suits. Whoops. Steve Hopkins is already there, introducing himself as "class-clown and all around prankster" while wearing a literal jester's costume, in case you didn't get it. Meanwhile, Chip's dad has just enough time to be told by the local sheriff that there's a bloodsucking monster on the loose before the scream of one Marcy Kane is heard from elsewhere in the house.
Steve is colored as a white guy this entire scene. Not good! What's Marcy dressed as for this costume party? Phil stopping to describe Morbius' deal is pure comics. And that Chip sure isn't seeming too cool… Soon, Spider-Man swoops in, kicking Morbius square in the chest and forcing him to drop Phil and Marcy. In true Peter Parker fashion, he thinks he never noticed ho lovely she is before. Focus, dumb dumb! As Morbius zooms back in for another attack, things get weird downstairs…
Boy that's some dialogue on that page.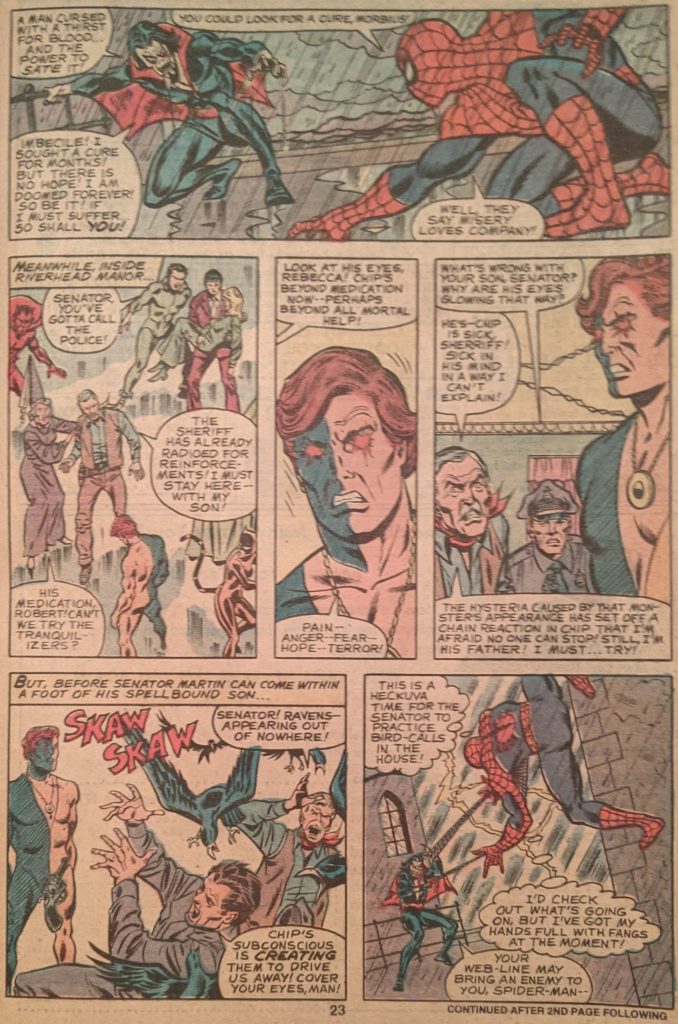 Misdirected balloon tails down there. So, Chip's gonna be a supervillain. And a pretty dopey one, seems like. Morbius gets the better of Spidey outside, and begins to suck his blood, but then they get struck by lightning. How very helpful of, Mother Nature…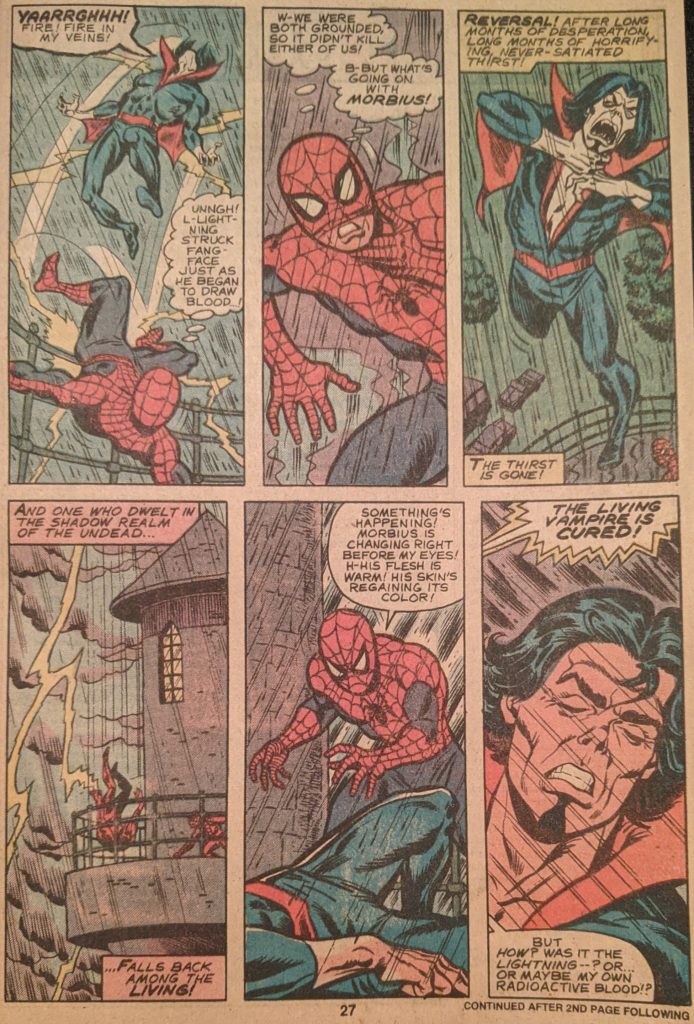 Schizoid Man, huh? I guess Mantlo was a King Crimson fan. I wonder how long Morbius stays "cured." Would it be that good to be cured only to go to prison forever? He's killed a lot of people. I guess we'll see.