I mean… maybe. But this particular Vulture sure isn't. Dave Cockrum is supplying covers for both ancillary Spider-Man titles now. I wonder why. Maybe he just really wanted to draw Spidey and didn't have time for interiors. Archie Goodwin, Sal Buscema, Mike Esposito. As we begin, a mob muscle guy named "Joe Knuckles" is on the run from The Vulture at 3 in the morning. Joe says it was a mistake, and he was just doing what he was paid to do as The Vulture swoops him off the ground and carts him away… right past, if you can believe it, the bedroom window of one Peter Parker, who is roused from sleep by Joe's screams.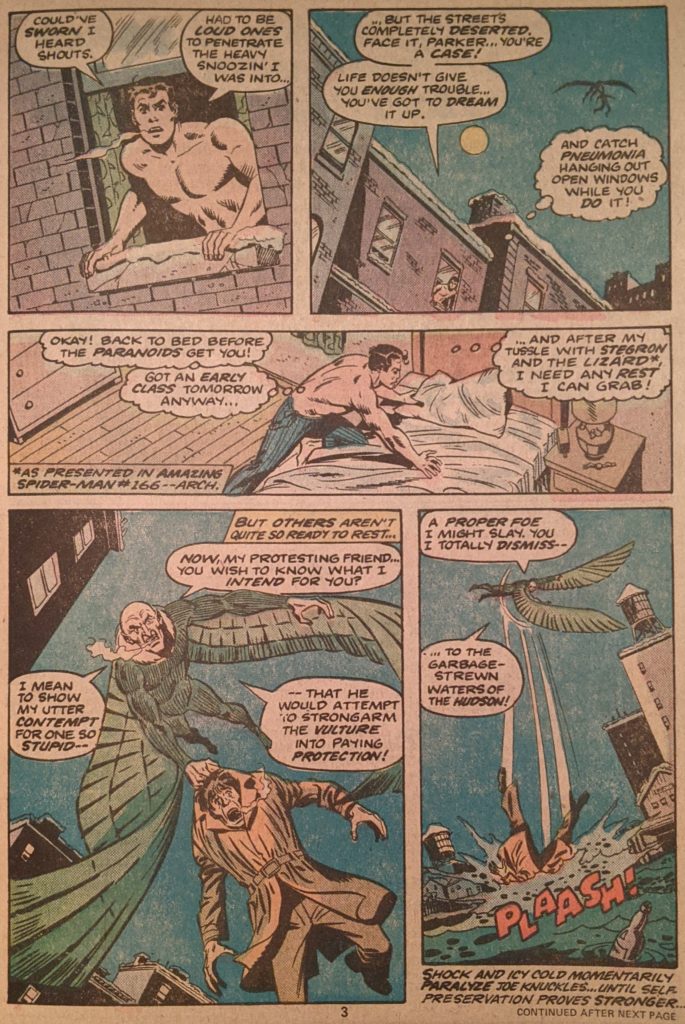 Joe climbs out of the drink and returns to his boss, um, Boss Morgan, confusingly last seen on the blog in the upcoming TAC 7. This place is kind of a mess. Anyway, ol' Boss had decided that, with Kingpin & Hammerhead out of the picture, someone's gotta step in and take over, in what I think is the 2nd ever instance of this now well-worn Marvel Comics plot? Maybe more, I dunno. He plans to try to recruit Vulture into his plans and double cross him later. The next morning, Peter Parker finds he must've turned off his alarm when The Vulture woke him up, and now he's late for class. As Spider-Man, he catches up to his bus, but is knocked off the roof as it passes under a low hanging branch for comedy effect. Slayed out in the street, he's almost run over by Boss Morgan's car, driving to pay The Vulture a visit. 
Later, a dejected Peter walks home, when he happens by the place he & Flash saw Sha Shan last issue. The angry man who ran them off answers the door, saying no one by that name is there even as we see her crying inside, out of view. Peter walks on, worried something is up, when The Vulture flies overhead. Vulture's shop must be near Peter's apartment. Vulture has been grabbing people off the street and putting them on a ledge high up on a building, pledging to take 15 hostages if Spider-Man doesn't show up. So, one quick change later, Spidey's about to show up. Meanwhile, we see Boss Morgan has hired The Hitman, the least creatively named villain of all time, to go get The Vulture for him. Back at the hostage situation, cops have cordoned off the street, but don't want to make a move that might endanger the hostages.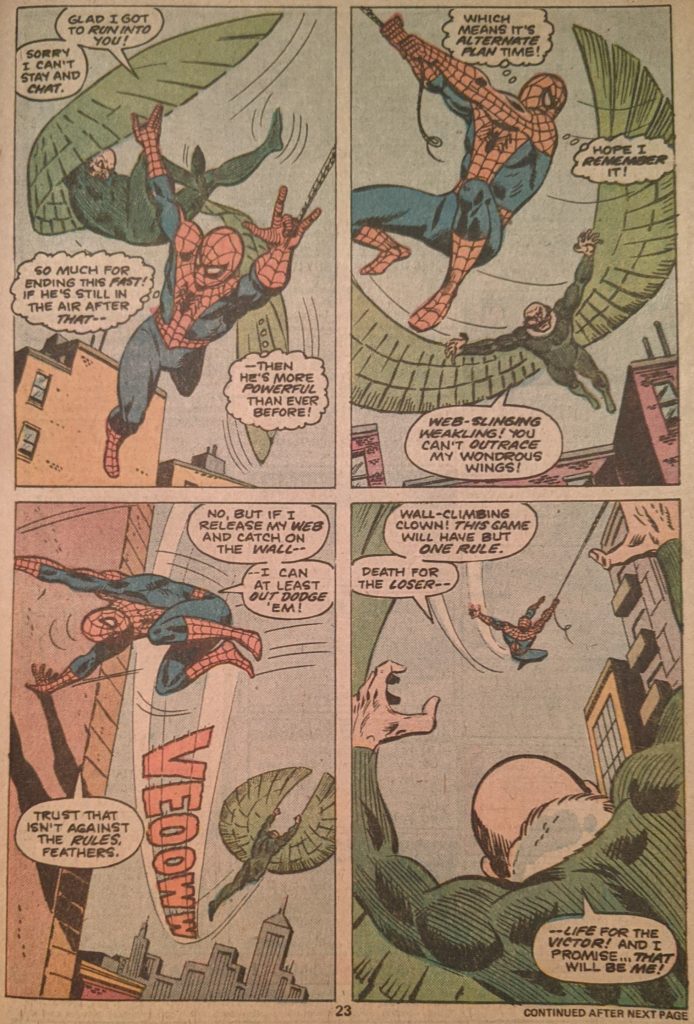 These figures look unusually solid for a Buscema/Esposito joint. Sal must be doing tighter pencils. Spidey's plan to distract Vulture away from his hostages works, but now he's got a fightin' mad grandpa after him. He tries to lead him into an office building to take away his room to maneuver (Thinking the staff would probably be at lunch, even), only to find the building empty and not providing much cover. Vulture has him on the run until tackling him back outside, but then Spidey webs himself out of his foe's clutches to try to gain the advantage.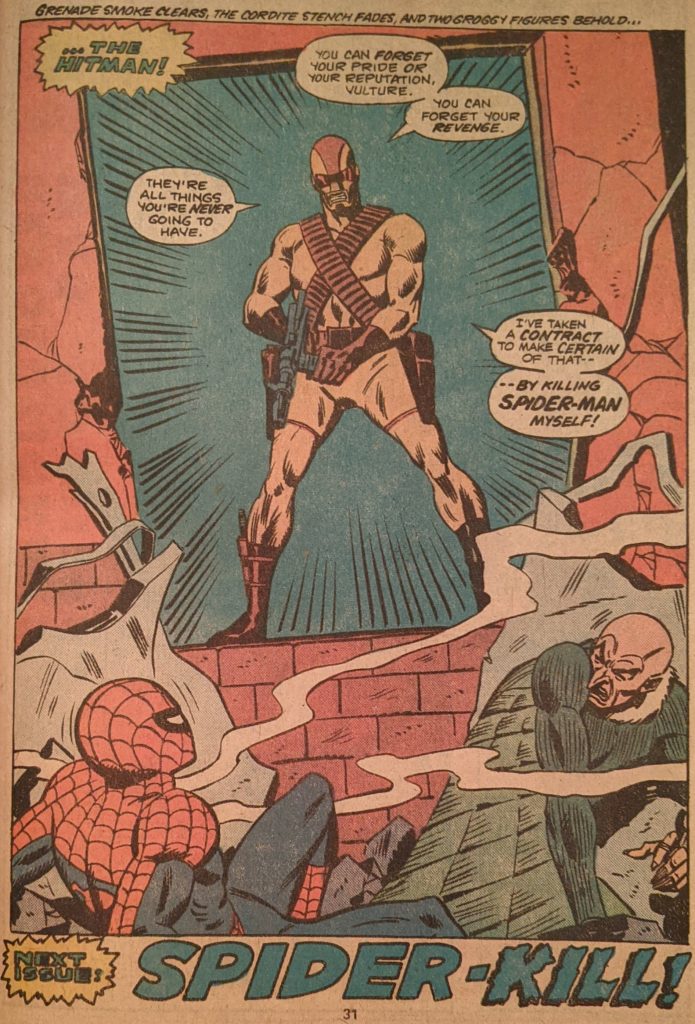 So… Morgan's plan is to… hurt Vulture's feelings by killing the guy he wants to kill before he can kill him himself? Um… Well. Ok. Oh, hey, turns out this is The Hitman's debut. I'm kinda surprised. Archie Goodwin could do better for a name than "The Hitman." But, he's here, so we'll have to see how Spidey gets out of this one next time.