Comic book people used to throw the word "holocaust" around like it was nothin'. Jewish guys, even. Stan Less, Jack Kirby, Len Wein, they loved it. It feels super weird, but I mean, I feel like they have the right if they want it. These are not the gifts Spider-Man wanted for Christmas. On the splash, Spidey thinks about what happened last issue as Stegron looms large in his mind.
Is The Lizard delivering a headbutt there, or did they just accidentally bump into each other? With Ross Andru, it's hard to tell. Lizard takes the chance to dip into the sewers, saying his quarrel is with Stegron, but he'll happily destroy Spider-Man if he gets in the way. Spidey means to go after him, but then traffic starts pouring into the street and he's cut off. So, he heads up to see Martha, who fills him in on how last issue ended. Spidey vows to make sure Curt and this time Billy don't get hurt, but it's largely the same plot as most early Lizard stories. Meanwhile, JJJ meets Marla Madison at her lab, where she once again destroys his cigar for comedy purposes before unveiling her all-new Spider-Slayer, which looks a lot like the one from ASM 58. But with it revealed, we cut to a different scene.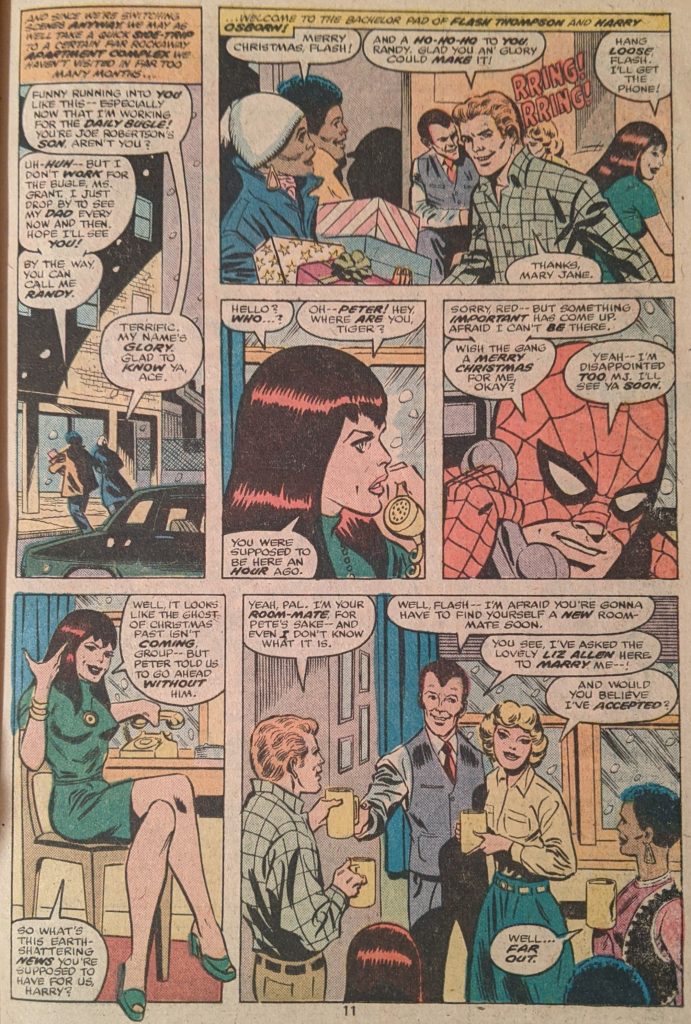 Behold, another wedding for the Spider-Cast. Len sure got them together in a hurry. This marriage kind of feels like it was done to say "Harry is fine now. I have no interest in him being The Green Goblin, so let's give him a regular domestic life." Which is largely what they had for a long time. If you think they're going to elaborate, you're wrong, because on the very next page…
This has gone from silly to absolutely ridiculous. Stegron brings up the valid point that it doesn't make much sense for The Lizard to be trying to save Billy, to which the Lizard essentially just shrugs, and they start fighting. Stegron remarks that he & The Lizard would make a good team AND that he was a fool to ever think such a thing in a single page! Then he sets his dinosaurs loose, and The Lizard saves billy from being trampled before going in for the kill. Meanwhile, outside…
Bonkers. "Those dinosaurs are running amok, I better blind them, that should keep them from hurting anyone"????? "Oh, the cops are here, they can handle DINOSAURS"????? Jeez, man, this story is dopey. Spidey runs inside and fights the reptile men, who immediately stop fighting each other to come for him in a panel similar to the cover, but Spidey… shoots the Lizard cure into The Lizard's mouth with his webshooter? He says he loaded it in there. Sure, man, why not? He starts turning back into Curt, and Stegron uses the distraction to smash Spider-Man into a wall and flee with Billy, still hoping to use him against Connors.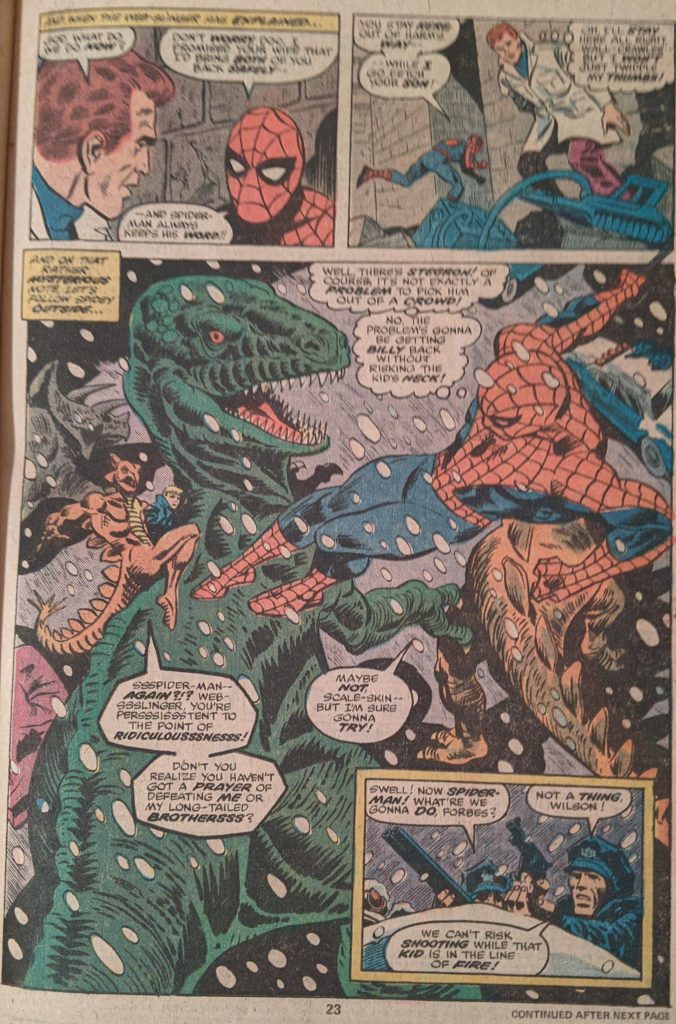 It looks like "web their eyes and leave it to the cops" worked out really well! Spidey manages to hit Stegron with a swinging kick and grab Billy out of his clutches in a single movie, somehow, and then the dinosaurs all conveniently turn back into skeletons and fall, lifeless, to the ground. Curt Connors has arrived and managed to reverse the effects of Stegron's ridiculous dinosaur gun. Stegron runs off into the blizzard, and the cold is not doing him any favors as Spider-Man gives chase.
Another totally absurd story draws to a close. Len is doing some pretty goofy stuff in this run. It's gonna be awhile before we can get to JJJ's new Spider-Slayer, tho. Got other books to catch up with. In this month's Bullpen Bulletins, Stan lets us know the Spider-Man newspaper strip is about to start running. It reunited him and Jazzy John Romita for awkward, truncated, classical Spider-Man action 6 days a week. As an old time comics man, Stan saw newspaper strips as a more respectable format, so I'm sure he was thrilled. I have a collection of some of those strips, I'm sure you'll be shocked to hear. Not all of them, maybe just the early ones or a "best of" or something, I don't honestly remember, having not read it in years. I wonder if the mandate of this blong means I should revisit that at some point, too. That strip would run for decades. I think it's still going today. Stan dialogued (Or at least had his name written on) all of them up until not long before his death, working with a variety of artists. And, of course, he wanted Peter & MJ to get married in the strip in the 80s, and the folks at Marvel felt like they had to follow suit in the comics even tho' nobody wanted to, throwing a spanner in the works for the comics for some 2 decades, so it certainly had its impact. Seems noteworthy, at the very least.