As has been mentioned previously and will be mentioned again, The Tarantula only attacks Spider-Man from the left, and only on a yellow background. Yes, ol' pointy feet is back. Let's see how that goes. Mike Esposito swaps in for Frank Giacoia, otherwise, same team we've had for quite awhile. Consistency is nice! Spider-Man is hitching a ride on the bottom of a helicopter back into the city from the airport, freshly returned from Florida. You may have noticed that, at no time during GSSM 5 did they mention Peter actually taking pictures of Man-Thing, in spite of The Bugle paying for him to go do so. Well…
Because Peter is a jerk under Conway, he manages to catch an attitude about this, like he didn't get a paid trip to Florida to not do anything. I mean, extenuating circumstances, but that's life sometimes, man. On his way out of JJJ's office, Ned Leeds stops him and gives him a folder full of info he, Betty & Gwen have learned about Gwen after taking her to a doctor. This is weird, Ned Leeds being the keeper of all Gwen-related knowledge since her mysterious return. Shouldn't she get to be involved in conversations about, you know, her? But before Peter can read the contents of the envelope, our scene shifts to something extremely silly: The Tarantula making his signature pointy shoes in prison. Where he is allowed to do this. And as soon as they're finished, he announces that The Tarantula will live again and starts foot-stabbin' people. Great work by the guards on this one.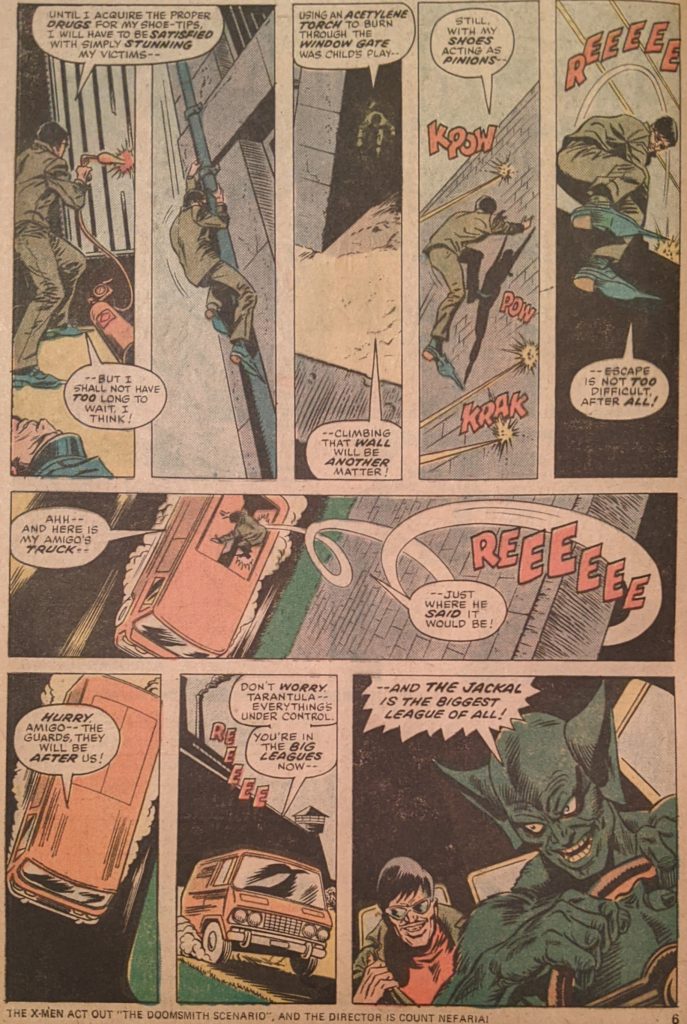 "I just jammed a 6″ spike into a guy's chest. It only stunned him, though!" What? The Jackal's got an angle for everybody. Meanwhile, Aunt May is being checked out of the hospital… by Mary Jane & Aunt Anna. She says she wishes Peter could be there (Where the hell is he???), but only because it's nice to see him and MJ together. MJ has a rare, unguarded moment, upset that she hasn't seen Peter since Gwen Stacy rolled back into town. A reasonable worry, but as we know, Peter's mostly been avoiding or being mean to Gwen, too. He's just a jerk.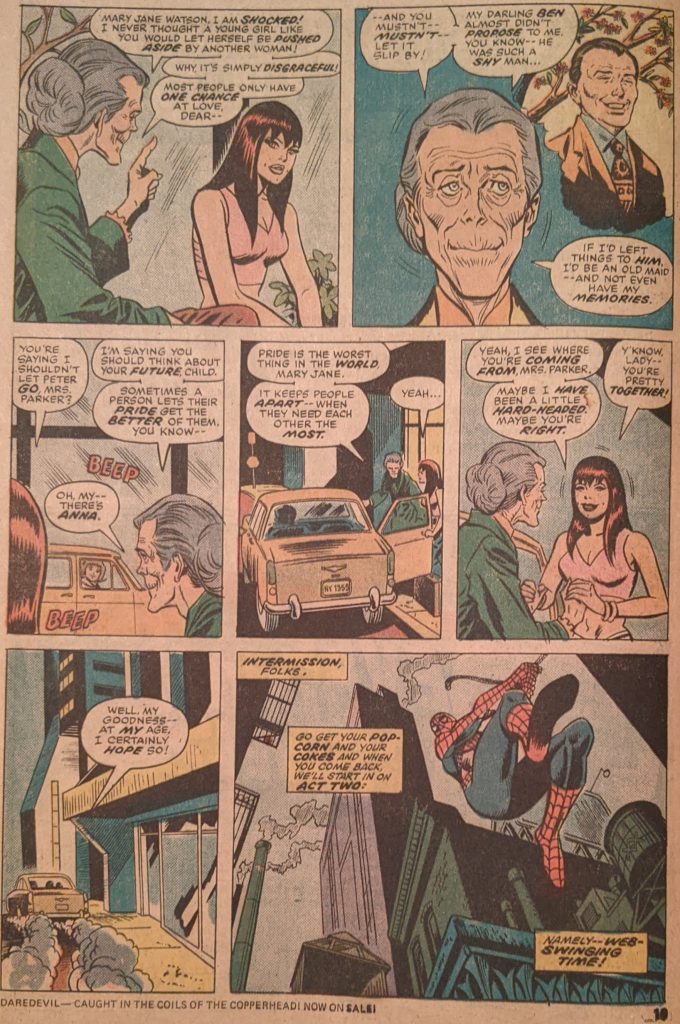 Man, shout out to Aunt May! How about that? I'm kinda surprised literally no one, even Peter, is like "Ah, Peter's true love, returned against all odds!" Seems like all involved are rooting for MJ. Me, too. But what is this intermission nonsense across the last panel?
Here's Spidey? He was in the previous panel! It takes a special kind of dude to make someone cloning your dead girlfriend about you, but it would seem Peter is that dude. Also, he's taking the apparent discovery that human cloning is not only possible, but happened to his dead true love prrrrrretty well. "Oh, man, clones. That sucks." Spidey proceeds to totally lose his mind, imagine Gwen running toward him in a mirror in a store window, and punch out said mirror and window while yelling "I won't let you come back! I won't!"
From the left. On yellow. Their battle spills out into the street, providing this bizarre bit of comic relief:
Then Spidey notices his enemy seems to be running in circles, and Tarantula herds him into a bus full of people. The bus driver is acting like nothing weird is happening, so you can guess who he is. The passengers are all let out, and then one gets on, dressed just as she was the day she died…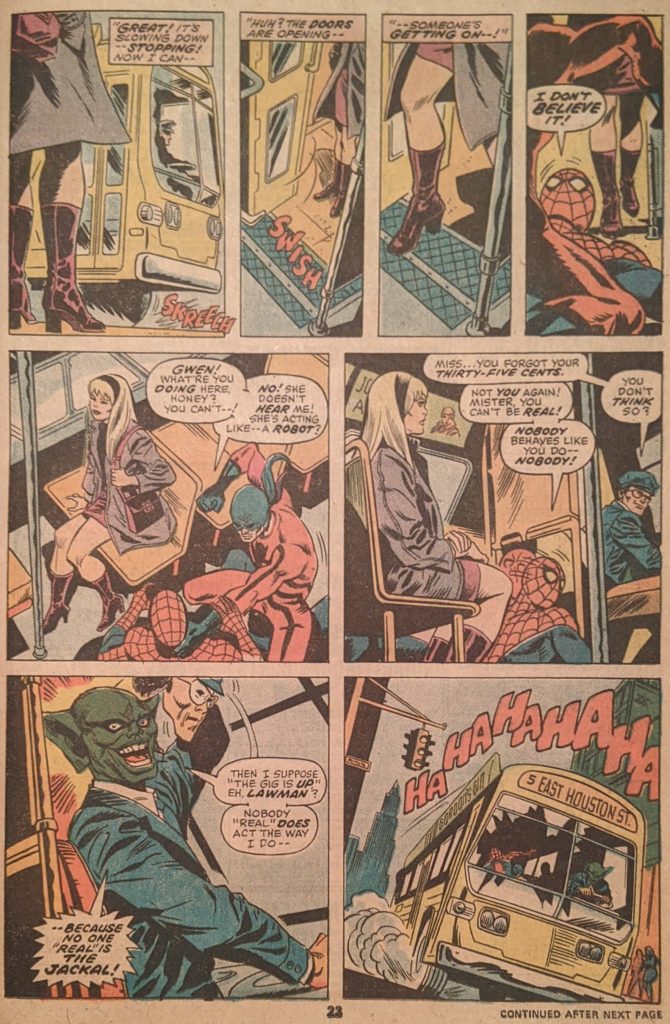 The Jackal has made some weird boasts about himself in the last 18 issues, but that's maybe the weirdest. Tarantula keeps attacking Spidey on the now nearly-empty bus as The Jackal drives it through some more comic relief with a wife telling her husband to move their car as the bus comes barreling into them, spinning them down the street, and then the wife telling him to move again (I guess maybe Conway's doing broad, silly bits because the rest of this would be kind of intense otherwise?), and then they get where they're headed…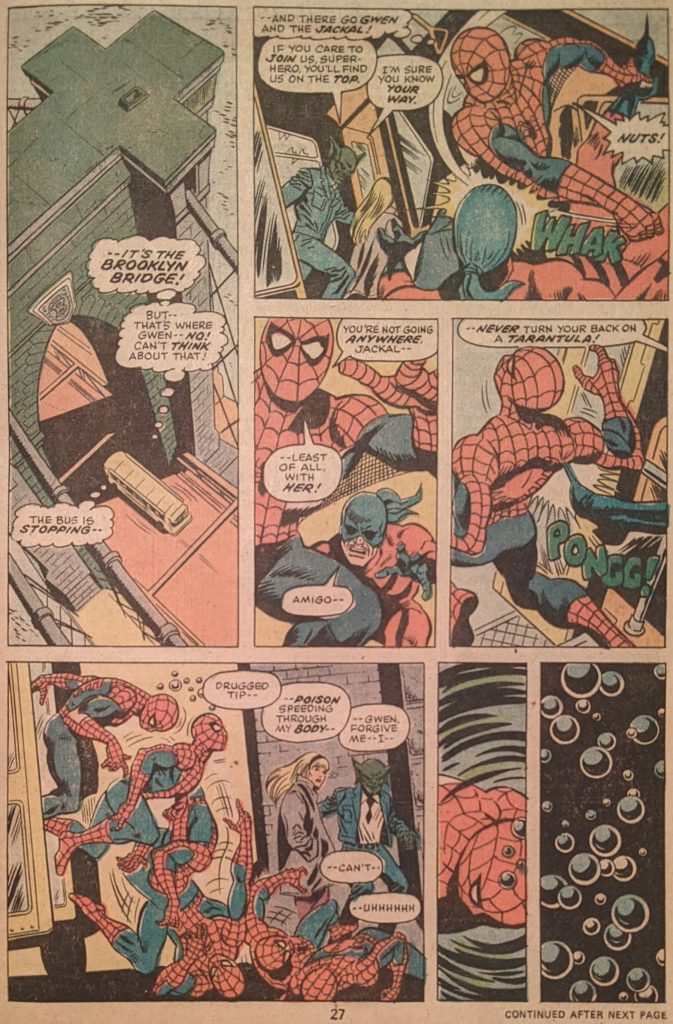 Well. Things are getting pretty insane around here. And would you believe… this is where I came in? Join us next time for the fate of Spider-Man, the secret of The Jackal, and even my own comic book origin, in a way.