This is an awkward place to start, but as we will see, The Tarantula only attacks Spider-Man from the left on a on yellow background. Those are the rules. Welcome back to 1982 for more of the 2nd best run of ASM ever made! We're back with Roger Stern & John Romiae, Jr., still aided this month by Jim Mooney on inks. We pick up so directly from ASM 232 that I kinda feel like I should've cut this later, but this issue also begins a 4-part story, so maybe not. At any rate, as we open, JJJ is furious that Ned Leeds' underworld contact, Nose Norton, has seemingly vanished after their meeting about The Brand Corporation went pear-shaped last issue. As they recap recent events RE: Brand, JJJ also expresses his desire to pin all this on Spider-Man, and Ned won't have it, saying if JJJ forces his Spider-Man agenda into this story, he'll quit. JJJ says he can't be serious.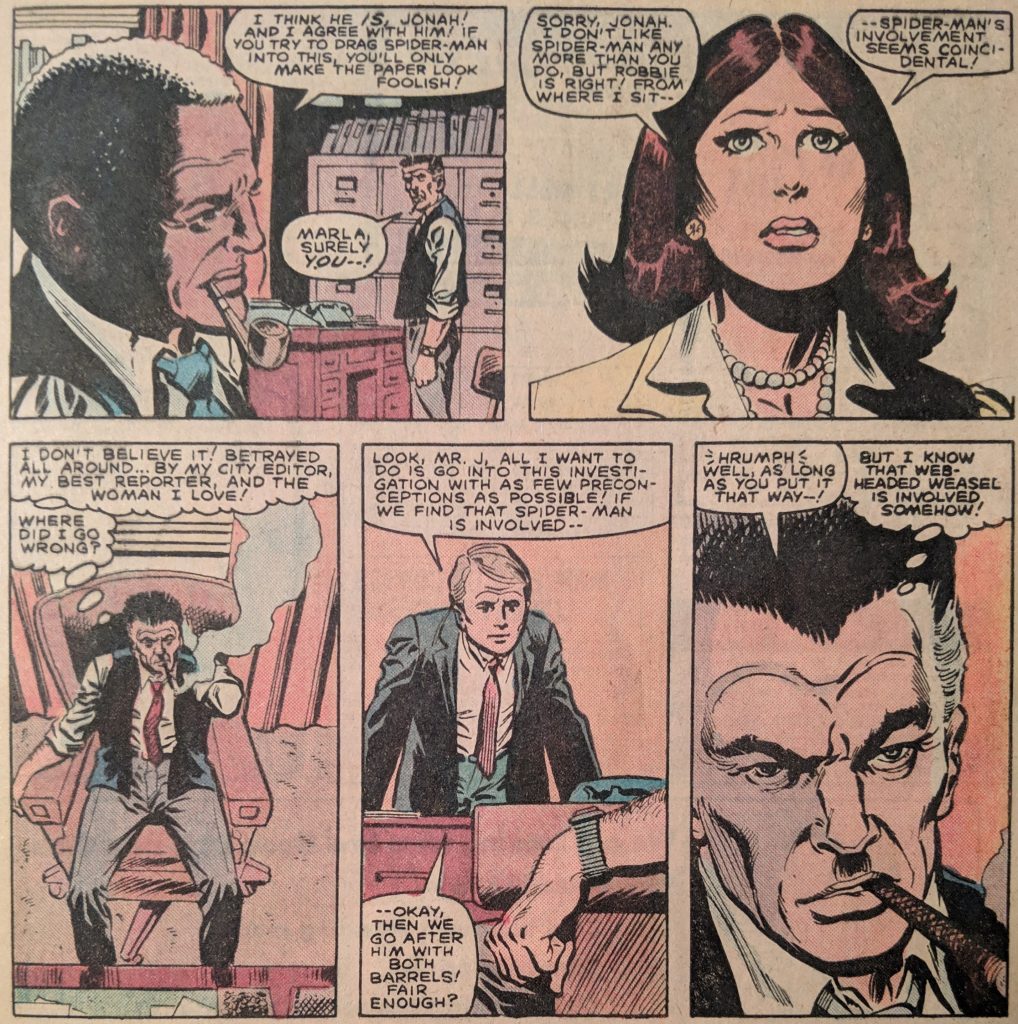 Open revolt at The Daily Bugle! Speaking of Spider-Man, he's swinging there now, hoping to get a freelance job. When he gets to the roof, though, he finds the door he uses to get inside has been fitted with a new security system, and an alarm would sound if he went in. So he has to kinda break into the elevator shaft and get in that way, which covers his hands in grease. As Peter rolls into the newsroom after cleaning up, JJJ & Co. emerge from his office, and he announces to the assembled staffers that anyone who can bring him info on Nose Norton will get a $1500 bonus. Peter is already on his way out the door.

Mooney continues to kinda smother Romita, Jr's. unique qualities. He can't hide it in Spider-Man panels, but regular people can be hard to tell. That profile of Amy is a dead giveaway, though. As she ponders her scheme, Spider-Man finds a seedy bar to begin shaking people down for info on Norton. When he actually overhears a guy talking about Norton, he thinks he's in luck and drops in, scattering the patrons.

Whoops! Meanwhile, in Miami, a man who's trying to keep a low profile under a fake name is offered $250,000 to kill Nose Norton. And that man is The Tarantula. Kinda funny, the way my posting schedule has broken down, we've seen his successor, but not the original yet. Well, here he comes. There follows a montage of everyone looking for Norton, good guys, bad guys, everyone. But a bad guy spots him first, in a bar on Staten Island, and calls The Tarantula. Tarantula reminds him to call their "special witness," so he then calls Ben Urich to give him an anonymous tip. Lucky for Ben, though, Spidey happens to be near The Bugle when he gets the call, and seeing Ben running out the door, decides he better follow him. Thus, on the Staten Island Ferry, someone taps Ben on the shoulder.

Nose starts freaking out, saying it's not safe for him to go anywhere, and then Tarantula proves it's not safe for him here, either, as he comes crashing through the window. It's been an impressive almost 6 years since The Tarantula showed his goofy face in a Spidey comic, so Peter is shocked to see him as he knocks Ben Urich to the ground and runs off with Norton. Tarantula starts yelling about the papers Norton promised to sell him. Norton has no idea what he's talking about, because this is all a ruse to get Ben on the wrong track. But this plan didn't involve Spider-Man showing up.

Spidey just webs Ranchy's feet to the ground. He responds by jumping out of his boots and revealing he's got little stickers in his gloves now, too. But at that same time, Urich is trying to get a panicking Nose Norton to safety when two armed, shadowy figures show up.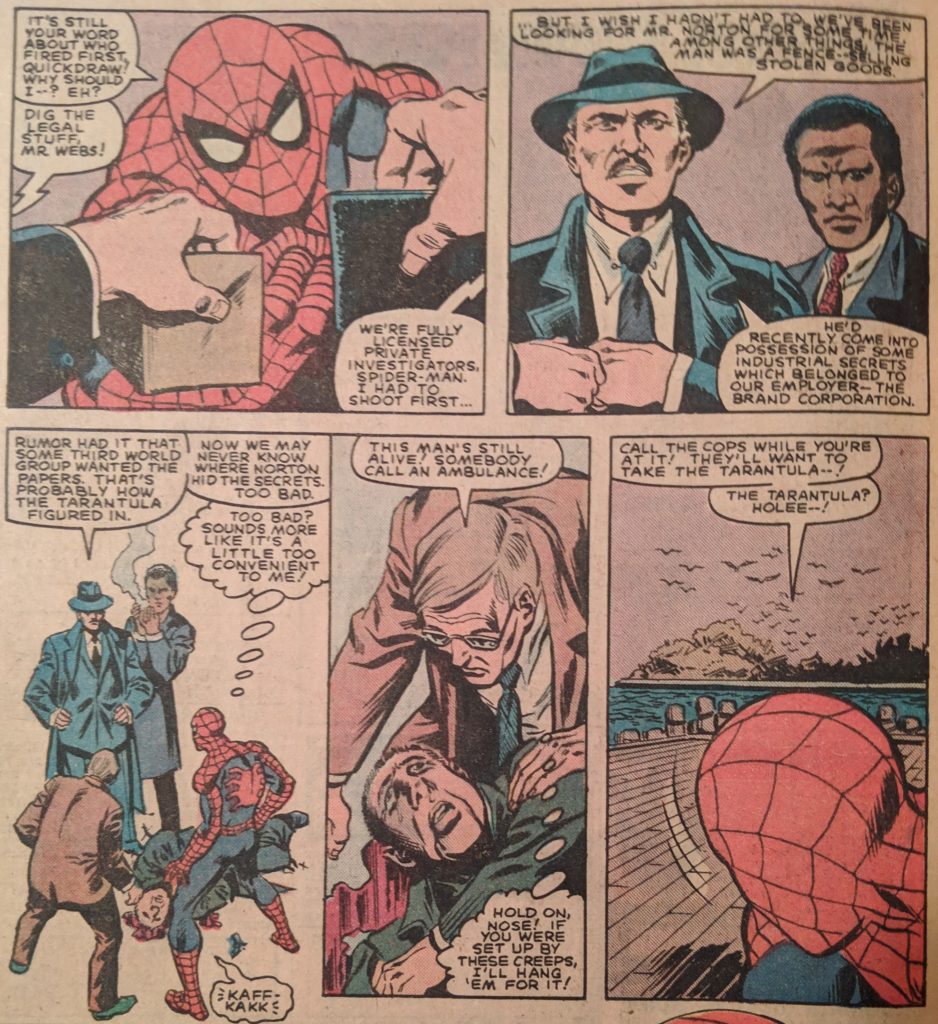 Oh ho! Tarantula has disappeared when Spidey gets back to the garbage scow, so he grabs his camera, switches to Peter and gets back to Ben.

The intrigue! The story goes that Roger Stern was rightly not too impressed with a lot of the dopey villains Spider-Man was getting jobbed out to in the 70s, and decided to make a point by having him easily demolish The Tarantula in this. Kinda funny they end up on a garbage scow when his replacement's first base is shown to be on one later. The Brand/Nose Norton/Etc saga continues next post. In the letters, people are ecstatic about Stern & Romita and fed up with Peter's treatment of Deb Whitman. They needn't worry about that last thing for much longer, though…