Hey, it's Falcon. Spidey hasn't seen him since Cap 137. This issue is courtesy Gerry Conway, Jim Mooney & Vince Colletta. I wonder how an accomplished inker like Mooney felt about the notorious Colletta getting final say on his pages. To start, our man is trying to go home and study, but hears a cry for help from the street. A note says this is the team-up people have been asking for. Is it? Would it have been? No idea.
I've talked about this before, but people in the 70s must've thought superheroes were insane, since they're constantly shouting the 2nd half of a sentence as they appear. Spider-Man dropping out of the sky would be jarring enough, but doing so bellowing "–because I mean business, too!" makes it so much worse. Spidey tries to dismantle the kids as harmlessly as possible, with Glory knocking out the last one herself with a well-placed karate chop (She says she learned at the YWCA). She asks Soider-Man for a favor, and has him carry two of those guys up to her place. Once there, she reveals the one she chopped is her cousin, and she doesn't want them to go to jail.
The drug in his system begins to wear off, and Ramon is able to tell them he and his friends went to check out a new disco, where goons dragged them into a back room. A man in a gold suit dosed them, and that's all he remembers. Spidey believes the story, and Glory says she's heard about this gold man who "wants to wipe out all the blacks living in Manhattan." That seems bad! Spidey lights out to go visit that disco immediately. Glory, tho, places a call to a man she heard of while living in Harlem, Sam Wilson, crusading social worker. And also, The Falcon.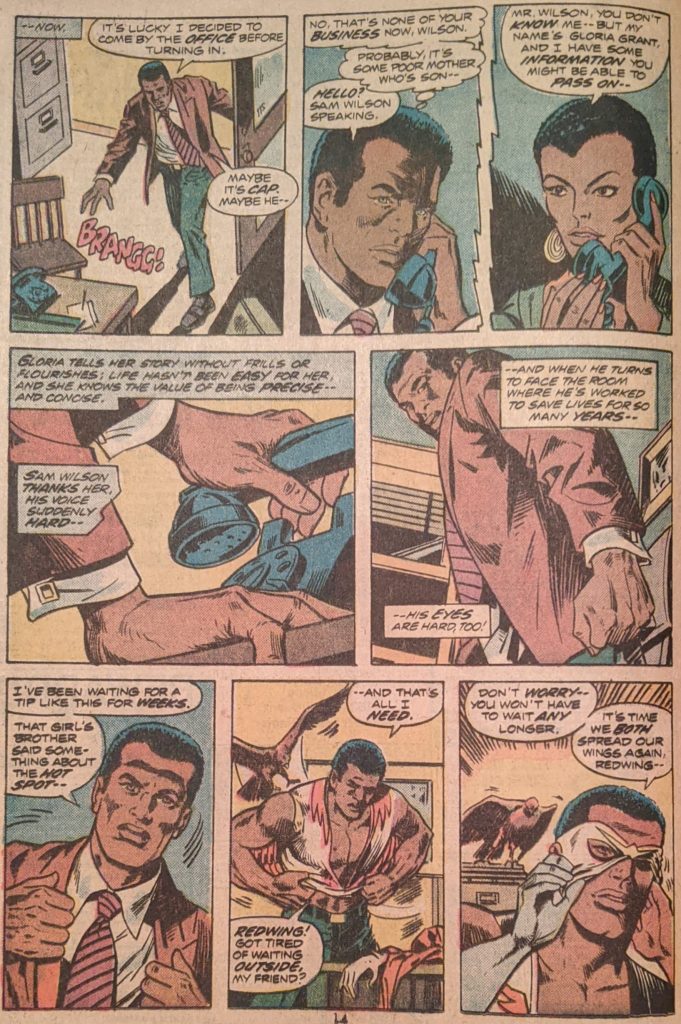 Sam & Redwing take off, and somehow arrive at The Hot Spot at the same time as Spidey even though he had a head start on them. They must've been closer. They break into the place, each without knowing the other is there, and then charge into the room where Midas & his goons are hanging out at the same time. They surprise each other, giving the goons a moment to try their best, but the heroes have no problem with them.
Spidey says this Merriwell guy is "your original bleeding heart liberal," and would never do the things Midas is doing. Nevertheless, the heroes travel all the way to "the Connecticut suburbs" (What did Spider-Man swing from??) to the home of Merriwell, which Spider-Man knows the address of, for some reason. He says the famous guy lives there with his brother. Falcon notes it looks like they're throwing a party. They just walk up and ring the doorbell, and as soon as they're let in, get whacked in the head by guys with tire irons. But, the Spider Sense sure came in handy there. They wake up in metal restraints attached to the floor of a walk-in freezer. Midas comes in long enough to tell them they're going to freeze to death and make it clear he's the brother Spider-Man mentioned, and then leaves them to their death trap. Spidey shoots some web in the door as he leaves, tho'.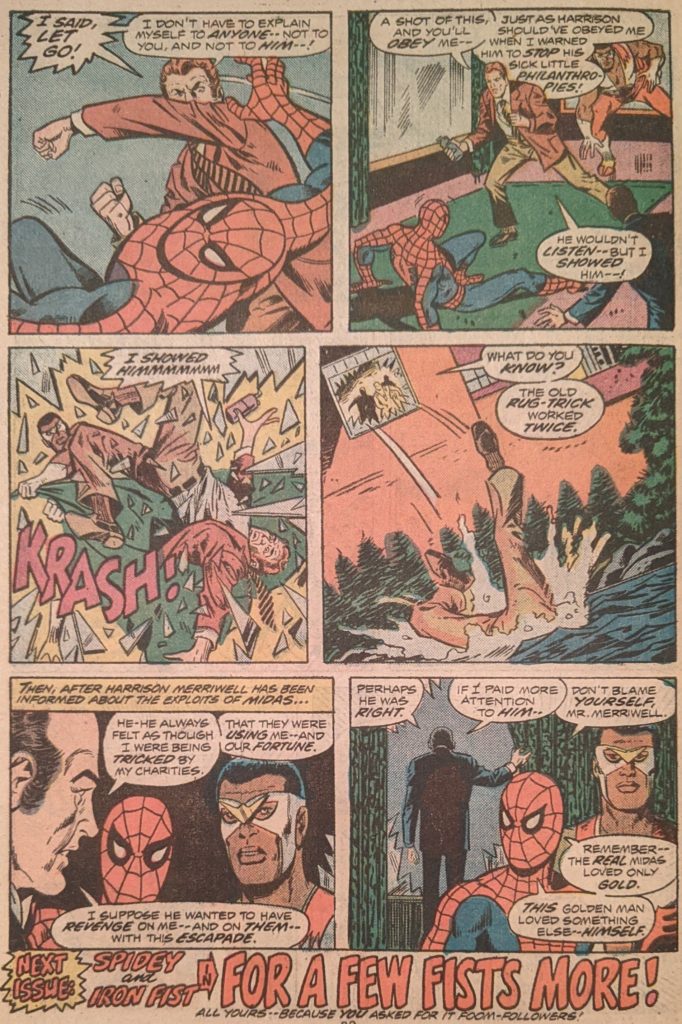 Wait, did Sam just kill that guy??? Did they not go get him out of the pool? What happened? The villain appeared in costume on 2 whole pages of this issue. What a weird one. All this and a whole Marvel Value Stamp, too, what more could I ask for?