Now why would Cap & Falcon do something like that? Welcome to Wayback Weekend, where I look at comics that should've been in an older block, but I didn't have them yet. And this inaugural edition is also the oldest issue of Cap to be featured on this blog. At this point in history, The Falcon has been Cap's partner for just shy of 2 years. If you're not familiar with his first design, I assume it's a bit confusing. It sure was for me the first time I saw it. His name is "The Falcon" and he has no wings? Like… what? Spider-Man is like a spider, shouldn't The Falcon be like a Falcon? His more familiar suit also being a totally different color scheme is also a factor, though I'm not sure I'd say either of them are particularly "falcon" colors. Hey, also, I think this cover might be Sal Buscema's first published Spider-Man drawing? As we've seen, that guy drew Spider-Man for decades and decades, so that seems significant. He's not drawing the interiors, though. This one's brought to us by Stan Lee, Gene Colan, and Bill Everett. Everett created Namor, The Submariner in Marvel Comics #1 (And much later, drew the first issues of Daredevil). He's not as revered as Kirby, but he helped birth the Marvel Universe. Legends only. Let's do it!

Really dropping into things in progress here. A crowd of reporters and onlookers is waiting high above as Cap & Falcon rise to the surface, including Sharon Carter, Cap's beloved in this era (And most others). Kirby's Sharon was a fierce and fiery secret agent, but Jack's not here anymore, and Stan Lee always liked his women less, ahem, capable, so Sharon is so worked up to see Cap alive that she faints. A doctor takes her away to make sure she's ok.

I look blehhh sometimes, too, I get it. At the doctor's office, Sharon wakes up and is brought to tears by the idea that Cap didn't wait for her, everyone is sad. Cap & Falcon pull their motorcycle over to get into normal clothes so no one will bother them.

Nice little bit of social commentary by Stan there. Sam suits back up as Falcon, deciding to head out and try to make The Falcon as famous as Captain America. It is with this attitude that he sees Spider-Man swing by, and he wants to know why Spidey is "upstaging" him.

Falcon sees a mugging happening below, and diverts to stop it, leaving Redwing to follow Spider-Man for him. He stops the mugging with ease. Not seeing Redwing anywhere, he heads back up to the roof of his building, but someone's already there.

Well, that's nice of him. Steve's too nice to let being rude to Sam hang for too long. But Falcon still wants to prove himself, so when Redwing comes back, he makes his excuses and leaves. Cap can sense something is up, but doesn't want to press him. Redwing leads Falcon to the apartment of Peter Parker & Harry Osborn just as Peter is heading out to get the late edition newspaper. And so…

Falcon, you doofus. Falc grabs a confused and terrified Harry up in his arms and begins hauling him out a window.

Time for some pretty extreme Two Heroes Fight Over A Misunderstanding! Spidey easily outmaneuvers Falcon at every turn, and getting irritated by the situation, starts goading him, telling him if Cap has beef with him, he should come say so himself. That doesn't do anything to help Falcon's feeling that he's in Cap's shadow, and his anger gives him a second wind.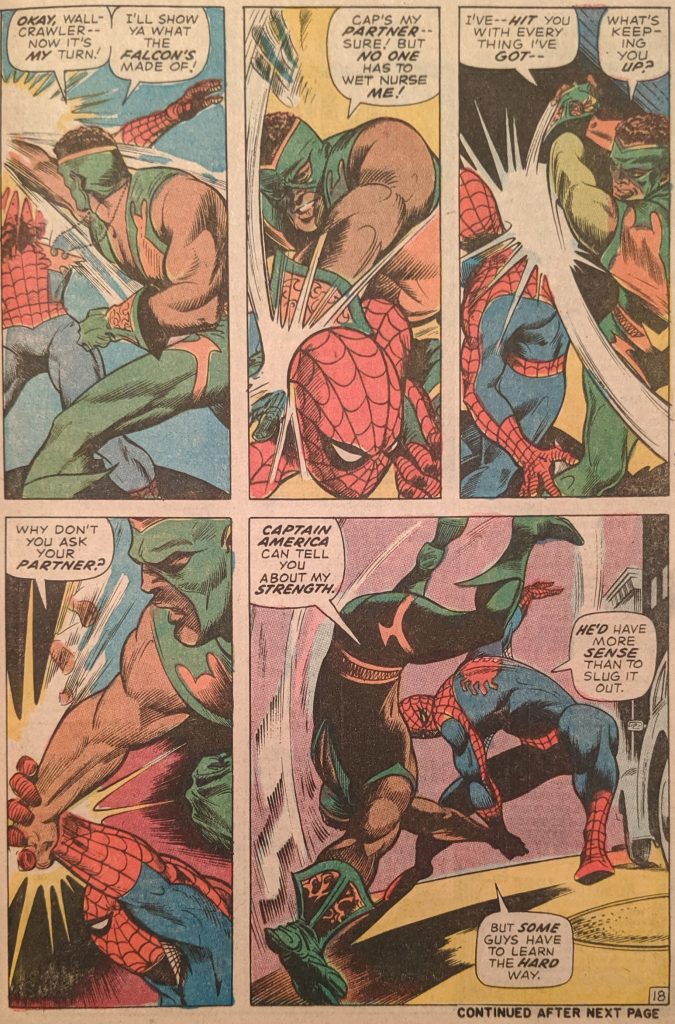 Spidey knocks Falcon out, and Harry runs away while he has the chance. Spider-Man plants a tracer on Falcon so he can find him later and try to get to the bottom of this, then leaves himself. Meanwhile, Captain America is out riding his motorcycle when Redwing finds him, trying to lead him to his fallen master.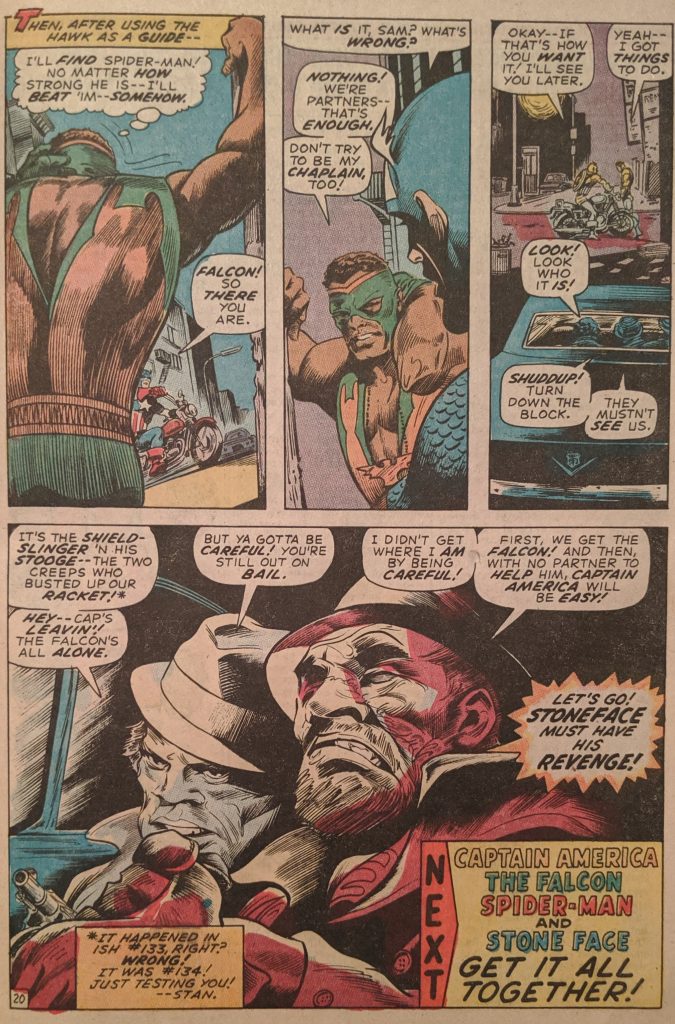 Stone-face! He sure looks like a weird guy. I'm sure we'll learn all about him in Cap 138.