By this point, Adjectiveless Spider-Man was the main book to me, 'cuz that's where McFarlane was. So whereas it used to be "ASM and maybe another title or two" every month depending on my meager funds, now ASM could take a backseat like the others. In spite of the fact that I did not enjoy the storylines in Spider-Man AT ALL, it was my primary book. This line of comics has been torturing me my whole life. So I'd skip issues and go back for them in a couple years, like this one. Everyone looks so weird on this cover after 8 comics by more normal artists. Also, why has Quasar started wearing a mask after not wearing one since the 70s? Too late, buddy! As of Avengers 329, there's a new roster (Not too different from the previous roster) with several new reserve members. One of them happens to be Sandman, allowed in on a probationary basis. How 'bout that? He's all reformed, he's got a presidential pardon, and now he's an Avenger. He's also being very politely asked to stop living in the room he's renting, because the press knows he's there, and it's causing chaos for the Casadas, the family he lives with. So he agrees to leave. But he has to get by the press.
I love a redemption arc! Hey, guess who else is now a reserve Avenger?
Spider-Man swings through the city, thinking that he can't shake the experience of his island battle with Venom. He says he may have "Delayed Stress Syndrome" (PTSD, right? I assume), and feels isolated. He decides to swing by The Bugle for some companionship, but the usual treatment from JJJ doesn't turn out to be what he had in mind. Then Ben Urich tells him to go look into "an odd shipment going through the Brooklyn Railyards this afternoon" because he doesn't have time. Aaaaalright. Sure.
Sandman tells a kid on the street to call The Avengers and tell them to meet him at this bad business and the railyards, which is pretty amusing. Him awkwardly trying out this hero thing could've been fun to cover in a miniseries or something.Anyway, Spider-Man's at the railyard already, taking pictures and thinking nothing interesting is happening when Sandman runs in and tells the soldiers guarding the shipment that a hijacking is about to happen. They're not sure if he means he's gonna do it or someone else, but then those guys decide to move in since he's blown their cover. And they have "mini-tanks" spraying tear gas.
Hey, this is a Mark Jewelers variant! That makes 3 with ASM 267 and WEB 38. Wonder how many I really have. I guess I'll know eventually. Sandman takes out the crew of one tank and thinks he can use it against the other, but then realizes he has no idea how to drive a tank. Meanwhile, Spider-Man's launched himself up to deal with the newly deployed helicopters. These guys sure are well outfitted. He forces one into "a safe crash landing" (Gotta let us know!) as Sandman takes out another tank.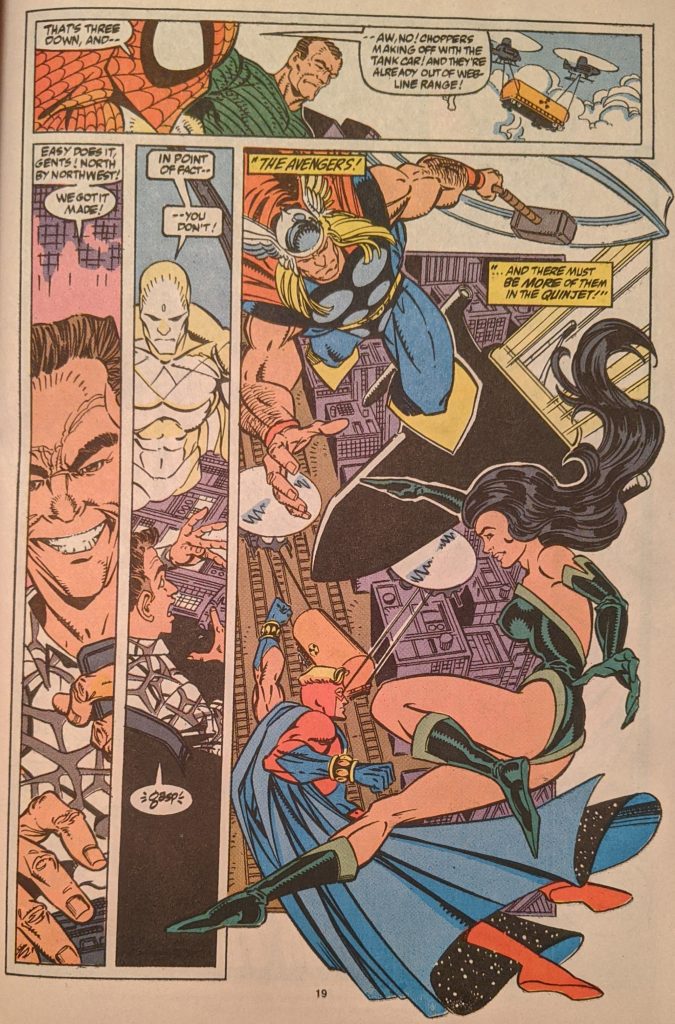 The Avengers safely remove the tanker from the helicopters and take out the remaining goons in a series of very splash-page-y pages. After all, what's some dudes in helicopters to Earth's Mightiest Heroes?
There ya go. Peter's little existential crisis is over, more or less. Poor Sandman. That annual is our next stop, so we'll see how that shakes out much sooner than you would have in 1991.