Oh, look. It's The Headmen, those weird lames from the issue of She-Hulk Spidey was in. And, look, this issue is written by John Byrne, so that checks out. Byrne is on the cusp of insanity here. I can only speculate, but he went from being one of comics' favorite artists to a mean, bitter old traditionalist who railed against anything that happens in comics and has largely either been ostracized or has ostracized himself, and it seems to me it's because of the Image artists. First, he seemed willing to play along, as when he drew Spider-Man McFarlane-style in She-Hulk 3. He scripted a few issues of Jim Lee's X-Men. He also started cramming as much detail as possible into his own art, as if to say, "Look, I can do that, too!" But the bigger the Image guys got, the more vocally bitter he got about it, and from there he ends up being a guy who says you cannot call Superman "Supes" because it's disrespectful and responds to Jessica Alba being cast as Sue Storm by saying Latina women with blonde hair look like prostitutes. I dunno, man. It's sad and embarrassing. But in 1991, he's still trying to be a human being. For a few more minutes, anyway. So, what're we up to?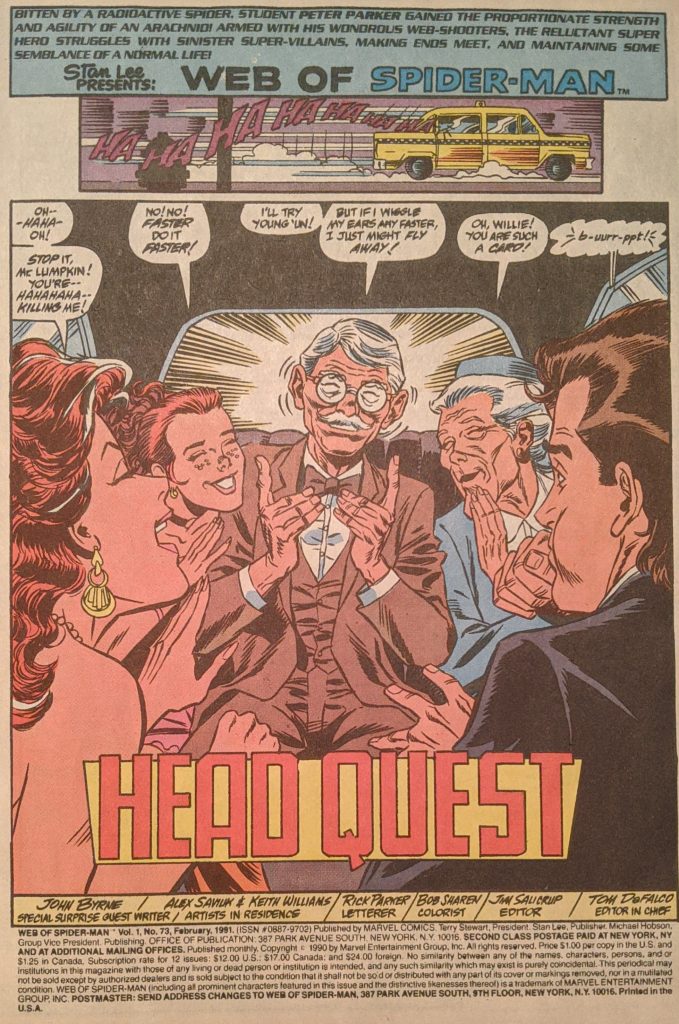 This is the 2nd time Willie Lumpkin being able to wiggle his ears has been a plot point here, but it goes way back. He once offered to join the FF based on this power. Willie Lumpkin has both saved the FF from supervillains and been the pawn of them in his strange career. It's all so delightfully silly. Anyway, Willie's taking the Parker gang to a ritzy gallery opening, and Peter is feeling ill from Aunt May insisting he eat too much lasagna. Whose ritzy gallery opening? Well, Willie would certainly know one famous sculptor, so of course it's Alicia Masters, now Alicia Storm.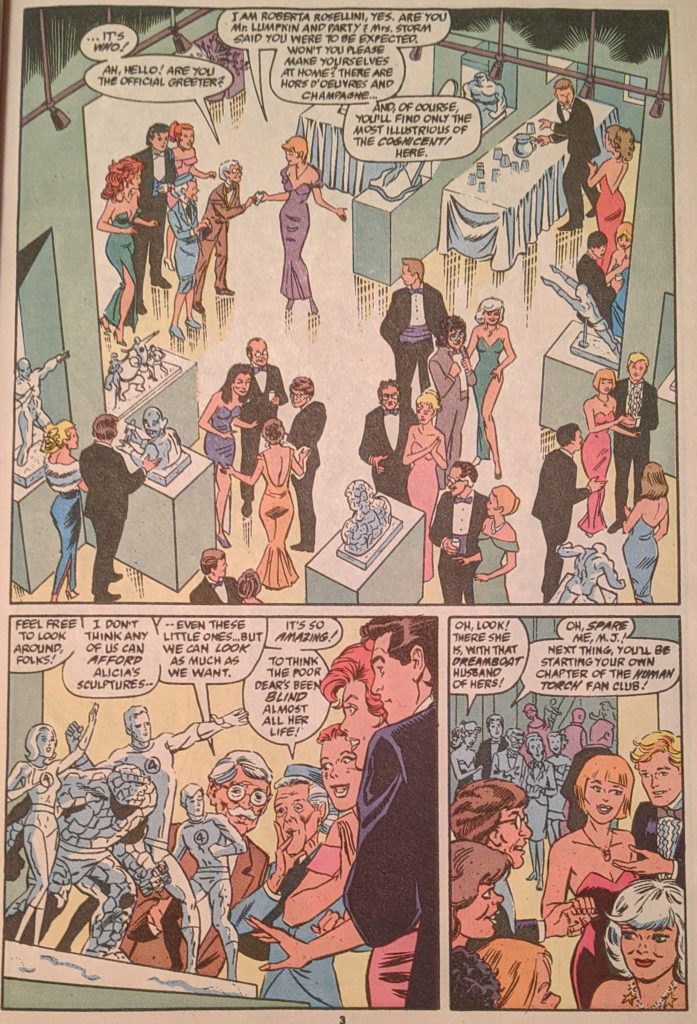 As the gang walks around checking out the art, Prince Namor himself shows up. At this time, Byrne is writing and drawing, you guessed it, a monthly Namor series. Meanwhile, Alex Saviuk is sneaking various famous comics people and their spouses into the background. I confess, I don't recognize everyone, but this next page features Stan & Joan Lee and John & Virginia Romita, among others. Also Roy Lichtenstein, famous pop artist who made his career profiting off the backs of comic book artists, is there.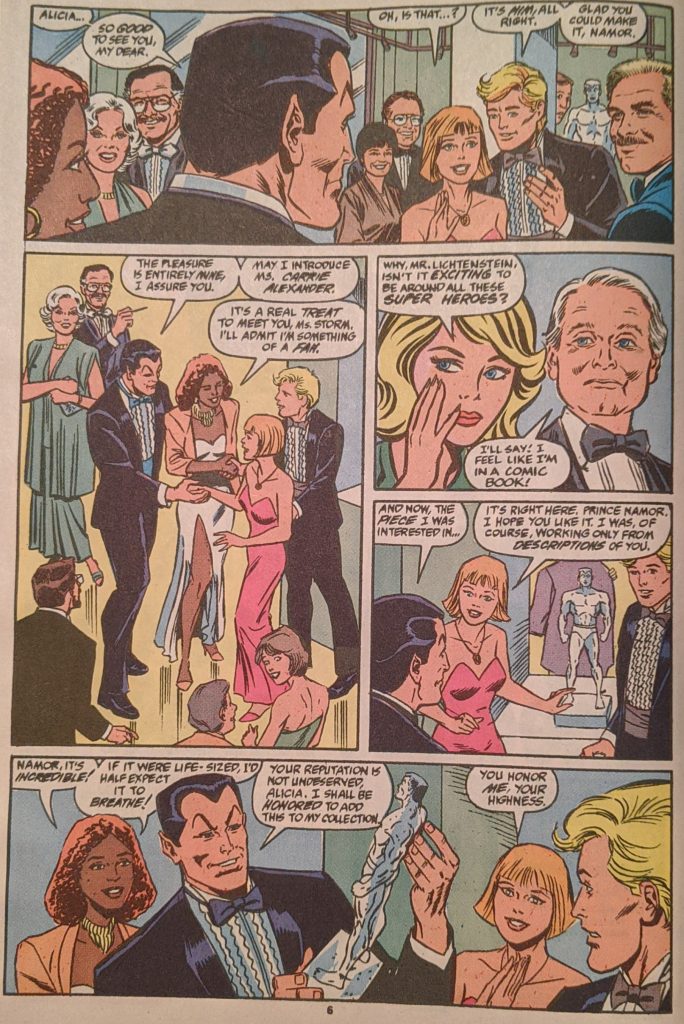 It's worth mentioning, if I didn't before, that due to an upcoming retcon 2 years from this by Tom DeFalco & Paul Ryan in the pages of FF, that's not Alicia, but a Skrull. Johnny never married Alicia, he married Lyja the Skrull. This was so Alicia could go back to being Ben's girlfriend (They even got married, finally, a couple years ago). One wonders how Lyja was able to fake Alicia's artistic talent.
It's funny that Peter & Johnny have a history in addition to Spider-Man and Torch having a history. Meanwhile, The Headmen, the dopey villains of She-Hulk 3, are in a van driving around the area. They still want Spider-Man's body for that one guy (Who could possibly care what their names are), and are able to track his bio-signature since they got a bunch of scans of him in that issue. Who knew that would be so important? They also drive by a big Clark Kent lookin' dude who says he's looking forward to seeing this show, also. Back at the gallery, Peter is looking really rough, and Tom Selleck has dropped by…
Peter has to push MJ away from an exploding window. Johnny burns up all the glass before anyone can get hurt, and then the guy with a human head on a gorilla body who it turns out is called Gorilla-Man (Guess I shoulda known) leaps in demanding they turn over Spider-Man. Johnny is obviously very confused, but Peter gets MJ to lead the rest of the family to safety while he slips away to do his thing. Johnny is doing fine with G-M until he takes a hostage, and then the old guy who is currently on some kinda fem-bot body but wants Spider-Man's comes in.
MJ isn't doing the best job of leading our cast to safety, I must say…
These guys are so absurd. Johnny recovers and surrounds the goons in flame, but then the robot body shoots a ton of "plasma darts," like on the cover and the battle continues. Gorilla-Man gets loose and almost smashes Alicia, but Spidey's on the case and takes him down, instead.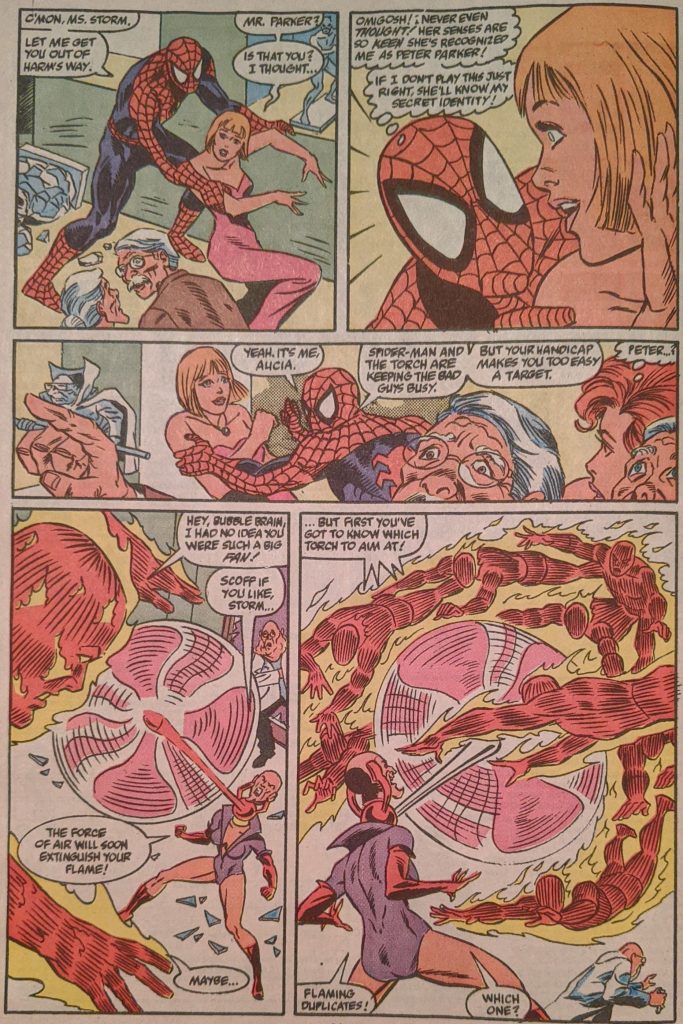 That's a fun idea. Surprised no one else has played off Alicia being uniquely positioned to figure out Spidey's identity before or since, that I'm aware of. Torch sees Spidey helping Alicia and gets jealous, so he goes to help MJ. But he doesn't know Peter's secret, at this point, so that doesn't really land too well. Then the big lug from earlier walks in.
It's Colossus, the promised X-Men guest star. Byrne is most famous for drawing The X-Men and writing & drawing FF. He's pulled in a thread from his She-Hulk run and also featured his current comic in Namor. This issue is a real portfolio of his stuff. Anyway, Spidey and Torch finally get around to remembering these guys are Z-List lames and wrap them up in one page because there's only 2 pages left.
And that's that. Weird to just sort of toss Colossus in there. Most things about this issue were weird. This doesn't really feel like the beginning of a 4-part story, but I guess we'll see. The previously published plan was for this to be a 3-parter, kicked off by Byrne with a different writer for each subsequent part, but that's not how it works out.