Oh, Erik. Why must you do this? I think I've mentioned before that Erik Larsen has said he added the giant, distended jaw, the tongue and drool because he didn't like Venom and was trying to entertain himself. It is perhaps karma that when Marvel talked him into drawing some more Spider-Man nearly ten years later, Venom was in it. But that's for another time. As this issue opens, with a guy at The Daily Globe stealing other reporters' files to sell to tabloids late at night, Larsen is very much "entertaining himself."
Normally I'd just shrug at that title and keep going, but given Michelinie's obsession with puns, is this a long reach at a play on "Trivial Pursuit?"
Same ol', same ol'. No real wonder why Larsen would be bored. This is the height of Venom mania, he has become one of Marvel's most popular characters despite having no personality, plot, or purpose other than "kill Spider-Man." And yet, even lil' 12-year old me was already well over it. Anyway, at Grand Central Station, Peter is trying to send Mary Jane to go stay with her sister. He's heard Eddie broke out of jail, and called the FF, who confirmed the symbiote escaped, so he doesn't want her around to get caught in the coming storm. She's not happy about it, saying she thought they were partners.
Peter makes an excuse not to hang out with them, saying he's got work to do at school. Felicia asks if it's anything she can help with, because obviously she knows, but he says no. What must Flash think of the obvious familiarity between these two? Peter goes to eat in a diner while recapping Venom's deal, but Eddie Brock catches him there. They walk out together, and Eddie tells him the symbiote was affected by Styx's death touch differently because it's an alien, and when into a coma to repair itself. Ok, fine. They head into an alley to fight when a guy tries to rob them. When Peter's wallet only has $30 in it, the guy wants to get rough, which doesn't work out so well for him.
Peter just leapt straight up, feeling he couldn't leave in case Eddie tried to kill that guy. But his escaped worked, so he spends the night in a sleazy motel.
"Hello, Peter? Potential deus ex machina calling." This is one of the main reasons Venom sucked. He lives to kill Peter. He can't kill Peter because he is the star of the book. But he knows his secret and has nothing to do but torment him, and Peter would never kill Venom, either. This story can't go anywhere, and this title can't just be them fightin 24/7, so every Venom story requires them to come up with an increasingly ridiculous way to take Venom off the table without killing him. Spider-Man is soon swinging off to looking to that conveniently delivered potential solution when he is unsurprisingly ambushed. Venom gets some solid hits in, but Spider-Man is, if nothing else, more experienced in superfightin'.
Venom chases him, throwing girders from a construction site and eventually tackling him into the lion pen at a zoo. Spidey escapes again, and once again gets the drop on Venom on a bridge.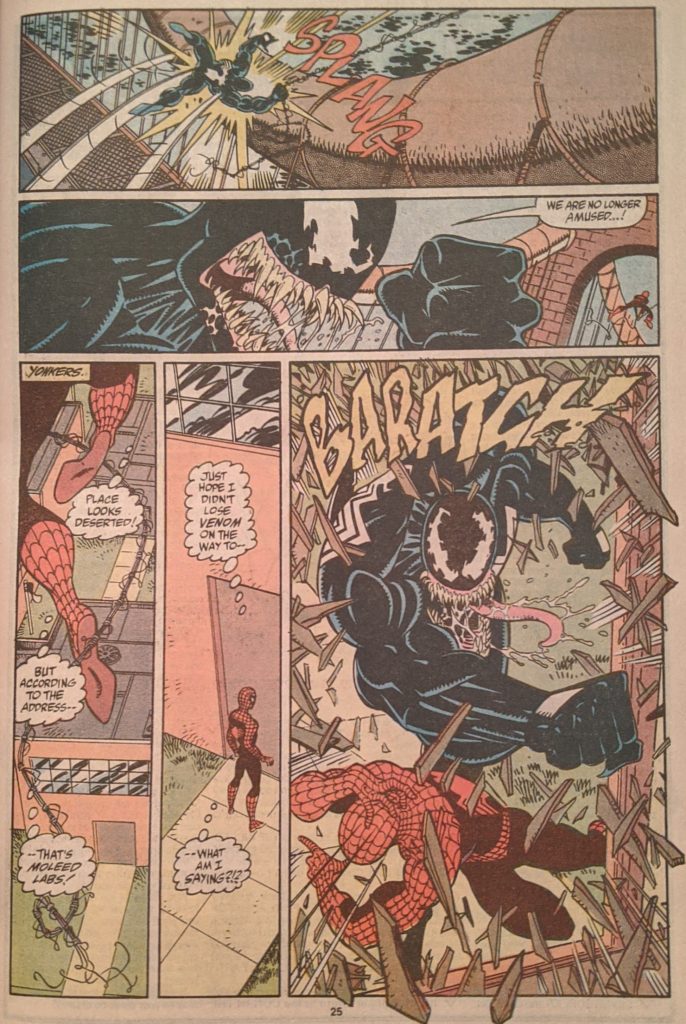 Spidey bolts away from Venom, looking for the cryogenics facilities. A lone guy in a lab coat silently points him in the right direction, and that guy turns out to be Venom. Shocking, I know.
Yeesh. Larsen is out of control. Come back next time for a rather infamous cover and the conclusion to this Venom story.