"The World's Most Commercialist Comic Magazine!" Now here's a famous cover. I assumed these issues were very valuable. Everyone knows about "The New Fantastic Four." That coupled with my love of Art Adams, FF being a less successful title and therefore subject to a much lower print run than, say, ASM or X-Men, and the knowledge that art was what drove collectibility in this period made me think these issues must be gold. Nope. You can get them relatively cheap. Even this one, in spite of how collectors only care about iconic covers because they just slap these things in a plastic slab and don't actually read them. They can be yours for like $20, and that's if you want nice copies. Mycomicshop.com will sell you a copy of this issue signed by Art for only $15, even. He's still a huge name today! I can't believe it. Tangible proof that the collector's market makes no sense. Anyway, Gracine Tanaka is credited with pencil assists this month and Al Milgrom inks pages 13-16, but otherwise, same team as last month. The New Fantastic Four is zooming through the sky on Reed Richards' latest crazy flying machine, recapping last issue and following the singla on a gizmo "Sue" gave them to find the people who killed the rest of the FF, aka the Skrulls pursuing De'lila.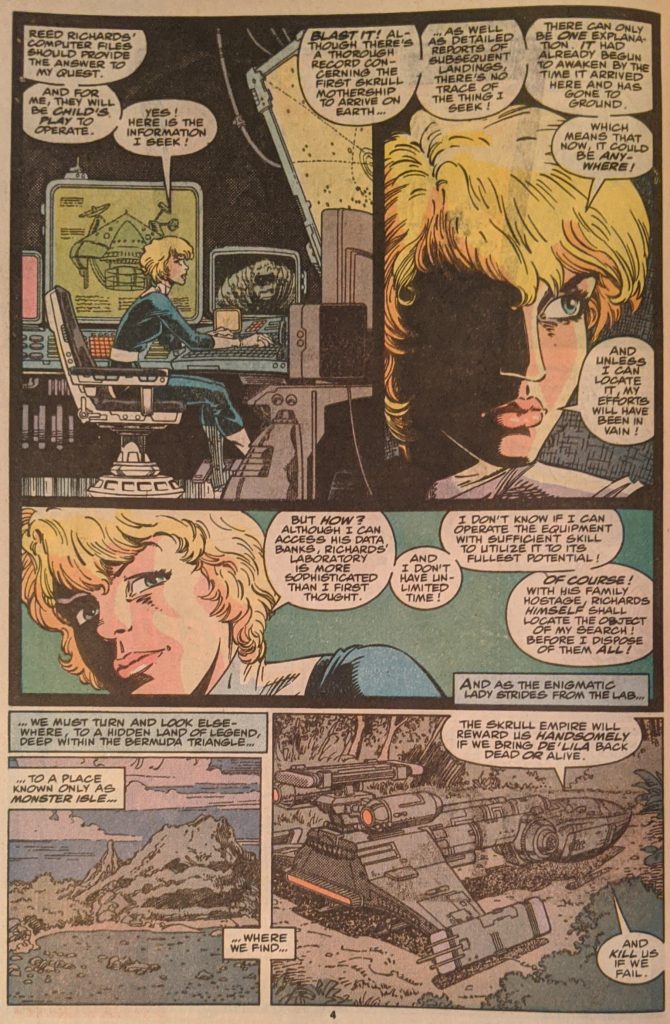 As the Skrulls discuss finding and capturing De'lila, The Mole Man spies on their ship and discovers his monsters have been manipulated by aliens. He's pretty mad, so he sends his main monster down to teach them a lesson. Meanwhile, De'lila has everyone in the FF but Reed tied up in an elevator in such a way that if anyone wakes up, they'll strangle each other trying to get loose, so she can focus on her mission.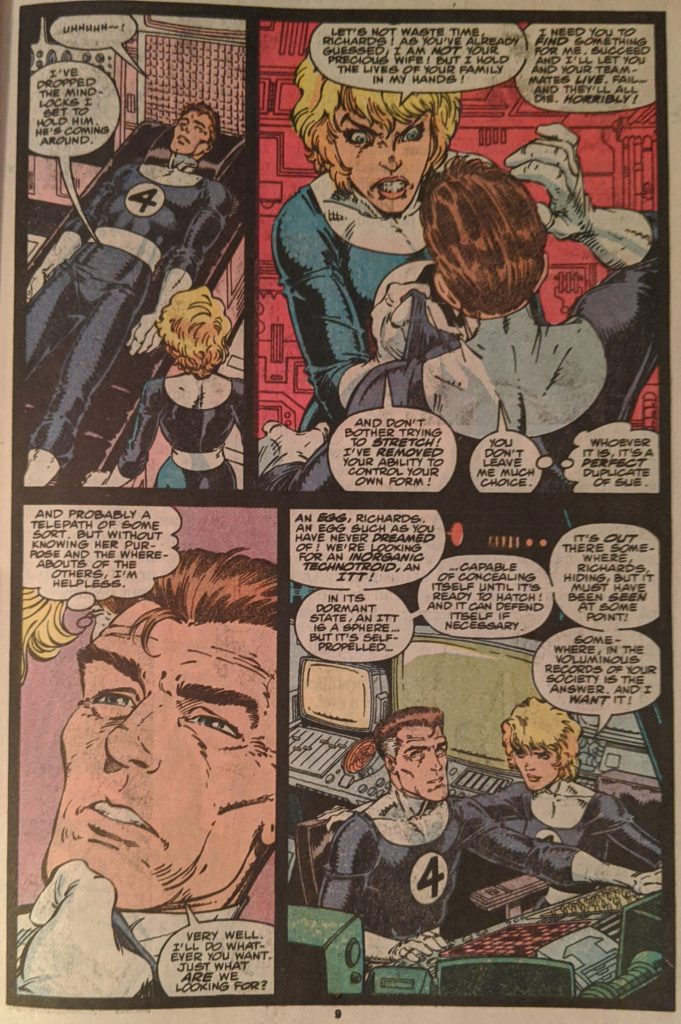 While she forces Reed to search for her egg, The New FF keeps zooming towarding their mission, with Wolverine letting them know monsters are attacking Moscow, San Francisco and Mexico City, and as they near Washington DC, they get some monster action of their own.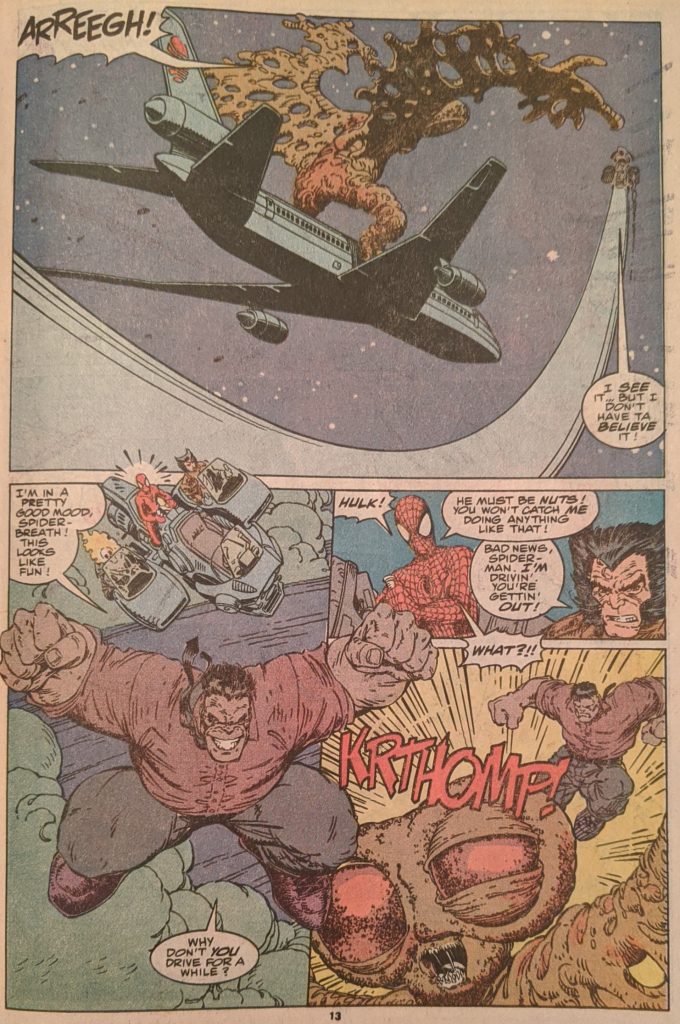 The thing that's most ironic to me about Rob Liefeld, the worst artist to ever get rich making comics, is he began his career shamelessly and poorly aping Art Adams. Some of Art's moves are in the DNA of Liefeld's work. Not important things like consistent proportion, consistent storytelling, attention to detail, none of that. But surface level stylistic choices. Sometimes I see that reading an Art Adams comic, such as in the Spider-Man webbing the side of the plane there. Anyway. Back on Monster Island, The Skrulls' sensors have just determined their target is in NYC when their entire ship sinks into the ground. They don't call him The Mole Man for nothing. At the same time, the monster The New FF are fighting breaks off its interest in them and the plane and flies away. The signal on Spidey's gizmo has vanished, but the monster is flying on the same heading they were before, so they just follow it, bickering the whole way, as they do. Hulk is talking awfully tough towards Spider-Man considering he punched him into space last time they saw each other (Well, last time he was Joe Fixit and they saw each other. Hulk is confusing). But their path takes them into The Bermuda Triangle, and this is a superhero comic, so naturally that's a real thing.
Reed's found a story that sounds crazy, but matches her description, and she demands they go look into it personally in the Catskills. Maybe they'll stumble into The Jackal's lab! Probably not. As they leave, Reed gives his robot receptionist a coded message, so that should help out.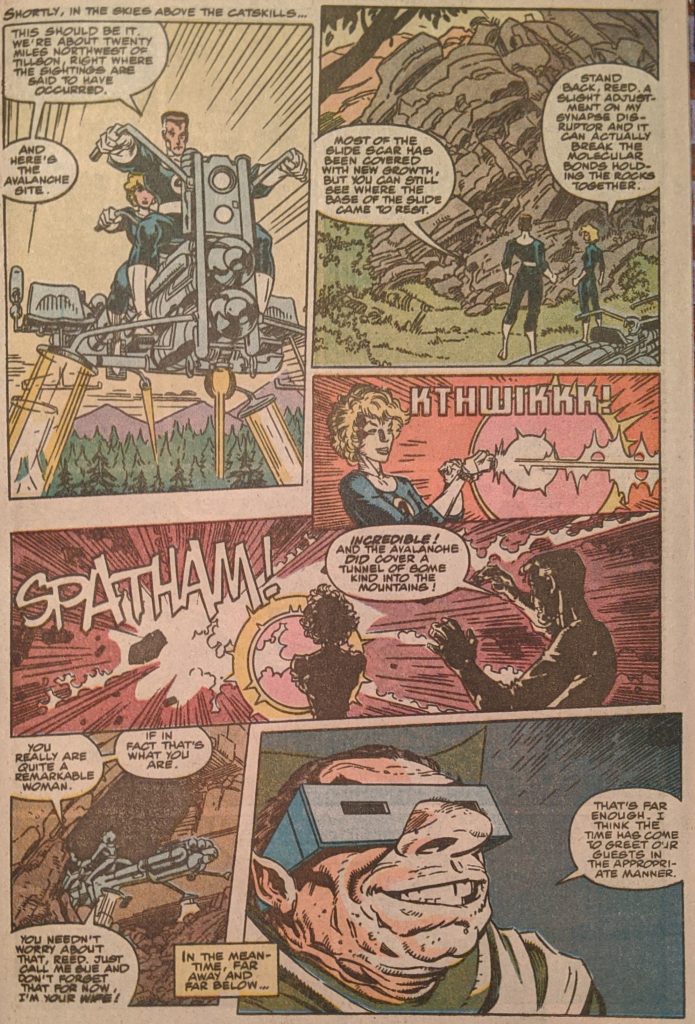 Deep in the ground, Mole Man has his monster shake the Skrull ship 'til the all fall out, which is very funny, and begins threatening them. And not too far away, The New FF has made it into The Mole Man's tunnels.
You can tell Walt & Art are having as much fun as they possibly can on this wacky story. That is, of course, the monster from the very first Fantastic Four story. Hulk punches it, but he just gets picked up and squeezed for his trouble, so Wolverine stabs it in the foot, freeing him.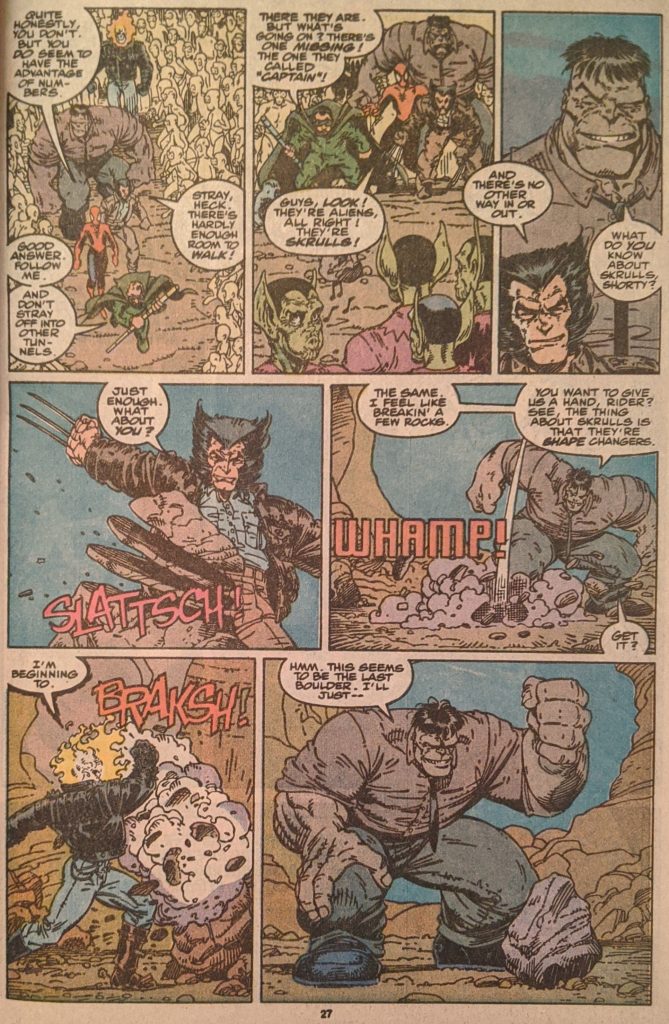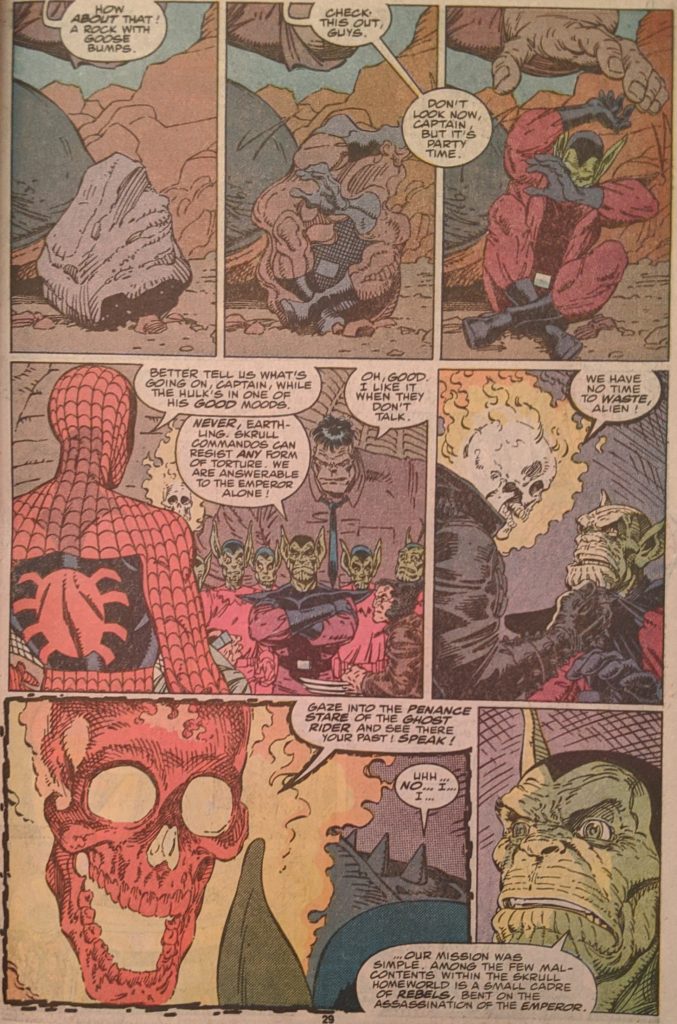 Exposition delivered, principal players collected, everybody's all set for a big showdown next issue! A whole issue of FF featuring only one member of the team (Who doesn't get much screen time). This is a crazy storyline.