Surprise! "The World's Goofiest Comic Magazine!" This post begins a truly infamous 3-part story that continues to be referenced today (As recently as the FF tie-ins to the 2020 Marvel event Empyre, in fact). This is the most famous story from the great Walt Simonson's time as writer/artist on FF, but these 3 issues aren't drawn by him, they're drawn by Art Adams. Art is in many ways the blueprint for the big artists of the late 80s & early 90s, though he gets no credit for that. He was doing insanely detailed art that bucked the Marvel house style for years before McFarlane, Lee & Co. hit the scene, and as they're shaking up the industry, he's in his prime. Unfortunately, all that detail comes at a cost of time. I submit the only reason Art wasn't one of the megastars of the period is he rarely actually drew any comics. He certainly couldn't produce 12 issues a year, and back then, that was just a nonstarter. His art is so incredible that people kept hiring him, but only for one-offs, miniseries, annuals, and guest spots. But even that spotty career has already given him some history with Spider-Man. I believe I've talked before about how he was basically drawing "Todd McFarlane's Spider-Man," big eyes, stringy webs and all, as far back as his Marvel debut in the 1983 Longshot miniseries, and he drew a rollicking Ann Nocenti story for Web Annual 2, which we'll see eventually. But, anyway. Enough preamble. Let's get to it. Art Thibert inks and Steve Buccellato colors. To start, a spaceship crashes to Earth. A mystery female pilot escapes the crash, and says those who forced her into this position will suffer.
Franklin has a pretty wild history. Impossibly powerful or totally depowered. Aged up to adulthood, de-aged back to childhood. It's a rollercoaster. You never know with him. It all depends on how much the current writer wants to deal with him. I think we've seen the FF from this period in Atlantis Attacks, but it's also worth noting Ben Grimm is a regular dude, and his girlfriend, Sharon Ventura, is The Thing. On a recent adventure, they both temporarily became normal, and now she's upset that she's a monster again. Also, Johnny briefly fell in love with Nebula, in spite of being married to The Thing's one true love, Alicia Masters (Don't worry, she turns out to be a Skrull and Ben gets the real Alicia back. Really). A lot of angst at Four Freedoms Plaza. Speaking of Skrulls…
Look at that ship. Look at the interior of that ship. Adams is on another level. That woman is De'lila, another Skrull, and after incapacitating the guard, she sneaks up on the FF one by one by appearing to be someone the have feelings for, and uses a "neural disruptor" to make them fall the group. She gets Johnny as Nebula, Ben as Alicia, and Sue as Namor. She drugs Sharon as Ben, and finally comes for Reed as Sue. But the zap of her disruptor doesn't quite knock him out.
Meanwhile, the Skrulls reach Earth, and scanning for Skrull life forms, they don't know it yet, but they wind up on Monster Island, where The Mole Man rules a bunch of giant monsters. They find out soon, tho.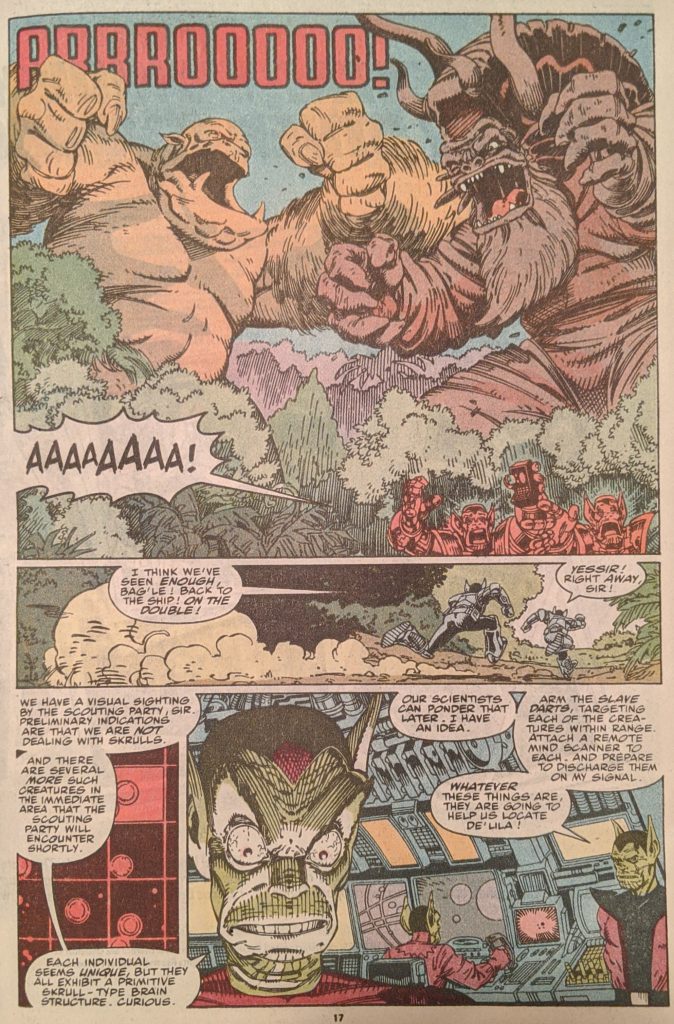 It's fun how Adams is making some of the Skrulls weirder and more alien, as Kirby did, and others more "normal" looking, as most who came after did.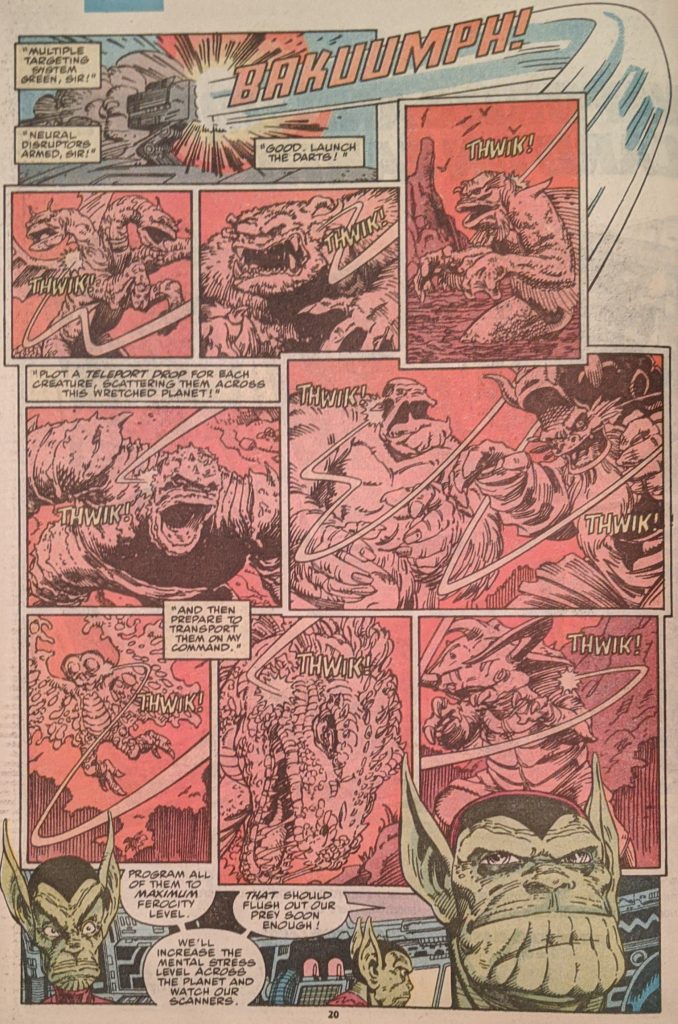 One thing Adams loves to draw is monsters. He's done incredible comics work featuring The Creature From The Black Lagoon and Godzilla. So obviously, if he's gonna draw FF, you give him Monster Island. Below the surface, The Mole Man is alerted that intruders are controlling his monsters, and heads up to do something about it. But back in New York…
Now we're justifying this issue being on this blog! The 3 heroes compare notes and say they were all drawn here as if by someone calling their name, and then the guard from earlier runs out and says Sue is expecting them. And a fourth one. They don't know who that is until he zooms past them.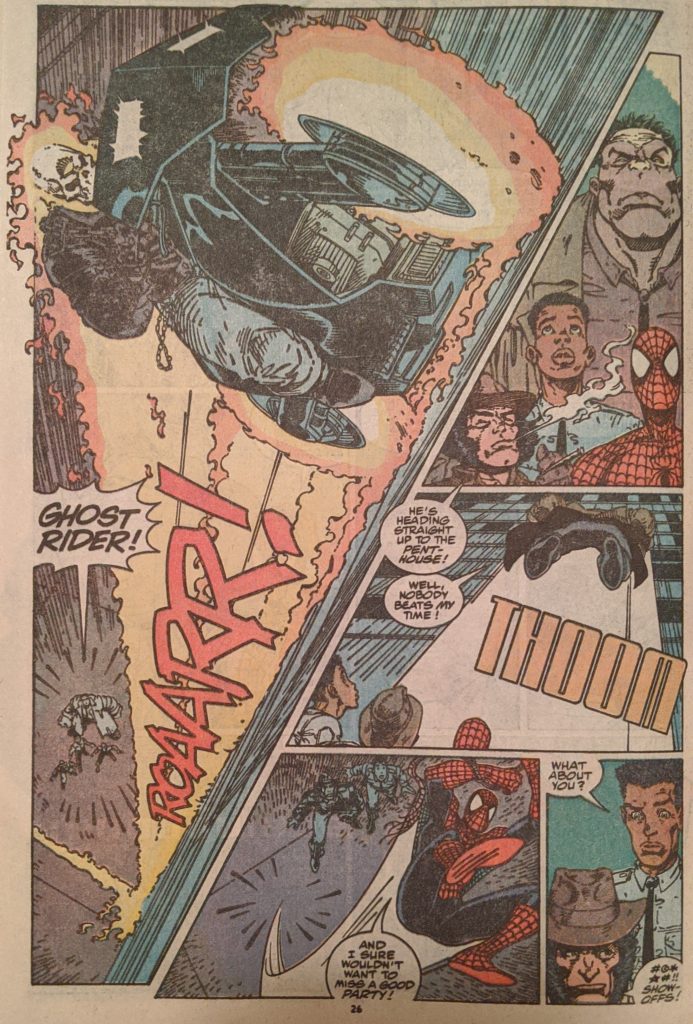 What a great page! As Wolverine steps out of the elevator upstairs, he finds the FF's home in shambles, and Spider-Man consoling a weeping Sue Richards, who says she was out shopping and found the place like this when she got home. She says she used Reed's experimental Mental Alarm Resonator to summon help, and these four answered. The Hulk, being the Joe Fixit variety, rudely says he doesn't care and begins to leave, but Sue says there's something he has to see.
Look at De'lila-as-Sue back there pretending to cry but visibly smiling! So good!! And we're off. This wacky business only gets wackier as it goes!