SSSsssssssoooooo… How do you pick up after MJ has friggin' miscarried? Quite simple. First, JM DeMatteis comes back, because I am allowed no peace. Second, you do 3 pages of Spider-Man swinging around with a bunch of purple prose implying time has past since last post, talking about how he's lost so much, but he's also gotten his life and his very identity back, and in spite of it all, he feels a rush of hope for the future. So, yeah, as far as the aftermath of the most horrifying loss Peter & Mary Jane could experience goes, we're just skipping it. Lazy, but honestly, this book was too dark for too long already, and so, whatever. But what of the scene implying Baby May wasn't dead last issue? Well, according to the oft-referenced Life of Reilly, Bob Harras decreed 2 things: that scene should go in the book to give fans hope that Peter & MJ would one day reunite with their baby, and also that it should never be spoken of again after that scene ended. Allegedly, no one was able to get him to see how absolutely insane those choices are. But, here we are. Baby gone, time passed, cast back to a kind of normal. Closing the book on that chapter. Time for new stuff. Like this nonsense:
This page is heavily ripped off from Joe Madureira instead of J. Scott Campbell. Luke Ross will copy anybody. He's made a career of it. Any time a big shift occurs in what's considered the cool look of superhero comics, Ross is on the fringe of it, aping whoever is big, whether it's this, the photorealism craze of the 2000s, or right on through to the Marvel house style of copying Stuart Immonen today. He is the Papa Roach of comic book artists. Anyway, that's The Chameleon failing to bully Ashley Kafka at Ravencroft. She says he's come very far in recent months and wants to know why he's regressing. After impersonating her for a second, tho, he just curls up in a corner. And then, we ffffffffinally see how the person hurt the most by recent events is doing.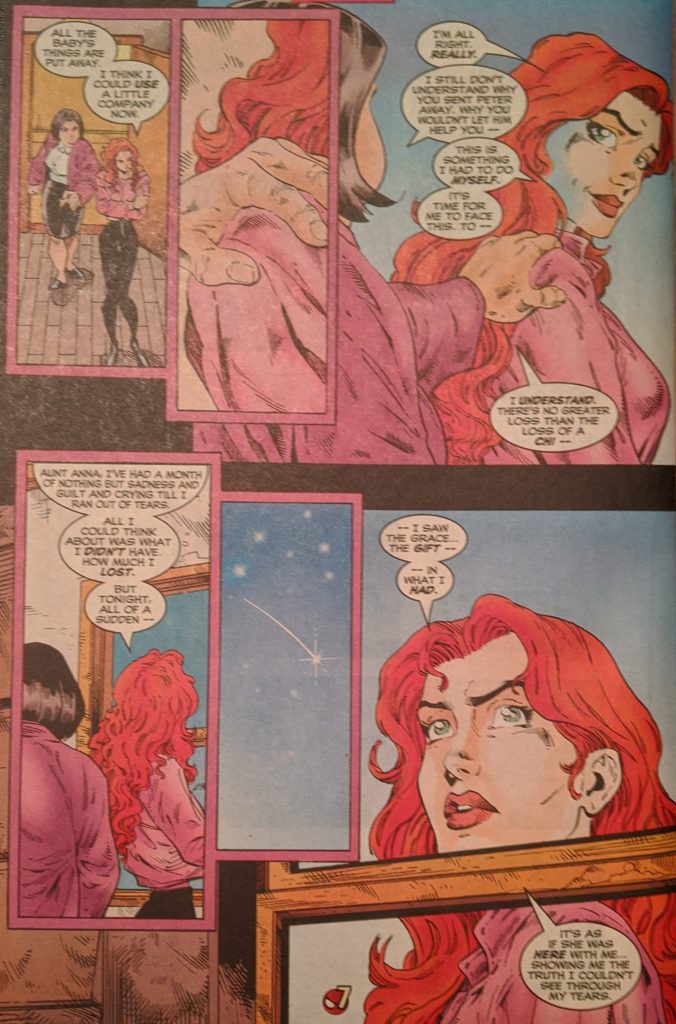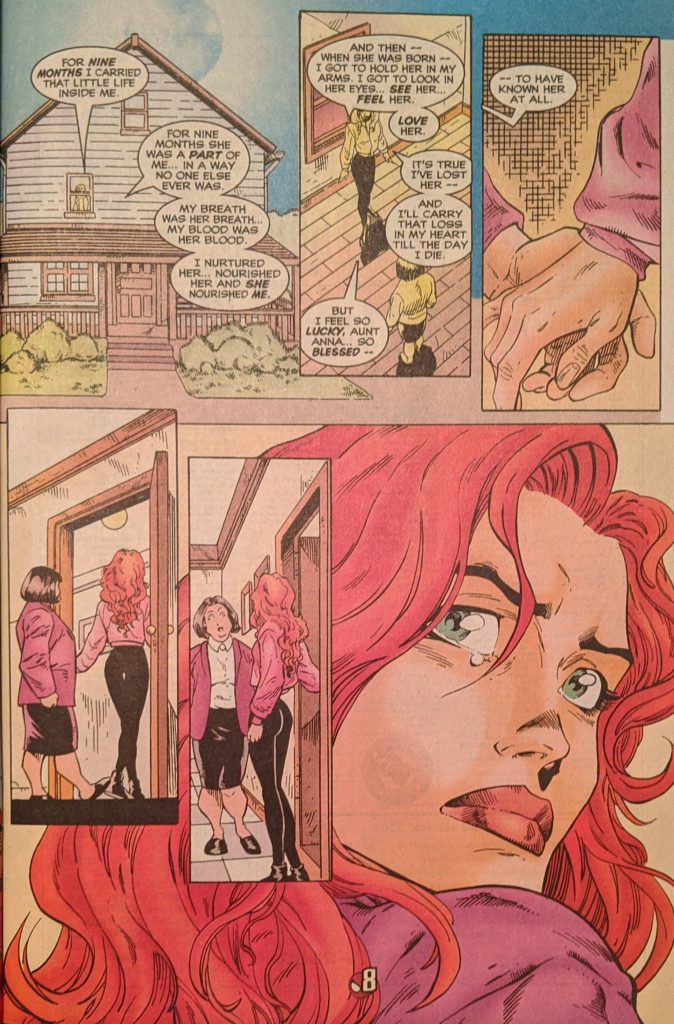 What in the world happened at the bottom of the 2nd page? Did Anna teleport into the next room? I dunno about all this, but again, this issue's job is to tell you "That's over." Elsewhere, Spider-Man swings over to The Daily Bugle, intending to have an argument with JJJ like old times, but his new attitude gives him pause, and seeing JJJ working so late makes him feel like being nice.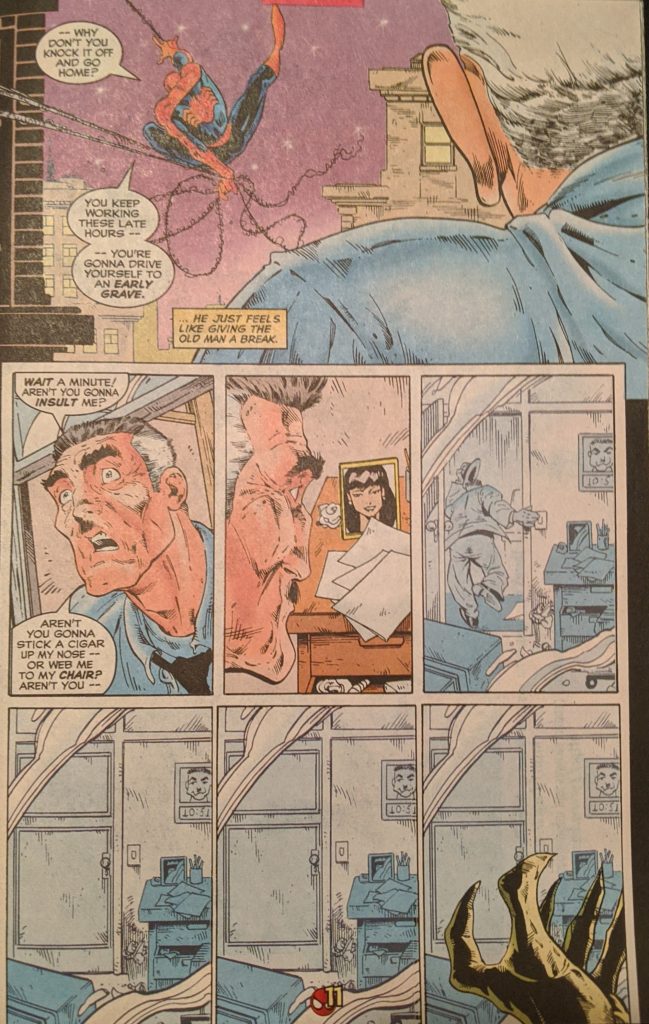 That was Jack O'Lantern at the bottom. But who's Jack O'Lantern? The current Hobgoblin was the Jack O'Lantern. We'll see. I mean, I assume we will. I don't remember and couldn't possibly care. Meanwhile: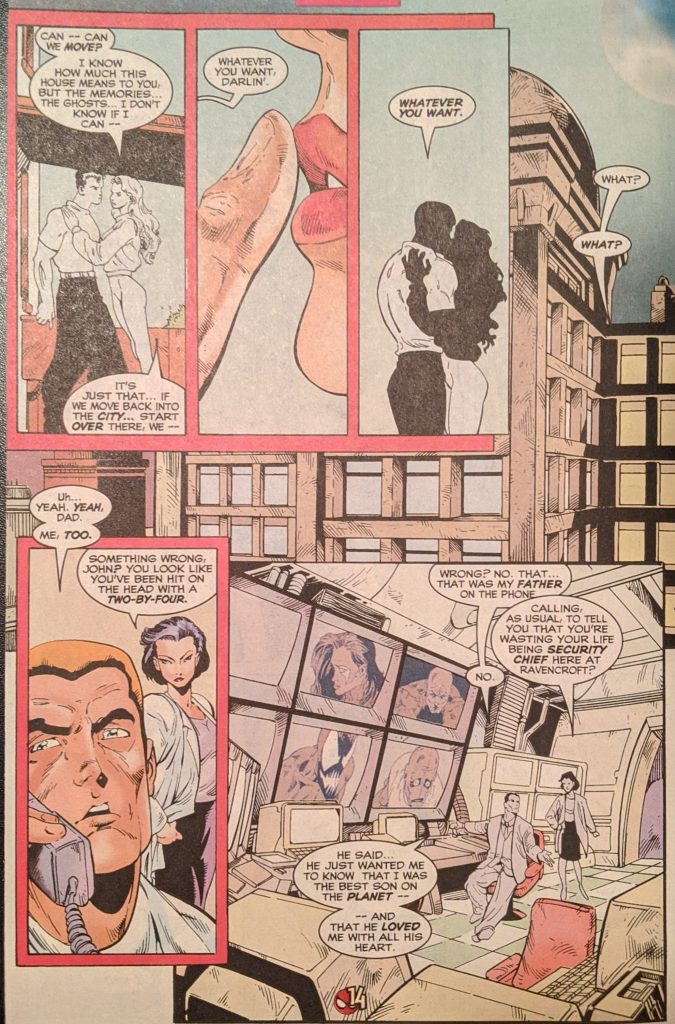 Suddenly, the Ravencroft staff notices The Chameleon has vanished. Because this place is a revolving door. A panicked investigation confirms, he's gone "without a trace." Back in Queens, our restless leads can't sleep. Peter is about to do what he always does when he can't sleep, but this time MJ says she wants to go, and they head out swinging like on the cover. It's a pretty well done four pages of them experiencing a silent joy together.
The Kangaroo. I have mentioned before my observation that DeMatteis has 2 very incompatible speeds: Grim tragedy and absurd silliness. This run will zig zag around both. But, with this quiet little coda, the clone business is truly over. No one would dare touch this scorched earth for a decade, and no one would REALLY go for a new clone story for longer than that. For a blessed while, the clone era was rightly considered some of the worst comics ever made, to be shunned and forgotten. But, anything can become nostalgia if you wait long enough. And the most messed up part is, as mentioned before, the old adage "every comic is somebody's first." Which means that during this disaster, many people picked up their first Spider-Man comics. For some of them, the intrigue of who was the real Peter is foundational. And for even later comers, people who started reading in the last 12 months, Ben Reilly was the only Spider-Man they'd ever read, and therefore the best Spider-Man. And while Ben Reilly is objectively the Dr. Rocket of Spider-Men and these people need to come to terms with that, therein lies the most evil aspect of this whole foolish endeavor. When Ben became Spider-Man, I felt betrayed. Marvel had taken away MY Spider-Man and replaced him with this terrible substitute. And then, 12 months later, they did the same thing to the Ben Reilly fans they'd just cultivated when they brought back the real thing. 2-hit combo, no one is spared. Just a historically bad decision. We have one more block of clone crap in the future, covering the transitional period between Spider-Men that shouldn't have even existed as they tried to squeeze every last dollar out of that circus. I'll be happy to be done with that.