That's right! It's 1996 again, but by (Ever-so-slightly) fudging the publication orders of both series, I've managed to line up this sequel to Lost Years right after it. While DeMatteis has moved on from ASM by now, as we know, they got him back for this, and since John Romita, Jr. was already busy with Spider-Man, they reunited DeMatteis with almost the whole art team of Kraven's Last Hunt in Mike Zeck & Bob McLeod. Christie Scheele hangs in there from Lost Years to round out the book. I'm sure not gonna say "no" to such a dynamite art team. Originally, the Spider-Office had hoped to do a series of Lost Years minis. Once a year during the long, illustrious, totally permanent career of Ben Reilly as Spider-Man, they'd have a different team examine more of Ben's time on the road. Instead, it's just this, a sequel that takes place mostly in the present (of 1996). And it opens with Kaine looking at someone in a casket.
I am super fascinated by Zeck's Kaine. It is crystal clear he has only looked at John Romita, Jr.'s Kaine. And it would make sense that he looked at Lost Years, he's doing a sequel, but he's also drawing the Romita version of the silly Kaine supervillain suit specifically. No way he bothered to keep up with or catch up with the whole clone nonsense. But it appears his brief, self-imposed or otherwise, was "follow Romita, Jr.," and buddy, he's doing it. But their styles are so different that his Kaine kinda looks like a Muppet.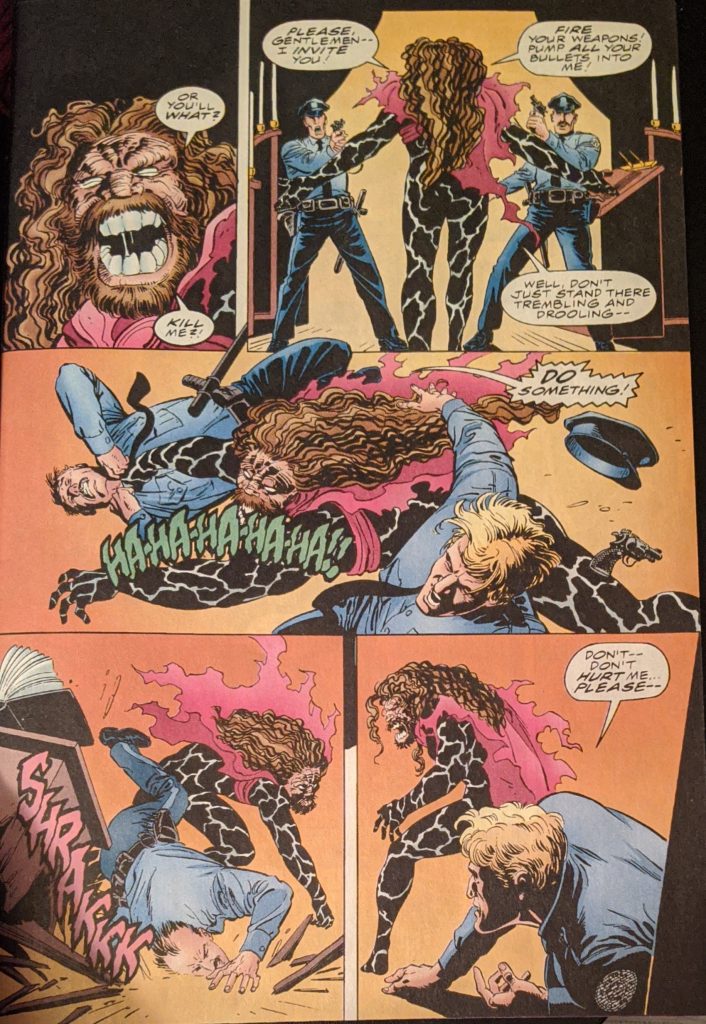 Romita's Kaine could have a giant face because it made sense in context, but facing down some totally 80s comics looking cops, he looks hilarious. Kaine tells one of the cops he could redefine hurt for him, and almost "marks" him, but then does it to his own face. Kaine has clearly gone round the bend since last we saw him (Which was him being betrayed by that whasthername working for Jimmy Johnsmeyer, because all Peter Parkers are a sucker for redheads). Why was Kaine even looking at that casket?
Oh, ok. What? Kaine not even bothering to summarize how he's alive is so funny. Honestly, I wonder if DeMatteis even knew, having left the Spider-Office. Why bother to do the reading? I wouldn't blame him if he didn't. Also the drop in paper quality from Lost Years is kind of jarring taking these series back-to-back. Lost Years was in the so-called "Marvel Select" format, which meant glossy paper, a higher page count per issue, a cardstock cover and a high price tag, but this is just a comic. The other thing Kaine knew during his very Romita-influenced rain pout is he had no intention of dying alone, and we cut to Ben Reilly at the graves of Norman & Harry Osborn, having his own rain cry.
"See the bad guy in the lightning" works pretty well in comics, as it turns out! Mike Zeck & Bob McLeod still render a top-notch Spidey, eveni n this stupid suit. I actually hadn't considered that Ben had no time to process that Harry was dead before he came back. I guess it would matter more now that he believes he's the real Peter and therefore Harry was really his friend. Ben swings around recapping his deal and thinking he probably put off mourning Harry because that just meant mourning his whole life as Peter. Then he gets… weird…
"I'm so sad my friend's dead I wanna put the moves on his widow!" Meanwhile, a redheaded stranger is riding a train, internal monologuing about Ben Reilly, so you know, guess who. Ben has gone home and fallen asleep on the couch. He jolts awake to go drinks oem milk out of the fridge.
Well, that's just weird. As they stare each other down, Kaine thinks a bunch of metaphysical stuff about how they're linked and Ben knows he hasn't come to fight, just to warn him that he's declared a war that will destroy them both. Then he rips a bit of the wall out, hits Ben with it, and disappears out the window. Ben starts recapping Kaine's origin and stuff as he wanders to a local bar, thinking about Janine, calling her his greatest love and his greatest loss. He sidles up to the bar next to the only other patron and orders a club soda. That patron? Flash Thompson. What're the odds??
You know, Flash has been allowed to grow and change more than anyone in the Spider-Man canon, when you think about it. People like JJJ and Robbie never change. People like Aunt May and Betty change a little. MJ got to evolve and become a 3D person, but there's still really 2 MJs, before and after ASM 258. Flash, tho. From Peter's bully to Peter's good friend. Football star to soldier. Got married, cheated on his wife, got divorced. Tried to be a pro football player, worked at the YMCA, tried to be a boxer, worked at a youth center. He's gone through some real times in the last 30 years here. And that's all before he goes to war a 2nd time, loses a leg and eventually becomes a heroic new Venom for a time. Really! He was a Guardian of the Galaxy! Who has a history like that?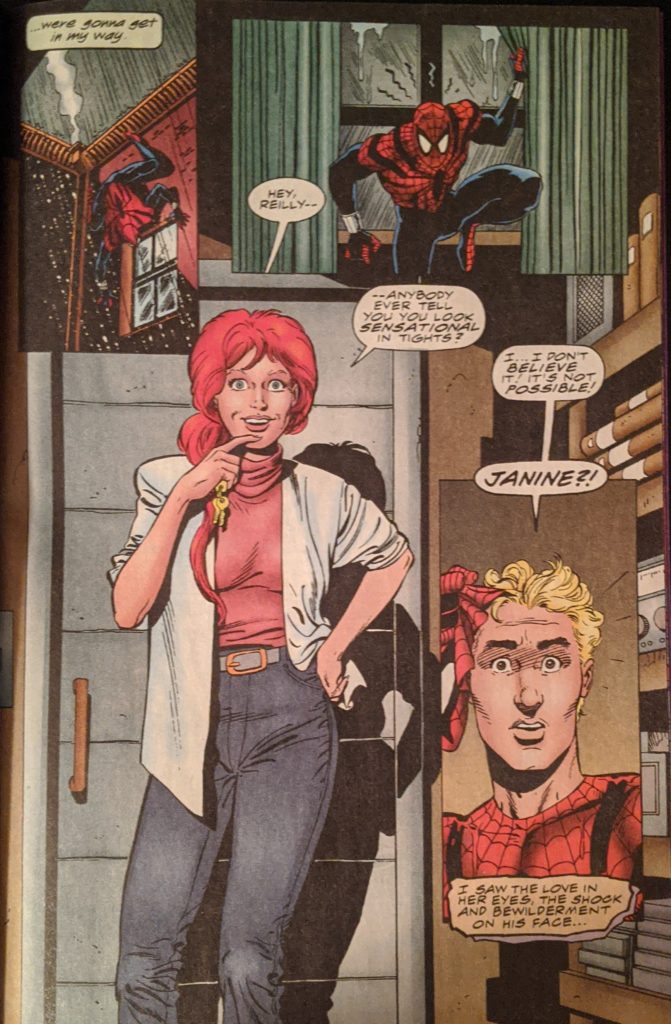 Kaine implies Janine's sudden return is part of his scheme as he finds a biker bar and fights everyone in it, trying to take out his rage on them. But, he thinks, he's never killed someone without a reason, and he doesn't want to start now.
She looks like 10 years old in that one panel. There follows a montage of them enjoying weeks of happiness together, the whole ongoing plot just on hold, I guess. I wonder what Peter was doing. Both of them had a lot of questions about their situation, but neither wanted to ask.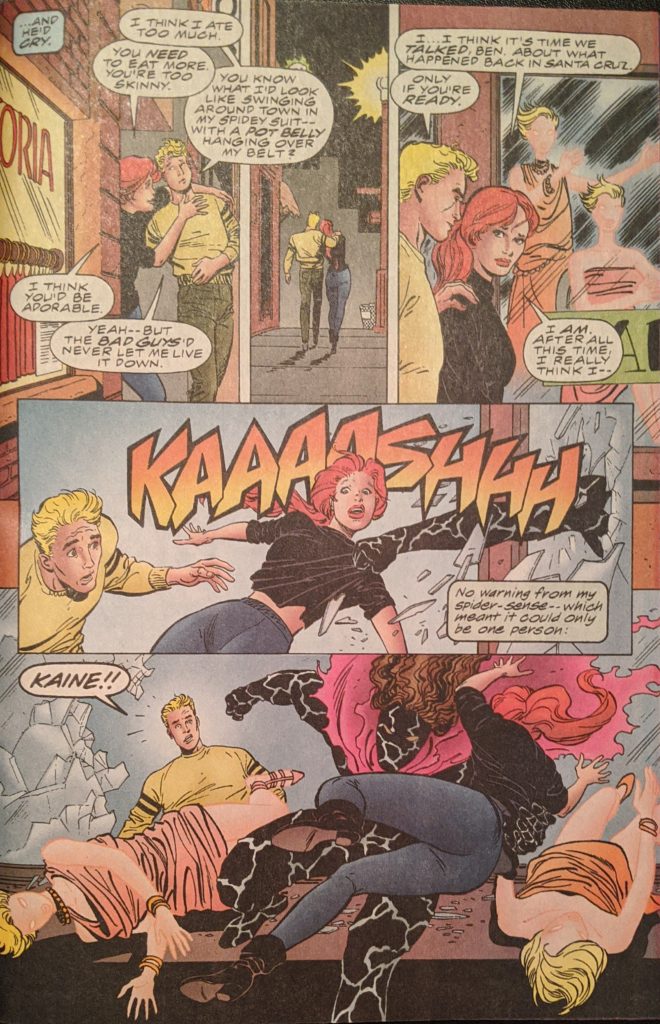 As they fight through some kind of mannequin warehouse, Kaine says Ben had to feel great joy in order to feel great sorrow, and that's why he lured Janine to New York. Then he tells him men like them can never hold onto love. Ben finds Janine in a pile of mannequins as cops enter the shop.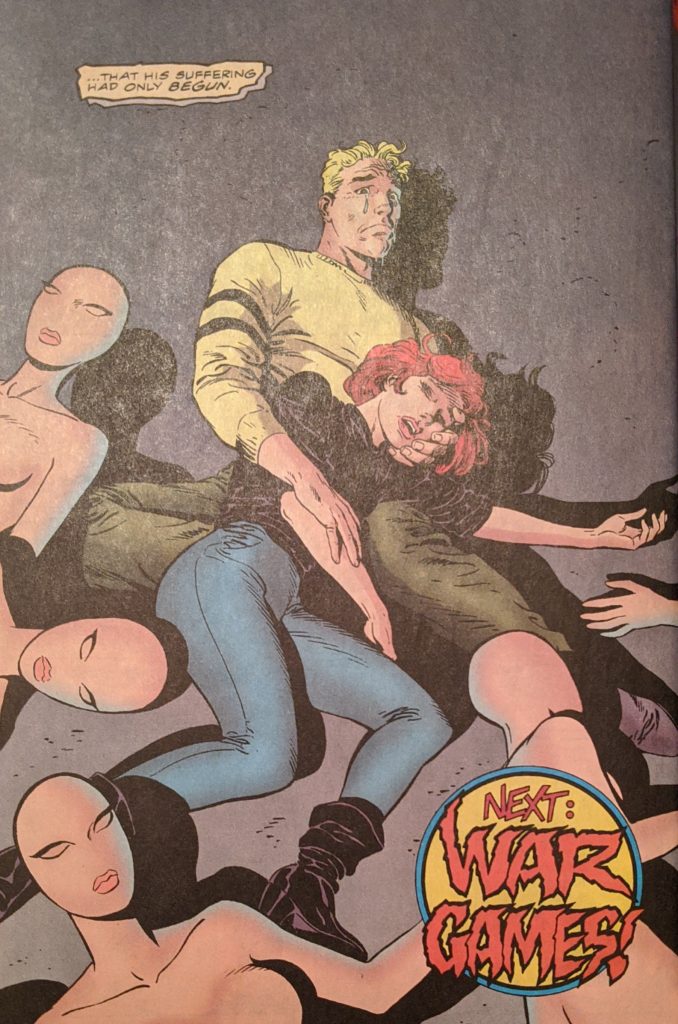 Boooooooo!! Throw things at them! Ugh. In case it's not clear, I don't remember one page of this book. I kinda can't believe I bought it, but… Mike Zeck & Bob McLeod. Ugh.