The Adjectiveless Spider-Man is still Howard Mackie, Tom Lyle, Scott Hanna & Kevin Tinsley in 1995. Still can't get over Spider-Man being on fancier paper than ASM. This happened because it launched as Todd McFarlane's vanity project and Marvel woulda done pretty much anything for him. But he's long gone, and ASM is once again the standard bearer… and yet. At any rate, when we left off, we were gearing up for a triple-Peter dustup.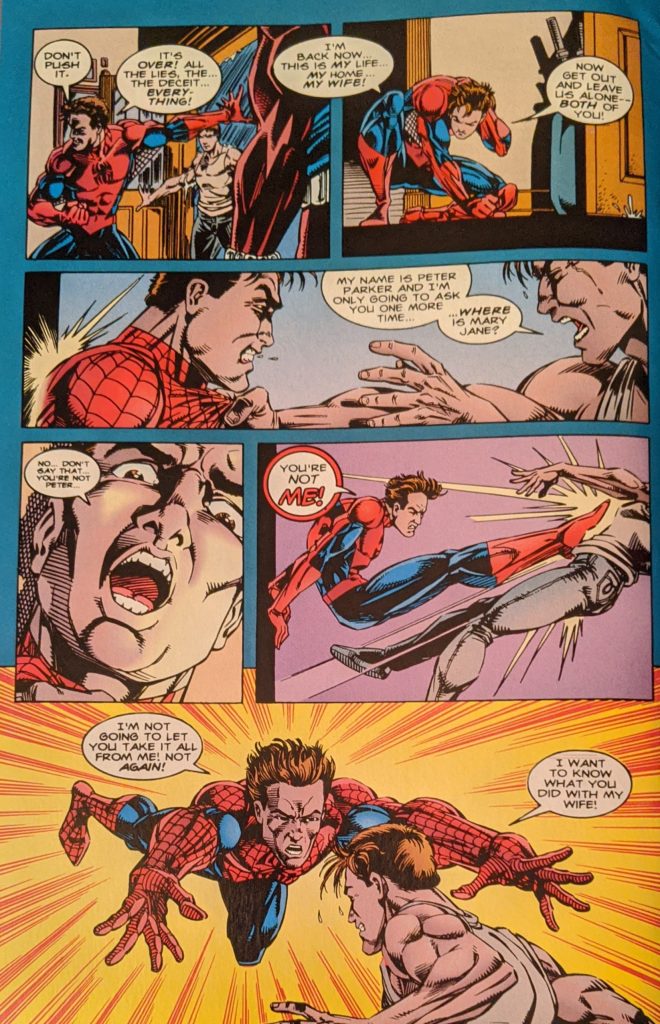 I mean this is bonkers. Why make it this complicated? It's only been 24 hours since I read last issue and I already forgot which one was the real Peter!
"Peter, you two…" is such a bizarre thing to be able to say.
Why not put on the whole black suit? Which he burned in ASM 300. If he didn't burn it, which he did, why is it in what appears to be a kitchen cabinet? How do he and Ben keep wearing pieces of it paired with a stylish brown jacket and jeans? What is even happening right now? Hang on, one more sequential page:
There's a clue. Up above and in the rain, Spider-Peter is standing on a roof looking like a good page to sell the original art of when Ben catches up to him. He says he knows Kaine and Peter needs his help whether he wants it or not. Peter says MJ knows what to do, and that all he can do is wait, no matter how painful it is. Down in the sewer or cave or something, MJ reiterates that her husband will find her as Kaine thinks about how she's super pretty and he envies Peter.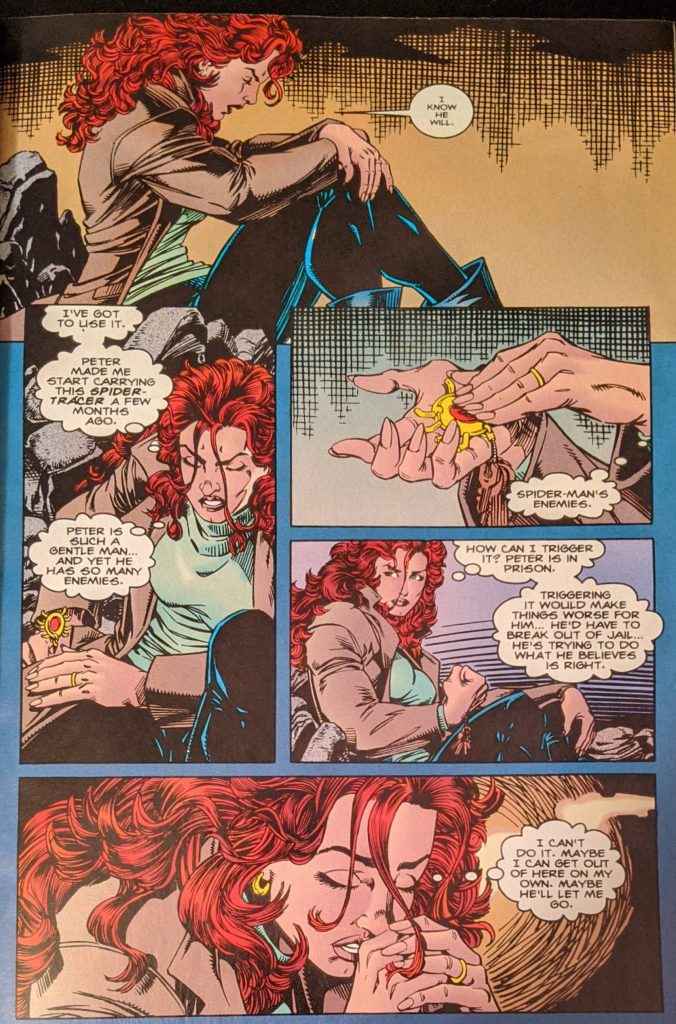 How many people had already figured out Kaine's deal by now? And how many more got it with that effect to go along with his vision? The tracer does its job and The Spiders both get a buzz. Peter helpfully mentions he had to "make it extra powerful" to travel across long distances, in case the idea that he could've possibly picked it up from prison was bugging you. Then he takes off to save her, telling Ben to stay out of it. And Ben does not. And Peter #3 follows them. Too many Peters! MJ gets tired of waiting down below and runs for it. Kaine says the moment of her death is almost here and he has to prevent it. As The Spiders close in on the spot, Ben shoves Peter away from the entrance and tells him to focus on finding MJ, because if they fight and Peter doesn't give all he has, Kaine will kill him.
Respect to Tom Lyle (RIP) for giving Scarlet and the black suit totally different eyes. It's a nice touch. MJ sees the tunnel from the other side, but Kaine grabs her, so that when Peter #3 arrives, shining his spider signal on them, it looks like he's trying to hurt her.
Not selling it! Peter #3 leaps in and gets chumped instantly, Ben & Peter following up behind him. MJ, rather reasonably, decides there's a good chance none of those dudes is her husband and slips away in the confusion. Peter punches Kaine in the face as hard as he can and Kaine doesn't even move. But then Ben's in there, drawing his attention, and Peter also sneaks off to find MJ.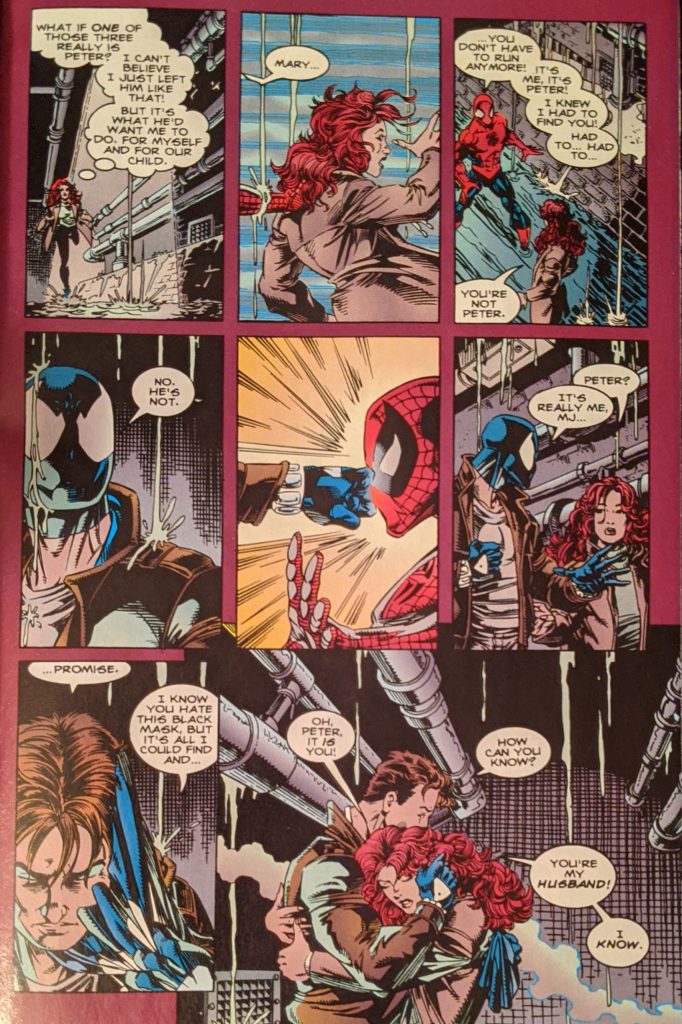 Him knowing the black mask would upset her ends up helping, but doesn't explain why he didn't wear the whole suit.
Get ready for a knockdown, drag out, all-Peter-Parker grudge match next issue! This is so silly…