I got this milestone issue at a comic book show in Florida while on a family vacation for the exorbitant cost of $24 as a teenager. My folks frequently indulged my dumb hobby on trips, and access to other comics outlets often paid off. It helped on my quests for the Stern/Romita ASM and the Nocenti/Romita DD, and it got me this. $24 was a whooooole lotta money for me at the time, but this one sells for hundreds now, so it turns out to have been a wise investment. The first full appearance of Venom is still a hot commodity. McFarlane gets to ink his own work here, and the difference is striking, as a terrified Mary Jane cowers in a corner of the apartment.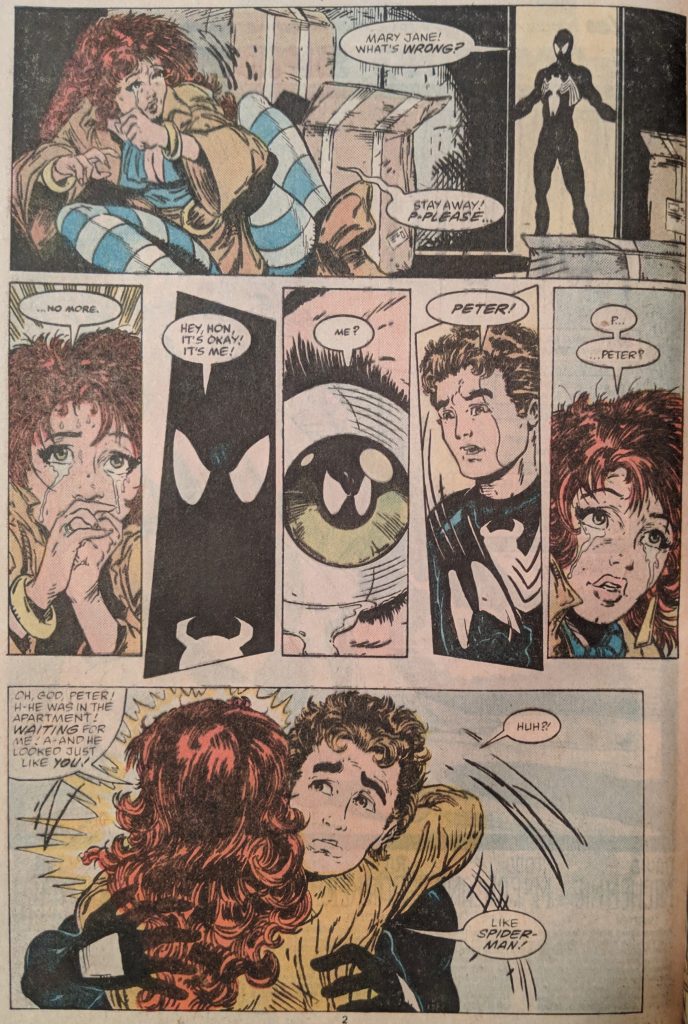 I mean, it's a whole other thing. She describes the horrible thing that looked like Spider-Man. She says it didn't hurt her physically, but she is obviously terrified beyond reason. She says she can't stay here, and Peter goes to toss some of their stuff in a bag to go to a hotel, thinking that MJ is the strongest woman he knows, and wondering what could reduce her to this. What indeed.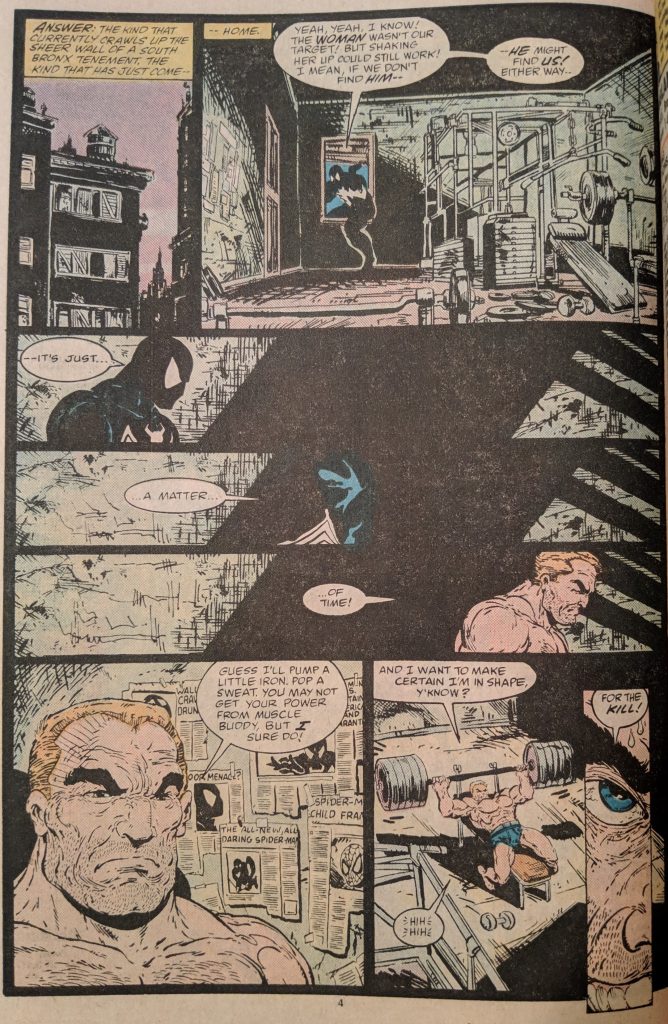 At a fancy hotel, Peter can't sleep. He's pretty sure he knows MJ was menaced by his alien costume on a new host. He thought it was killed the last time he saw it, but clearly, that's not the case. Normally, this is when Spider-Man would be out prowling the night, looking for answers, but things are different now. Peter goes back to bed and eventually sleeps. We jump to the morning. It's the late 80s, and women were not often getting the best treatment in comics. Now that Spider-Man is married, there's going to be a lot more cheesecake-y stuff, starting with this:

Certainly not that risque, but also more risque than usual. This will get worse and worse for awhile. Also: Check out McFarlane's rough guess at what a human back looks like. Peter does understand, and they beginning planning a move. MJ wants to get before & after pictures of the new place, so Peter says he'll swing by the apartment to grab his camera while she starts working on getting a moving van. Peter thinks this will be good cover for the other errand he wants to run, and soon Spider-Man is swinging toward the old apartment, a big shape webbed to his back. He's got Reed Richards' sonic blaster from when they first got the alien off of him. He grabs his camera and notices there's a message on the phone. It's Aunt May reminding them to come to dinner tonight.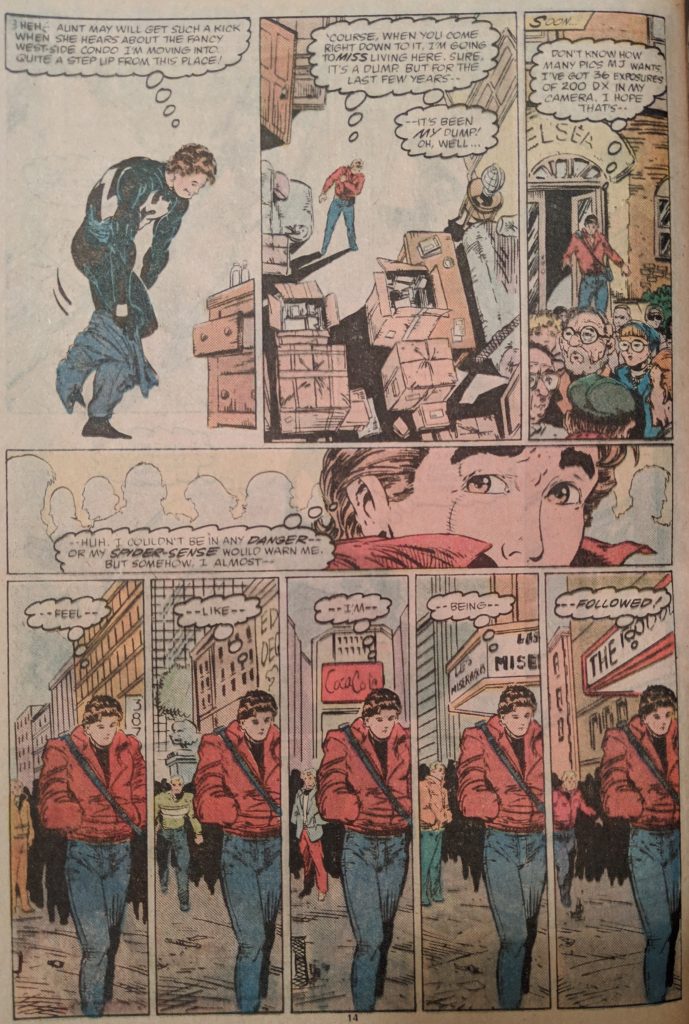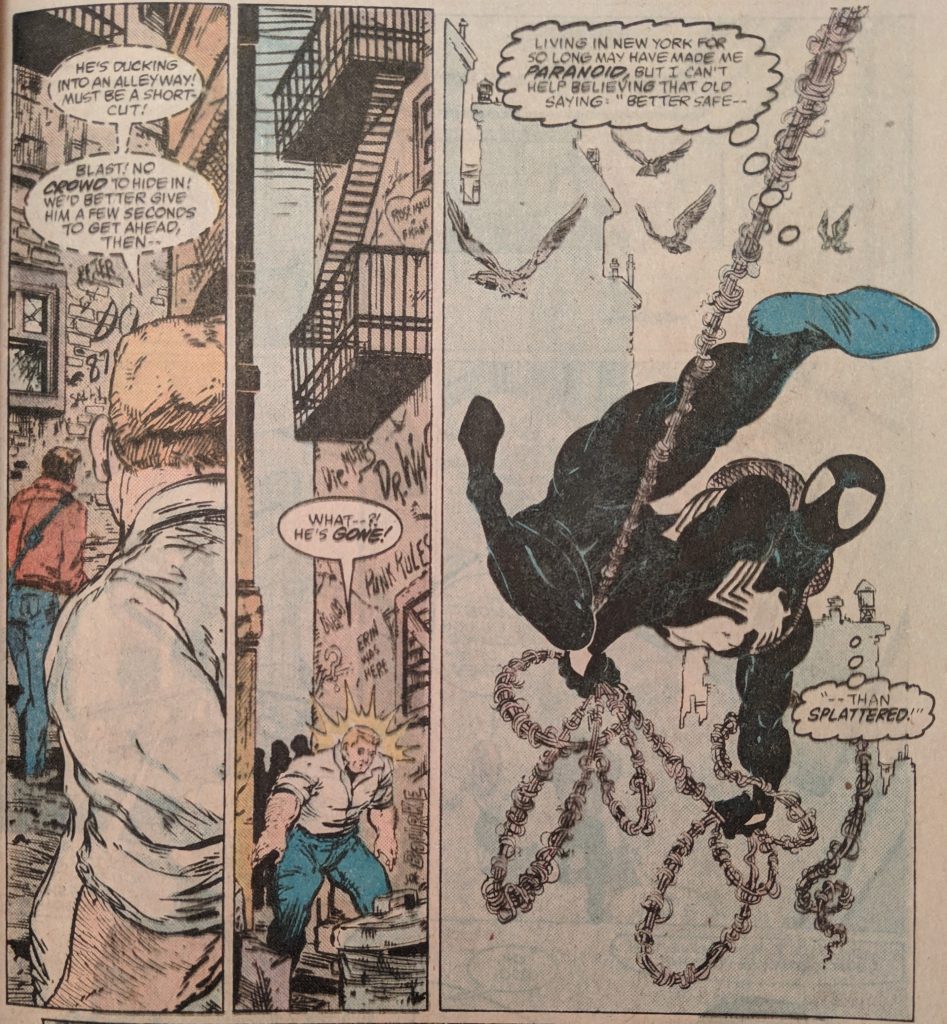 Even though he's been on for a couple issues already, this panel is really the official debut of Todd McFarlane's Spider-Man. That's an iconic shot. Soon, Pete & MJ check out their new place.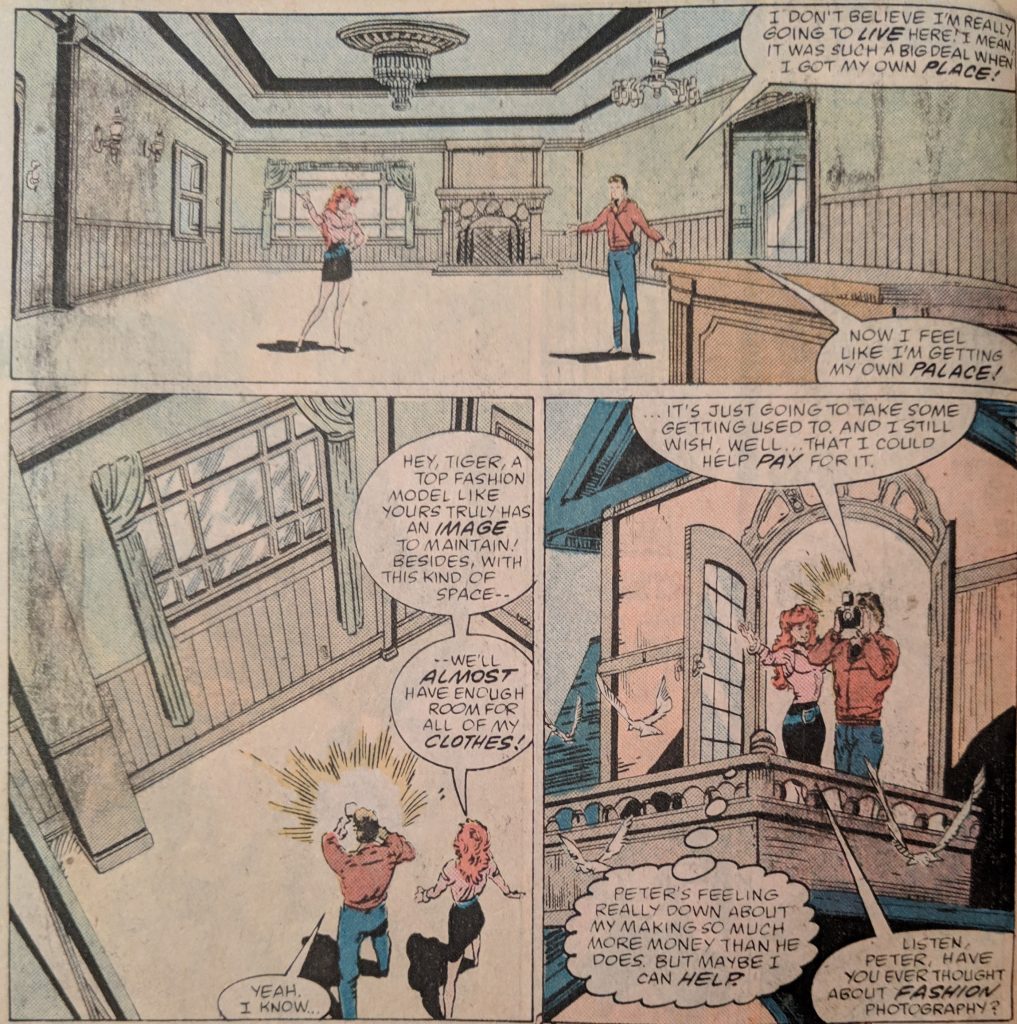 Fancy. MJ tries to get Peter to shoot some model-y photos of her, but he just feels silly, so she decides they should try some for "their private collection." You get it? They're newlyweds? Yeah, a lot of that in this era. We jump ahead to them at Aunt May's for dinner, Nathan grumbling that Peter is around even less now that he's married, Aunt May scolding him for it. Aunt May clears the table, and MJ goes into the kitchen to help her with the dishes.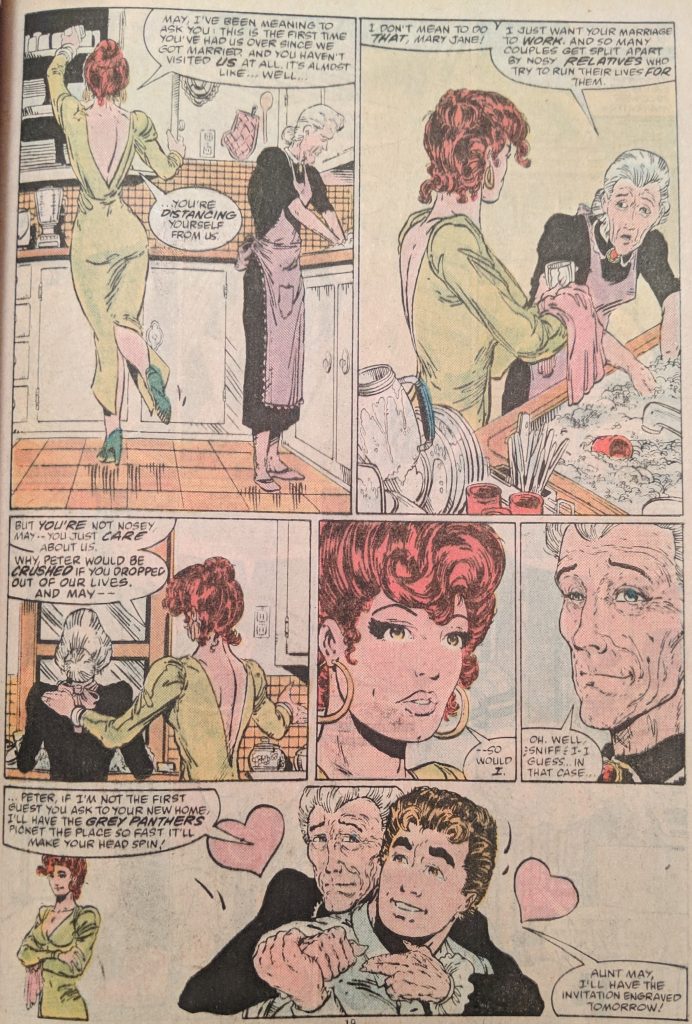 The GrAy Panthers are a real thing! Meanwhile, the mystery man with the symbiote has gone to the church where it and Spider-Man had their last encounter. But he's had to break in to do it, and a cop has come in after him, accusing him of being behind a rash of thefts at area churches. He's not, but he also can't let this guy interfere with his plans…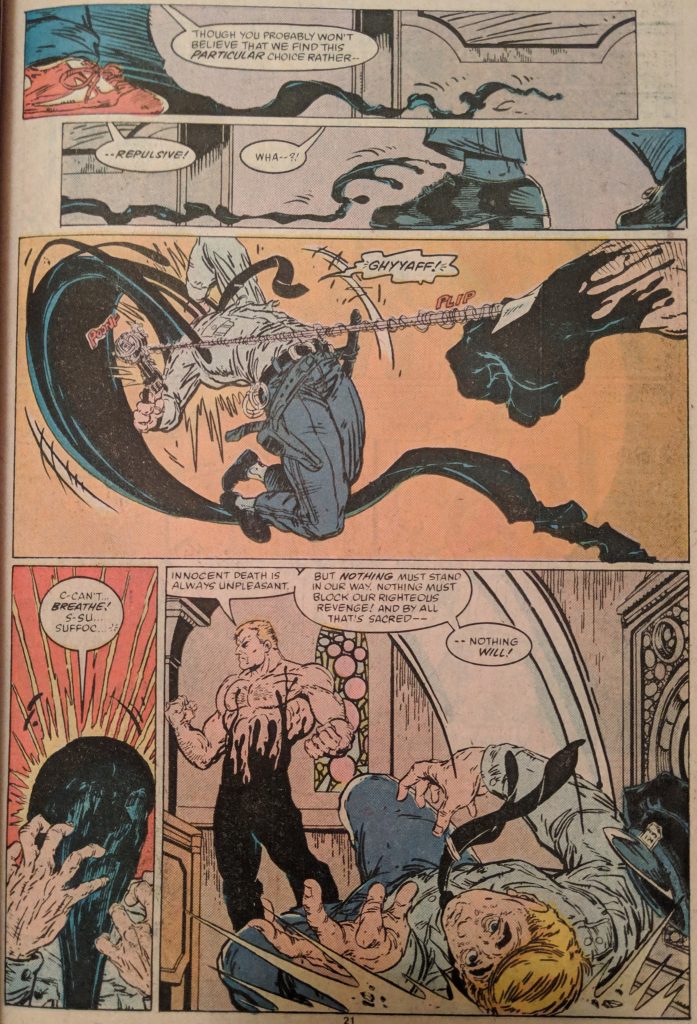 This begins Venom's long-running bit of talking about how it pains him to kill innocents… after he's killed an innocent. It's almost like he's a bad guy or something.

That gag about Harry Osborn's insane hair is great, and that guy's shirt has Ambush Bug, a DC character, on it. This page is full of wacky stuff. The end of an era! Peter's been in the apartment on Chelsea Street since the early 70s. That's a lot of history. When the move is over, MJ & her pal Sandy from awhile ago make the gang sandwiches, as Peter & Robbie have a chat on the balcony about his future. Peter's been considering Robbie's suggestion that he get out of the game, and says science is still his first love. But then he sees Venom swing by in the distance, and suddenly remembers something he has to do. As soon as he can be, Spider-Man is on the case, swinging after the mystery man. He spots him crawling into an abandoned building, and follows, noting his Spider Sense will warn him of danger just before it doesn't, and he's hurled through a wall.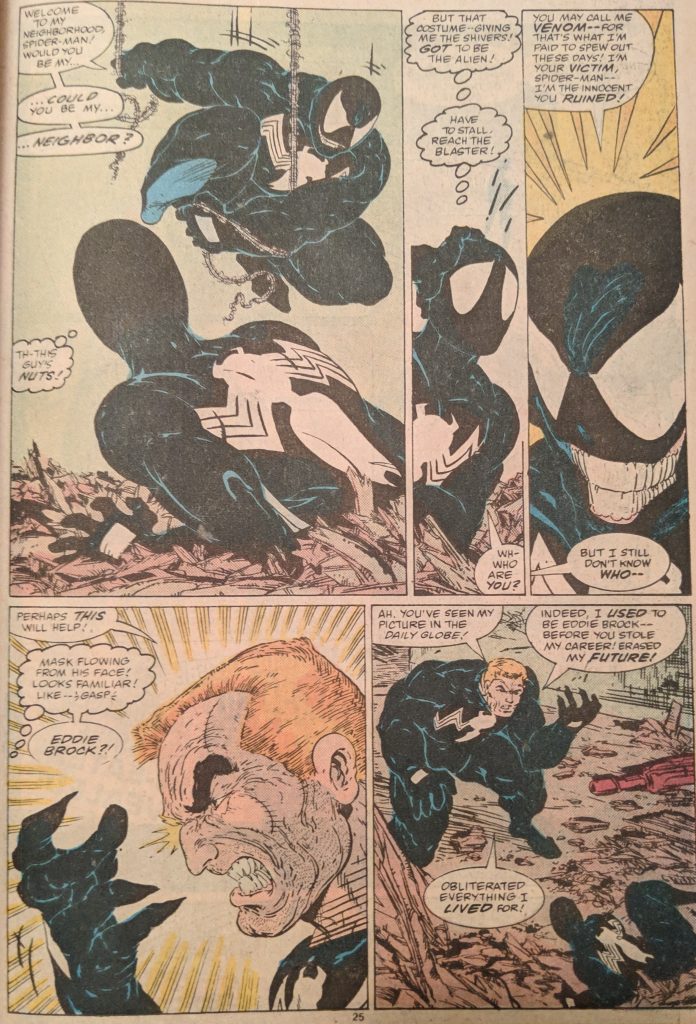 Wait, paid? By who? Clearly, their conception of who Venom is hasn't been firmed up yet. But also: Eddie Brock? Who's Eddie Brock? Eddie Brock is a good old fashioned retcon. He was a very successful reporter for The Daily Globe back during the original Sin-Eater crisis in TAC 107-110. A man called Emil Gregg confessed to being The Sin-Eater to Eddie, and Eddie ran a massively successful series of articles about him, culminating in the reveal of his identity. Problem is, Gregg made it all up. And when Spider-Man caught the real guy, Brock's career was over. Eddie Brock didn't actually appear in those comic books, his part is all new. He made a meager living writing tabloid nonsense (Is that the venom he's paid to spew?), and bought some exercise equipment to try to reduce his stress level. It didn't work, though. As Eddie has been telling his story, Spidey has been slowly inching toward the sonic blaster he lost as he came in.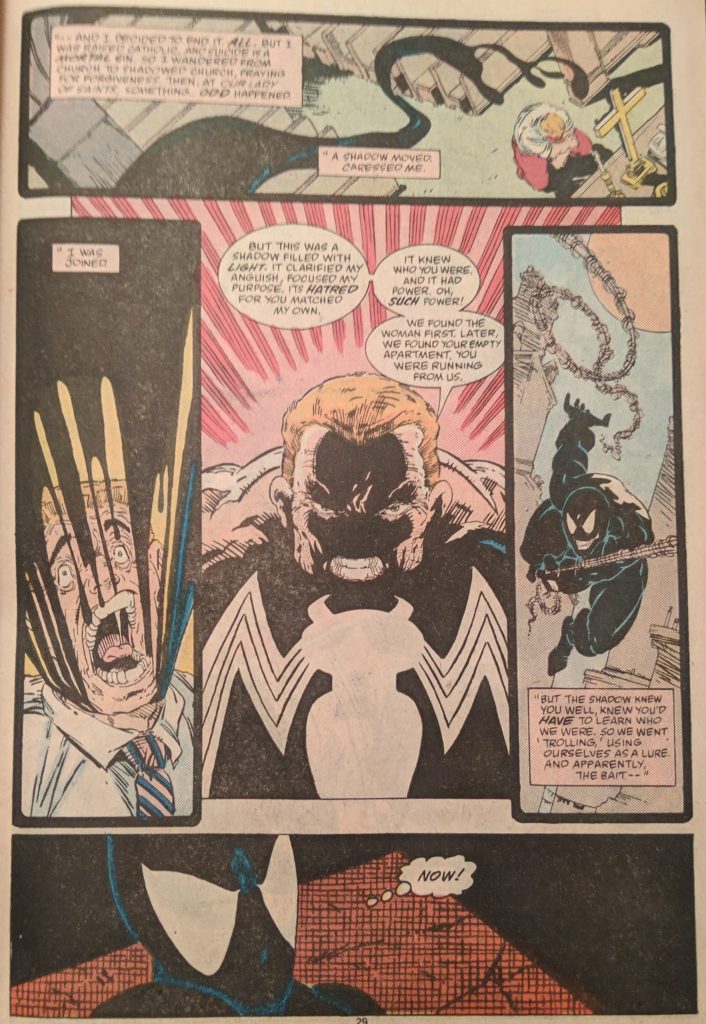 Spidey goes for the gun, but Venom is excited about the prospect of a fight, and smashes the dilapidated floor out from under him, dropping him to the next floor. Venom comes in after him and they get into it. Spidey worries that this guy's extra muscle gives him an edge, but he's got experience on Venom. Not that that seems to be helping much.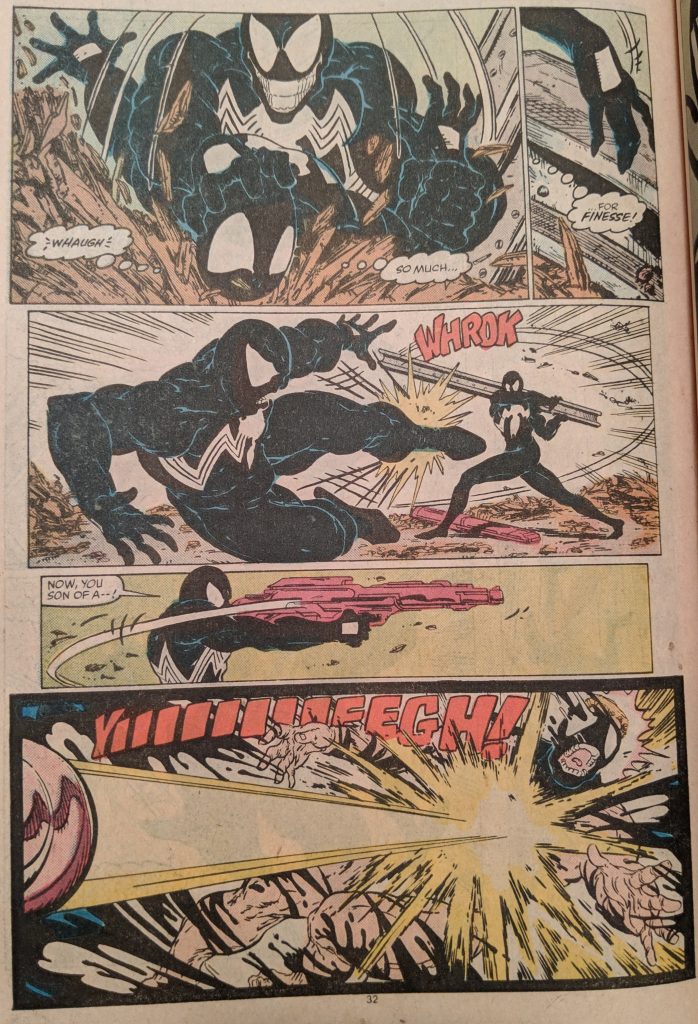 You think that's a Jaws reference? Could be, sort of. Venom is knocked down by the blast, the alien freaking out, but it doesn't come off. Spidey realizes it has fully bonded with Eddie, like it tried to do with him, and now it CAN'T come off. So killing the alien would mean killing Eddie. Spider-Man would never kill a guy, so he kinda panics, deciding to run for it while Venom is down. This doesn't work out, though, as venom webs his foot as he tries to swing away, then reels him in and knocks him out.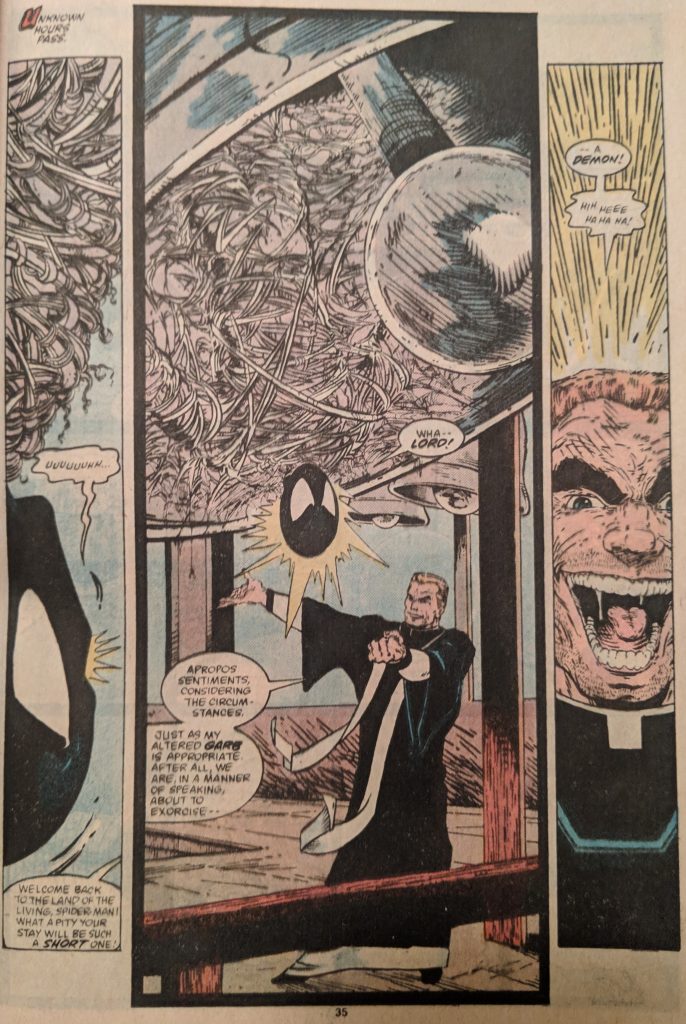 Venom plans to use the same bell Spidey tried to kill the alien with to kill him. He has to leave, though, since the sound will hurt him, and so they leave Spidey to his fate. An old fashioned supervillain trap, this is like 60s Batman. As the bell starts to swing, Spidey knows he has to get control of the situation, and manages to rip a hand loose to stop the clapper from hitting him. But if this keeps up, it will crush his hand, so in a sort of new twist on the "Spider-Man must lift a heavy thing" trope, Spider-Man must instead rip through tons of superstrong webbing. He manages to grab onto the clapper and let the bell pull him loose.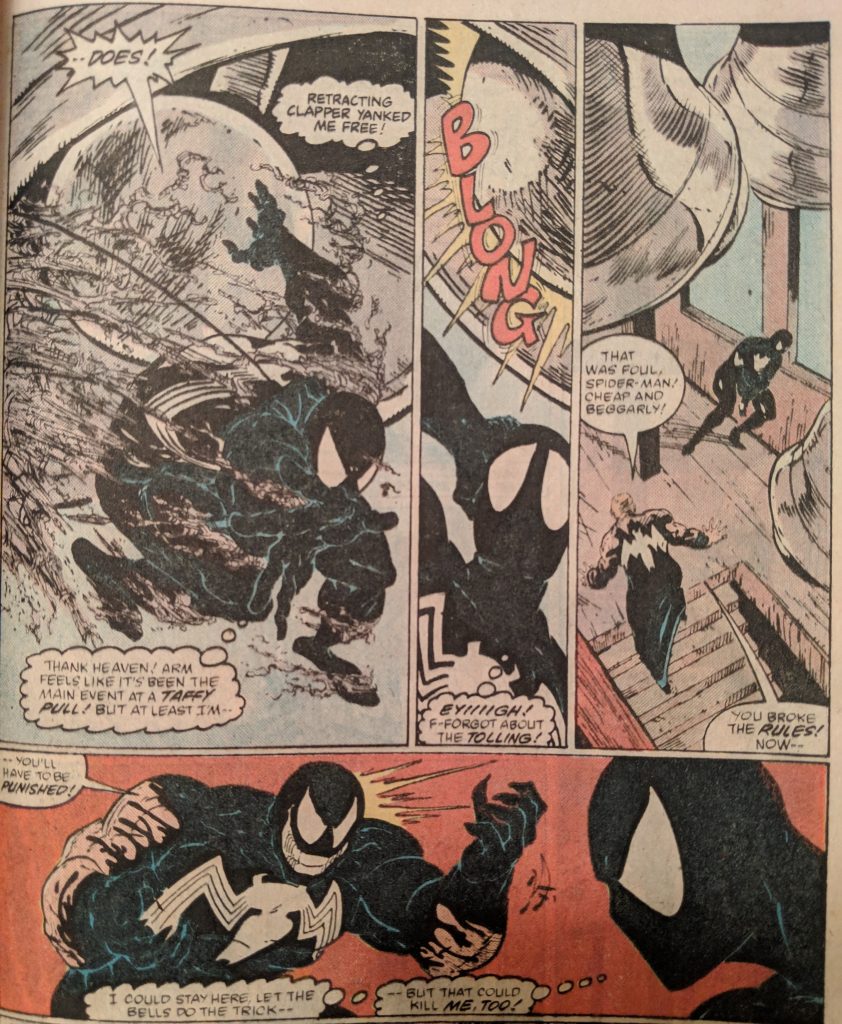 Yeah, man how dare you not get smashed to bits. How selfish! Venom has come back up as all the other, smaller bells keep ringing, which seems a bit impossible. Spidey swings up onto the top of the bell tower.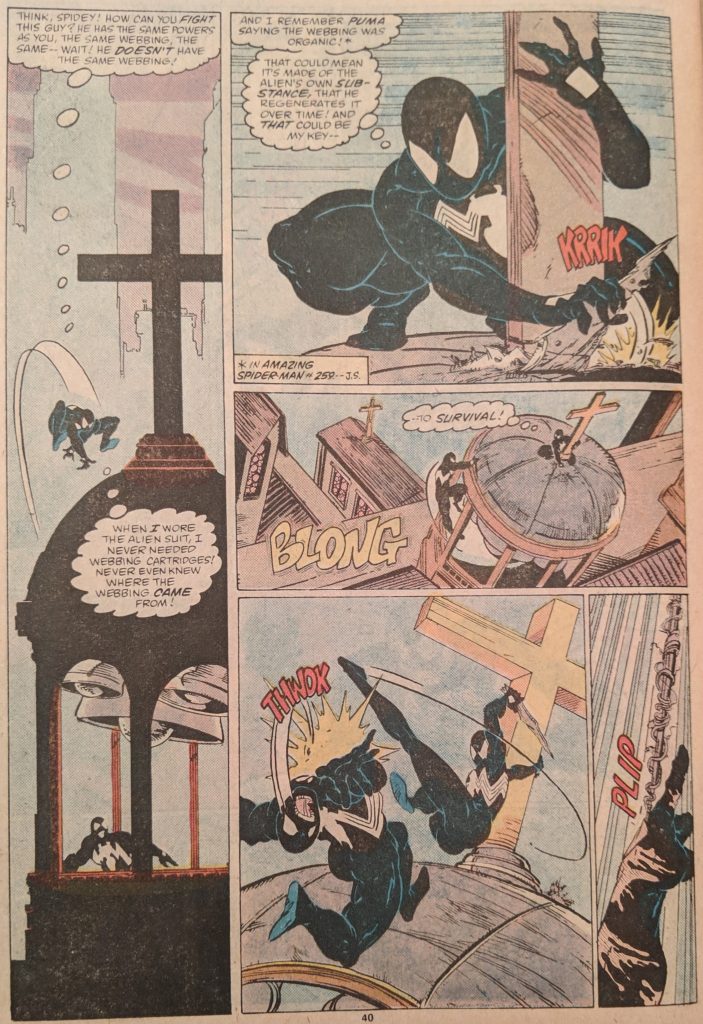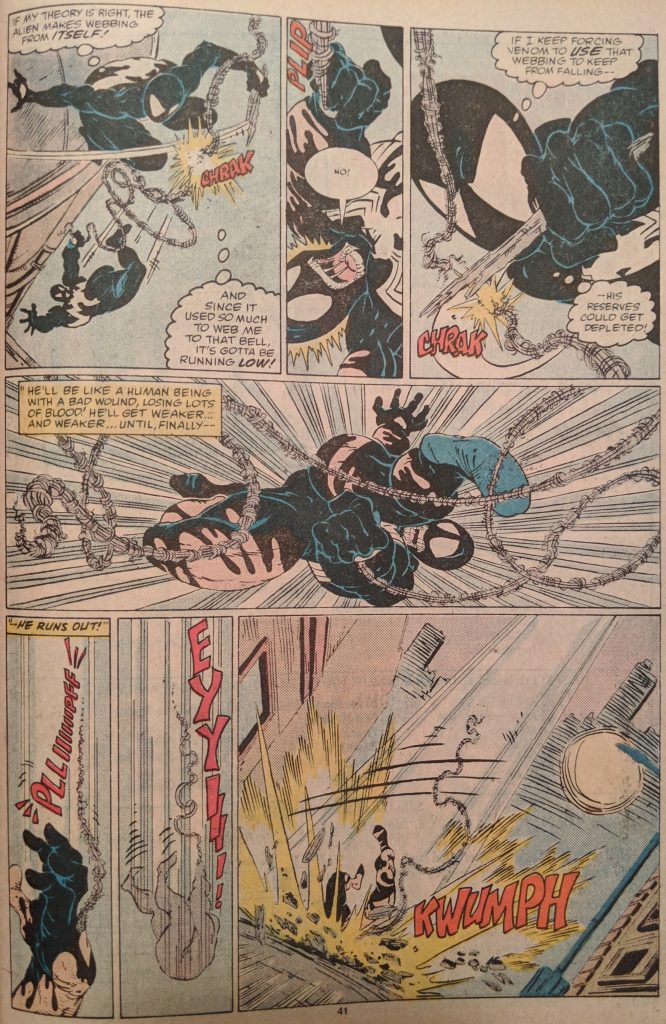 That does it. Brock is out cold, and the alien is in a bad way. Spidey calls MJ to let her know he's ok, then doesn't waste any more time getting them both over to, you guessed it, The Baxter Building, where they're put right back in the tube the alien used to be in. Reed's not a member of the FF right now, so the team is being led by Ben who looks, uh, different (He got hit by a 2nd dose of cosmic rays and further mutated. Don't worry, he gets back to normal eventually), and he helps get Venom locked up.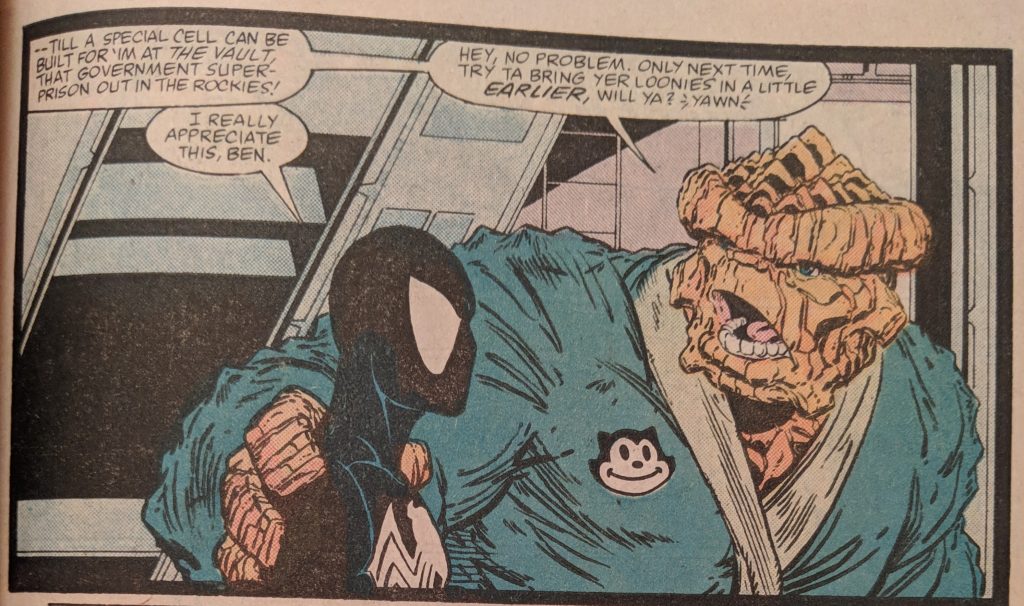 That taken care of, Spidey heads home, and tells MJ what happened. She seems freaked out. He worries she's mad at him, but…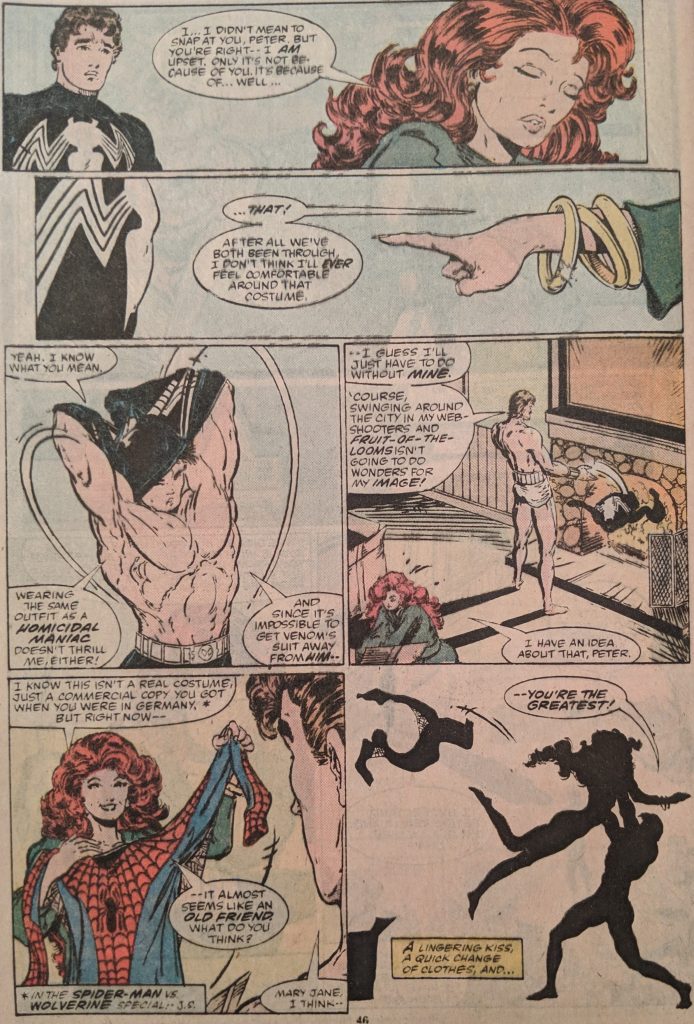 I've been told that McFarlane agreed to do ASM on the condition that they could return to the classic suit. Weird that it's that store bought costume, though (We'll cover that eventually). Michelinie started teasing Venom in his Web run, more than 2 years before this. At that time, he pictured the symbiote bonding with a woman, but it was eventually decided it should be a huge dude who looked much more intimidating than Spider-Man in his own suit. The first appearance, he's a lot more of a maniacal, "mwu ha ha" supervillain than he would become. I am not the biggest Venom fan. He's kind of a one-note character. He hates Spider-Man, he wants to kill Spider-Man, he has the same powers as Spider-Man. He's an evil twin. He has no friends, no job, no story, no life, no reason to be except killing Spider-Man. That's pretty boring, frankly. It was fine for one story. And it wasn't bad for two. By his 5th or 6th appearance, it was really getting old. The most interesting thing anyone's ever done with the character, I think, is the "Agent Venom" concept, where the suit bonded to a new host (His, like, 4th or 5th in spite of the "unbreakable" bond he had with Eddie) who worked for the government and put the suit's strength and camouflage to good use on stealth missions. That was at least interesting. But there's no denying he's the biggest new villain since The Hobgoblin. He's the first character to to get truly elevated to the top tier of Spidey villains since the 60s. That's quite an accomplishment for Michelinie and McFarlane. Venom is going to be the new bar for villainy around here for a long while. For my part, I first encountered him in their second confrontation, so we'll talk about that later.