The folks who make Web of Spider-Man must've felt ripped off to be the only title that didn't get a fancy cover. This one makes no sense at all.
In this period, it's still Tom DeFalco writing, Sal Buscema doing breakdowns, Bill Sienkiewcz doing finished art, and John Kalisz coloring. I think seeing the state of this title in the later blocks, we can infer that mayb Sal was slowing down a step at this point, and they brought in Bill, the legend, so Sal could do less every month. My question is, why not make Sal the inker? In the oft-referenced Comic Book Creators on Spider-Man, Sal tells Tom DeFalco that, in spite of an extremely prolific career as a penciler, he's always thought of himself as an inker. If he were going to reduce his monthly workload, why not bring in some slick new kid to pencil and let Sal ink? Sure woulda made his final year or so on this title look better. I mean, whatever, Sienkiewkcz is one of the GOATs, it's fun to see these 2 team up, but I just feel like there was another way that Sal might even have liked better. Anyway! The Jackal is singing a ridiculous "evil" version of the Barney the Dinosaur song on the splash.
I utterly despise this version of The Jackal, but this art team does a better job of making him creepy than anyone else does. Kafka and Jameson check in on Shriek, who, after absorbing the Carrion virus in ASM 393, is now acting like a pregnant mother, waiting to "give birth" to the virus. The 90s! Then we meet back up with MJ & Ben.
But also:
A far cry from where we left them in the previous block. But also also:
Also also also the 3rd Peter sees the original Peter's face on a newspaper and realizes that guy looks like him, and his name sounds familiar. Come on, dude, you can do it. Back at Pete & MJ's, Ben suggests Mary Jane see his buddy Seward Trainer to make sure Peter's radioactive blood doesn't negatively impact their child, but she throws a soap opera tantrum and demands to know what he gets out of helping her. Then Peter, having decided Ben must have committed the murders he's accused of, breaks out of jail and goes to fight him. Except it's all a fantasy and he didn't do any of that. Blah. Meanwhile, back at Ravencroft, Jameson and another guy watch the security feed, which shows them The Jackal is asleep and Carnage is raging in his cell. However…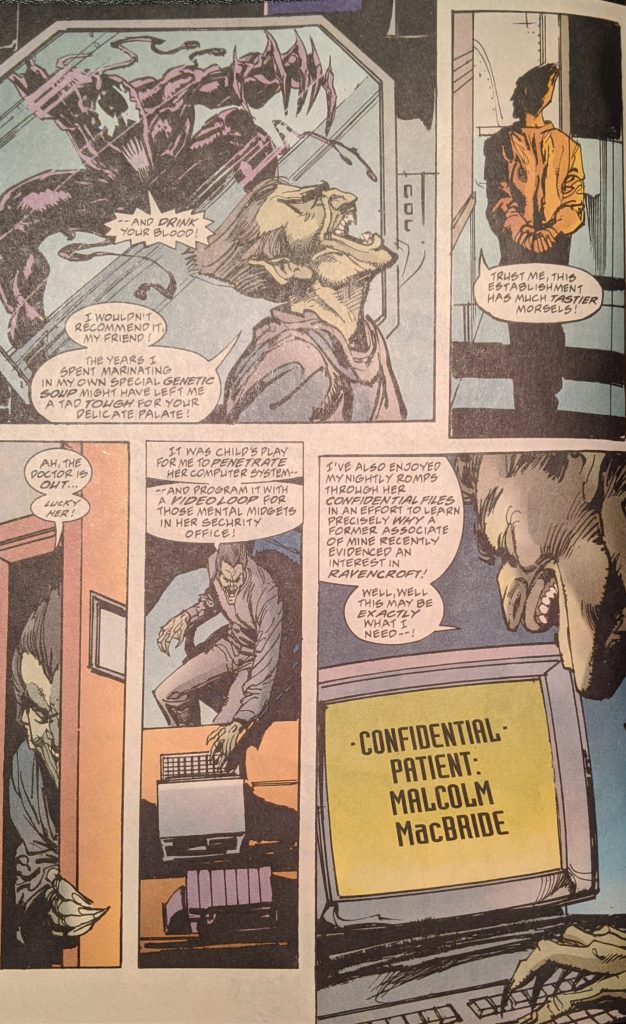 After all the effort Conway put into saying Carrion and the Gwen clone explicitly were not clones, seems like they had to try to reconcile that eventually. Peter #3 wanders by where Spider-Man caught the burglar in Amazing Fantasy 15, suddenly seems to remember stuff and runs off, watched all the while by Scrier. Is this guy eating? Sleeping? How many days has he been wandering NYC confused?
That's settled. At Ravencroft, Jameson and Co become alarmed when the cameras in Shriek's cell go off. That's because The Jackal is in there attacking her.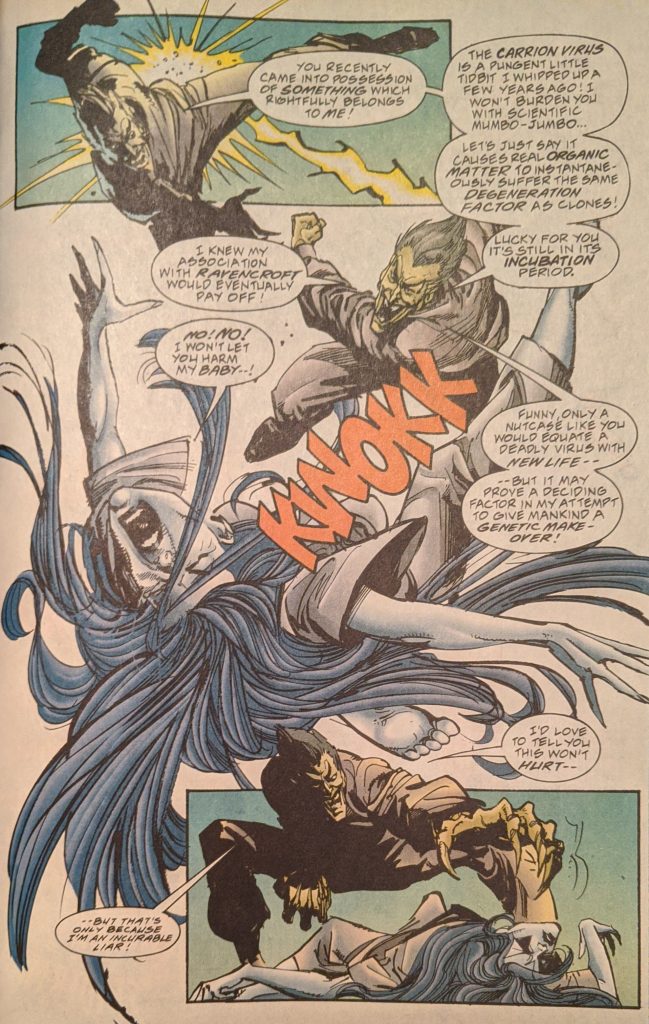 We jump ahead a bit to Jackal knocking out an approaching guard, having done whatever he did, and telling the very upset Carnage to look him up next time he's out. Then we see Peter Parker refusing to believe Ben could be a murderer in his prison cell, and then we see Peter #3 make it ot May & Ben's graves, which bring back all his memories.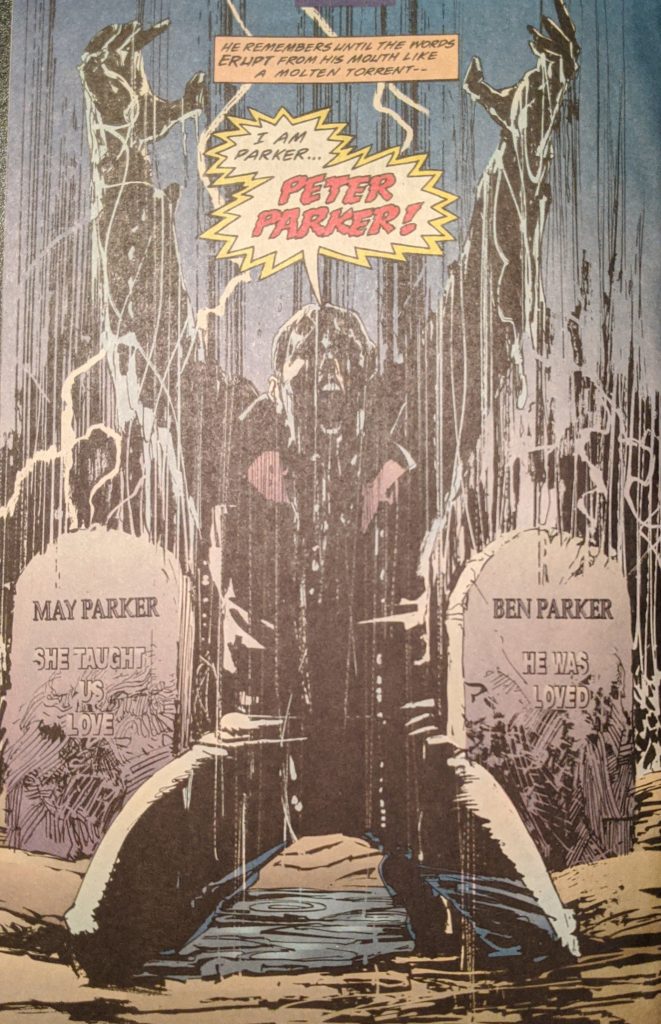 You buy that?
Time to really ramp up this Kaine stuff. Seeing it out of order kinda ruins everything, but what can ya do? Next up, one more chapter about Ben Reilly in the old days, with Al Milgrom swapping in on inks. A shame both Romitas couldn't finish this 3-parter, but oh well. I'll be happy with every page they do together. I am interested by how Milgrom approaches the all-new, all-daring John Romita, Jr. His dad kinda softened his edges and made their work together a nice hybrid of both styles. Milgrom's an old school guy, you might expect similar from him, but he tries to take the pencils as straight as possible. Radically different from, say, what I saw of their work together in The Official Marvel Try-Out Book (That thing provided me so much insight). But Johnny is obviously doing much, much tighter pencils in the 90s, to his benefit. Anyway, that bus accident Ben was going to have to stop doesn't happen as the driver regains control. He's very relieved not to have to be a hero.
Sad sad sad, gotta keep it sad. The bartender takes exception to Ben's rampage and pulls a gun. Ben responds by laughing and asking if the guy knows who he is and what he can do as he grabs his wrist and almost breaks it.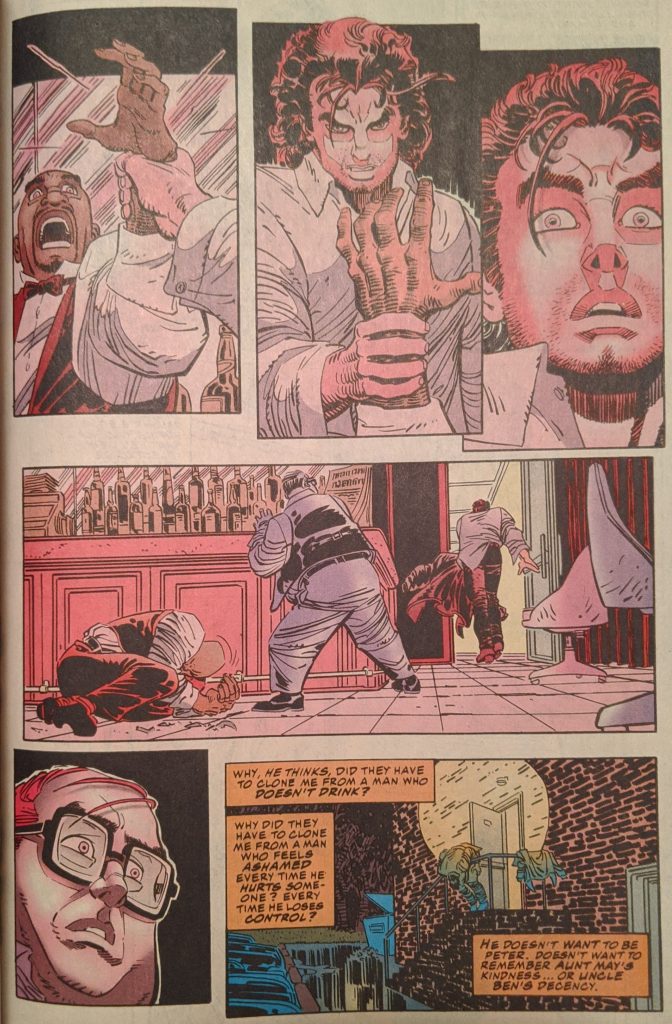 Man, that hair. How's his hair so long, anyway, it's only been a few days since his appearance in the 70s comics when Peter had very short hair and Ben was his perfect duplicate. I do like the idea that his rampage was in part because Peter Parker doesn't drink. Shuffling back into the motel, his Spider Sense goes off, and he finds himself hoping there's someone to take out his rage on as he kicks in a door…
And so Ben Reilly became Ben Reilly. If you're jonesing for more of DeMatteis and Romita, Jr. exploring Ben's dark years in exile, well, you're in luck. If you're not interested in Ben Reilly in the slightest, but still feel a stupid obligation to read it, anyway, you might be me circa 1995. This book concludes with 4 more pin-ups. 2 By Sal depicting the death of Norman Osborn and ASM 101's Morbius/Lizard/Six-Armed Spidey fight, 1 by Pat Broderick featuring one of the many times Spidey fought Mysterio on a movie set (Maybe ASM Annual 4?), and one by Tom Grummet of just Spider-Man and Daredevil.
Next time: The Mark of Kaine.