Gil Kane! Still looking slick on the page almost 20 years since his last Spider-Job! This is weird because it begins a 3-part story across this year's Spidey annuals, and as a kid, I only had the middle one. So this should be enlightening. The first story is credited to David Michelinie, Gil Kane & Rudy Nebres. No colorist is credited for this story, which is extremely lame. Look at this art, tho, as Peter Parker, covering a fancy science convention, is asked how it feels to fly: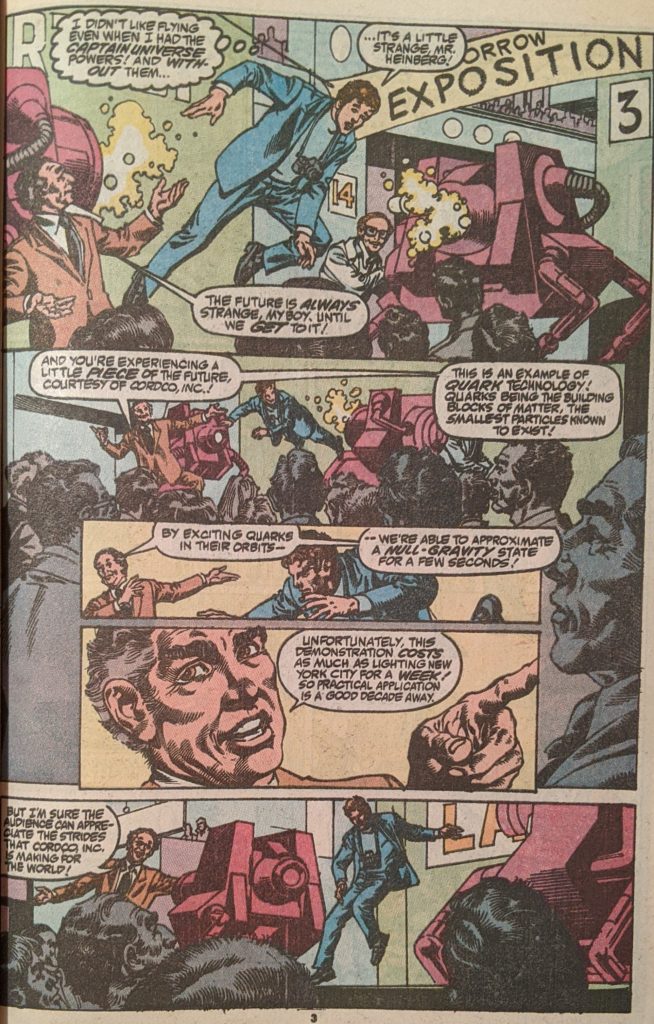 Very cool. Nebres is giving Kane a lush finish that I'm not used to, but it looks great. Kane was 63 drawing this! Anyway, Peter goes and sees some more inventions, like a flying pest control robot and a robot guard dog, thinking how much he loves science. Meanwhile, our tiny guest star enters the story.
You may recall from the post about MTU 103 that Michelinie created Scott Lang, so I'm sure he was pleased to get him into this. While Scott considers using his Ant-Man powers to sneak a peek at some of the exhibits he missed, some goons in matching uniforms with German pull up to the building's loading dock in a van, intent on stealing the quark machine. Inside, Scott and Peter are unknowingly changing into their super-identities in the same dark room, separated by a big bank of computers. Scott plans to go look around, Peter plans to go home. But…
Uh-oh! Scott runs off to check out the quark machine even as the goons take out another guard, while poor Spider-Man is just left to wonder why he's so tiny all of a sudden. And soon, he's attacked by an actual spider.
Reasonable guess, given the circumstances. So now everyone's headed for the same place. Ant-Man is admiring the circuits of the quark machine at tiny size when the goons arrive talking about selling it to Khadaffi (Timeless reference!). AM starts mixing it up with the goons, but he's kinda outnumbered. And Spider-Man? He;s being attacked by the flying bug zapper he saw earlier. Tiny Spidey can't catch a break. He destroys it, but then it improbably launches a swarm of little mechanical insects as a "back-up system" for him to contend with. While he's doing that, Scott tries to steal the motherboard the quark machine before the goons can, but they set off a flare that blinds him for a bit. Spider-Man hides in a fan to make the flying bugs run into its blades…
This is pretty silly. Spidey defeats the robo-dog as the goons threaten to destroy the motherboard if the escaped Ant-Man doesn't show himself, so he grows back to full-size and a full disadvantage. Then Spider-Man finally sees everyone else, and guesses Ant-Man might have something to do with his problem.
Comic book Germans would routinely say "Heaven!" as an exclamation, and I'm no German, but that seems totally bogus to me. That about wraps up the goons. We jump ahead a bit to Scott having called the cops and them being hauled away. But Spidey is still tiny, so Ant-Man shrinks back down to talk to him.
Uh-oh! We'll see how that continues next post. The next story in this annual is Steve Ditko once again being assigned a story in a Spider-Man comic in spite of his instance that he won't work on the character. Seems kinda disrespectful, really. "You won't draw Spider-Man, but you'll draw plenty of pages for Spider-Man comics." He draws a Michelinie story about Solo, the international version of The Punisher, which is sort of interesting. Ditko refused to work on characters with any moral gray area as part of his ridiculous Objectivism beliefs. And while Solo surely has no shades of gray, he's also an unrepentant mass murderer. He kills bad guys, but still. Anyway, he fights a bunch of terrorists or whatever, Solo is boring. Then a Sandman story by Tom DeFalco, JM DeMatteis, Mike Zeck, Dan Green & Bob Sharen. Mike Zeck! This issue's art staff is all-stars only. The now-reformed Sandman is attacked for no reason by cops who recognize him on the subway on his way to see the NY Rangers play with Ben Grimm. Sandy can't catch a break.
After the game, he recaps his whole history, and implies that it was merging with Hydro-Man in ASM 217 that started him on the path to changing his life. And he's still serious about it, but that seems like it's going to be put to the test as The Wizard and Trapster break out of jail together, looking to reform The Frightful Four. Sandman returns to the house where he's renting a room just in time to hear a family argument lead to a hotheaded teen named Carlos storming out of the house.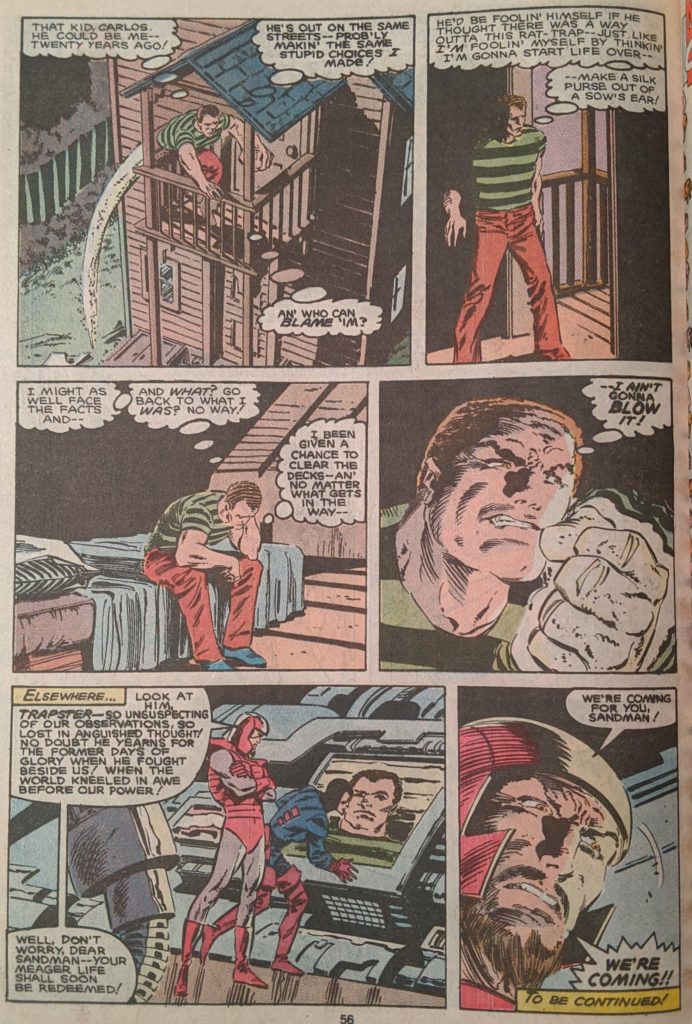 Uh-oh. Also continued next post. This is followed by a feature with a floorplan of Peter & MJ's new place (Sorely needed given how inconsistently it's been drawn), and then a goofy Ant-Man short by Tony Isabella & Steve Ditko where he gets attacked by an evil ant but it's all dream. Not exactly riveting. But come back next time for the part of this story I actually owned as a kid. Why did I have it? I don't 100% remember, but I have a very good guess…