What? Yes. It's at least as weird as it sounds. Also weird is my thinking "Now we're back to Sal Buscema" when I see this cover. In spite of Sal doing plenty of work in the last several blocks, his more angular, jagged 80s/90s style is so different, and also where I came in, which makes it different in my mind. This the sort of drawing Sal's name instantly conjures in my head. As the mycomicshop.com sticker indicates, I didn't own this one as a kid, but I did read it out of the library, How could I not? In spite of the full Sal treatment on the cover, Mike Esposito does finishes over Sal's layouts inside, and it's kinda jarring in this period. Spider-Man is on the way to meet Mary Jane for dinner when a jet of paste shoots up at him.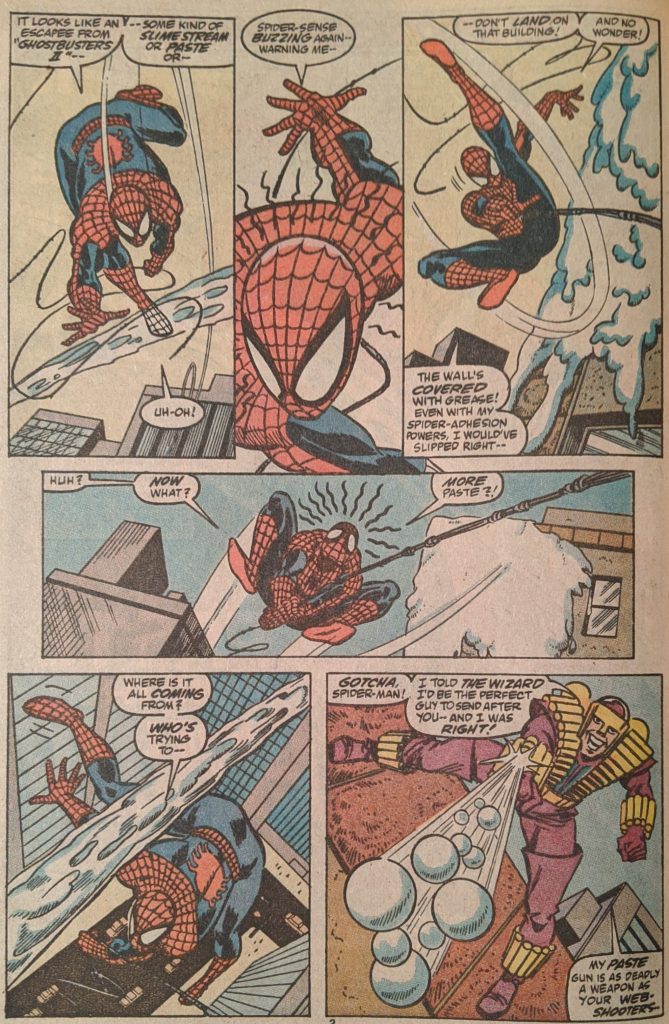 In spite of having fought Trapster on more than one occasion (Last seen on the blog in MTU 58 and last seen chronologically in ASM 215), Spider-Man (and/or Gerry Conway) doesn't seem to remember that. Altho, really, could you blame him? Spider-Man's on 3, soon to be 4 adventures a month and more than 25 years into this, I'd forgive him. Anyway, the one-time Paste Pot Pete gets over on Spider-Man with ABSURD ease, keeping him off guard with paste shots until he can fully encase him in fast-hardening crap, making him crash through the roof of, you'll never guess, the very restaurant where he was gonna meet MJ. She is understandably freak out by what she sees as her husband stumbles out of a fountain covered in crap before falling out a window.
This is borderline offensive. The Trapster! Right around near the bottom of the supervillain barrel. Anyway, Spider-Man lands on his feet underwater and breaks out of the paste, so it's all good. MJ sees him crawl up out of the water and is relieved. He heads home and she follows soon after to find him showering off the goop, feeling embarrassed about the situation.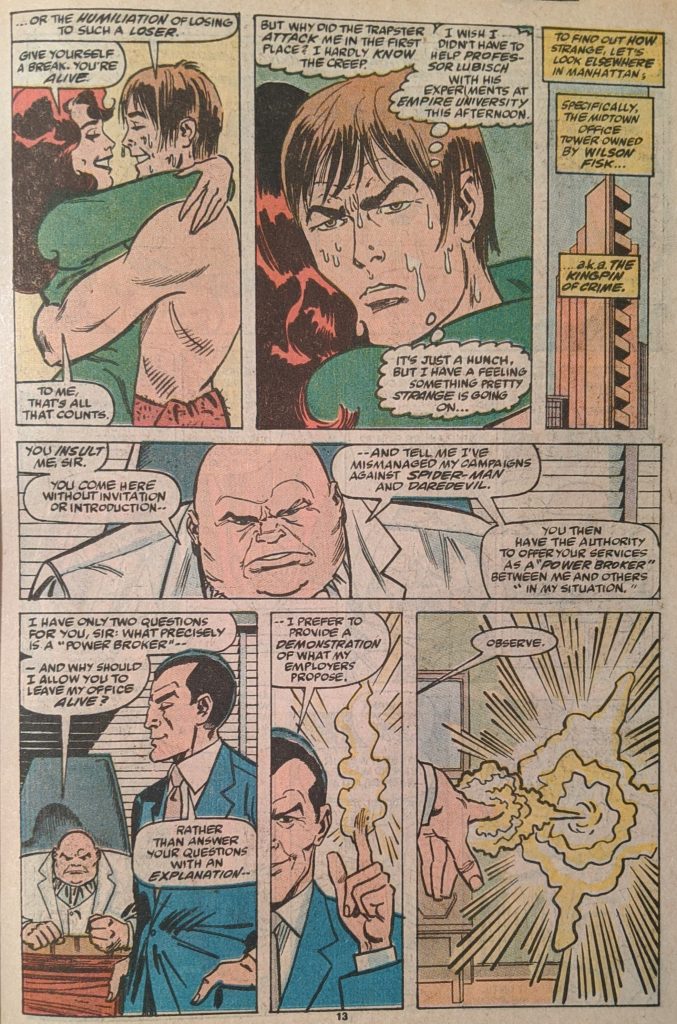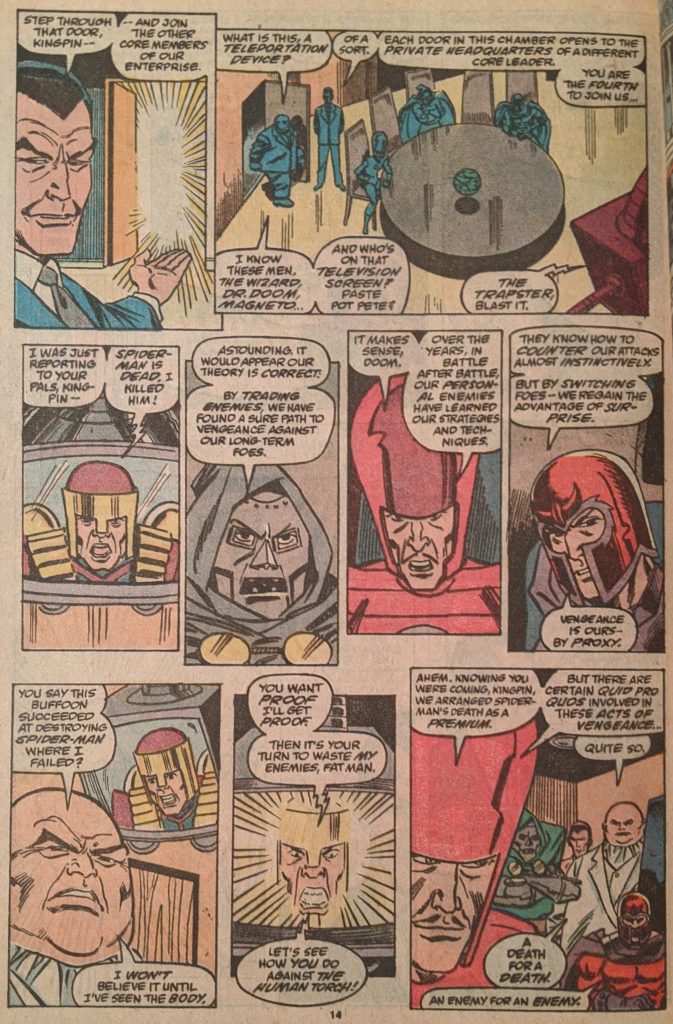 So that's the bit here. Who's the mystery man at the center of it all? I don't know why he adopted an alias for this because I've not read all the tie-ins, but it starts with "L" and ends with "I" and only has 4 letters. Magneto hanging out here was controversial even within the Marvel staff, with Mark Gruenwald going so far as to write an (excellent) Captain America subplot revealing his entire involvement was just a ruse to get close to and get revenge on The Red Skull for his crimes in WWII. Anyway! Elsewhere, Joe Robertson is back in court. His lawyer tells Martha she's not sure if his chances are too good after that prison break.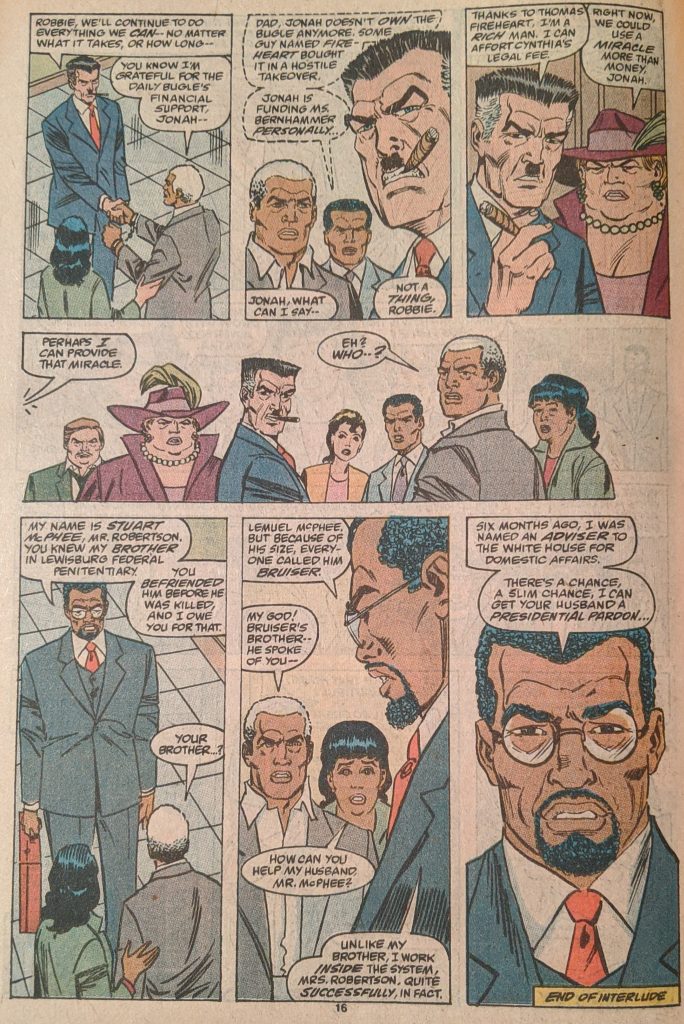 It's good to have friends! We jump to Peter helping Dr. Lubisch with his experiment, which Peter is worried may overload the powergrid, or worse. The Doc says his weird machine has "locked into an extra-dimensional energy source," but Peter was right, it's overloading the power system.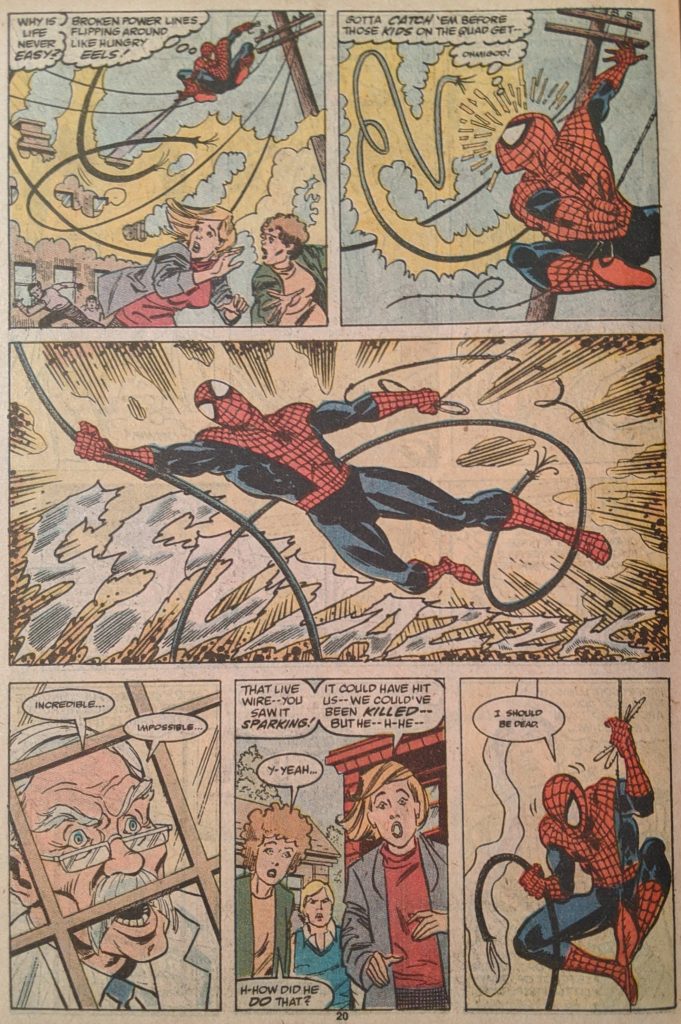 Should he be dead? Is he grounded? Does that matter? I don't know anything about electricity. A duly freaked out Spider-Man swings away, wondering what happened to him in the lab. Then his Spider Sense goes off crazy loud again, and he can hear a spider crawling on a window 2 blocks away, rustling leaves in a flower pot and other Daredevil-like stuff, and has no idea how to shut it out. In the chaos of his hearing, he picks up The Trapster talking to himself about fishing Spider-Man out of the harbor, and that helps him focus on payback.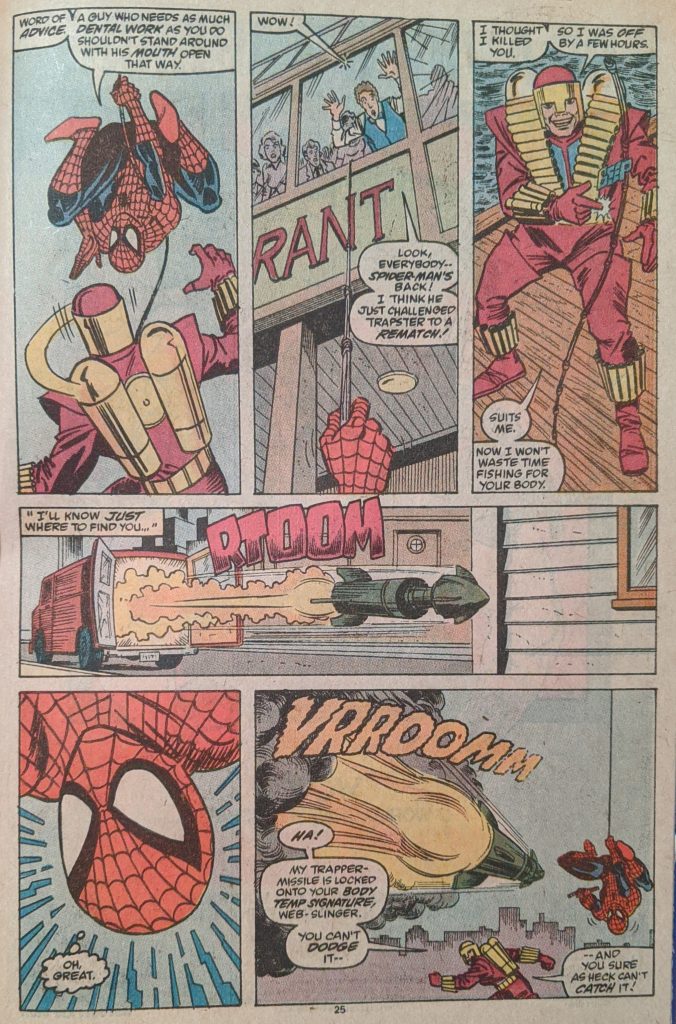 His what??? There is no way you can make a MISSILE fit into his "makes sticky stuff" shtick! That's ridiculous. But also: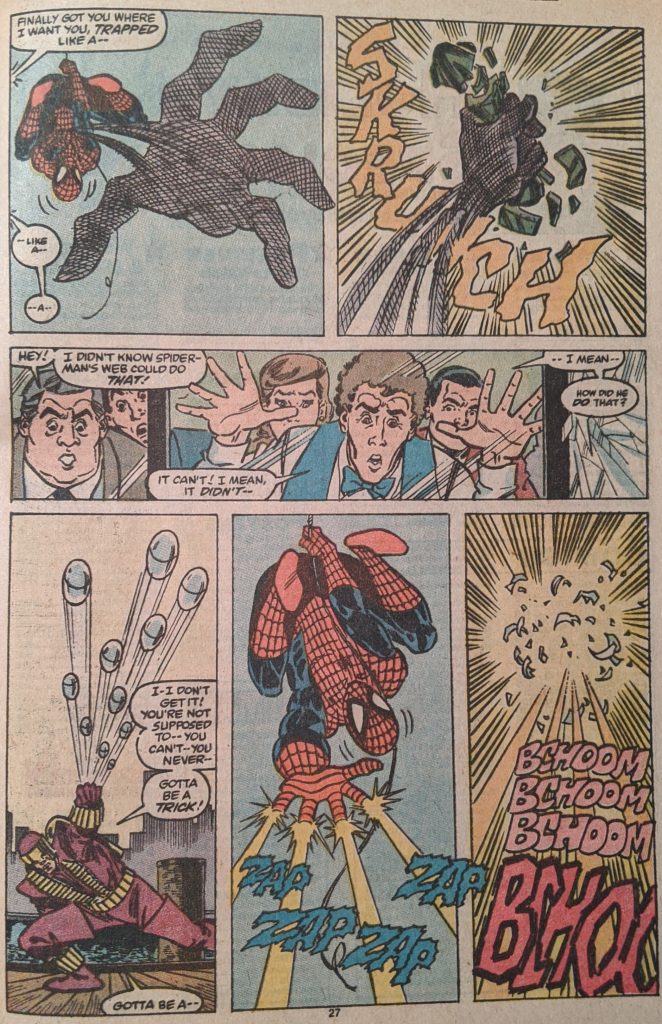 Whaaa? Spidey keeps zapping all Trapster's attacks with his new laser fingers, and takes it in stride for some reason, eventually exploding all Trapster's equipment, covering him in his own paste.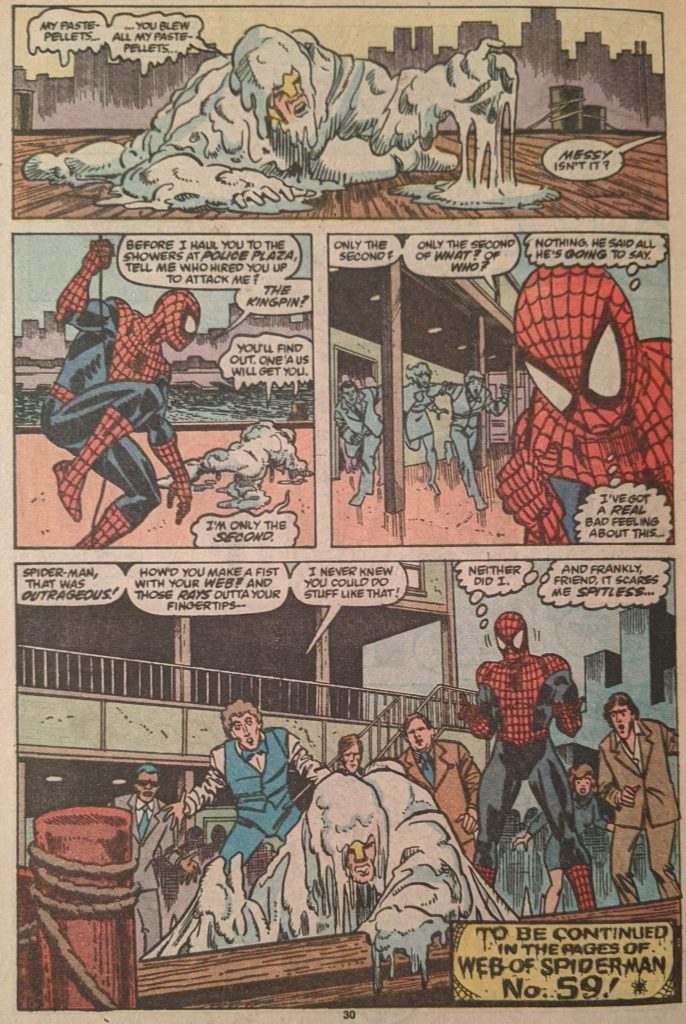 And we're off! The strange career of The Cosmic Spider-Man is underway, just in time for him to face all kinds of unusual threats. All the villains who get sent after him are in for a mean surprise. As someone who, at the time, didn't read many comics, the mystery of Cosmic Spider-Man was a way, way bigger deal to me than Acts of Vengeance. But both continue next post.