This cover doesn't really prepare the casual reader for the craziness inside.

It's been exactly 6 years since MTU 79 was published as X-Men 191 hits newsstands. Calling back that far is pretty crazy. There's an extremely aggressive 1-page recap of last issue, then more with Kulan Gath and his least favorite superhero.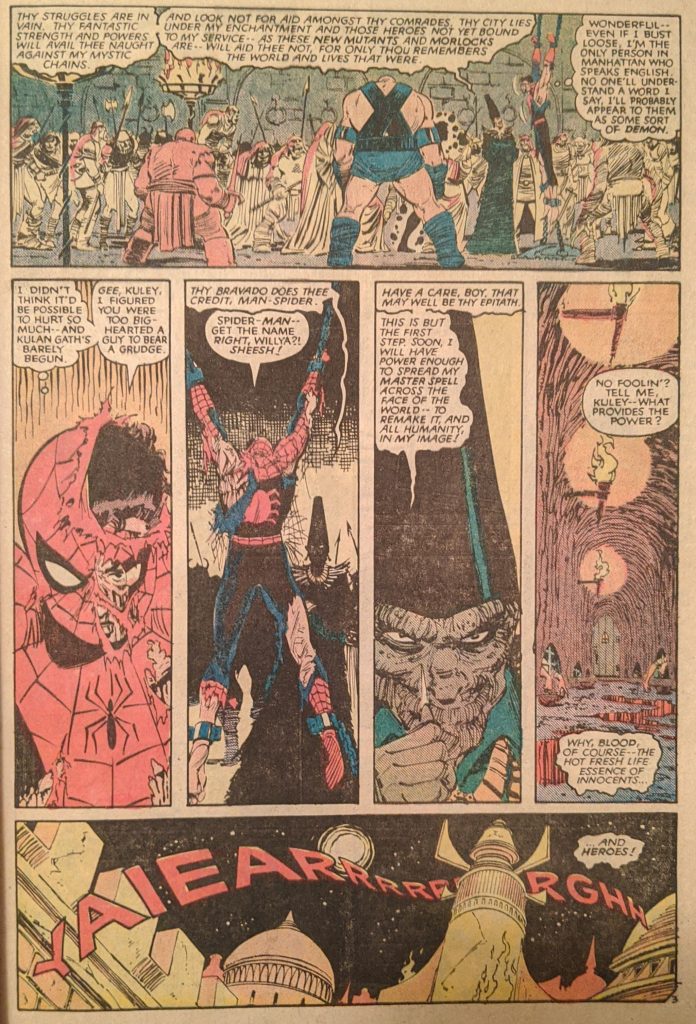 A rough night for our hero. Elsewhere in his fortress, Gath turns Selene into a creature with no mouth and tentacles instead of arms so she can't cast spells, and then Sunder tells him the rebels are probably in the Morlock tunnels. They're not, tho, they've gone to the NY Public Library, now a sacred temple, and found it destroyed. And then things get worse.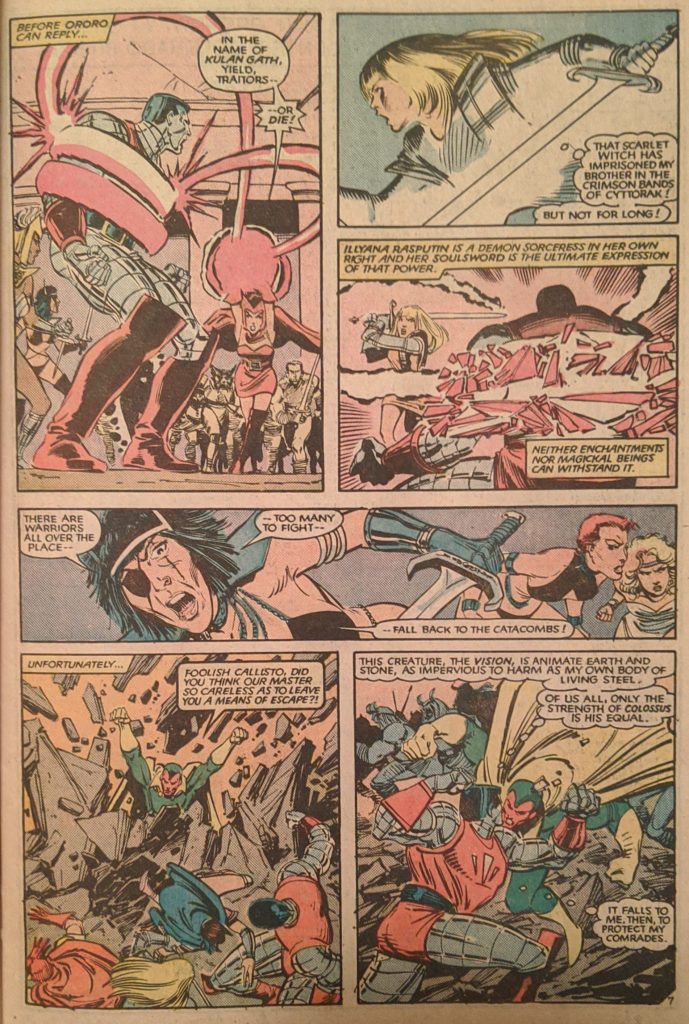 In the battle, Rogue is seemingly killed, and Storm goes crazy with rage. The heroes punch a hole in the wall and escape, Storm staying behind to delay pursuit, but she in turn is saved by Warlock. Gath converts the captures Starfox and Wasp into more of his minions, while Warlock forces Storm to remember the real world by using his weird techno-organic body to show her pictures of herself and the real Manhattan. Aaaaand while all that's going on, an archivist from the library/temple The Avengers rescued is telling them Kulan Gath's backstory.

Doing 2 Star Wars moves at the same time! The gang sneaks under the palace using more of the Morlocks' tunnels, but then Gath's mutant enforcers smash through a wall, and it's a big battle. Magik hits several of her fellow New Mutants with her Soulsword, freeing them, but Callisto accidentally kills her friend Sunder, and is even more enraged now.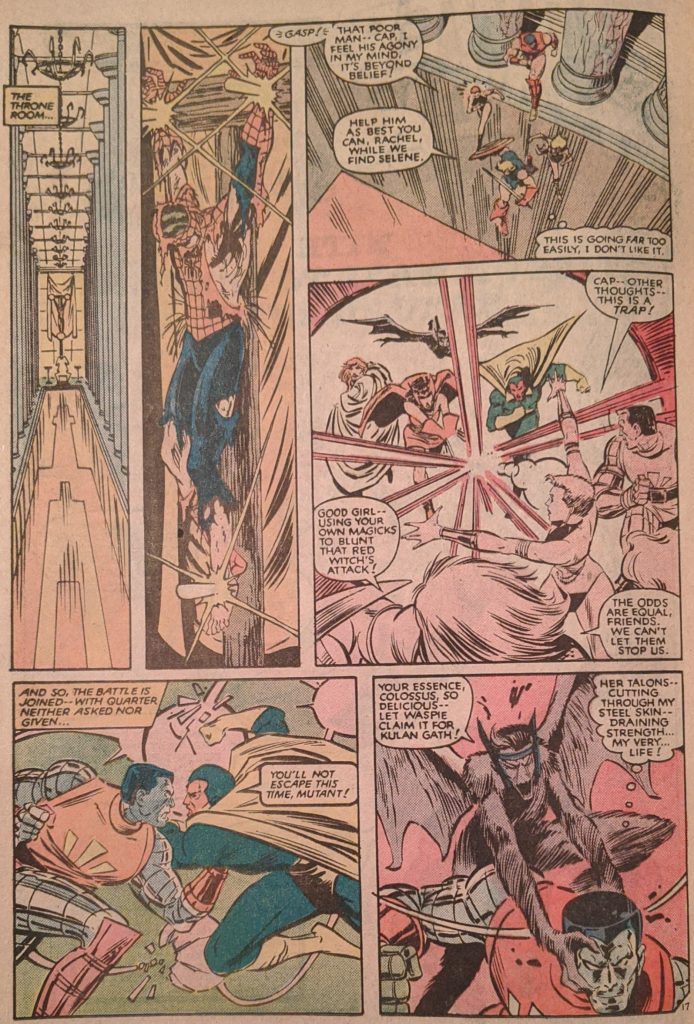 It's an even bigger brawl now, and gets pretty insane, as Vision manages to make himself and Colossus explode, catching Captain America in the blast.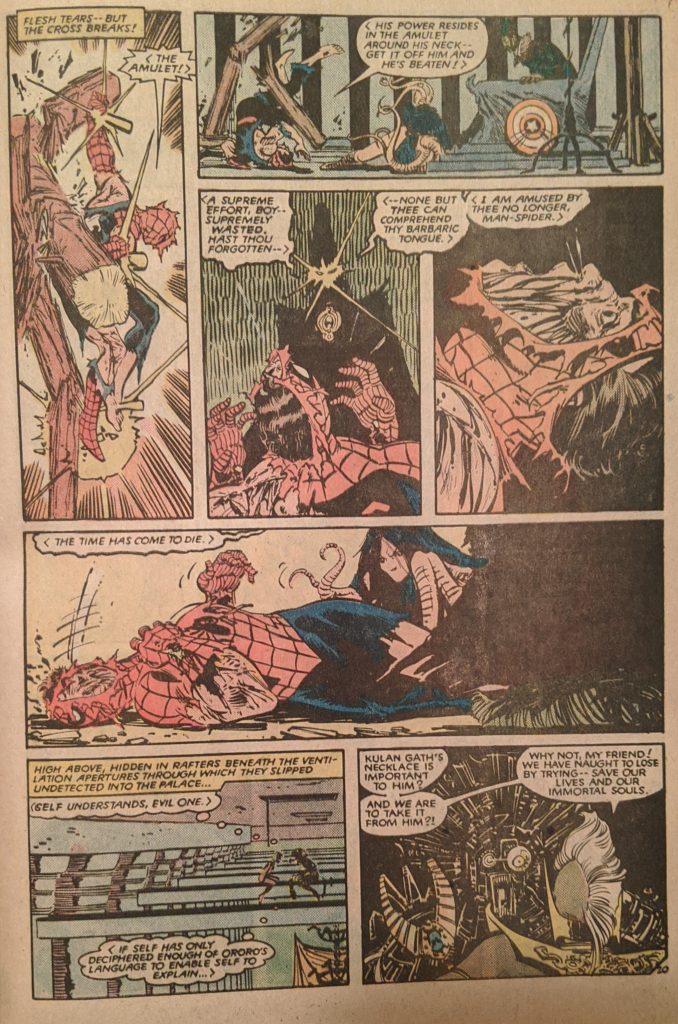 He killed Spider-Man! And we're almost out of pages! Warlock and Storm manage to get the necklace off Gath, but then Selene springs her own trap. Her pawn Amara turns out to actually be Selene. I guess she swapped places with her or something. Now Selene has the amulet, and Gath is no longer the problem. Selene decides to continue Gath's plan, only with herself as the ruler of the whole world. Warlock tells Storm he can turn her into a techno-organic being, like him, and that turns out to be the key.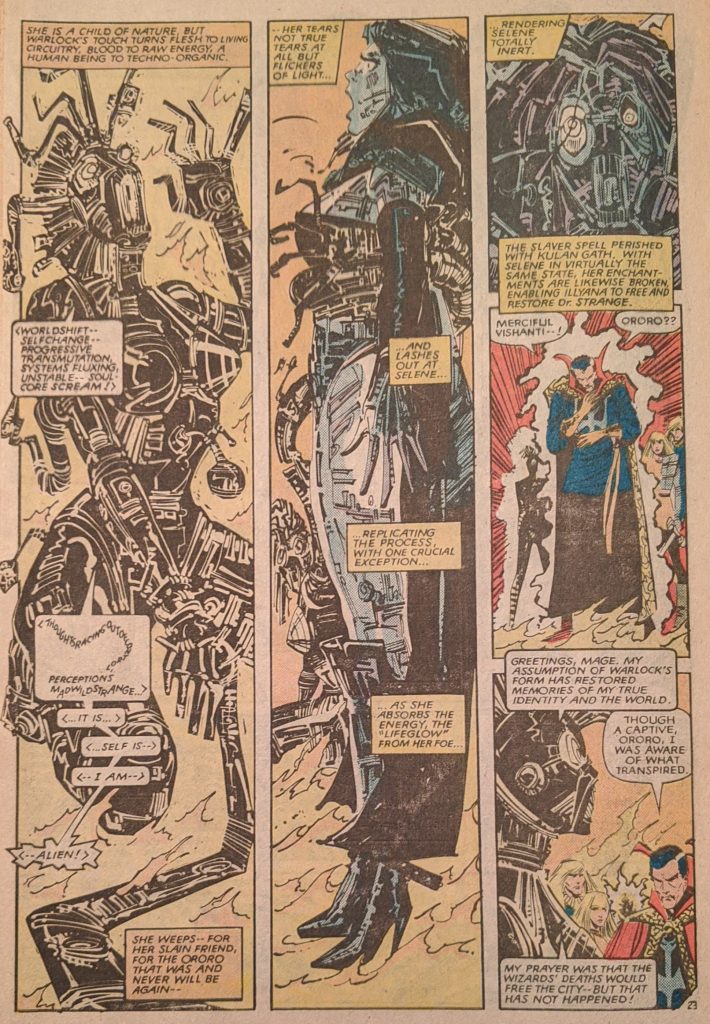 On the last page there, the mugging that started all this is prevented, tho certainly not in a way The X-Men would prefer. But Nimrod, the prototype mutant hunting sentinel from the future, isn't really our concern. Too bad Spider-Man didn't get a little coda at the end since he was at the heart of all this. Kinda weird he played so small a role, really. But he almost had to with so much of the Marvel Universe involved. Pretty wild stuff.