It's The X-Men! It's Kulan Gath! Yes, Claremont is doing a sequel of sorts to MTU 79, and he's bringing Spidey and The Avengers along for the ride. All this for just 90 cents?? And the whole thing's illustrated by guess who? John Romita, Jr.! Can't stay away for too long. For a couple years he was doing Spider-Man and X-Men simultaneously, but I thiiiiink X-Men is his only gig right now. A rarity for him. His continued evolution as an artist is pretty clear just on this crazy cover. Over on X-Men, JR was reliably inked by Dan Green. No inker roulette wheel for The X-Men. Colors courtesy of Glynis Oliver. The issue opens on a reveal that NYC has been turned Medieval somehow. Then we get to the exposition.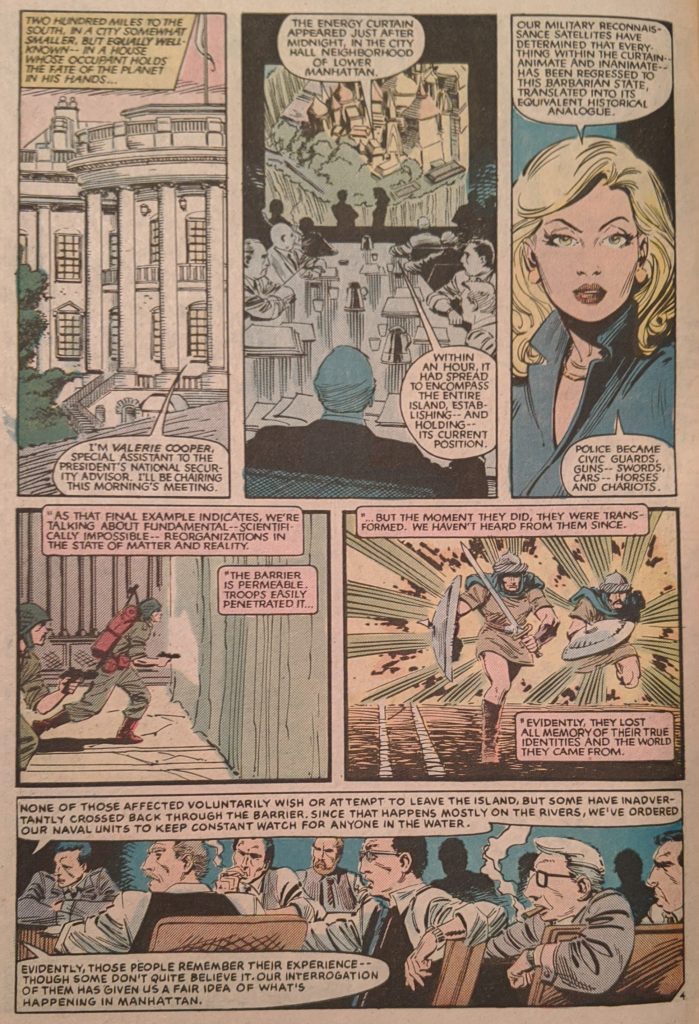 That's a lot. And it literally just happened. X-Men 189 briefly showed how some dude had found the necklace Peter Parker threw in the ocean back in MTU 79, and on the last page, he got mugged for it and the mugger set Kulan Gath's spirit free, but the rest of this massive, crazy status quo change is brand-new to all readers right here. That's pretty bold. And we note Spider-Man hasn't been changed. That's interesting. The unnamed general in charge give s long speech comparing all this mutant racism to what he saw serving in WWII, but Val points out this really isn't the time or place to discuss mutants, what with a spreading spell turning the world in to The Dark Ages. Then we cut to Storm, awakened from sleep because Callisto, leader of the mutant Morlocks and now Kulan Gath's "captain of the guard," has showed up to arrest and enslave her. Callisto and Ororo have just about the baddest possible blood in the real world, so maybe her claim that Gath wants this is true, or maybe it's just revenge, who knows. Storm isn't gonna just take it, tho. She escapes, and she and Callisto end up fighting on a ship.

Shocked to her senses by that cut, Storm swims herself and the now unconscious Callisto outside the wall of the spell, trying becoming herself again and wondering what could have caused all this. Let's check in with that guy.

Here's the thing, Spider-Man's not actually in this story much, and yet so much of it revolves around him. Gath has taken over all of Manhattan purely to get revenge on Spider-Man. He just merged Xavier and the Morlock Caliban into one freakish being for some reason. Things are super weird, and it's all for Spider-Man. Gath has used Xavier to summon The New Mutants, and he enslaves all of them but Warlock, who is an alien. But we learn the ancient mutant sorceress Selene has also not been affected by the spell, and she also knows Gath from being alive in his era, and hates him. She finds the mutant telepath Rachel Summers and uses her power to send a message to Storm and Callisto, now safe in New Jersey. In spite of all 3 being enemies, they make a deal to fix this. And then, we finally catch up with "The Man-Spider."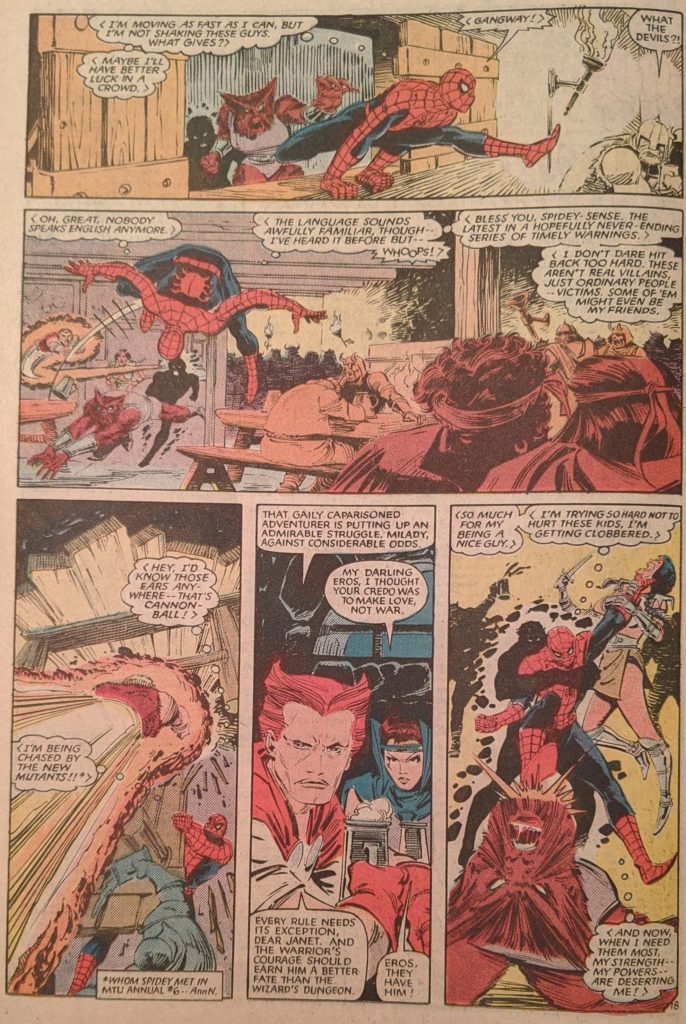 Whew! This is a whole lot of stuff crammed into one comic. So the Avengers and some X-Men fight the Morlocks and The New Mutants (Why is Rogue green?). While that's going on, Storm and Callisto cross back over into Manhattan, and turn back into D&D characters just in time to be attacked by Gath's goons. The girl they were after turns out to be The New Mutant Magik, whose Soulsword frees her brother, Colossus, from the spell. Selene eventually ends the big fight, making the walls and floor absorb all the bad guys.

A giant face of Kulan Gath appears in the air and eats Selene. Like, for real. She is transported to his throne room, now a prisoner. But the heroes all escape, so there's still a rebellion on. They get into one of the tunnels the Morlocks live in in the real world, shielded from telepaths, and talk about next steps.

This is some crazy business. These days this would be a line-wide mega event, a 12-part miniseries that all Marvel comics would tie into. In 1984, it's just a couple issues of X-Men. Come back next time for part 2.