Been a lot of turnover in the penciler slot in TAC here lately, but as of this issue, the art team that will see the book to issue 100 is locked in as Al Milgrom joins back up.

Are they, uh, all Stalkers in the Shadows? There is no punchline on the following page, as we look in on the prison Boomerang and The Punisher are still in following the events of TAC 78, another plot thread that just happened but feels like forever ago due to jumping around the timeline. Boomy and Punisher have cooked up an escape plan. A spoon hidden in Boomerang's sleeve is bent into a Boomerang, which he uses to hit a nearby powerbox and disable to the doors to his & Punisher's cells. But Punisher closes his back up, so when the guards rush in, they all focus on Boomerang. Soon, Frank has knocked them all out, and the two run off with the guards' clothes. The uniforms are made into a rope ladder, and Boomerang can't wait to tell The Kingpin about his daring escape, still trying to become an enforcer. Frank says it's too bad he won't get the chance.

Peter jumps down over the railing on to one of the goons, and they scatter. Mrs. Muggins says they'll do anything to feed their habit, and Peter sees their heroin gear left behind. Like, hilariously, it's all on the ground: Matches, a needle, a bent spoon. Not only was one of them carrying his whole kit, but he managed to drop only that as he fled. Anyway, as Peter catches a bus, Cloak & Dagger look down on the fleeing goons. They follow them into an alley and then dispense their own brand of justice, hitting them with their powers, which apparently cure drug addiction.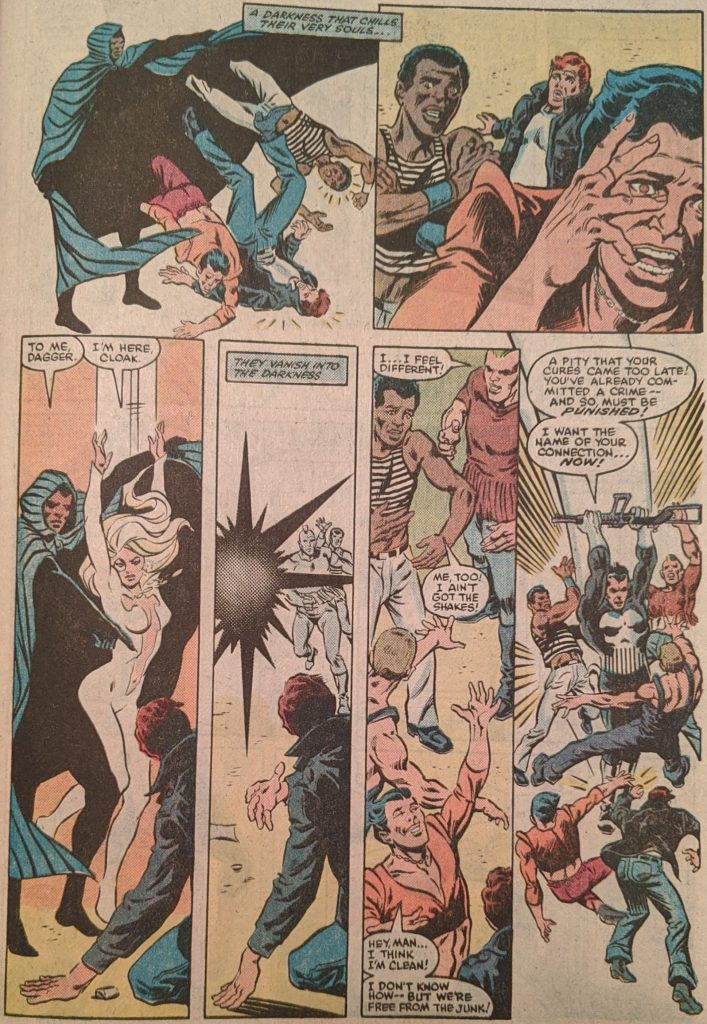 This is one busy alley! I hope Punisher didn't kill those guys now that they have a new lease on life, but he probably did. At any rate, Spider-Man is visiting Black Cat in the hospital. Security is tighter after Doc Ock showed up in TAC 79, so her whole floor is off limits, but of course, not to Spider-Man. Jean DeWolff is there, and gets the cops to leave him alone after he breaks in.

Why in the world is Dagger in his lady montage??? They barely know each other! You might as well put Sue Storm in there. As he swings away brooding about his recent life choices and events (Including the android attack in ASM 242, thanks to the tightening continuity if this period), his Spider Sense is set off by a condemned building.

Well, you know the drill. The heroes get to fighting for a few pages. Spider-Man once again asserts his belief that Cloak has "Some kind of sinister hold" on Dagger, which still reads very uncomfortable, but after a trip through Cloak's, uh, cloak, Spidey is shaken up enough to calm down and let Dagger explain, you guessed it, these guys were all like this when C&D arrived.

I really don't get the mercy bullet period of Punisher. "I'm The Punisher. After my family was killed by the mob, I swore to find as many criminals as I could and make them take an uncomfortable nap." It doesn't make any sense. And he was cool with real bullets in his first several appearances. Anyway, Bill Mantlo may have messed up the War Journal entry, but Frank's expert detective skills have led him to realize the guy who controls all crime in the city includes drugs in his crime portfolio. Amazing work. I guess we're headed for an anticlimactic showdown next issue.