Devil-Slayer! One who slays devils! I know literally nothing about this character! That's kinda rare around these parts. Who knows what lurks behind this terrible, terrible cover? It's JM DeMatteis, Herb Trimpe and Mike Esposito on deck to provide the answer. Wait, I'm getting turned around, is this DeMatteis' first issue? I can't keep track anymore. Regardless, Spider-Man is interrupting some dudes who's just robbed a jewelry store.
Oh word?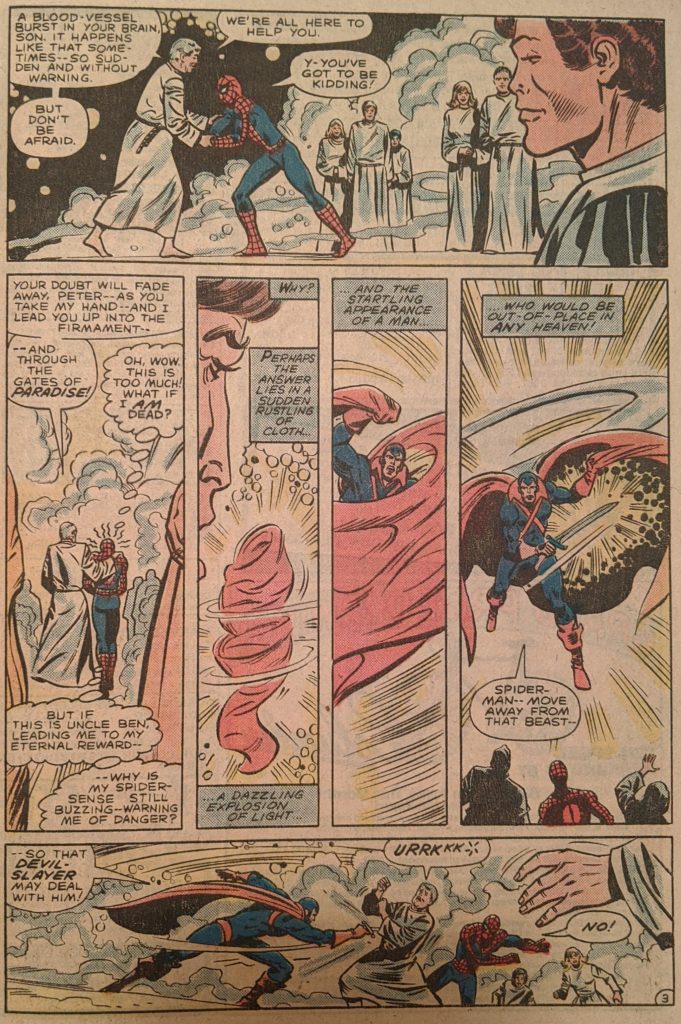 Wait, the guy at the base of the statue on the cover is Devil-Slayer? I assumed that was Generic Bad Guy #1. This guy is a thing?? What does The Internet have to say about this guy?
Eric Simon Payne was a former U.S. Marine and later soldier of fortune and one time member of a demon cult who turned on the cult after obtaining the mystical Shadow Cloak and unlocking his own latent psychic abilities.
You know what, nevermind. That is more than enough. At any rate, the thing that looked like Uncle Be now looks to be a lizard man, and Spidey and D-S are back in the alley, being attacked by people in robes. Is this gonna be his former cult or whatever?
This issue and this character are utterly bonkers.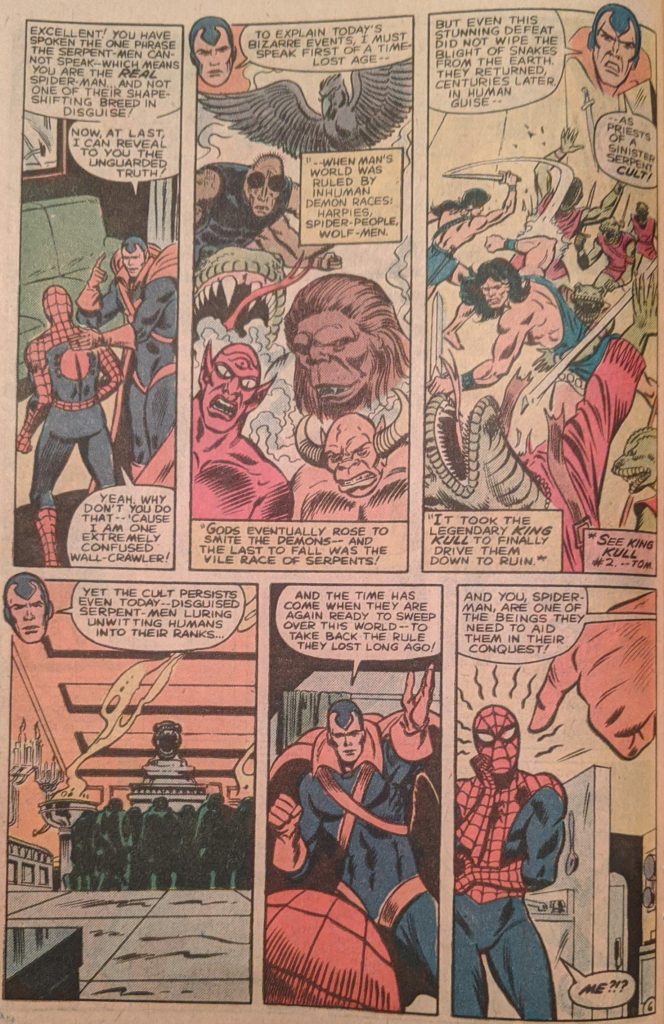 Oh, hey, these are the original Serpent Crown guys, ok.
I would humbly suggest any spider is a "living spider" as long as it's not, you know, dead. Like (I'm pretty sure) all of DeMatteis' run on MTU, this issue came out while he was also writing Defenders, and he just can't get enough of putting them in this title for some reason. Devil-Slayer teleports himself and Spidey to rural Japan, where he demands some monk tell him where The Temple of the Spider is, and when said monk refuses, D-S just slaps the crap out of him. This obviously upsets our man, who almost starts fighting D-S, but keeps it together for "the fate of the world."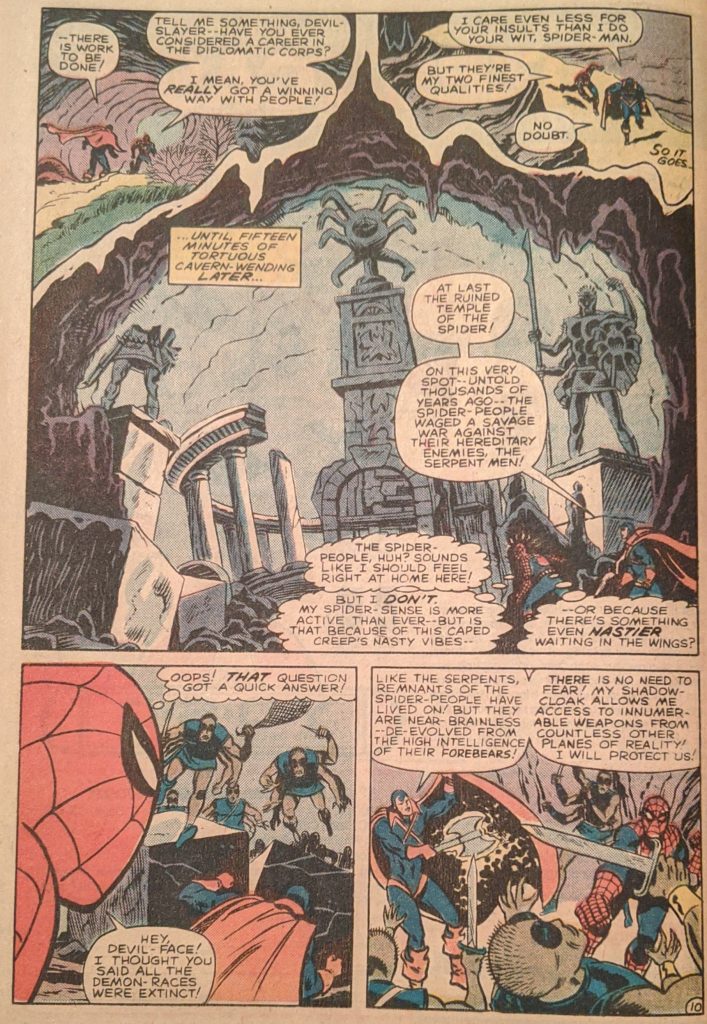 Then Trimpe draws the most egregious wrong hand on the wrong arm I've ever seen.
Spidey defeats his foes in spite of webbing himself and turns around to find a crazed Devil-Slayer hacking away at a dead spider-man. I can't believe I've not previously been exposed to this wonderful and complex character. Down a deep hole in the temple, they find the big statue they're looking for. But between it and them is a big gap that Spider-Man should easily be able to clear, but which he is scared of for no obvious reason. D-S says he can't jump that far, so Spidey has to (Could he not teleport?) Then Spidey easily clears it. Ok! When he gets in range, the statue begins to move, reaching for him, and D-S tells him not to move or fight back.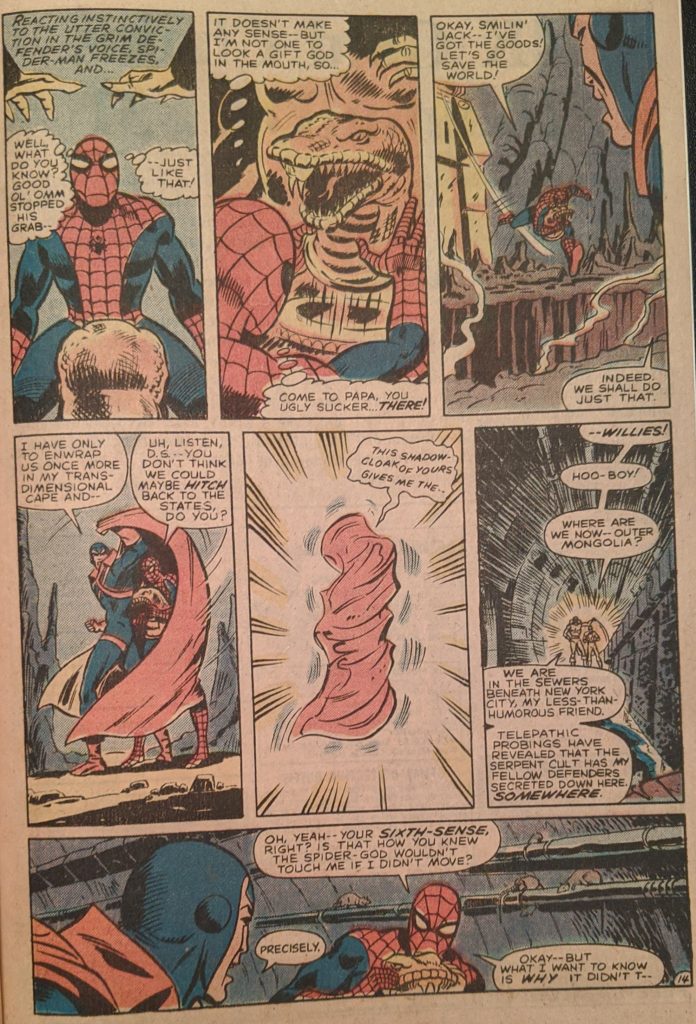 The heroes find their way to the serpent men's hideout, only to be confront with The Defenders, free and safe and saying the trouble is over and Spider-Man should give them that statue. Guess what? They're snake men. I know! As the illusion making them look like The Defenders fades away, so does the rest of the room.
I am dumbfounded by the revelations on this page. This comic is ridiculous! Spider-Man destroys the statue, so the snake guys overwhelm him. But he makes a big ball of web and chucks it into the gold Pogo Ball on the ceiling that's holding The Defenders captive, and now it's 8 heroes vs. the snake dudes, so you know.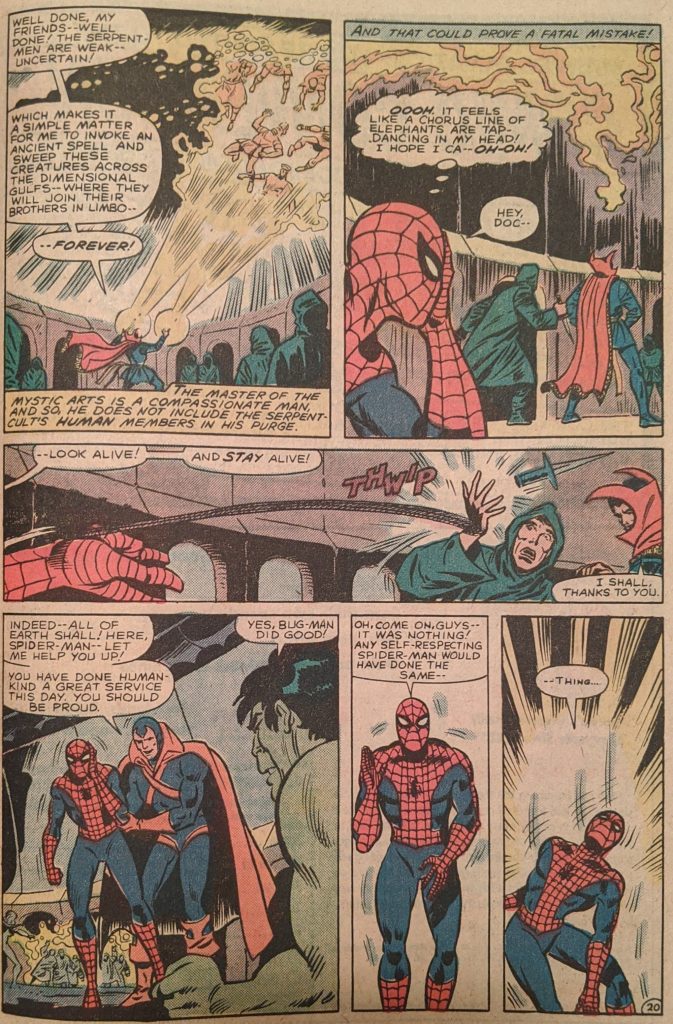 GASP! Spider-Man's gonna die! It's all over folks. Even King Kull, the Walmart brand Conan, can't save him now!