Another very old time-y looking cover from Bob Wiacek. This one has always struck me as odd. Jim Mooney flying solo on the art for this one, which opens with some dudes watching documentary footage of Spider-Man fighting The Lizard. They turn out to be the staff of a TV show that's been on in the background of a few recent issues, "On The Trail Of…" If you have ever heard of the old show "In Search Of…," well… it's that. Series narrator Felix Simon is telling series director Morrie Toshiba that they can't just use old stock footage, they have to get their own camera crew after Spider-Man, like when they sent a crew to Scotland after "The Loch Trevor Monster." Morrie calls in his camera crew, and while one of them just thinks it's impossible to get Spidey footage, the other one is freaked out by seeing the stock footage, then announces he "used to hang out in New York" and knows where to go to get footage of Spider-Man. When he gets home, Marty the eager camera man thinks to himself that he doesn't know where to find Spider-Man at all, he just wants to settle an old score.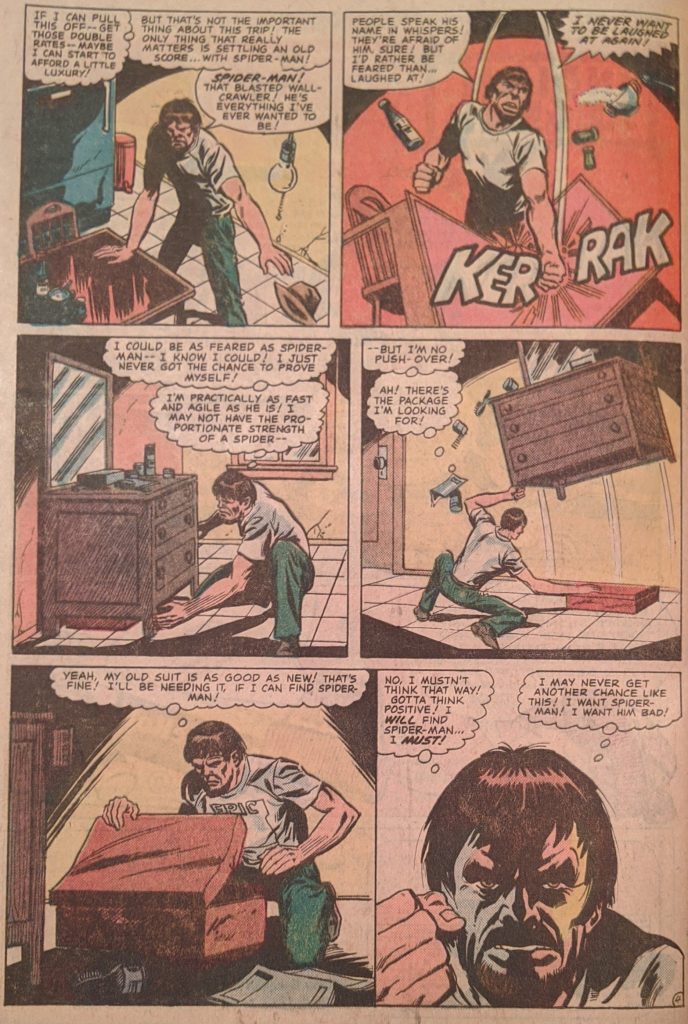 Time for another obscure villain to make a comeback. But should he? I'm not sold on this, Rog. Meanwhile, in New York, Spider-Man is swinging around wondering why Deb Whitman was out with BIFF RIFKIN in ASM 221 after their nice date in TAC 59 (Nice save, Rog), while down on the street, 2 drag racers are about to run over an old man crossing the street. Spidey easily saves the guy, and decides the racers need to be taught a lesson. I think he may have gone too far.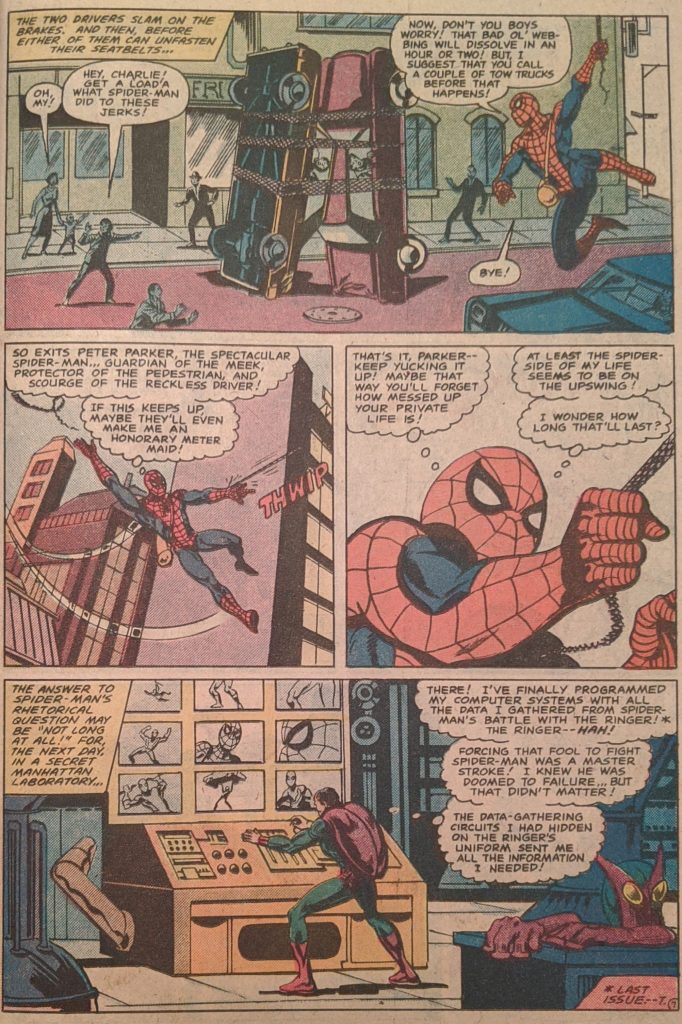 While he waits, he decides to tell us how he broke out of a European prison after being taken out by Iron Man in his book, and then run down the abilities of his new suit.
I like that his blasters make a noise like James Brown. Dikto's goofy Beetle has its fans, but those people are weird. You've seen it on this blog, it's absurd. It was one of Ditko's few missteps, and Stern & Co. did a good job of correcting it. Now that he's done showing us his powers, the computer is done, and he gets out a disk that he alleges has all of Spidey's moves broken into analytic codes (He calls the disk a "magnetic wafer"), so now he feels Spider-Man doesn't stand a chance against him. Meanwhile, the camera crew has arrived in New york, and is in a helicopter looking for Spider-Man. He's over at ESU, where life of the party Phil Chang is trying to cheer up Peter Parker, still worrying about his love life, or lack thereof. Phil sure has a come a long way from his introductions. But Peter sees his student, Greg Salinger, from last issue, being bullied by some dudes, and runs off to become Spider-Man.
You can tell by the way they're dressed that those guys are either mob or FBI. Turns out, FBI. They say Greg has a friend who's a suspect in a criminal case. Spidey feels foolish and swings away, and that's when The Beetle sees him on a radar he's got set up. At the same time, the TV crew featuring the as-yet-unnamed villain who've been circling New York in a helicopter all day finally spot Spider-Man. Marty wastes no time getting his suit out, and The Beetle closes in on Spider-Man just in time for him and Spidey alike to wonder why this helicopter is flying so low. Inside, Marty has put on his stupid outfit, and after threatening his friend, leaps out the side into battle, because…
Yes, the Gibbon. Last seen in ASM 112, and who probably should've stayed there, The Goofy Gibbon is back to get easily beaten up by Spider-Man.
While Spider-Man dances around with the goofball, The Beetle watches from a distance, figuring maybe The Gibbon will tire Spidey out. Probably not! Spider-Man tears open a water tower and tries to take the fight out of Gibbon that way, but it doesn't stop him.
No big deal. But unfortunately, The Beetle sees his opening, and pushes a whole brick wall over on top of Spidey & The Gibbon. Spidey picks up his unconscious foe to run him out of the way. He tosses The Gibbon to safety, but the wall comes down on him. And now that he's all beat up, The Beetle finally makes himself known.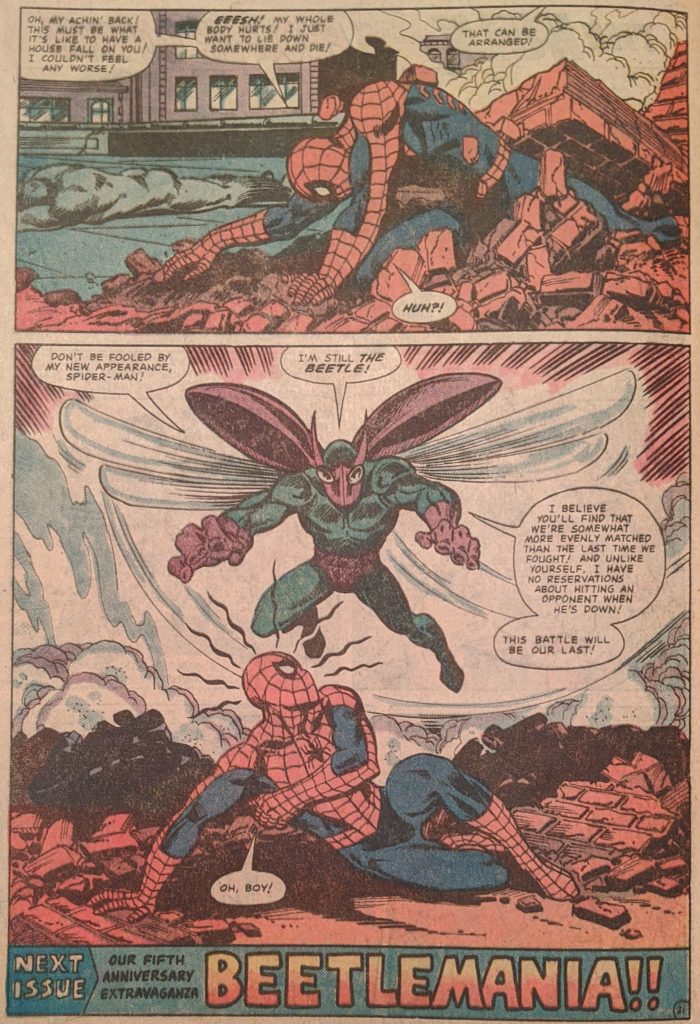 Will The Beetle fare better than The Gibbon? I mean, probably, since next issue is a double-sized spectacular, but we'll see. This issue's letter page features the formal announcement that Tom DeFalco is the new editor on all Spider-Man titles, and promising increased continuity between them all. This is apparently the first time someone's been in charge of the whole Spidey line. Kinda seems like a no-brainer, doesn't it? Anyway, that increased continuity will be most welcome in the coming years' stories, and having one person oversee a whole line will become standard at Marvel, so it's good news.