What a cover! What could drive our man to give up on the world? Let's find out. For a 2nd issue in a row, John Romita is credited before Gerry Conway, as if to try to assure readers things will be ok without Stan. And, assuming this issue was written "Marvel style," billing the artist first is honestly more proper, so I like it, for however long it lasts. Anyway, in spite of the 2-issue Morbius adventure we have looked at recently, we pick up with Spider-Man having just dropped an unconscious Martin Blank in the window of an empty hospital room (He has got to stop doing this)…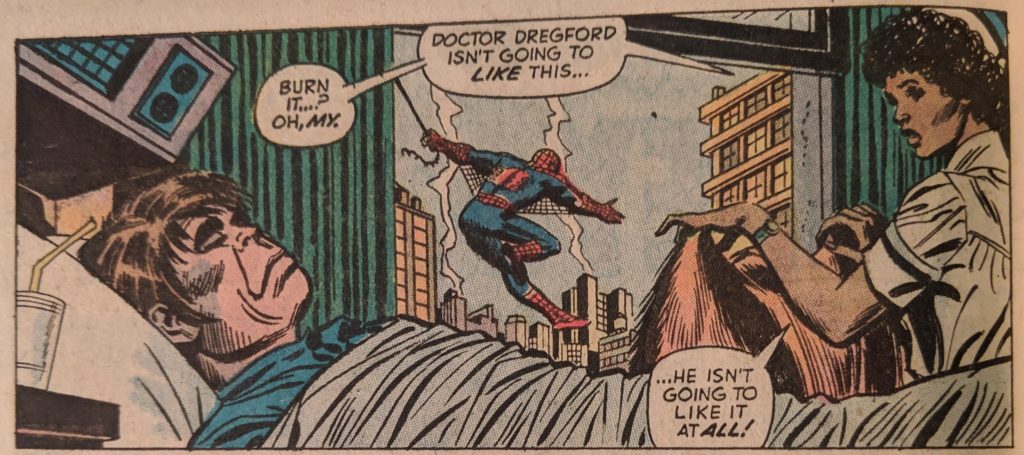 Will we ever see The Gibbon again? I know the answer to this question, but do you? Spidey swings off, worrying about his missing Aunt May. He flashes back to their life together since Uncle Ben died, thinking that his life as Spider-Man has always caused her trouble, and focusing in on the time Doc Ock became a boarder in her house, leading to a fight back in the day, and the more recent time she got wrapped up in his fight with The Beetle in her neighborhood. His reverie is broken by the sound of screeching tired below. A couple of tough guys get out of their cars and start fighting over some lonesharking business.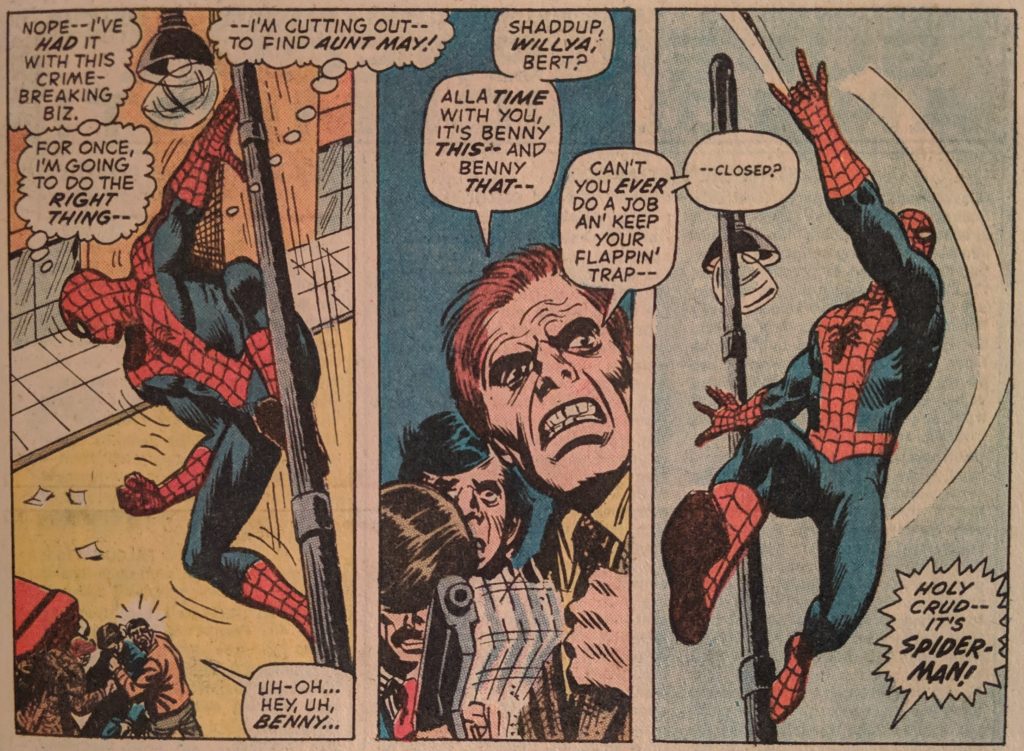 Spidey just leaves. The goons assume he's got some kind of plan to double back and nab them, but he's not interested. He's just too worried about Aunt May. But as soon as he's out of sight of those goons, he runs into some other goons…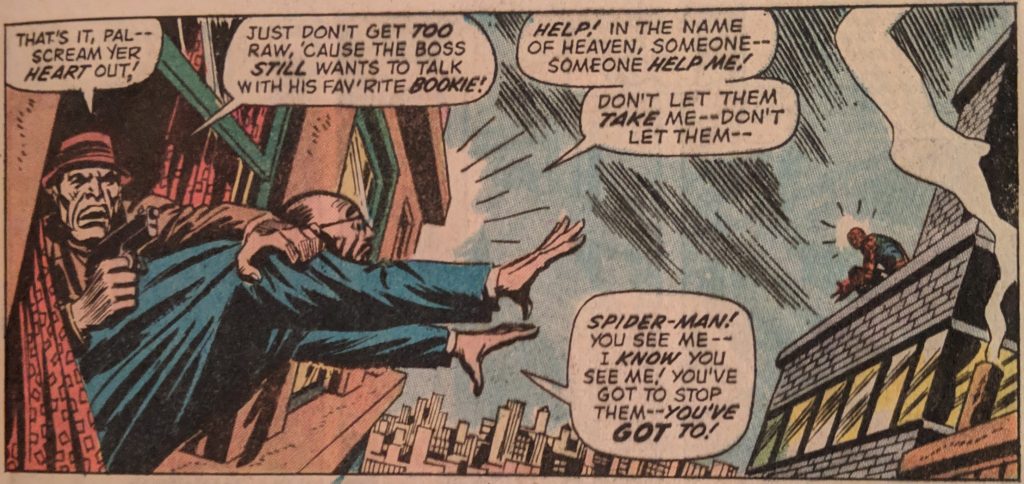 And he ignores them, too. He says he hopes he can find a way to live with the person he's becoming as he turns his back on crime to find Aunt May. And how will he do that? Well, he goes home, changes to Peter Parker, and then just walks around for several hours. Good plan! His wandering takes him to The Bugle, hoping Robbie might be able to help him search, but instead, he gets (rightfully) chewed out by Jameson for not doing anything since he talked his way into getting put on salary.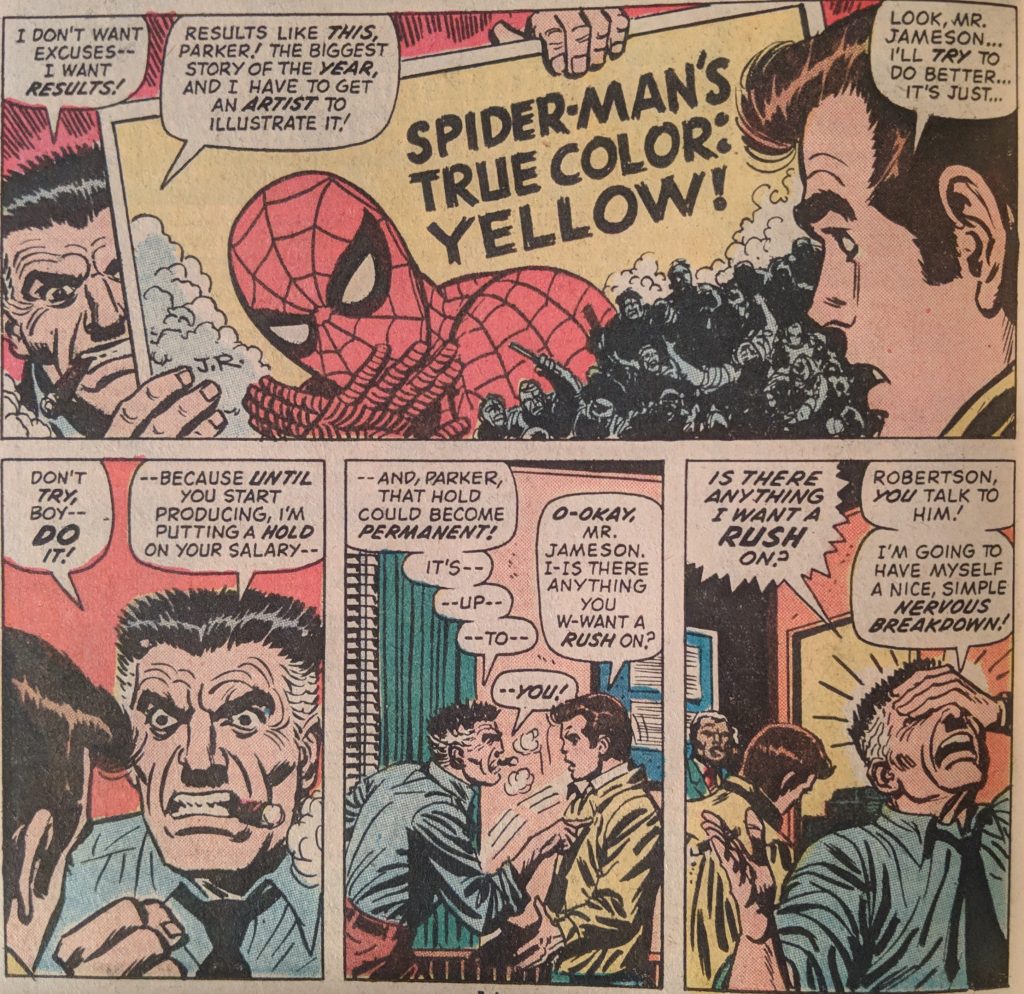 Pete talks to Robbie, who advises him to leave Aunt May to the police and focus on keeping his job. Betty Brant pops up to say she's worried about Aunt May, too, but then JJJ bellows for her, so Peter's back on the street. Just in time to see two kids fighting over whether Spider-Man has turned "yellow," as the new Daily Bugle claims. Peter makes them stop fighting and shake hands, and while he's doing so, Mary Jane & Anna Watson find him on the street. Anna is worried about May, and when Peter shows her the note, she asks how he can be sure she wasn't forced to write it.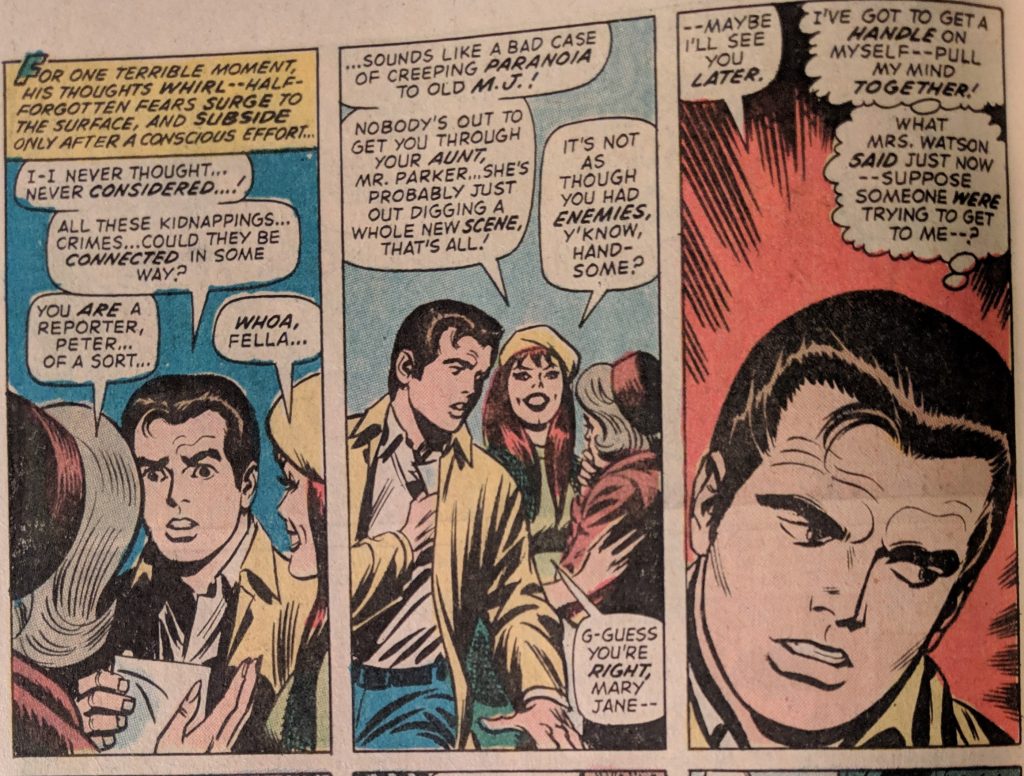 Digging a whole new scene! A now totally flustered Peter Parker jumps to the conclusion that someone's figured out his secret and kidnapped Aunt May as a result. That's quite a reach. So he swings off and stops a shake down in progress to get some underworld info off a guy.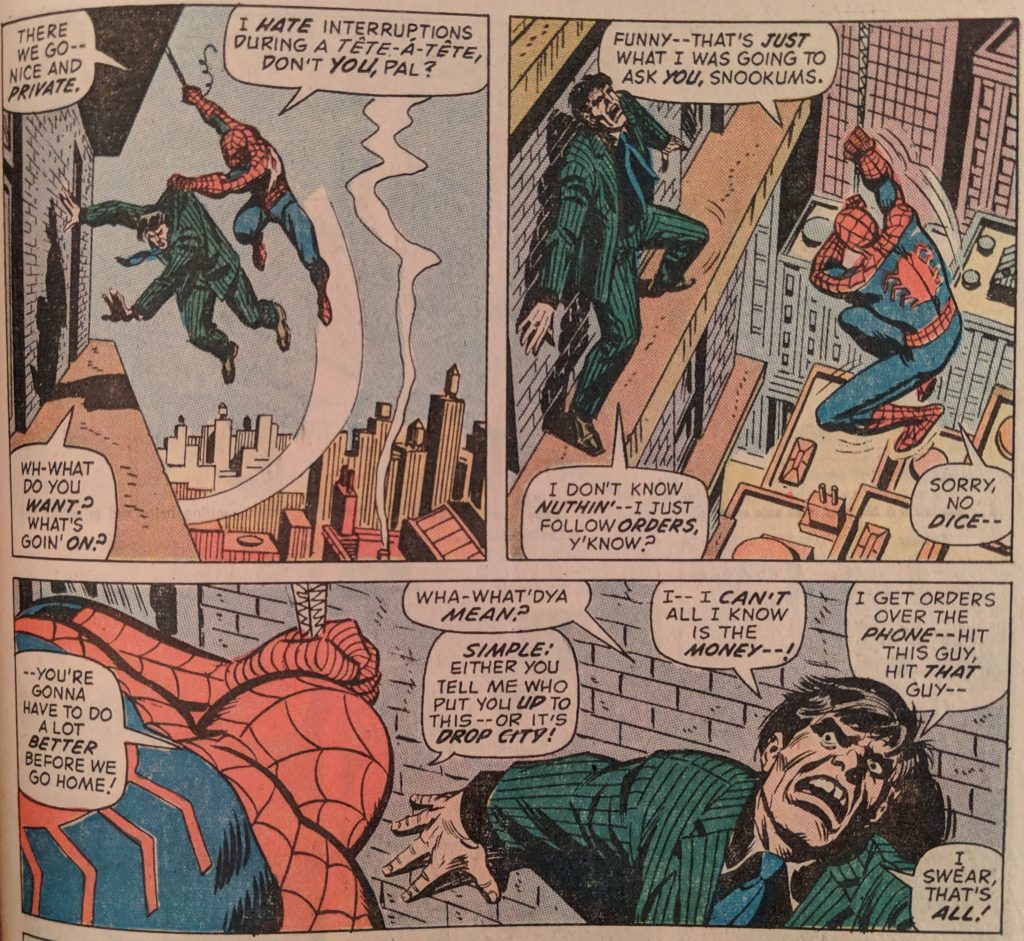 The goon tells him he's working people over as part of a gang war between "his boss and the other guy," but doesn't seem to know either of their names. Spidey webs him to the hood of his own car and departs, just a Flash Thompson and & Gwen Stacy walk by.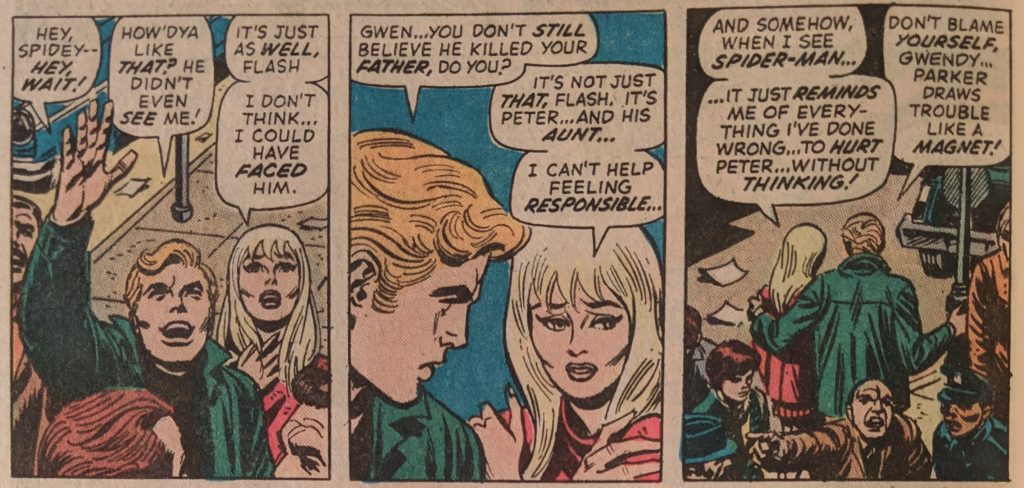 I mean, this is sort of your fault, Gwen. But only sort of. Meanwhile, Spider-Man stumbles on yet another gangwar action, some dudes shooting their way into an old building. He sets up his camera to try to keep his job and then dives in.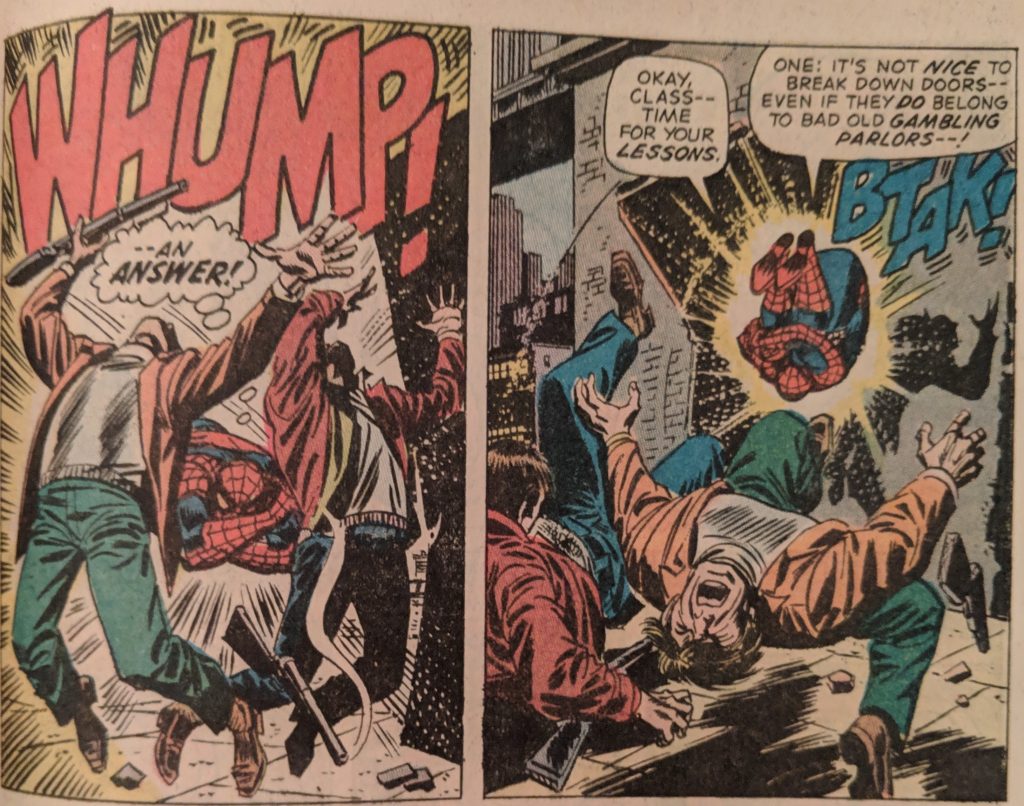 But it turns out the goons are wearing some kind of harness that makes them super strong, and that lets them get the drop on Spidey and knock him for a loop while they run for it. Spidey manages to hold on to one of them so tight even as his head spins that he comes to with the guy's power harness and part of his shirt in his hand, so he's clued in on that, at least. He's hanging on a wall with the harness, wondering what's going on, when his Spider Sense starts going crazy, and he realizes someone's above him.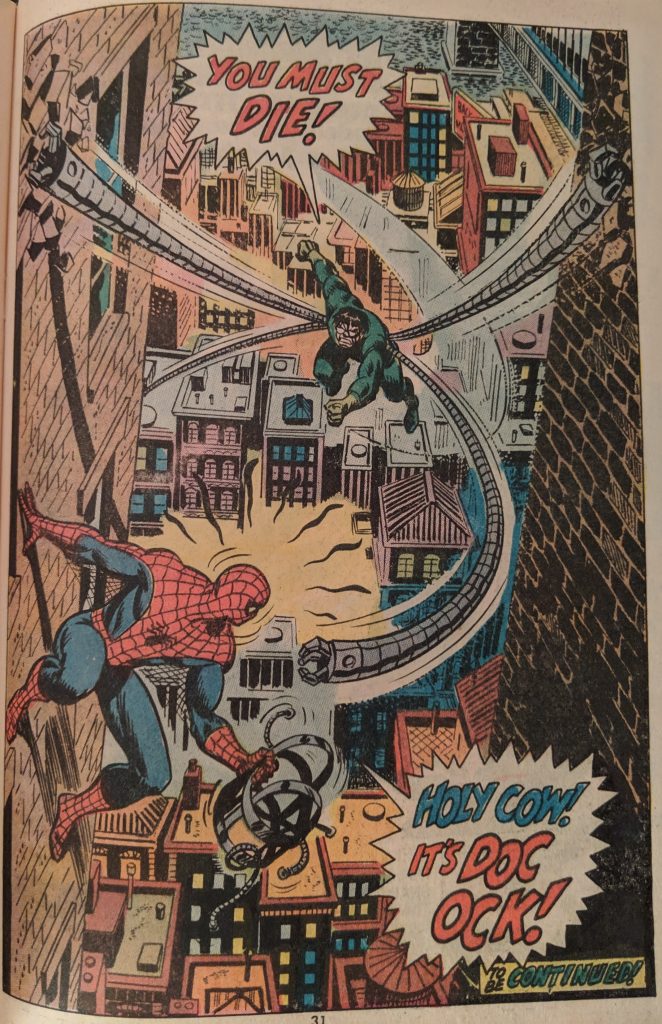 Uh-oh. This sure won't help him find Aunt May faster.

This issue's edition of Stan's Soapbox is an extra-sized edition where he tries his best to break the news to Marveldom that he's not writing the comics anymore in a way that won't freak them out. Stan managed to tie himself so closely to the identity of the company that I'm sure a lot of people couldn't imagine a Marvel Comics without him scripting every series. This has been happening over the course of months, of course, as Stan was promoted to Publisher… Spidey and Fantastic Four were the last books he walked away from… But this was the definitive word. It definitely signaled a shift in the company. What had largely been a scrappy little team putting out a small line of books was taking its first steps toward becoming an empire.

This is one of the ones I got at Heroes Con 2017. Certainly the nicest, this thing looks like it was just printed. It was half off, too, $10. Not bad!