Luke McDonnell tags in for pencils on the return of Nitro, the Human Bomb. This guy's powers have never made sense to me, but fighting him gave the original Captain Marvel cancer, so Spidey better watch out. As the story opens, Peter Parker is awakened at 7am and smashes his alarm clock in frustration. Me too, Pete-o, meee too. He ducks out the window to avoid his landlady and heads off to teach chemistry 101. Along the way he muses about events from recent issues of Amazing Spider-Man, especially Deb and BIFF RIFKIN. She's back at work today, and he tries to talk to her, but she gives him the cold shoulder. At least he knows he deserves it.
Welcome back to Steve Hopkins' Gossip Corner! Peter didn't know it's Thursday, and has no classes until noon on Thursday, so he got up early for nothing. Been there, pal. From there, our scene shifts to the scientific research facility Project Pegasus, where some real Ghostbusters-style bureaucracy is going down. Nitro's daughter, Virginia, and her lawyer are there, saying he hasn't had his day in court and must be released from their custody. And the doctors reluctantly agree, wheeling him out in 2 canisters, since he was captured in a gaseous form after exploding. We're talking about a crazy man who can become explosions by thinking about it. Guess what happens as soon as he's loose?
What was the plan here? She had him committed, so she knows he's like this. Why did she hire a lawyer to do this to herself? This guy getting trapped in Project Pegasus was the best thing that ever happened to her. Anyway, he's a Captain Marvel villain, and declares that all he wants is revenge against him (He would certainly get it eventually). The lawyer helpfully tells him Captain Marvel is in Denver according to last night's news, so Nitro grabs his daughter and says that's where they're going after they get some traveling money. When they leave, the lawyer calls the cops by dialing the phone with his nose. At least he's making up for this a little. Soon, Peter Parker is getting his paycheck cashes when Nitro bumps into him at the bank, setting off his Spider Sense. He wonders why some old guy would be dangerous as he exits the bank, and then it explodes, answering his question.
Nitro must not have liked the Bob Dylan quote, as he promptly explodes. Then reforms and explodes again. He's only got one trick, but he's good at it. Spider-Man taunts him for awhile, tricking him into a fist fight instead of a bomb fight…
Spidey starts swinging Nitro around the city. He thinks to himself that he's keeping him too dizzy to concentrate on exploding. Yeah, ok, I'll buy that. He has no idea what to do with Nitro until he spies a chemical warehouse.
Spidey was trying to tell him he's sitting on a bunch of real nitroglycerine and shouldn't explode, but he does it before explanations can be made. That didn't work out too well. He dashes into the chemical warehouse looking for something to help, and stumbling on some gas cans, has an idea. When Nitro enters the warehouse, Spidey douses him in the canisters' contents, and then Nitro explodes, Spider-Man diving outside just in time.
That's pretty mean, I like it.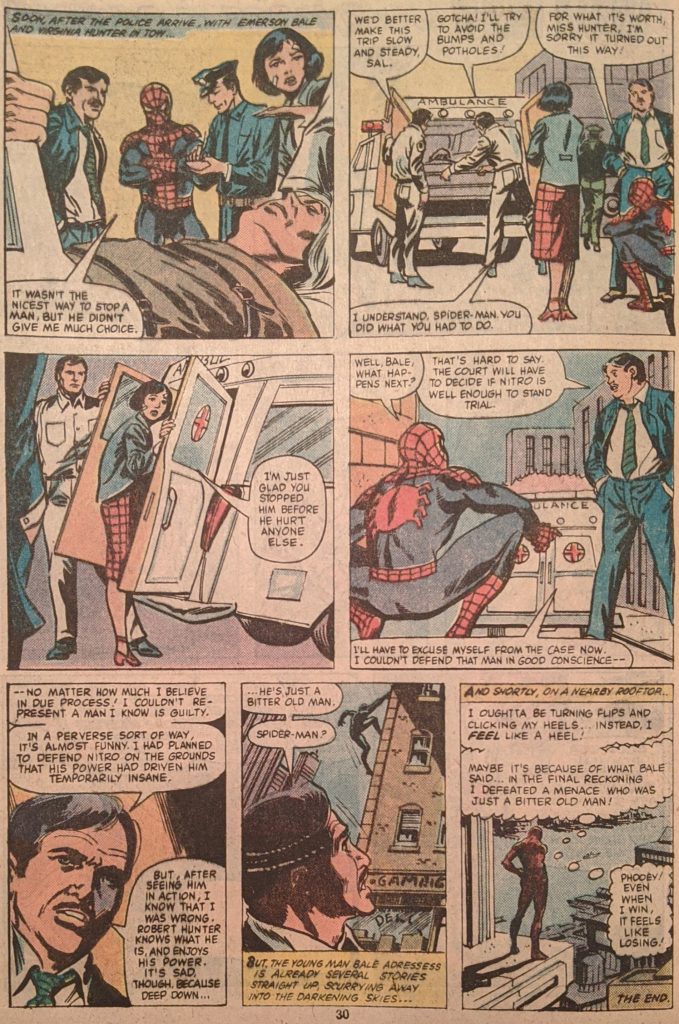 I hope we all learned a lesson. Ya know, this issue featuring Nitro makes sense, because Spidey has a strange amount of middle aged and elderly enemies, if you think about it. Vulture, Silvermane, Norman Osborn, Doc Ock, Hammerhead, Kingpin, etc. Nitro fits right in.