Back for more reptilian adventure. Not the BEST cover, this one. I guess it gets your attention. We pick up right where we left off, with Spidey facing down this iguana creature thing as the end of last issue is recapped pretty quickly before the fightin' starts.

Our new beastie isn't into that, and they keep at it for awhile. The Iguana continues to make it clear it has somehow got Doc Connors' memories, or at least some of them, mostly The Lizard's, as they fight. Connors wakes up and warns Spidey that this iguana has all the power of The Lizard, as if that wasn't extremely obvious by now, and then we cut to Marcy Kane, trying to make do without Connors or Peter on her tour, when a freaked out student asks if the lizards can break out of their enclosure. She says no.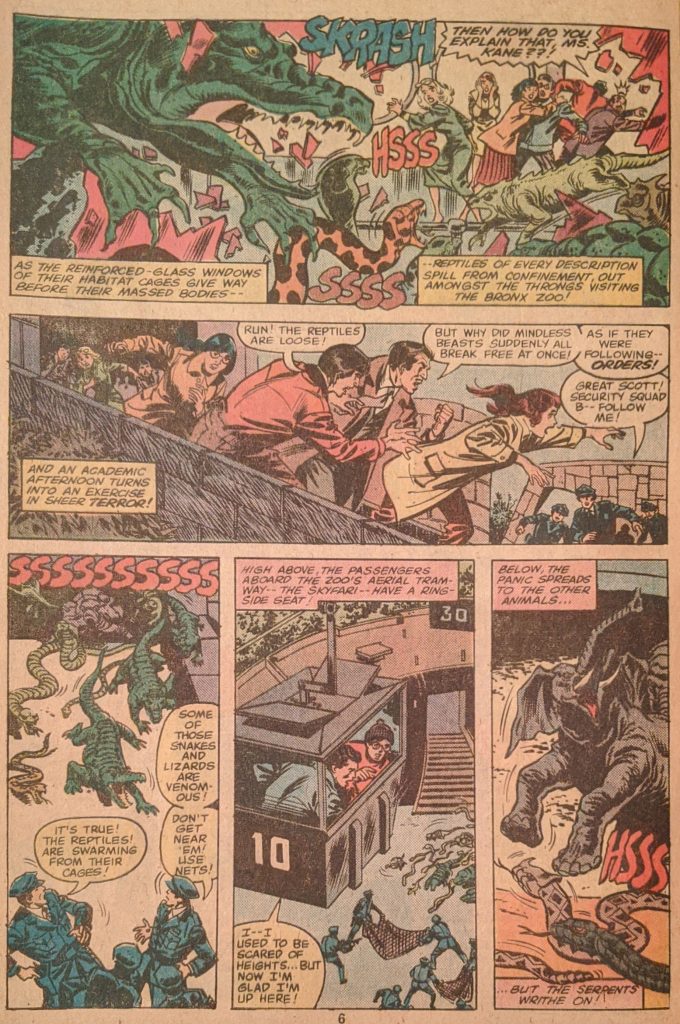 That doesn't seem too good. Back at the fight, The Iguana has used The Lizard's control of reptiles to bring a small army of them into the mix, so Spidey grabs Connors and jumps onto the ceiling, where he finds a power box and gets the lights on. The Iguana has already proven really not into light, so this upsets him a lot. As The Iguana flees, Spidey wraps up the now harmless reptiles and tells Connors he'll come see him at the school later. Connors wonders how Spidey knew he's teaching there now, and Spidey worries he's going to mess up his secret identity. Then Peter Parker catches back up with Marcy Kane just in time for them to be reunited with Doc Connors. Marcy notices Curt isn't carrying that lizard cage anymore, and Peter suddenly figures it out. Later that night, Spidey pays Connors a visit. After they recap the last time they met, in some ASMs we've not seen yet, Curt says…

Um.

That is a terrible plan, Curt! But I guess it's too late. Spidey swings for The Connors' new home, thinking about how Curt's always been a good friend to him, and he'd hate for something bad to happen to his family, but as he approaches their penthouse apartment, he sees damaged fencing that implies The Iguana beat him here. And he's right.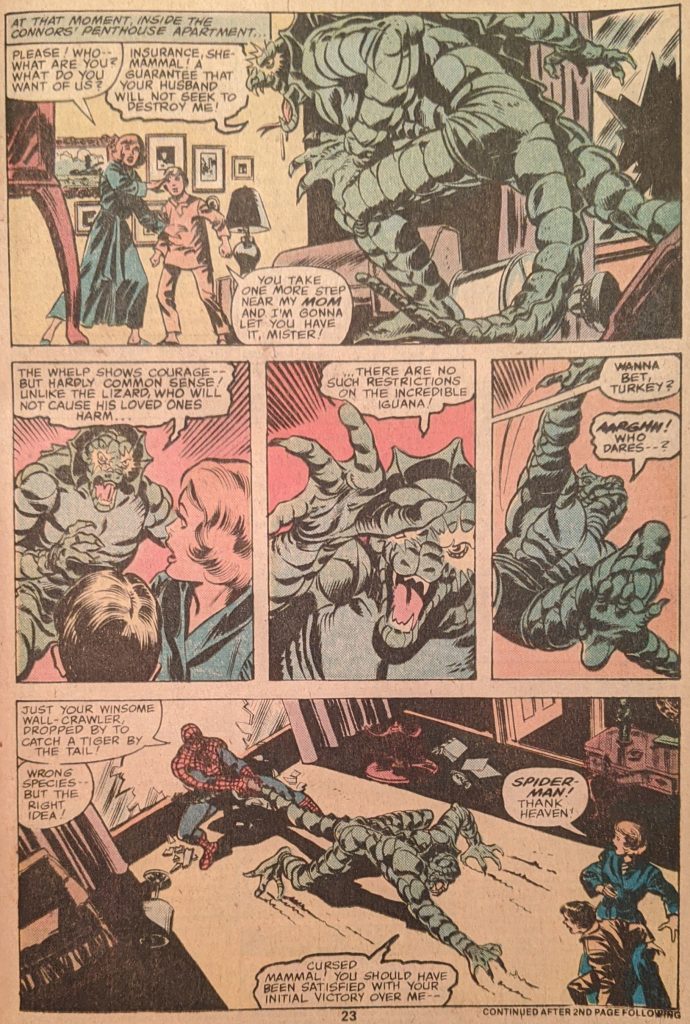 Is The Iguana wearing little shorts? How? Really? Why? That's hilarious. Spidey and The Iguana get into it again, and Billy Connors trying to help by hitting the big lizard with a lamp, which almost gets him killed, but Spidey is on the case. We cut away to The Lizard arriving from a manhole down on the street below, and then back to The Iguana, who's gotten his tail around Spidey's neck. Things don't look good.

This is the 2nd time Spidey's found himself caught between 2 reptile men in just over 2 years. That's some bad luck. How can this end? We'll find out next time.